Max's 'Bama Rush' is a gripping documentary that chronicles the days leading up to Rush Week in 2022 at The University of Alabama (AU). Sorority rushing is an integral part of college culture, where students participate in several activities and events to get recruited by the prestigious sorority groups on campus. It means various things to different individuals, and the documentary captures the same through the unique stories of four students aspiring to become a part of Greek life at The AU. Given the intense controversy that the film faced during production and its interesting subjects, many are curious to know what the four dynamic ladies are up to nowadays. Well, let's find out, shall we?
Where is Shelby Rose Now?
A native of Quincy, Illinois, Shelby Rose has been a high achiever since childhood. Apart from being a talented dancer who has often competed and won accolades in regional competitions, she is one of the most successful drivers in the history of the Quincy Soap Box Derby. In 2018, Shelby stepped into the world of beauty pageants and won the Quincy Miss Teen title not just that year but also in 2021 and 2022. Yet, the University of Alabama student admittedly battled depression and anxiety on the side ever since she learned about her adoption at thirteen.
Despite every challenge, the college freshman gave her best to Rush Week 2022, as it was her dream to be a part of the best sorority on campus. However, when rumors began circulating that the documentary she had secretly been a part of was portraying The AU and its sororities in a bad light, Shelby decided to back out of the production; she felt it did not align with her values and beliefs anymore. Nevertheless, we are happy to report that she had a great experience during Rush Week and got into the prestigious Phi Mu sorority.
Furthermore, Shelby was crowned Miss Quincy in January 2023 and awarded a $3,000 scholarship and numerous prizes. The Illinois native used the money to fund her non-profit organization, Fostering Hope Quincy, which helps foster kids and families in her home state. She has commenced her sophomore year at The AU, pursuing a major in public relations and a minor in digital content engagement. As a part of her sorority duties, Shelby is a member of the Student Recruitment Team. Outside college, she has worked as a Sales Associate with Tanning Unlimited since March 2022 and is very popular on Tiktok.
Where is Hailey Holliday Now?
Orange Beach, Alabama, native Hailey Holliday was in her freshman year when she decided to participate in Rush Week 2022. Interestingly, it was her second attempt, as the first time around, she had apparently been disqualified for wearing the wrong sorority sticker. Hoping to work as a government official someday, Hailey has always been extremely serious about her career and was working two jobs at a tanning salon and a nutrition store alongside college. Besides, she was focused on leading a healthy lifestyle, ensuring balanced meals and a strict exercise regime.
Unfortunately, things didn't go as smoothly for Hailey as she expected, as all the partying needed to network for the sorority rush started taking a toll on her. On top of it, she had a bitter fallout with her close friend, Makalya Miller, and began feeling like she was being forced to be someone she wasn't. But the last straw was when Hailey overheard two college mates stating that all the sororities on campus had allegedly banned her. Realizing it harmed her mental health, she quit Rush Week in the middle and did not participate again.
Today, Hailey has zero regrets about leaving her sorority dreams behind and is instead focusing on her studies as a sophomore student. Readers would be happy to know she participated in the Miss Alabama 2023 pageant and was crowned Miss Orange Beach 2023. As of February 2023, Hailey was still working at the tanning salon and has now started doing modeling assignments.
Where is Makalya Miller Now?
Makalya Miller was towards the end of her freshman year when she decided to participate in Rush Week 2o22 at The AU. She had skipped doing so earlier and was feeling somewhat left out. Hailing from Odenville, Alabama, Makalya lost her father when she was 13 and wanted to honor his legacy as a police officer by working in criminal justice. However, things began drastically changing when she started preparing for sorority rushing. Once she hired a recruitment coach to guide her, she was pushed to conform to the sorority norms.
Be it her hairstyle or where she liked buying clothes, Makalya was expected to change everything about herself to become a preferred candidate. While this began troubling her, she was doubtful about inclusivity in sorority groups, especially given their allegedly racist history. Eventually, Makalya realized that she did not wish to alter herself just to fit into a sorority and that Greek life was not as appealing as she had initially believed. Hence, she dropped out of recruitment before Rush Week ended.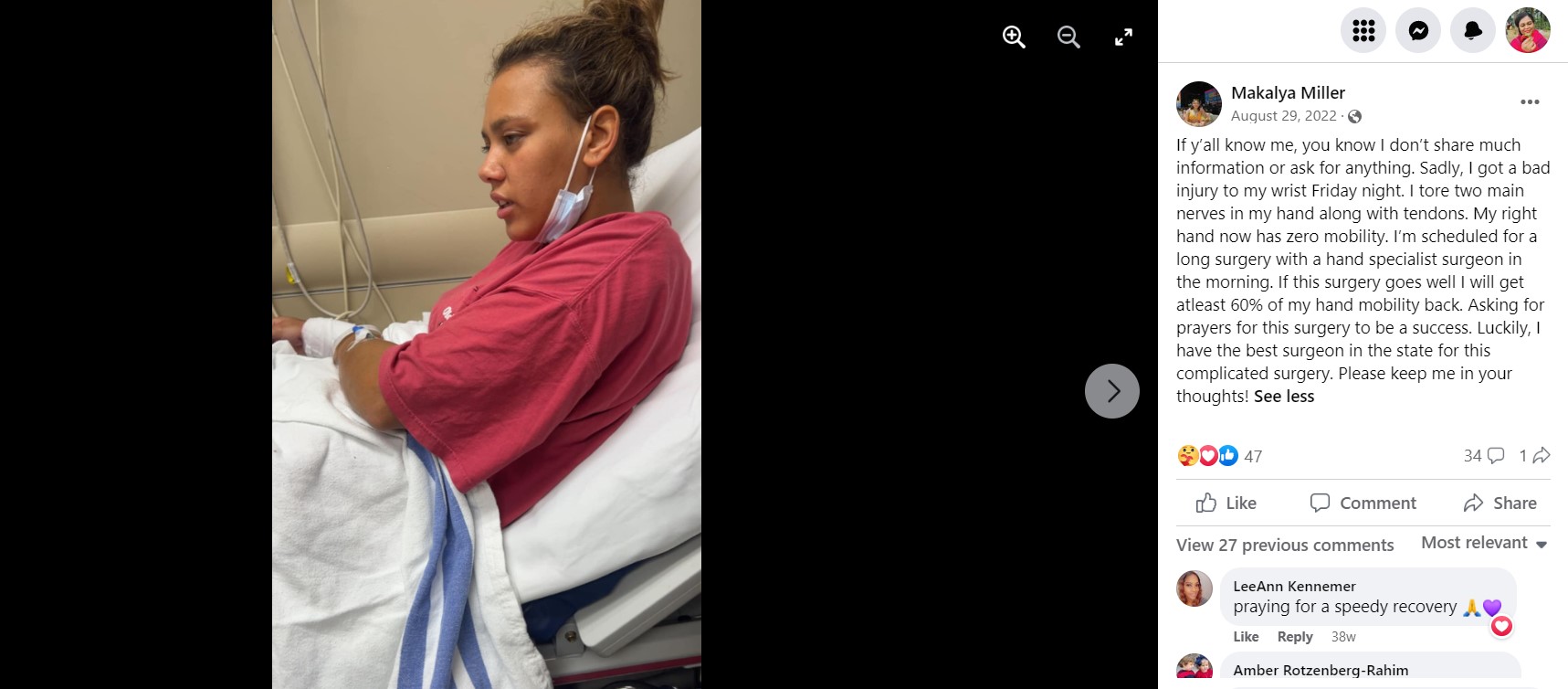 Makalya is now eager to complete her Bachelor of Arts in Criminal Justice and make a successful career. Additionally, she is pursuing a minor in computing technology with applications to expand her expertise. In August 2022, she suffered a severe injury on her wrist, temporarily losing mobility in her right arm. Eventually, the teenager underwent surgery and was on the road to recovery. Though grateful about her experiences with sorority rushing, Makalya is in a happy space now and prefers to keep a low profile.
Where is Isabelle Eacrett Now?
Originally from Rancho Cucamonga, California, Isabelle Eacrette moved to Alabama to attend The University of Alabama. Keen to fit into the Southern culture, she was very excited to participate in Rush Week 2022. To increase her chances of recruitment, Isabelle hired a Rush Consultant and began working on her presentation and networking skills. For the Los Osos High School alumna, being in a sorority meant more than just parties and fancy clothes — she wanted to find a sense of belonging and loyal friends that would help her through the traumatic ordeal she had experienced.
Isabelle shared that just two weeks before coming to college, she had been sexually assaulted. Naturally, this painful experience constantly plagued her mind before and during Rush Week. Still, Isabelle didn't let any challenge dampen her spirit and was authentic while interacting with sorority recruiters. Interestingly, among the four documentary subjects, she was the only one who participated in filming till the end of Rush Week, as she believed in the director's vision.
Eventually, the California native received a bid from her top choice sorority, Alpha Delta Pi, and joined them. Now a sophomore, Isabelle has completed a successful year as a sorority sister and is eager to be a recruiter for new pledges in the next Rush Week. She is happy to have been in the company of several like-minded women who have constantly supported and helped her overcome her past trauma. Besides, Isabelle has opened up about her sexual assault with her followers online, hoping to make others like her feel heard and not alone. She is content with how things have turned up and is thankful for being a part of the documentary.
Read More: MerPeople: Where Are They Now? Update on the Cast