A lot of us don't prefer watching horror movies but when a little bit of humor is added to these, they become more watchable. Some filmmakers might even stretch the boundaries of humor in these movies by making parodies that have more of comedy and less of horror. And then there are certain other movies that are not intended to be funny but the horror in them is so ridiculous, they leave the audience laughing out loud. It's been a long time now since 'Shaun of the Dead' came out, which was a refreshingly good horror comedy but the horror comedy genre is not dead yet, if that's what you've been thinking.
There have been some new additions to this genre that you might like or hate. So if you're in the mood for some scares along with some light humor, then scroll down and check out the list of really good horror comedy films and TV series on Netflix that are available to stream. Some of them are old classics, while others are new movies that you'll probably enjoy watching, just make sure you watch them before you judge them.
15. Secrets in the Hot Springs (2018)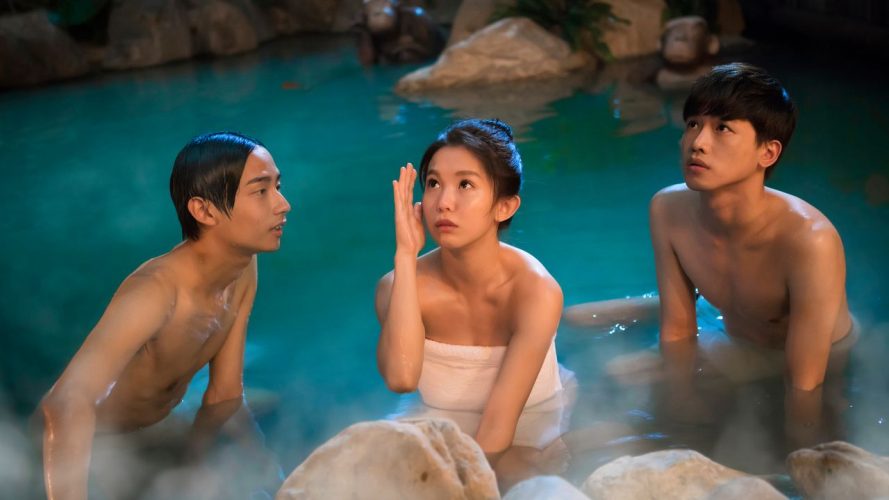 Xiaogin, the protagonist of this movie, gets tricked by his grandparents is forced to stay at a hotel which was founded by his parents. He gets followed by two of his best friends from school who want to escape the constant bullying at school. The three boys quickly find out that the hotel has some strange stuff going on and could potentially be haunted. The three get even closer as they uncover the mysteries of the hotel that holds some really dark secrets right under the steaming hot springs. The movie starts off a little scary but later becomes hilarious. Now, this is no brilliant Oscar-worthy film, but you'll have a good time watching this Taiwan film.
14. Holidays (2016)

'Holidays' is a collection of literary works of nine different directors, Gary Shore (Dracula Untold), Kevin Smith (Tusk), Kevin and Dennis Widmyer (Starry Eyes), Scott Stewart (Dark Skies), Nicolas McCarthy (The Pact), Sarah Adina Smith (The Midnight Swim), Anthony Scott Burns (Darknet), Adam Egypt Mortimer (Some Kind of Hate). All of these directors have together put stories that will change your outlook towards your beloved holidays. The film will question our traditions, beliefs, and folklore that revolve around these holidays. This one has a very dark and creepy sense of humor. But overall the movie isn't too great and is also so ridiculous at times that it'll make you laugh for no reason at all.
13. Hell and Back (2015)
This one's a simple stop motion animation film about two friends who decide to rescue a friend who has been accidentally dragged to hell. 'Hell and Back' is an adult contemporary comedy with a little bit of horror here and there. Even the comedy in this one seems kinda repetitive and reminds you of South Park. Not one of the best movies on this list. But if you're looking for a time killer, then go for this one. The movie will surely make you laugh with its adult jokes here and there and also has a great cast of voice actors including Mila Kunis and T.J Miller but as for horror, we're not too sure about that.
12. Death Note (2017)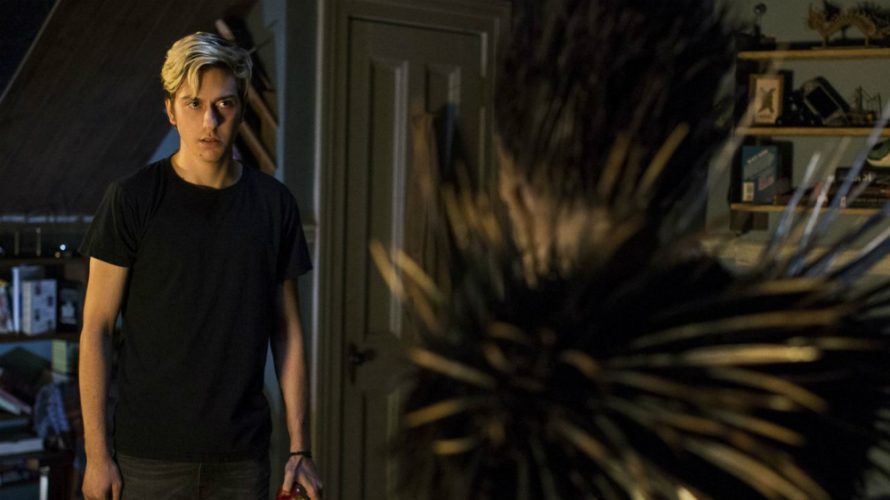 If you've ever had an anime watching phase in your life, then you probably do know about 'Death Note' and if you've never had that phase even then you've probably seen or heard about this. And it is no doubt, one of the most brilliant anime series out there. But the movie, well… 'Death Note' came out in 2017 and as fans, most of us were excited to see how this would turn out. The story of a young genius named Light who comes across a notebook called the death note. This notebook holds immense power and the owner of the notebook can kill anyone just by writing the names of the people inside it (there's a lot more to it, watch the anime series to find out). The anime was downright scintillating from the beginning to the end but the movie turned out to be rather disappointing. You can still watch it though because it does have a few scares and a few "L" jokes here and there.
11. Yoga Hosers (2016)
'Yoga Hosers' is the story of Colleen Collette and Colleen McKenzie, who spend their time doing yoga most of the time and staying glued to their phones judging the world around them. Being Sophomore girls the two get invited to a senior party where they accidentally discover an evil sinister being of the ancient times that had been buried ages ago. The film can be fun when you already know that you're getting into something weird and most it won't make any sense at all. Clearly, the purpose of making this movie was not at all to shoot for the stars but only create a light comedy that is at times funny with its well-placed jokes.
10. Meet the Blacks (2015)
'Meet the Blacks' is a parody horror comedy film that has the same storyline as 'The Purge'. All crime is made legal for 12 hours as a part of a crime reduction experiment. There are people who prefer staying protected in their homes not participating in the purge and then there are people who prefer to go out and take this opportunity for granted. The original movie is very, very serious and follows the storyline and concept with less or no comedy. But 'Meet the Blacks' is absolutely hilarious. It's crazy how they've managed to take up such a serious concept and make it look so funny. It does have a lot of black comedy though and may not be for the ones who get easily offended. Also if you're a big fan of 'The Purge' movies, then this might ruin that for you a little. Just make sure you're watching this one for the laughs and nothing more than that.
9. Scream 4 (2011)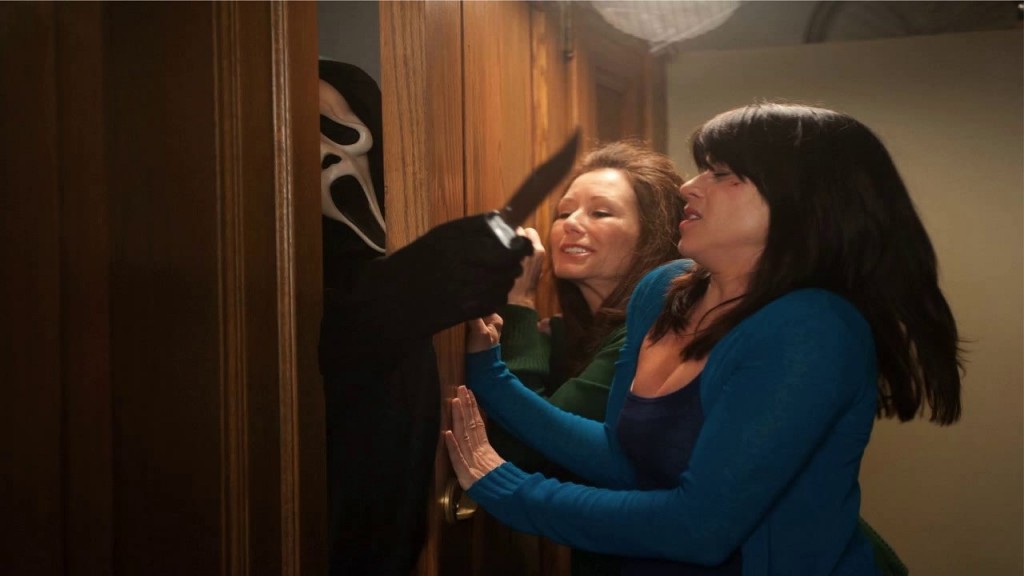 Sidney Prescott returns to her home after leaving ages ago to run away from the earlier killings done by the Ghostface. Everything seems to be going just fine this time when the Ghostface reappears with Sidney's appearance in town and again starts killing everyone one by one. Yet again putting the lives of everyone in town at risk. Scream 4 can be absolutely gruesome and scary at times with the brutal murders. But the movie has its moments of fun and comedy as well which overall makes it very entertaining with a slightly predictable storyline. There is a certain element of plot twist which comes off very surprisingly later but apart from that, the movie is similar to the other ones.
8. Life After Beth (2016)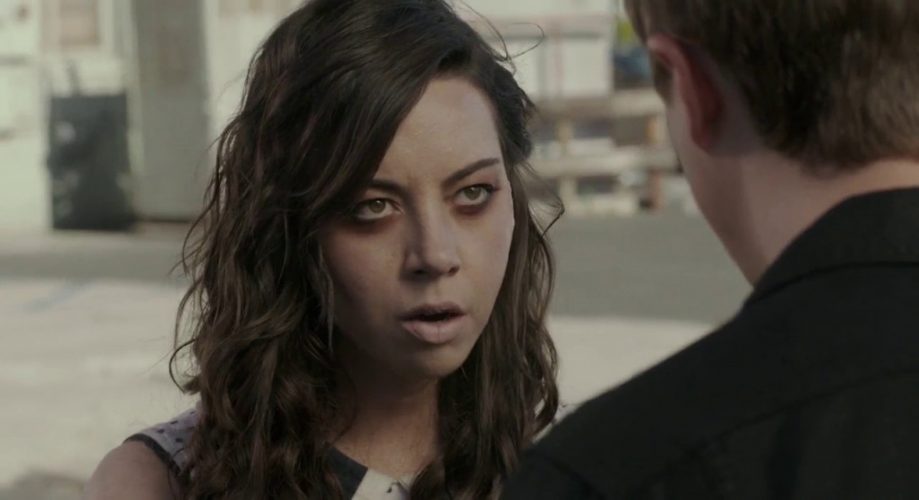 Starring Aubrey Plaza and Dane DeHaan, this is probably one of the best on this list. The movie is about a girl named Beth who dies but suddenly one day she is resurrected from her death-bed and comes back. Everything seems fine for a while and her parents and boyfriend seem to be happy that she's back. But soon they start realizing that she isn't the Beth they knew and something is seriously wrong with her now. This movie has shown a very new and indeed a great way of portraying the "Pet Sematary" concept of how sometimes being "dead is better".
7. KL Zombi (2013)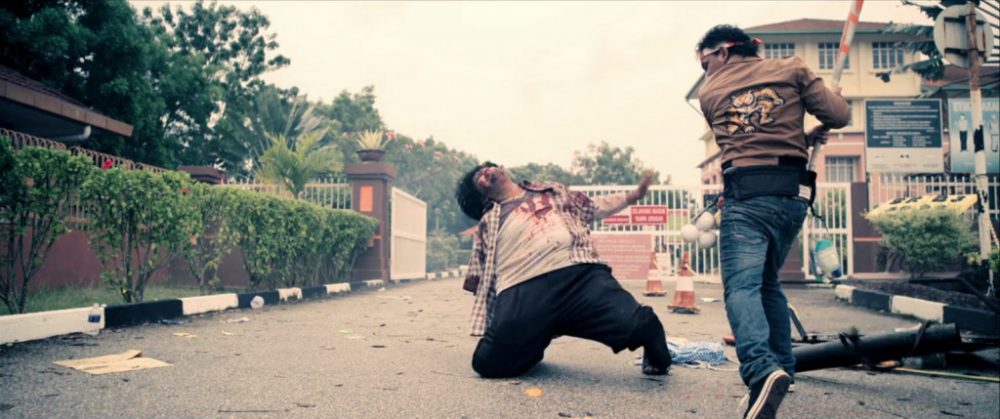 'KL Zombi' is a Malaysian film that has tried to mimic a great comedy classic-'Shaun of the Dead'. It's a very typical zombie comedy that tells the story of a complete slacker who later becomes a hero during a zombie outbreak after losing someone he truly loved. Don't watch it with the expectation of comparing it with the other good films in the zombie genre. Watch it for its humorous appeal and physical jokes and overall you will be satisfied with this Malaysian film. The film also has certain elements that are very dumb but that itself adds to the whole comedy of the movie.
6. Murder Party (2007)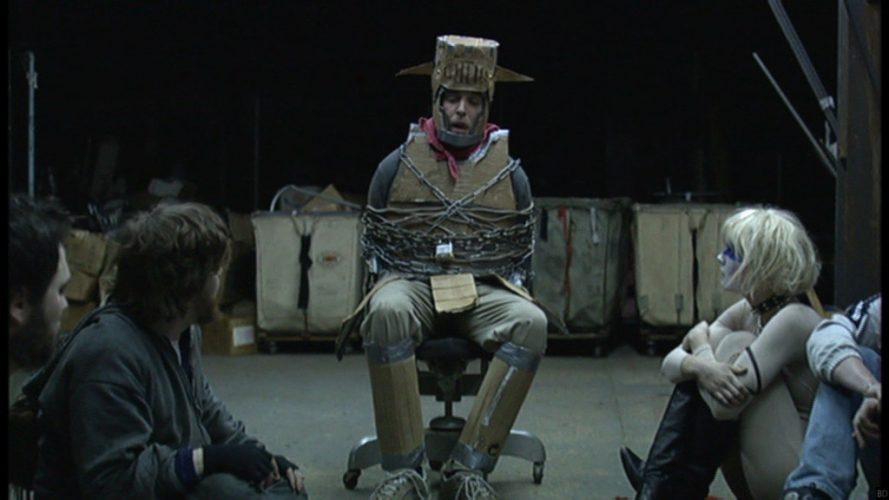 A man gets a mysterious invitation to a Halloween party. I know I would never fall for a shady looking invitation but the main character does fall for it and goes to the party. Once he reaches there, he finds out that the party was all a fad for a bunch of people who wanted to lure him in and then kill him for the sake of their so called art. But soon the whole thing turns chaotic and in no time becomes a bloodbath of mayhem and comedy where the main character tries to take advantage of the rivalries between the deranged artists who lured him there, to survive the night. You will not find a funnier B-grade film anywhere and this one will surely keep you on the edge of laughing your head off. The movie also qualifies as an amazing party movie that you can watch with a bunch of your buddies and you will not be bored for even a second.
5. Santa Clarita Diet (2017)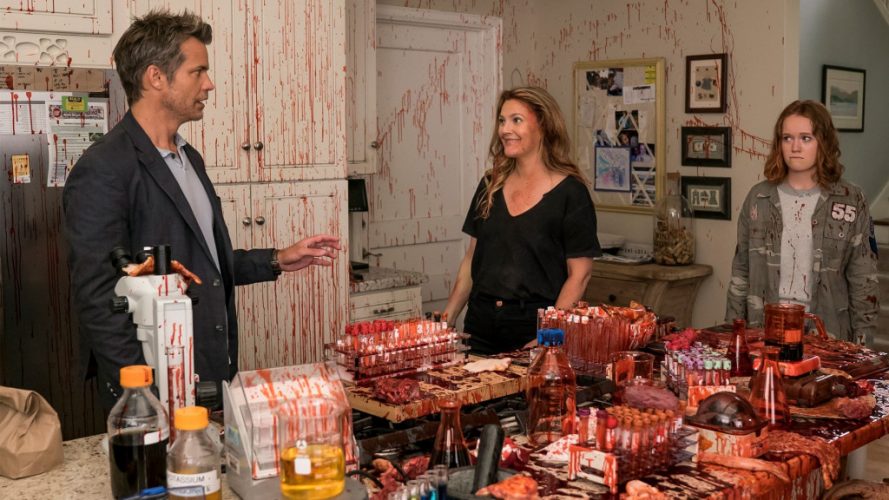 The only TV series we've included in this list but it surely does qualify to be one of the best you could watch in this genre. Starring Drew Barrymore and Timothy Olyphant, this comedy series is the story of a couple both of whom are real estate agents. Things take a very dark turn when the wife dies and is somehow back but obviously, she's not the same (cliche alert). Apart from the cliched concept the series is actually quite fresh and has a lot of unexpected twists and turns to it. The actors thrive in their comedy roles and will surely make you laugh. The actors seem very natural in their roles and the strong point of this show is its uniqueness on the whole subject of coming back from the dead.
4. Tales of Halloween (2015)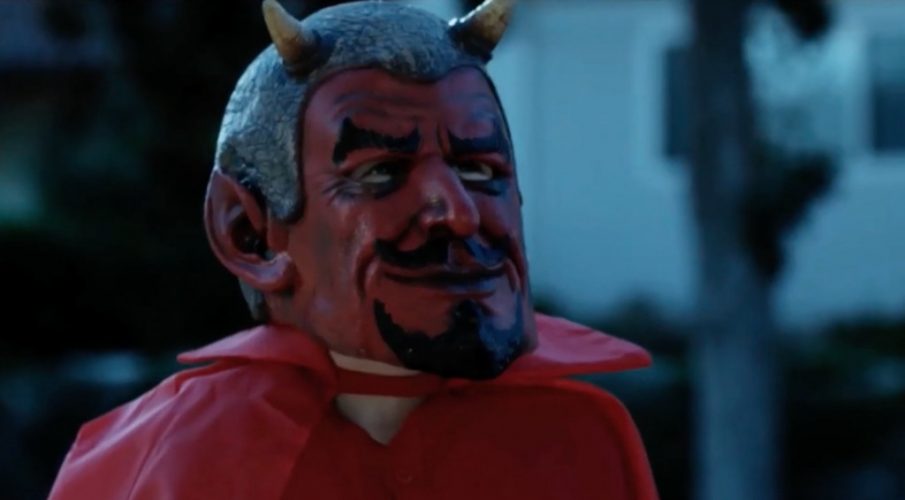 'Tales of Halloween' is a combination of ten stories that obviously revolve around the theme of Halloween. All ten stories have directed by ten different directors that go by the names: Sweet tooth, The night Billy raised Hell, Trick, The weak and the wicked, Grim Grinning Ghost, This means war 1, This means war 22, Friday the 31st, The Ransom of Rusty Rex and Bad seed. Out of all these stories, some of them are very promisingly scary and also funny at times. The ten stories also have some violent bloodshed for those who like seeing gore horror mixed with some dark comedy. It can also be a fun and entertaining Halloween night movie with friends and some booze.
3. The Package (2018)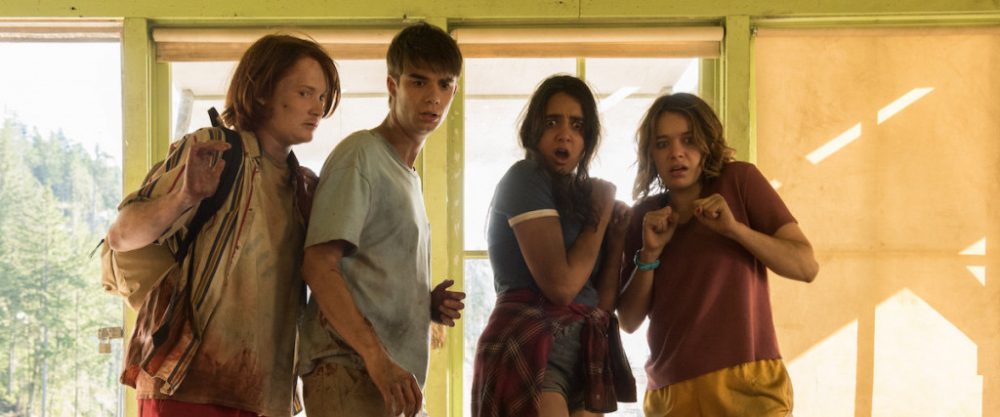 Four teens go on a holiday trip during their spring break. Once they reach their campsite, something horribly goes wrong and puts the four in the middle of a shit storm where they have to struggle to protect one of their most prized possessions, 'The Package'. The movie is silly and stupid a lot of times but a perfect buddy comedy that will surprise you. The whole point of the movie is to just keep you entertained with its silliness and witty one-liners. The actors have done surprisingly well and if you're looking for something to watch on your stoners night, then look no further.
Read More: Most Disturbing Movies on Netflix
2. Little Evil (2017)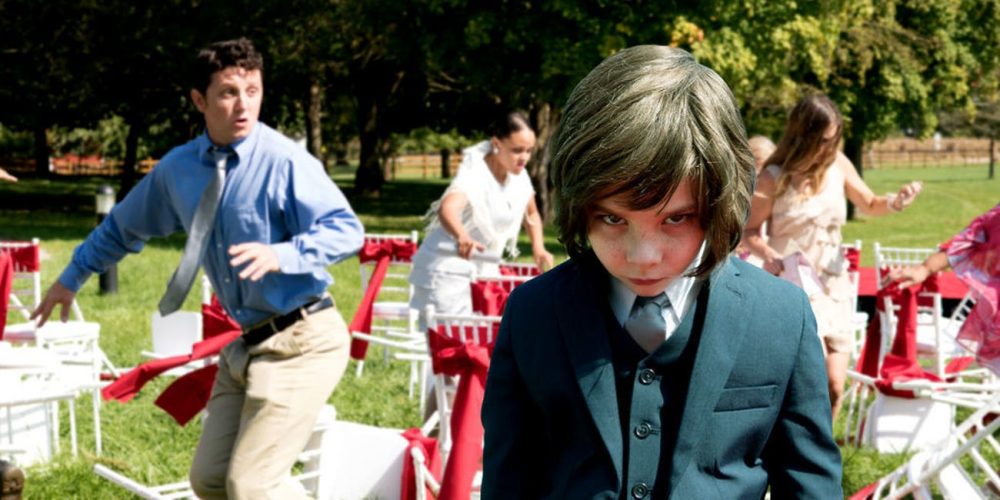 If you are a horror movie fan, then you have probably seen 'The Omen'. Now imagine a funnier version of a movie with a possessed kid. Well, that pretty much sums up this one. One common thing that I noticed about most films in this horror comedy genre is that they don't really have a good rating. Now I understand the sentiments behind those ratings but I don't understand what people expect out of these. These movies are made for the sole purpose of entertainment only. Like the other movies on this list, this one, too, is just a dark comedy that's really good for a one time watch.
Read More: Best Sex Comedies on Netflix
1. The Babysitter (2017)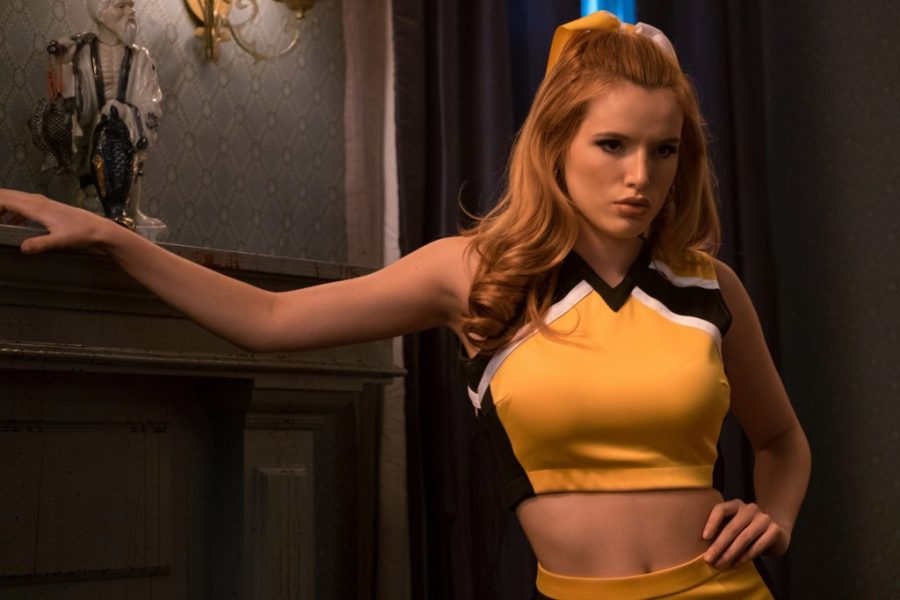 The last one on the list but probably one of the best. 'The Babysitter' is about a kid named Cole who stays up past his bedtime only to realize that his hot babysitter is the part of a demonic antichrist cult. Cole has to now survive the night with a bunch of satan worshippers who will do absolutely anything to stop Cole from spilling out their little secret. This coming of age horror will keep you hooked the whole time and overall can be considered to be a good film in the horror comedy genre.
Read More: Best Stephen King Movies on Netflix