Suspense/Murder/Mystery movies have been a genre in film almost as old as film itself, one that has also seen continuous zeniths and nadirs, fighting and rising through the noir phase, to HItchcockian, neo noir, the popular thrillers of the 90s, followed by a quasi-resurgence in the form of cinema of directors including Fincher, especially, and even Nolan to some extent in the 21st Century. Through all these phases and continuously shifting styles, it wouldn't be too farfetched to say that along with drama, this is the only genre that hasn't experienced what one would term a paradigm shift. In fact, it is also one of the few genres in world cinema that despite being one of the oldest, remains insanely popular till date, and any well made murder mystery is lapped up even by the general cinema going public like a hungry leper. The lack of a largely tangible shift might be squarely due to the fact that people watch murder mysteries for the big reveal in the end that keeps them hooked, and while treatment and aesthetic is important and essential for modern cinema, what plays the major role here is the story.
No amount of visually dazzling imagery and stylistic treatment would be able to salvage a murder mystery that slacks off in its pacing, doesn't have enough loins in the plot or presents a dud in the final reveal, especially in the case of whodunnits. Each year, a number of movies pertaining to this genre and redefining genre boundaries release, and despite the obviously dated nature of the genre, there are films that still manage to surprise and wow audiences, some of them truly innovative in their plot and its treatment. This article attempts to list out such movies from the murder/mystery genres that came out in 2018. It is important to remember that even murder mysteries aren't necessarily inclusive of all mystery movies that may not involve a murder as their central plot, but are themselves more of a subgenre like thrillers, termed 'whodunnits' under a larger umbrella of mystery films, whose essential characteristic is an intentional concealing of facts until the revelations in the finale. With that distinction secured, here goes the list of the best mystery movies of 2018.
12. The Girl in the Spider's Web
It would be better if I begin expressing my views on this film by foregoing that this film is in any way remotely related to the far superior 'The Girl with the Dragon Tattoo', even by virtue of a production house. David Fincher delivered what can clearly be considered one of the best murder mysteries/thrillers in recent times, even still. Even bereft of comparisons, one can easily conclude that 'The Girl in the Spider's Web' is the weakest 'Millenium' movie, and falls flat on a number of facets the original ones, including the Swedish versions starring Noomi Rapace, excelled in, especially the thrill part of it that seems toned down in the movie to appeal to a wider audience. However, to give fair credit, 'The Girl in the Spider's Web' scores high on action and dark visual imagery that is shot rather well. Even Claire Foy is easy on the eyes, and mostly effectively embodies the social awkwardness and badassery of Lisbeth Salander, although never as iconic as Rapace's or Mara's portrayals. If you are too hung up on legacies, you might find it better to skip this. However, if you can leave the thought of the previous versions behind and watch the film for what it is, you might just have a good time watching this espionage-cyber-vigilante thriller.
Read More: Best Fantasy Movies of 2018
11. A Simple Favor
'A Simple Favor' has an interesting premise with lots of potential, being based on a bestselling novel, telling of a widowed parenting vlogger. Stephanie (Kendrick) befriending a successful working P.R. woman, Emily (Lively) who meet up often through their kids' play dates, until one day Emily disappears mysteriously with her son being babysit by Stephanie, who then takes it upon herself to find Emily. This is Paul Feig's first film in many years not starring Melissa McCarthy, but Blake Lively and Anna Kendrick fit in just as well in Feig's oddball thriller mystery comedy. Infact, while it is a perfectly entertaining film, Feig's attempt at intermixing genres comes across as feeble at places and the tonal inconsistency sticks out like a sore thumb. Apart from that, 'A Simple Favor' is funny, stylistic, has enough twists in the tale to keep you glued, and is even smart occasionally in the dialogue and writing departments. You won't regret watching it.
Read More: Best Alien Movies of 2018
10. Game Night
'Game Night' is a complete blast from start to finish buoyed strongly by it's incredibly funny cast, including Jason Bateman, Rachel McAdams, Kyle Chandler and especially Jesse Plemons, who is drop dead hilarious in the film. The plot of the film, a game turning dangerously, violently real for its participants who then have to unwillingly participate and solve the mystery of what conspired, isn't exactly fresh or even reinvented in 'Game Night'. Yet still, the film manages to rise a tad above standard fare by virtue of being tightly bound within its 100 minute runtime, not a dull moment on screen, and as a result proving consistently entertaining, except maybe the final act going a little overboard to the point of marginal buffoonery. Other than that, 'Game NIght' is a perfect date night or get together flick for when you need to get down to business real quick.
Read More: Sexiest Movies of 2018
9. Suspiria
'Suspiria' is a remake of the 1977 original of the same name, and is directed by Luca Guadagnino who made waves at the last awards season with his film 'Call Me by Your Name'. Here, he keeps the film dipped in a moody macabre of an aesthetic akin to that of a neo goth low brow horror film, virtually devoid of any primary colours. Led by a fantastic cast in Dakota Johnson, who finally gets to display some acting chops here, and Tilda Swinton, playing not one but three roles perfectly adeptly, 'Suspiria' is dark, even literally so, with a near gothic aesthetic, impressively staged dance performances, gut churning body horror, and was thereby understandably polarizing in its reception. The plot follows a student (played by Johnson) who gets admitted at a dance academy and grows increasingly weary of it as the mystery of the disappearance of a student deepens following her confession that the academy was run by a coven of witches. The supernatural twist in the plot adds innumerable layers to the mystery here, and while the 'Black Swan' vibe is unmistakable, 'Suspiria' scores on mood, aesthetic, the performances of its lead actresses, and the hair rousing dance performances that are sensual and unnerving at the same time, which is also something that can be said for the film as a whole.
Read More: Best Inspirational Movies of 2018
8. Andhadhun
'Andhadhun' is the kind of movie that happens once in a long while, especially in Bollywood. The only Hindi language film on the list, and for right reason. I, as a viewer, have a special appreciation for films that are commercially and cinematically well balanced, and deliver an entertaining experience by the time the end credits roll, one that is far from the kind of mind numbing entertainment the Indian audience is accustomed to. I was amazed at the kind of pleasure the regular public drew at the twists the plot had to offer, and if that is a sign of the times to come, there is a glimmer of hope, however faint. Easily the best film this year to have come out of the stable of Bollywood, and by miles. 'Andhadhun' is sharp, witty, and relentless in the way it throws twist after twist at you, all the while keeping the treatment fresh and interesting. Director Sriram Raghavan once again shows why he is the unparalleled king of the noir in India, with many an ode in the film to the golden days of Bollywood. The soundtrack is on point, the performances excel, and the script is one of the freshest I have seen in a long time.
Read More: Best Movie Scenes of 2018
7. Under the Silver Lake
If you don't ask yourself what the hell you just watched when the film's end credits roll, you haven't watched the film in its boldest essence. Highly experimental in its narrative, 'Under the Silver Lake' is one of those films that focus more on the experiential aspects of cinema, rather than the plain auteurship of it, and I won't be very surprised if the director of this film, David Robert Mitchell, turned out to be a textbook fan of Terrence Mallick or Arronofsky. As for the film, the plot of the film revolves around a 30 something guy who virtually thrives on decoding signals and brewing up or cracking conspiracy theories who becomes enchanted with his neighbour whom he spots swimming one day. As he navigates the city for any clues, and this is where it gets unreal, he comes across mystery after mystery following which he quickly struggles with keeping up with what's real and what's not, as the film grows increasingly surreal by the frame. The film is out virtually everywhere (*cough*torrents*cough*) except for the US where it is due for April 2019, and if you get a chance, catch it when you have the time and a free mind. It will be worth it.
Read More: Worst Movies of 2018
6. The Mule
It was a real pleasure watching Clint Eastwood return to acting after years behind the camera as the lead in 'The Mule', which is a retelling of the life of Leo Sharp, a WWII veteran who becomes a drug mule for the Sinaloa Cartel in his 80s transporting cocaine in and out of the states through Mexico. Even though Eastwood is in his comfort zone, both directing 'The Mule' and playing the real life character on screen, he does so with elan and while the story takes time to hit with heft, it's his act and the regretful, dreary mood he sets as director that really sucks you in. Agreed that it is far from his best works, but with 'The Mule' and his portrayal of Earl Stone (renamed from Leo Sharp for the film), Eastwood is able to convey feelings of the inevitable passing of time, and the most human regret of not being able to do things differently earlier in life, which frankly hits hard even for younger viewers. All that hefty philosophy packaged as a mystery drama, delivered in the slow burning, grainy Eastwood style is sure to make for a great watch.
Read More: Best Chinese Movies of 2018
5. Bad Times at the El Royale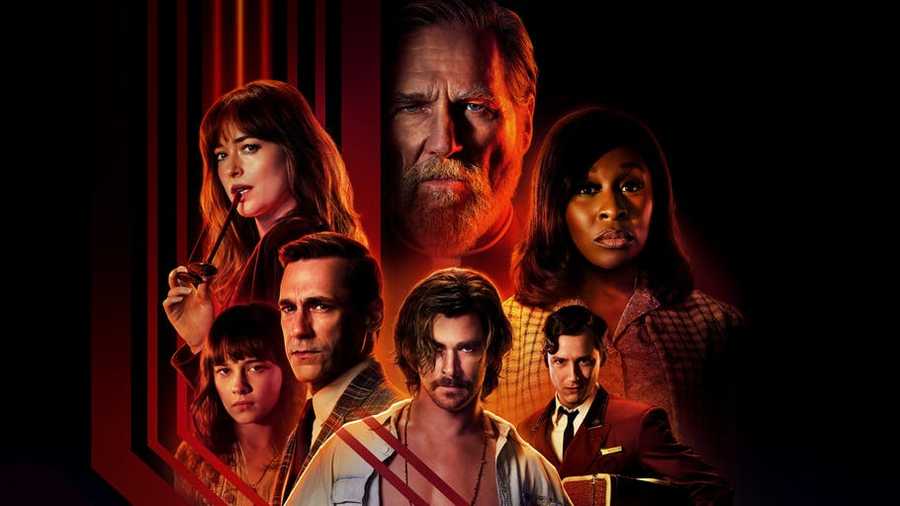 The one thing that you can be sure of after watching 'Bad Times at the El Royale', is that the director Drew Goddard wanted the film to be a love letter to the Cinema of Quentin Tarantino. Yes, the plot is highly reminiscent of 'Identity', Tarantino's own 'The Hateful Eight', and a ton of other films that involve a number of unfortunate strangers stuck at a place on an unfortunate night, with the mystery of their deeper connections and real identities surface as the night progresses, but this film is too stylistically charged to be lazily clubbed into a sub genre. The longer runtime may bug you a litte, but if you are a fan of deep cutting movies that take their time setting up, and focus more on detailed atmospherics, this film is for you. A self-styled Neo-Noir mystery (I'm in particular awe of the 60s setting and the mood lighting), the impeccable lineup of performing actors including Jeff Bridges, Nick Offerman, Chris Hemsworth, Dakota Johnson and Jon Hamm should be reason alone for you to catch this film. Not to be missed for fans of suspense films.
Read More: Best Women Centric Movies of 2018
4. Everybody Knows
'Everybody Knows', Asghar Farhadi's latest, is everything that you'd expect an Asghar Farhadi film to be, an exposition of moralities, tightly knit communities thrown into the act, and a conflicted family at the centre of the drama. Here, the plot involves a woman travelling to her Spanish hometown to attend her sister's wedding with her family, where her elder daughter is kidnapped, and among all the chaos and mystery that ensues, some ugly secrets related to the family make themselves known. The film charts those internal struggles as well as it does the struggle to find the missing daughter, and while the script escalates between dramatic highs and overdramatic lows, the one thing that doesn't falter is the cast and their dedication to their performances, especially from Penelope Cruz and Javier Bardem, who get to display their tuned acting chops in their native tongue this time around, and the ease of communication does visibly bring out an added dimension to the emoting. Dismissing faint similarities to Villeneuve's 'Prisoners', 'Everybody Knows' is not Farhadi's best, but another feather in the cap of an earnest moviemaker.
Read More: Best TV Shows of 2018
3. Hereditary
Horror movies are essentially built on the premise of a lingering mystery or murder, and thus are one of the most common forms of mystery movies around, except for slasher flicks, ofcourse. 'Hereditary' might just be termed the horror movie of the year, and while almost every year, we get a film that 'defies expectations' and is 'groundbreaking' in its depiction of horror, more often than not, it turns out to be a gimmick. 'Hereditary' is the one movie in years that did stand on solid ground with respect to the reviews, and was absolutely terrifying to watch. The plot involves the mysterious supernatural phenomena a family faces when the matriarchal head of the family passes away, and the mother reveals a history of mental illness for her side of the family. 'Hereditary' works on account of its reliance on old school atmospheric horror tropes, relatable character writing, its unsettling setting and some terrific acting, almost too good for a horror flick. The amalgamation of psychological disorders and supernatural threats is all too well done, and was easily the most interesting part of the film for me. Don't miss this nightmare of a film.
Read More: Best Crime Movies of 2018
2. A Quiet Place
The premise of 'A Quiet Place' defines original for me in the truest sense of the word. In a lot of ways, it did remind me a lot of 'The Last of Us' mostly, even 'Alien' and 'The Evil Dead', but through mere hints. The film itself manages to breathe new life into a genre now tired of its own trappings, and effectively conjures up a scare or two purely based on its post apocalyptic setting and atmosphere, and also the terrifying blind monsters with an enhanced sense of hearing, obviously. The tension even in the first fifteen minutes or so is nerve-wracking, and while people looking for unnecessary gore might be disappointed a bit, 'A Quiet Place' has enough through its runtime to give you some serious creeps and nail-biting moments, through introducing characters that you actually care about, and casting John Krasinski (also directing) and Emily Blunt in the lead helps a lot in this department, plus some taut writing that almost never slackens. Ofcourse, the deep mystery in all of this is how the family survives the onslaught, but especially commendable is how the film wastes virtually no time in world building or telling us how we or any of the protagonists got where they were. It jumps right in the middle of the horror while you are still settling in your seats, and delivers shock after shock as the Abbott family forage their way through a forsaken world. One of the best of the year in every genre it finds itself associated with.
Read More: Best Comedy Movies of 2018
1. Searching
If for some absurd reason, you weren't able to catch 'Searching' on the big screen this year, do yourself a favour and watch it on any streaming portal it may be available now. It would be almost too easy, and insipid, to call this film a fusion of 'Taken' or any other disappearance film presented in an 'Unfriended' fashion. Yes, it deals with a disappearance and is told almost entirely through screens and phone windows, but that is where the comparisons end. 'Searching' has heart and heft, and delivers both in a way that is at once innovative yet grounded, never once losing the connect or its audiences' attention. Apart from the visible work put in the technical departments, 'Searching' has a script that will have you in awe of its unpredictability. Even reading the script alone would ensure that you have a ball of a time. Easily the best mystery movie this year, 'Searching' will reinstill your faith if you lost some thinking that the genre had run out of suspenseful stories to tell.
Read More: Best Western Movies of 2018