Close to two decades ago, there wouldn't be a soul who would have predicted that the battle of the entertainment industry pining for people's time and money would have a contender right in the living rooms of people. No one sans a few visionaries predicted that a device known as an idiot box with all sorts of negative connotations attached to it would become the battleground for quality entertainment, but it happened. Inherently, the terms 'streaming' and 'bingeing' came into being and while they are as millennial as it can get, the rapid consumption of quality shows, all available at a single place at the same time and at the convenience of their homes, just the idea of it, quickly took over the minds of a global audience, and a new medium was born, one with lesser temporal and spatial restrictions.
Naturally, as the scope and audience for these shows grew, so did the budgets, and today we have shows like 'Game of Thrones', the production budget of whose single episode is close to what a mid-budget movie would cost, and that of an entire season could put big production houses to shame. No points for concluding the quantum of audience this show enjoys. This especially spelled good news for Indian audience ever since the Netflix and Prime fever took over, and the makers found more freedom to tell a story, skipping the route films take through the censor board. In this new day and age, even quality television has a lot of contenders, and 2018, like any other year, saw a host of new original shows that broke new ground, and a number of returning shows that the audience loved returning for another round. The sheer magnitude of shows releasing, and quite frankly good ones, made this list a daunting task, but without further ado, delve into the list of top TV shows of 2018 that made this a stellar year for television.
18. Bodyguard

'Bodyguard' is inherently British actor Richard Madden's star making turn. The show that I will remember for a long time as the one that had me by the throat in the first 20 minutes or so of the pilot only to slowly let go, 'Bodyguard' is an absolute roller coaster of a show with some great tense moments mixed in. Hinged squarely on its central characters, the idea behind 'Bodyguard' is something we have all seen before, about the eponymous character being torn between duty and morals. It is the breakneck pacing that makes this show extremely bingeworthy and gets to you. The finale did acceptably bring down the overall quality of the show a little which is unusual, but as a whole, this remains vastly enjoyable fare.
Read More: Best Heist Movies of 2018
17. Succession
The key strength of 'Succession' lies in giving us characters that are completely and utterly unlikable, and letting them, well, stay that way. It is true, one of the show's greatest ironies is that you have to be invested in characters bereft of any redeeming qualities, but after a few episodes, as deeper personality traits are revealed, you do. 'Succession' will require your time and investment, but once you are locked in, you'll love the ride. Think 'Billions' meets 'Arrested Development' meets the financial banter of 'The Big Short'. There is some well written and genuinely funny situational humour for those who prefer it, but all in all, 'Succession' was another win this year at the hands of HBO.
Read More: Best Disaster Movies of 2018
16. Altered Carbon

The concept of the human conscience being transferred to another physical body as a futile attempt at some kind of immortalization has been attempted quite a number of times before to varying degrees of success. 'Altered Carbon' essentially dealing with the same concept, is potent sci-fi, albeit glimpses of which you have already seen in tons of mind benders and sci-fi flicks dealing with exactly the same concept. Where 'Altered carbon' differs is where it excels, and that is essentially where it brings all these ideas together, adding a murder mystery and some philosophical insights too into the mix. While it could have definitely benefitted from stronger performances and isn't anywhere near perfect, it is enough to keep the geek in you invested for long, and thinking after.
Read More: Best Cop Movies of 2018
15. Who is America

Sacha Baron Cohen doing the most Sacha Baron Cohen things possible, and as usual it makes for an absolute blast of a time. Funny, irreverent, offensive, political and satirical in almost every single piece of dialogue, 'Who is America' has Cohen yet again doing what he does best, with some new character tricks up his sleeve. The man is an unheralded genius in this field, and kudos just for the guts to come up with the idea of this show. It doesn't have a larger appeal like 'The Dictator' or 'Borat' did, but provides a hilariously insightful peek at the American political landscape.
Read More: Best Korean Movies of 2018
14. Ozark

'Ozark' returned for a second season this year following a tense, atmospheric first season with several loose ends, and I for one felt that the show was able to live up to the hype of the second season, even surpassing it at some rare points, especially the finale. What started as a money laundering scheme by Bateman's character quickly spiralled into a full blown quarrel among the Byrde, Langmore and Snell family vestiges. There are enough tense moments this time too to keep you hooked, and the cinematography is A-rate like last time. What, in my opinion, is the most interesting thing about this season is the transformation the character of Marty Byrde undergoes, and how Jason Bateman embodies the reluctance and the newfound confidence. You still feel and root for him, but this time around you know he isn't the good guy.
Read More: Best Thriller Movies of 2018
13. Westworld

As with Jonathan Nolan's other works, 'Westworld' has already been established as a cerebrally rewarding experience, and the first season was something that managed to completely blow the collective minds of even the most hardcore sci-fi fans. While the second season of 'Westworld' still manages to retain those adjectives, I have to accept that it nosedives quickly into something the first season was far from, only to be redeemed by its finale. It is still one of the best shows out there, seamlessly blending sci-fi, mystery, and elements of a Western, but here's hoping the makers don't 'True Detective' this show in the next season.
12. Atlanta: Robbin' Season
Watching the first season of 'Atlanta' felt creatively different, fresh and what the millennials called culturally 'woke'. At roughly 22 minutes per episode, 'Atlanta', the story of a pair of cousins trying to find their place in their rap and hip hop influenced neighbourhood in the eponymous city, is a breeze by and is also one of the few shows to have achieved the rare feat of its second season surpassing the first one on almost all grounds, almost all credit for which goes to Donald Glover's eccentrically hilarious performance, and his role in penning this series as something that felt like a long awaited breath of fresh air.
Read More: Best Sports Movies of 2018
11. The Americans

2018 marked the final year for a beloved show, and I must say this: what an incredible finale! Yes, it leaves some questions unanswered and some ends untied, but there was an unexplainable contentment that took me over after 'START' ended and my blank screen stared at me, ushering in a bittersweet feeling at the same time. Fans couldn't have asked for a better farewell and 'The Americans' stays up there among the best written shows of all time with its head held high.
10. Maniac

'Maniac' was easily the best show to look at this year. Its visuals, architecture, costumes and soundtrack seem to be stuck in the retro era, while all else is techno-futuristic making for quite a unique cocktail, and that is exactly what makes this series so rare. It is trippy, it is wild, and effortlessly bends genre including sci-fi, drama, thriller and even comedy, starring quirky winning performances by Jonah Hill and Emma Stone. Don't miss this limited series.
Read More: Best Spanish Movies of 2018
9. Better Call Saul

If there is ever a prequel or spinoff show, this is how you do it. No questions asked. 'Better Call Saul' consistently maintains the same level of intelligent writing that brought 'Breaking Bad' the laurels it did, and with the same minds working on this show, fans of BB could rest well assured that Walter White's criminal for hire lawyer was in good hands. The fourth season of 'Better Call Saul' was just as tastefully done as the previous three, and with a host of returning characters, the shows draws closer to where Saul's story amalgamates into the 'Breaking Bad' storyline. My anticipation knows no bounds.
8. The Handmaid's Tale

You're probably living under a rock if you haven't heard about the waves this show has made at the Emmy awards, and deservedly so. Conjuring up a dystopia scarier than Orwell's '1984' was a task I thought was too futile to attempt, but Margaret Atwood did it all those years ago with her novel, and the makers stunningly recreated the heart breaking, bleak setting in the first season of the show. The dystopia it projects, of women being denied a social status and subjugated into merely vessels for birthing seems terrifying not because of the way it is shown in the show, but because it feels so real and plausible even in the current world. Currently being renewed for a third season, the second season of 'The Handmaid's Tale' that aired this year was just as good, if not better than the first season, pressing upon a theme that is depressingly relevant with a captivating and arresting central performance from Elizabeth Moss.
Read More: Best Sci-Fi Movies of 2018
7. Patrick Melrose

Benedict Cumberbatch doing what he does the absolute best, delivering one of his career bests in a performance so deeply entrenched in emotional and material abuse. 'Patrick Melrose' is the tragic tale of a man recovering from extreme addictions of and having endured abuse through his life after he inherits the vast fortune his parents leave behind. Working at the same time as an expose of the British aristocratic classes, 'Patrick Melrose' is drama and social commentary done right, with winning performances from the entire cast, especially Cumberbatch. There are shades present of characters he has played before, but the man will find ways to surprise you, that's a promise.
6. BoJack Horseman

'BoJack Horseman' is a returning favourite currently in its fifth season. It is darker, funnier, more introspective and is one of the few shows whose writing never ceases to amaze me, progressively getting better every season. Will Arnett is fantastic as usual with some returning and new cast members, all in excellent form. But more than anything, as a fan of the show, I give you one reason to watch it: Free Churro. Quite easily the best 26 minutes I spent in front of the television this year, and quite honestly, the only time someone is going to have my undivided attention monologuing for the entire duration of the show. If Arnett doesn't have an Emmy for this, well screw that.
Read More: Best Romance Movies of 2018
5. Barry

'Barry' has Bill Hader playing an ex-marine hitman who unintentionally steps into the theatre scene via an acting class while on a job, and secretly begins to develop an affliction towards it. What follows is a madcap ride with Barry on the run while acting becomes his cover and alternate identity. With Hader in the lead, you can expect everything to be twice as funny. Not that the script doesn't provide for it, since that too packs enough wit and punch, but Hader's performance dials it up a notch. What we have as a combination of the two is a charming, darkly funny show that never ceases to entertain.
4. Narcos: Mexico
The saga of the drug trade war in Mexico. With a shift in venue, the narcos have a new face, a new cartel, a new drug to export and a new empire to build. I think all of us can agree that the third season detailing the exploits of the Cali Cartel was the weakest, and the show made a good decision with a spinoff sibling series. That is what I feel the problem with spinoffs is. The star of the show or the main attraction, Pablo Escobar here, is already established and exhausted, and the audience has to make do with faint connections and references. Luckily for us, 'Narcos: Mexico' has a new star in the form of Miguel Ángel Félix Gallardo played by Diego Luna, and a familiar face in Michael Pena, playing the DEA agent Kiki Camarena. Things are interesting enough this time around, and the war in Mexico is just as crude, bloody, dark, and ridiculously costly as the first one in Colombia was. The only problem is the lack of a Pablo Escobar, if you know what I mean.
Read More: Best Family Movies of 2018
3. The Haunting of Hill House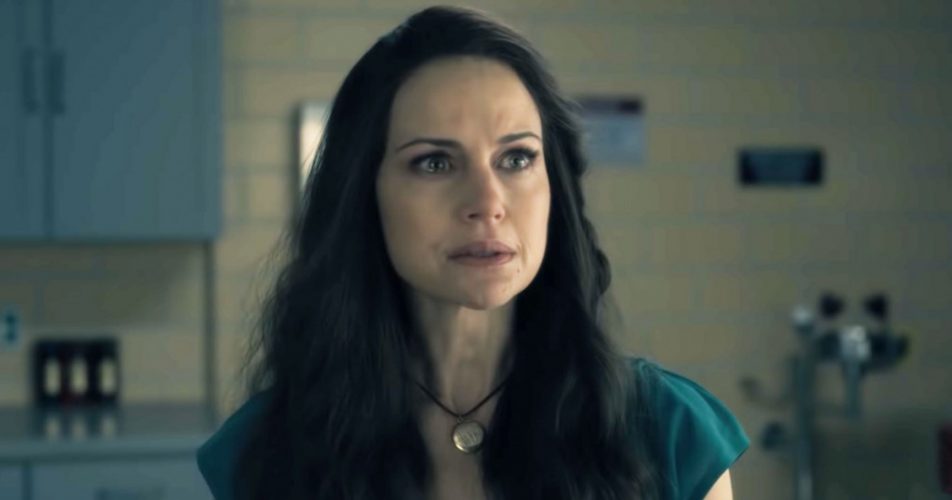 I confess that I have rarely given horror shows a chance owing to the fact that I feel horror loses its effect when it starts lurking over a longer running time. What I mean is, one can only show a small group of people living at the same place being terrorized by a spirit only so many number of times and expect genuine dread as a reaction from audience. What proved me wrong was a horror show with ten episodes, each fifty minutes long. The show surprised me at every turn, and turns out that investment in its characters works big time in the favour of the show, as does the increasingly creepy atmosphere. Jump scares aplenty, the show conjures up a win with the kind of atmospheric horror that is part exhilarating and part dreadful, but always terrifying. No blood, no gore, just a straight up old school ghost story proving why they are the scariest subgenre in horror. If there is a horror series that can be termed scary throughout, it doesn't get much better than this.
Read More: Best Movie Kisses of 2018
2. Sacred Games

Perhaps the most talked about TV show of 2018, 'Sacred Games' is vintage Kashyap, whipping up a frenzied cocktail of thrill, violence, religion, the underworld and politics with Vikramaditya Motwane (Udaan, Lootera, Trapped). The result may make you frown or giddy with excitement, but one thing is for sure. As hard hitting as it is, it will make you pause and think. With the occasional lapses in pacing and screenplay, and some of Kashyap's indulgences completely forgiven, 'Sacred Games' is ridiculously binge worthy and a must watch, especially to laud the talents of the team in bringing together mostly all thematic elements from a complex novel. Its unforgiving commentary on the political state of the country back in the 80s and early 90s, its dramatic retelling of how Bombay came to be Mumbai through the eyes of a resurfaced gangster narrator, its unbiased views on religion as being something that is ironically constraining and liberating at the same time, its views on society and social life, and a breakneck thrill that lurks around, fully making itself visible only in the final episode of the series.
Yes, the finale leaves a lot to be desired, and a ton of responsibilities and loose ends to tie for season two. That being said, Season One is, in itself, a fully packed 8 episode explosive that stands tall, simply as a story well told in layers. Call it Kashyap's long due second coming after Gangs of Wasseypur.
Read More: Best Western Movies of 2018
1. Sharp Objects

'Sharp Objects' is one hell of a show, while I also admit that it is increasingly difficult to watch. Unfailingly, the show has a very niche group of audience it would appeal to. It operates simultaneously as a whodunnit, an examination of the psyche of a handful of broken women and their upbringing, while diving deep into the complex web of emotions and thoughts that constitute a person, also represented by random, quick cuts in scenes showing seemingly unrelated visuals derivative of the protagonist's conflicted state of mind.
This is a series I dare not revisit any time in the near future, and I mean that in a good way, still. It is dark, almost bleak, and psychologically disturbing at so many levels, often unforgiving in its dramatic repealing of the many secrets the human brain is capable of housing under the complex umbrella term 'behavioural psychology'. All that chatter is not to take away from the show the visible effort and meticulousness put into crafting each shot and making things all the more eerie and unsettling. Kudos to the makers for retaining the essence of the novel in almost all aspects, and bringing to us a show that is increasingly well made and incredibly well acted. Such productions are rare, and one should consider oneself bereft of the very best 2018 had to offer if you fail to catch this one.
Read More: Best Animated Movies of 2018