"Party" is no ordinary word; it probably has more energy, feel and nostalgia to it than most other words in the English language. Every time we say the word, we don't put it forward blandly but we emphasize on the feel of the "Paartttaaayyy" and we do that for a reason. When you're about to invite a group of friends over for a party, then you're surely not planning to play Scrabble all night. You need to add more value to the gathering so that justice is served to the true meaning of the word. What you would need is something more entertaining and engaging that'll fire up your guests and make them remember your party long after they leave. There's no better way of doing this than playing party movies.
Now you can either just play these movies in the background while everyone's busy socializing or you could just sit and watch a whole movie together. Whatever suits you. But a good party movie keeps the conversations and booze flowing while everyone has a good time. And there's no better way of playing a party movie at the comfort of your own house than playing it on Netflix. So load up your snacks, fill up those glasses and get ready for a night you will not forget. Here's the list of really good party movies on Netflix that are available to stream right now.
10. Spring Breakers (2012)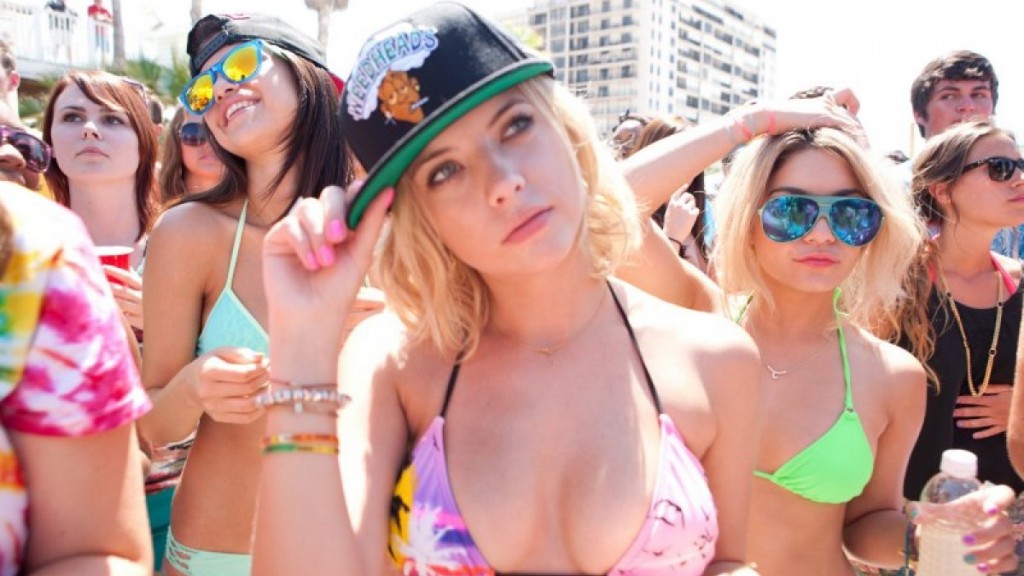 If you look at the smaller picture, then 'Spring Breakers' is nothing but a party movie that revolves around the lives of four teenage girls who will do anything to make their spring break memorable. They are even willing to go down an unethical path along with an infamous rapper (James Franco) just to have the time of their lives. But if we look at the bigger picture, the movie actually highlights the "YOLO" mentality of Millenials who are willing to give up on everything in the long run just to have some fun in the present. 'Spring Breakers' is not just a party movie but a lot more than that. So the ones who expect it to be just a fun and booze-filled party movie that involves excessive electronic music and drugged dancing will be left disappointed.
9. Alex Strangelove (2018)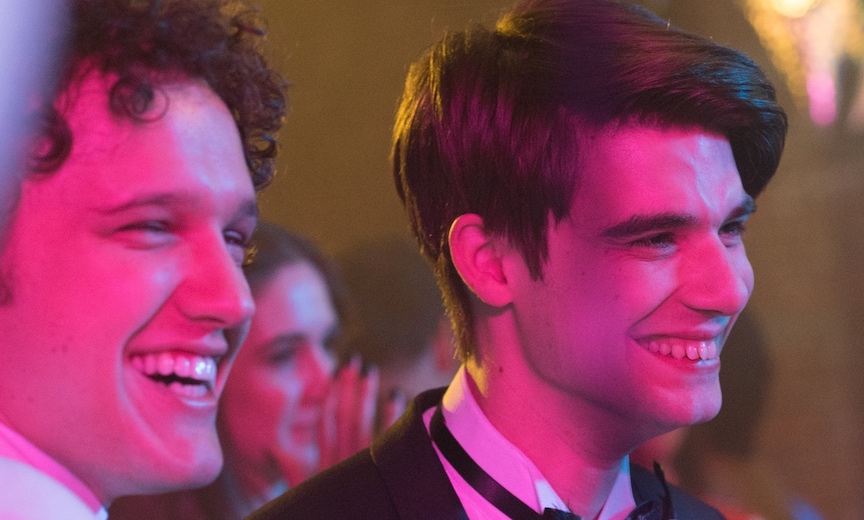 This Netflix original film revolves around the eponymous central character who has been waiting for a long time to find an opportunity to have sex with his girlfriend Claire. However, things get a bit too complicated for him when Alex comes across a guy called Elliot at a party. Now, Elliot is openly gay and has a crush on Alex. The problem is that Alex now finds himself thinking about Elliot more than Claire. This makes him sit back and question his own self. Alex cannot believe that he is feeling a strong attraction to a man all of a sudden. The film is a rather refreshing look at sexual orientations and the confusion that we might have about them. It helps us understand the concept of gender fluidity while itself being extremely sweet and funny.
8. Bachelorette (2012)
Three jealous friends Regan, Gena and Katie reunite with their high school friend Becky when she invites them to becomes her bridesmaids. But the three have plans of ruining her marriage with her sweetheart Dale and with their evil intentions, the three decide to tear Becky's wedding dress. The four women spend an insane night partying in New York with a night full of endless booze, drugs, sex and also a deeper realization that hits Regan, Gena, and Katie making them question their own selfish purpose. After this realization, the four try to fix Becky's dress but will they be able to calm the fire they started?
7. The Kissing Booth (2018)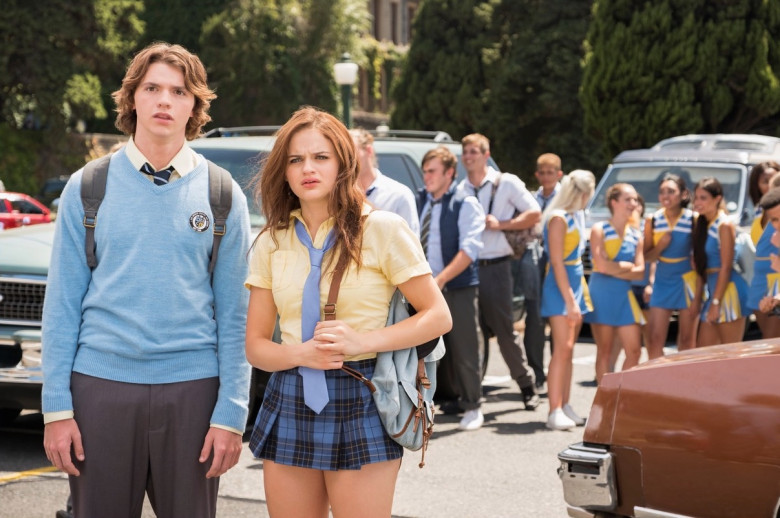 A Netflix original romantic comedy, 'The Kissing Booth' centers around the story of a girl called Elle Evans (Joey King) who has come up with a unique plan for her high school Spring Carnival. She has decided to set up a kissing booth, which is rather exciting for her because she has never been kissed before. However, her booth leads her to get into a kiss with Noah Flynn (Jacob Elordi), who has always been her crush. The major problem which Elle faces now is that Noah is actually the brother of one of her best friends, Lee, and Elle had made a promise to the latter that she would never get involved with the members of her friend's family. Now Elle has two paths in front of her- forget about Noah for the sake of friendship, or pursue her romantic interest while trying to make her best friend understand her situation. The film has nothing much to offer in terms of its plot and characters, but it is a sweet story which can be enjoyed on one lazy afternoon.
6. The Invitation (2015)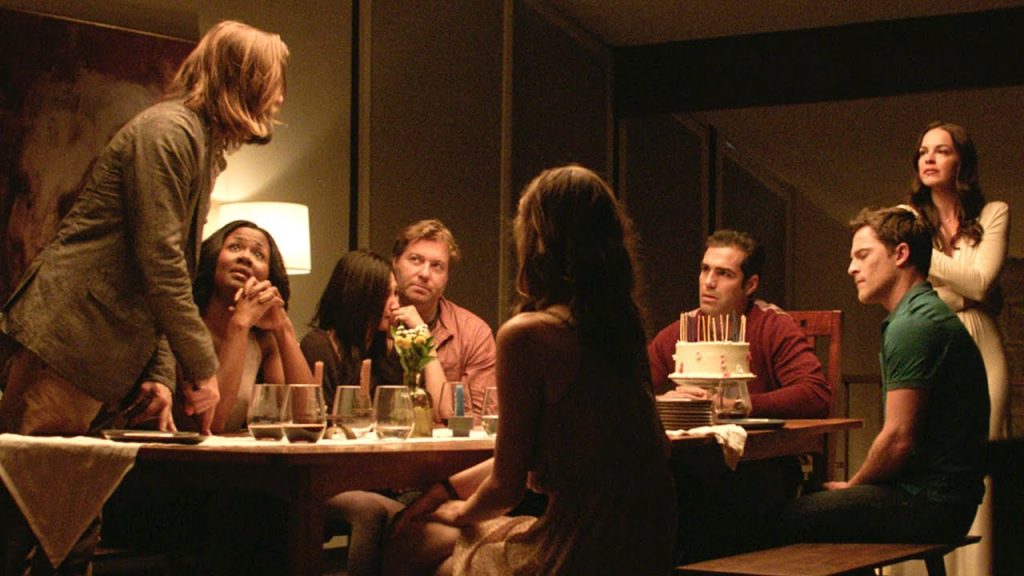 This 2015 film is extremely well-made and focuses on a man called Will who has been invited by his former wife to a party. Will goes to the party along with his new partner, and finds that his former wife Eden, and her new husband have invited quite a number of people to their house for a party. The former lovers are now quite friendly with each other, and we get a feeling that there is no bad blood between them anymore. As the party progresses, Will someone senses that something is really off-putting about this entire thing. When Eden and her husband start talking about a new cult they have joined, we understand that this party is not merely a party, but has a rather dangerous plan beneath it. Will our protagonist be able to survive this ordeal? The use of the camera and the performances by each of the actors in the movie are brilliant. It is rather difficult to make a movie in such a confined space, but director Karyn Kusama pulls it off with great panache.
5. The After Party (2018)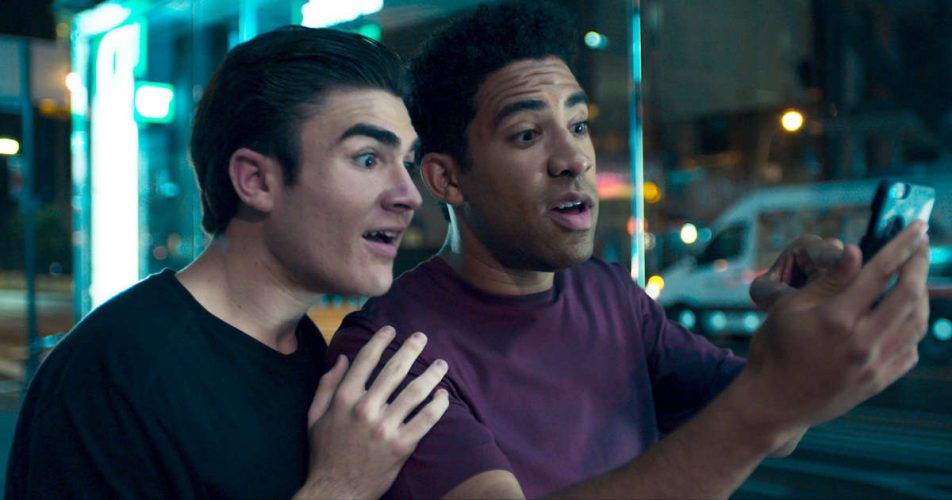 'The After Party' is the story of a struggling rapper who's trying hard to make it big. But he ends up getting infamous for all the wrong reasons. Hope is restored when his best friend gets him tickets to a high-class NYC party where he gets the opportunity of a lifetime to either make it as the rapper he dreams to be or break it and live the rest of his life drowned in regret. This movie will give you some lighthearted laughs and a small dash of motivation as well.
4. Murder Party (2007)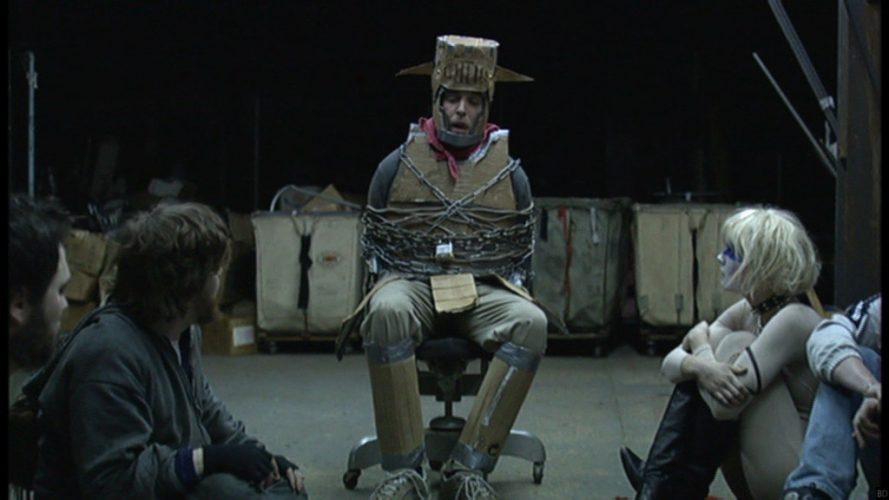 'Murder Party' is a strange yet fun movie about a man who receives an anonymous invitation to a Halloween Party. Being the loner that he is, he gets all excited and reaches the venue. But the party is no regular party; it's a murder party where he becomes the victim of a weird cult practice of a group of artists. But as the night begins to progress, the disturbed artists become victims of their own insanity and start pitting themselves against each other leading to a chaotic and hilarious bloodbath. The protagonist tries to take advantage of this situation to get out of there but will he succeed? The plot makes it sound like it's a horror film but the movie is more on the funnier side of the spectrum. If watching dark, gory comedies is your thing, then do give this one a visit.
Read More: Best Disaster Movies on Netflix
3. Haunting on the Fraternity Row (2018)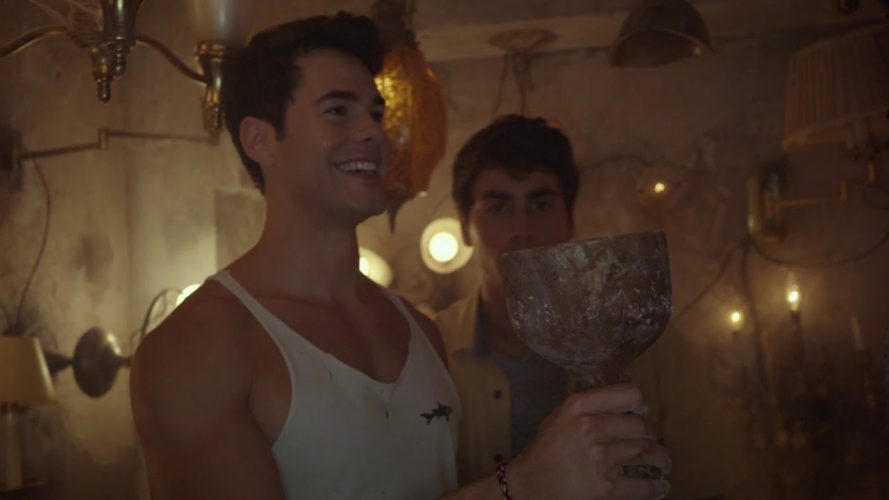 Probably the only horror movie on this list, 'Haunting on the Fraternity Row' would be ranked much lower on this list if we go by chronological order of how good a movie is. But it still made it here because of its unique sub-genre. The movie portrays the hauntings that take place at a big frat "Winter Luau" party where boys and girl start dying in the most brutal ways, getting murdered by a sinister entity that lurks in the shadows of their frat house.
Read More: Best Horror Movies on Netflix
2. Scott Pilgrim Vs. the World (2010)
Scott (Micheal Cera) takes one look at the new girl in town, Ramona Flowers (Mary Elizabeth) and his world turns upside down as he madly falls in love with her. But getting to her would not be as easy as it seems because, on the path to having her completely, seven of her evil exes stand in the way who will do anything to end Scott. Scott has to fight each of them one by one to prove that he is worthy of being with Ramona. I know what you're thinking if you haven't seen the movie yet – the whole plot sounds silly, doesn't it? But you're judging too soon because this one is an absolute entertainer and its graphic novel type appearance will make you fall in love with it.
Read More: Best Dramas on Netflix
1. Fyre: The Greatest Party that Never Happened (2019)
'Fyre' is a recent Netflix original about an infamous music festival that promised its fans an experience of a lifetime. But what was supposed to be the greatest party of the year turned out to be a complete disaster full of fake promises, lies, and slander. The movie shows the power of social media and how deceiving one can be behind the curtain of Instagram models and "aesthetic" photos. 'Fyre' may not be the greatest party movie but it sure is the greatest movie about the greatest party that never even happened.
Read More: Best Chick Flicks on Netflix