One thing that tops most of our bucket lists is going on a road trip. For once in our lives, we all want to go on one, either alone or with someone we're really close to. We want to just get away from the world, the maddening crowd and explore places; sleep in the backseat of the car; take classic pictures of beautiful places with a beat up disposable camera; see the sunrise and the sunset from behind the windshield of our car; feel the cold wind blowing through our hair; observe the world around us deeply and then write about it; meet new people and make memories and most of all, just feel alive in the present moment.
Road trip movies often send out a deeper message than just going from point A to B. They depict transformations of those who embark on them and also stress immensely upon the value of the journey a lot more than the final destination. We understand the value of road trips for you and we also understand that at times a little push is needed to get the courage to leave behind everything for a while and go on one. So we've made a list of some really good road trip movies on Netflix, that will give you the much-needed push to go on a road trip of your own.
8. Mississippi Grind (2015)
Gerry seems to be running out of luck when he meets Curtis (Ryan Reynolds), a young, charming and lucky poker player. Gerry decides to take the young man on a road trip with him to the South with an intention to try the luck of his new lucky charm and recover from his financial dilemma. The movie does not really emphasize on the road trip or the journey but it does show the true nature of a gambling addict. It's even sad at times to see the two men put everything on the line just to feed their addiction.
7. The Bucket List (2007)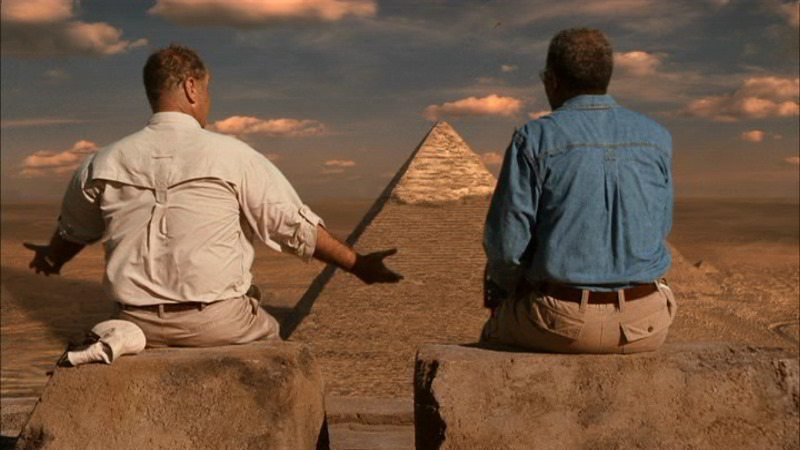 'The Bucket List' is a sweet and touching story of two men (Morgan Freeman and Jack Nicholson) who meet each other in the cancer ward of a hospital when sharing a room. The two get closer with time and one of them discovers that the other has a bucket list of all things he wants to do before he dies. With only a little time left for them before they "kick the bucket", the two men decide to go on a trip and fulfill their last wishes. And while they are on this journey, they find a newly discovered peace and joy in each other's company.
6. Y Tu Mama Tambien (2001)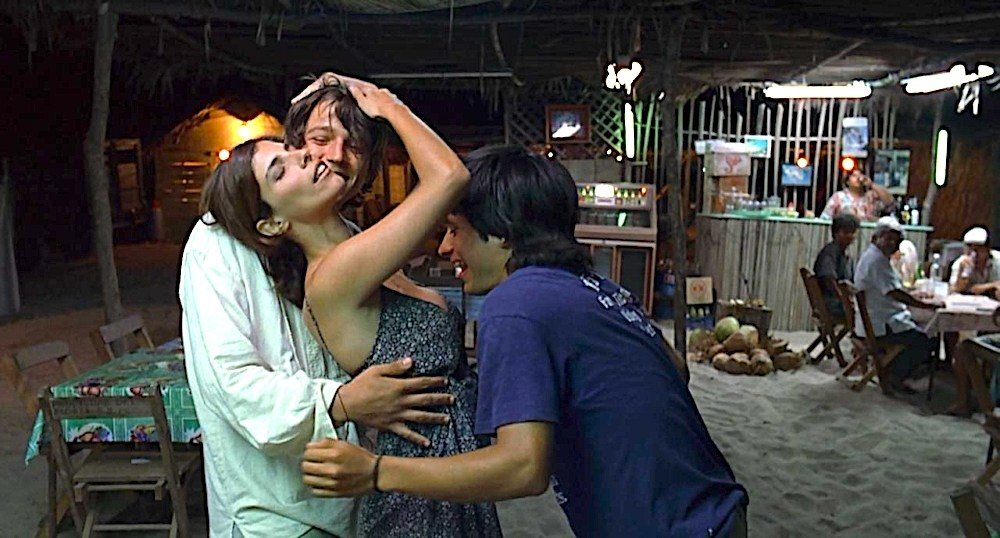 Two guys end up meeting an older woman named Luisa after being deserted by their own girlfriends. To impress this new beautiful lady, they tell her that they're going on a road trip to a secret beach. The girl Luisa, looking for an escape herself decides to join them. As the three embark on this journey to a beach that does not even exist, they learn a lot about sex, relationships and life in general. The film has a lot of heart to it and the outstanding characters will be admired by most. The movie also has a very open heart when it comes to sex and intimacy which makes it very sexually explicit but also compelling at the same time.
5. The Trip to Spain (2017)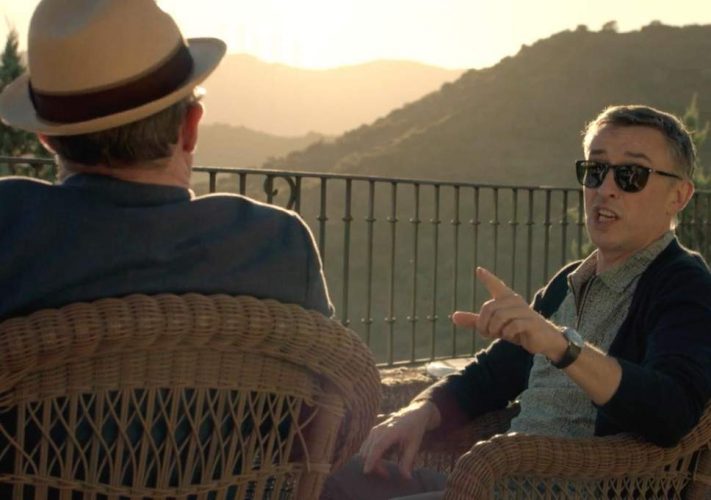 'The Trip to Spain' is one of six series of movies made by actors Steve Coogan and Rob Brydon who go on a trip across Europe, specifically spin in this one, stopping by at eateries and beautiful sights. This one's more of documentary rather than a movie and just follows the journey of two men who have a passion for travel and an appetite for some delicious looking food. The dialogues are raw because the actors are not really acting out, they're in the moment speaking their minds out. Don't watch this with an expectation of watching a great movie but try watching it for what it is and you'll surely love it.
Read More: Best Survival Movies on Netflix
4. Kodachrome (2017)
Matt played by Jason Sudeikis is often overshadowed by his father's shadow who was a famous photojournalist. Upon finding that he has cancer, Matt's father's last wish is to go on a road trip with his son from New York to Kansas to get his last few Kodachromes developed before its too late and those memories are lost in unprocessed films. The movie will definitely bring back some pleasant memories to those who once used Kodachromes for taking pictures with Kodak cameras before the company went bankrupt and shut down completely. The film is very predictable overall but that's how most road trip feel-good kind of movies are, right? We do not watch them for a predictable storyline. We watch them for the whole positive vibe that the movie gives out to touch us and at times even inspire us deeply.
Read More: Best Space Movies on Netflix
3. The Fundamentals of Caring (2016)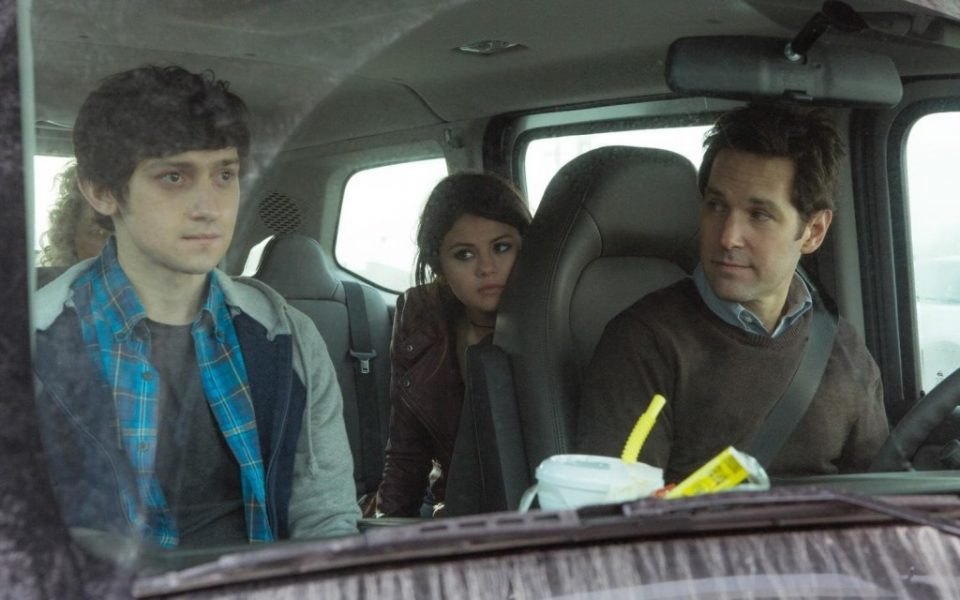 Put the Antman star, Paul Rudd, in any film and he'll surely give you a great performance and some hilarious jokes to remember. 'The Fundamentals of Caring' is one such film where Paul Rudd plays the role of a writer who has recently experienced the loss of a loved one. To recover from that, he decides to become a caregiver. This is when he meets an angry and frustrated teenager who has never left his home because of his disability. During the journey, the two get close and get a deeper understanding of friendship and aspiration. This movie is a pure entertainer when you're in a feel-good kind of a mood and will make you laugh and cry at the same time.
Read More: Most Disturbing Movies on Netflix
2. Dirty Girl (2010)
Fat, insecure, homosexual and depressed teenager meets a promiscuous, bold, infamous and scandalous girl during a special Ed class. The two have nothing in common except for one major thing — they are both unwanted misfits of the school. Done with their useless school lives that are taking them nowhere, the duo decides to run away on road trip to re-discover themselves and deepen their friendship on the road while jamming to some classic tunes of the 80s. The movie title makes it sound like some stupid adult film with no material but it's actually the opposite if you, like me, judged it by its name. So 'Dirty Girl' here is not at all dirty and should be somewhere near the top of your list of road trip movies because of its astounding characters, soothing soundtracks and meaningful plot.
Read More: Best Sex Comedies on Netflix
1. Burn Burn Burn (2015)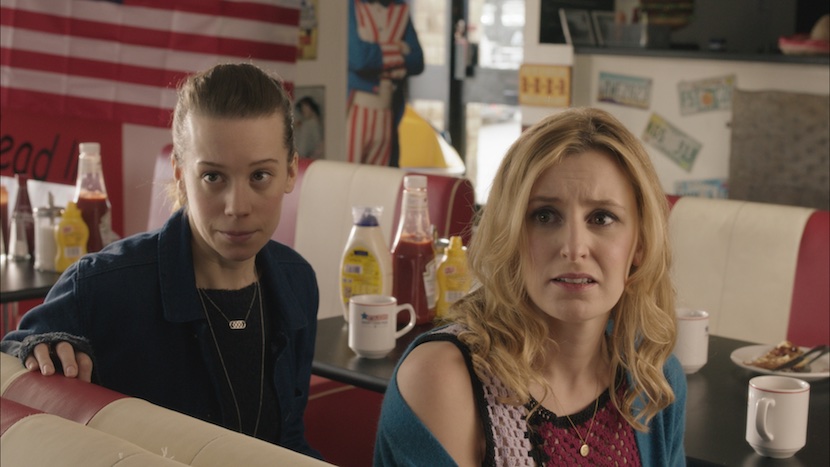 'Burn Burn Burn' is a very touching story of two friends who decide to go on a road trip in the fond memory of a friend who had recently passed away. On the journey, they also spread his ashes which they carry in a small Tupperware. The movie gives you a very indie feel-good vibe and is perfect for a weekend with a loved one. The actors, too, give out very raw and poignant performances which allows you to absorb their emotions and the pain of their loss in a much deeper way. It hits you right in the feels and leaves you with a feeling of happiness and mild sadness at the same time.
Read More: Best Stephen King Movies on Netflix