Being away from your home turf not only feels incredibly freeing but can often play a key role in strengthening the loose bonds of one's relationship and that's exactly what 'Couples Retreat' portrays. Revolving around four couples who go for a holiday on a therapy resort, the film is a hilarious depiction of how therapy can often be a necessity in most marriages.
As one can tell, in both concept and execution, it is a rom-com that features a star-studded cast including Kristen Bell, Vince Vaughn, Jason Bateman, Malin Akerman, and Jon Favreau. But apart from all that, this family affair also gives you a dose of sun and sand with its breathtaking beachside landscapes. So if you want to know more about its filming locations, read on further.
Couples Retreat Filming Locations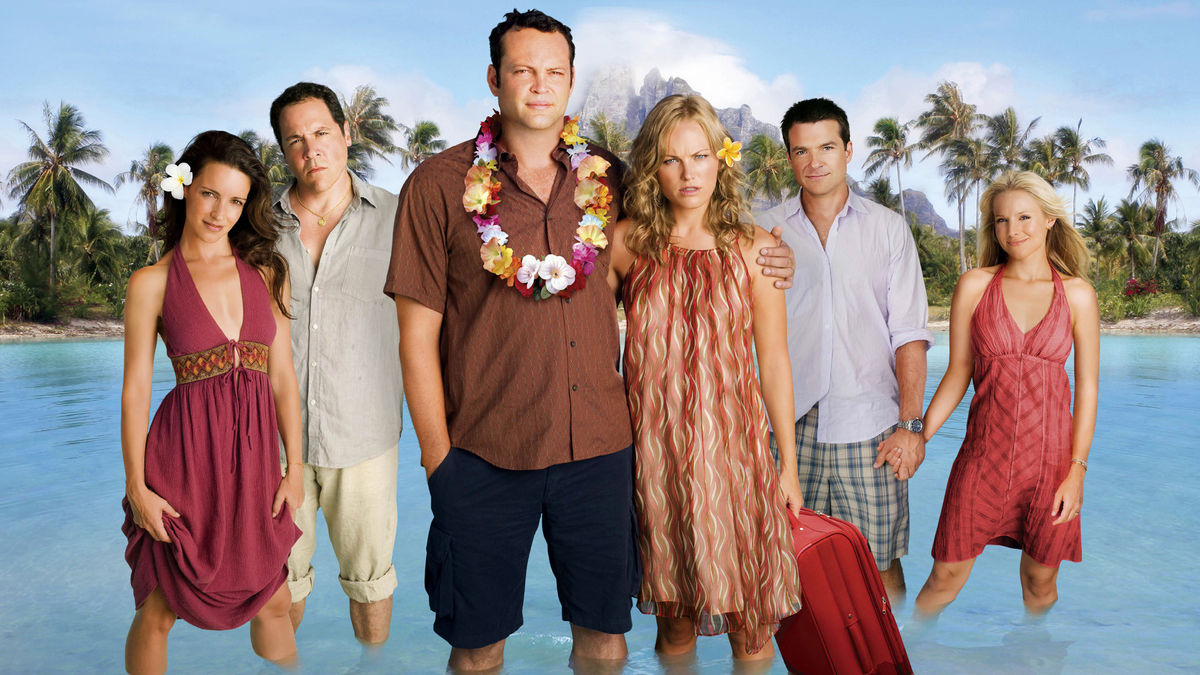 'Couples Retreat' may not be critically acclaimed, but it sure does have an incredible cast, some good hilarious moments, and most of all, it has been filmed in some gorgeous locations. The visuals and the backdrops of almost every scene of the film are so great that it makes you want to pack your own bags and visit the location where it has been filmed. For the most part, the film's shooting was done in St. Regis Bora Bora which is a renowned luxury resort in French Polynesia. Other secondary filming locations of 'Couples Retreat' include Los Angeles, Universal Studios and O'Hare International Airport.
Bora Bora, French Polynesia
Referred to as "Eden East" and "Eden West" in the movie, almost the entire film was shot in sensational The St. Regis Resort which seems to be straight out of one's dream. The place is surrounded by fish-filled turquoise lagoons that have the bluest water you'll ever see and just like the movie, the tropical paradise offers everything from shower spas to overwater villas. Now since the movie revolves around couples who go to this location to seek marriage counseling, you must be wondering if the actual location provides any services of this sort. The answer to this is a simple "no", however, it does have a lot of honeymoon and wedding packages for couples as shown in the movie.
The film also features scenes of a waterfall that is seemingly located right inside in the resort and if you've seen the film, you might be wondering if this waterfall actually exists in St. Regis. Unfortunately, according to a guide at the Bora Bora Island, that particular scene in the movie is probably shot in a studio and the location featured in it is not a part of the Island. Even the pool that can be seen right in front of the waterfall is actually not a part of St. Regis.
Check out the image below and take some time to appreciate the unwavering beauty of The St. Regis Bora Bora Resort:
According to NY Post, just before the filming movie had been initiated at the resort, a wealthy corporate executive had planned and even booked his own stay at the plush St. Regis. But his dream honeymoon was ruined when his stay was abruptly canceled because the resort was shut down temporarily for the filming of 'Couples Retreat.' However, despite all of this initial controversy surrounding it, the resort gained a lot of attention soon after the movie was released. The Bora Bora Island was also later featured in three episodes of 'Keeping Up With The Kardashians' and most of its filming took place in Hilton Bora Bora Nui Resort, which is another renowned resort on the Island.