'Couples Retreat' is a comedy film that captures the hearts of its audience with its humorous take on relationships and personal growth. This 2009 movie follows the story of four couples who embark on a luxurious tropical retreat in Bora Bora to mend their relationships. However, when they reach the paradise island, they discover that they are required to undergo mandatory therapy sessions, which leads to personal revelations and comedic conflicts. Director Peter Billingsley wanted the island to be a character in the movie and had the characters enter this visually stunning world, which is why he chose Bora Bora as the setting.
Through a lighthearted yet intriguing storyline coupled with compelling performances by the talented cast comprising Jon Favreau, Vince Vaughn, Jason Bateman, Faizon Love, Kristin Davis, Malin Åkerman, Kristen Bell, and Jean Reno, the film showcases several relatable couples as they navigate the turbulent waters in their respective relationships that we so often see in real life, which begs the question: Is 'Couples Retreat' based on true events? Well, we scoured the internet to find the truth behind the origins of the film. Let's see if the narrative of this hilarious movie is rooted in reality.
Is Couples Retreat a True Story?
No, 'Couples Retreat' is not based on a true story. The writers of the show, Jon Favreau, Vince Vaughn, and Dana Fox, have created this comedic narrative to depict the relationship problems of modern couples in an entertaining and captivating way. The concept of couples seeking counseling or retreats to improve their relationships and strengthen them is not uncommon in reality. So, it is possible that the writers took inspiration from common relationship struggles. However, the events in the movie are largely fictionalized for dramatic impact and comedic effect.
In an interview with Oprah, Vince Vaughn talked about how the screenplay for the movie was created, "It was an idea that I originally had, then Favreau did the first pass at it, and then he went to the Iron Man 2 stuff and so Dana Fox, who's a great female screenwriter, she and I really took over the screenplay and finished it together." He further discussed the journey of creating the characters for the movie, saying, "For me, it was important to make sure that all the couples had an authentic journey and that there was a beginning, a middle and an end to all of them. There are four couples, but there are eight leads. There's no B story here."
He added, "The focus with this movie was on writing conversations that we've all had with our friends and hitting on themes that we can all relate to but still finding a funny perspective to do that with."
The film boasts an ensemble cast of Vince Vaughn, Jon Favreau, Jason Bateman, Kristen Bell, Faizon Love, Malin Akerman, Jean Reno, and Kristin Davis. Overall, this lighthearted and entertaining comedy is the result of the collaborative effect of the writers, actors, and directors who combined their observations, personal experiences, and comedic elements to craft this engaging narrative. Even Billingsley, the film's director, has talked about how when one is working with a cast like this, it's important to set the shot, take a step back, and let the actors take the lead.
While talking about his film's character and relationship with Female Magazine, Jason Bateman said, "Jason and Cynthia are two people thoroughly convinced that the best way they can get through life is with deep analysis, pragmatic responsible decisions, and by staying within the lines marked by rules." He further added, "Ultimately I think it has all contributed to a very stagnant relationship that has lost a lot of its spontaneity, so they need to loosen up before they decide to do anything about it."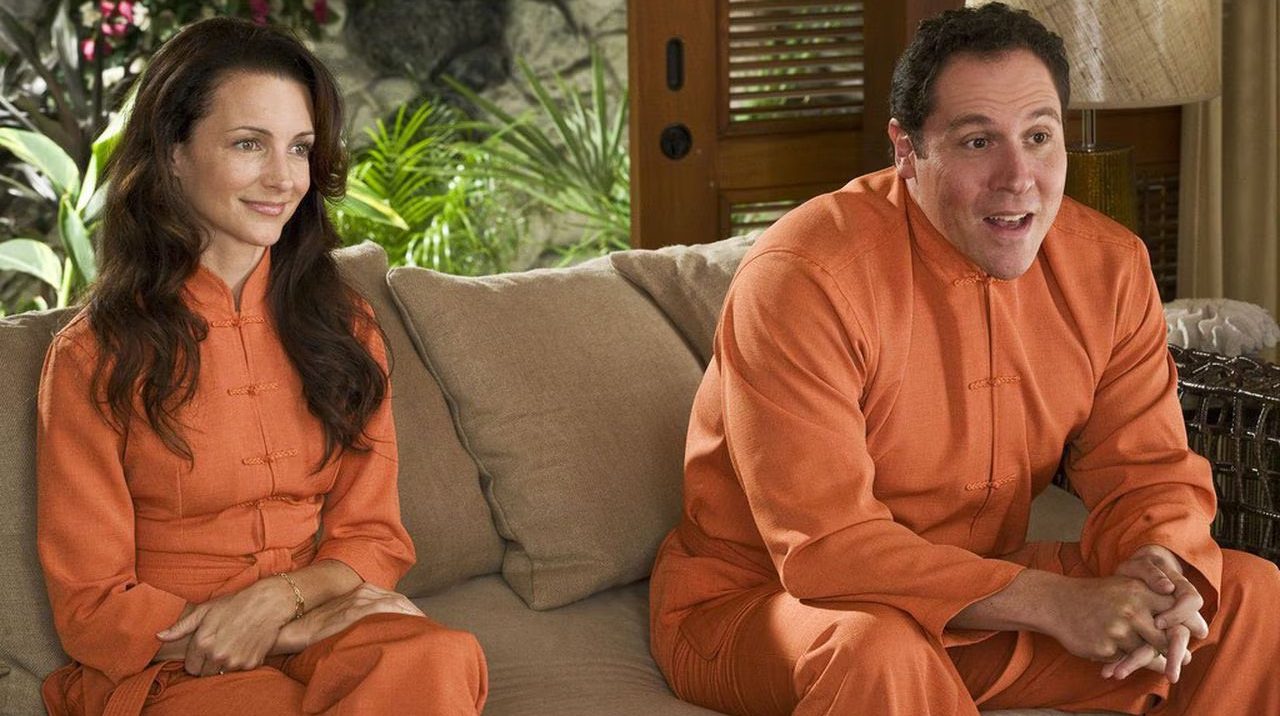 Taking everything into consideration, we infer that the 2009 movie is based on a comic idea of Vince Vaughn and isn't grounded in any specific true story. However, it does draw inspiration from the realities of modern relationships. The film has captured the essence of couples who have to navigate these challenges, which ensures its relatability and appeal to the audience. Overall, 'Couples Retreat' is a fictional comedic yet thoughtful take on the intricacies of love.
Read More: Best R-Rated Comedy Movies of All Time