With Netflix's 'The Ultimatum' covering not only the emotional but also the mental and sexual aspects of a relationship in all its chaos, we honestly get a reality dating production unlike any other. After all, it centers around a handful of long-term couples as they attempt to navigate the crossroads they've arrived at while considering their future together, just to genuinely be unsure of forever.
They thus get an opportunity to uncover what they really desire with the help of two distinct three-week trial marriages — one with essentially a compatible stranger and the other with their partner. So, since this series does unabashedly put everything on the table, let's find out whether the cast members actually engage in intimate sexual connections within these short periods, shall we?
Do The Ultimatum's Cast Members Get Physical?
If we're being honest, this question does not have a straightforward yes or no answer because the truth is participants get to make their own rules about the intimacy levels they're comfortable with. This much has been evidenced throughout the original show's two seasons until now, along with its queer as well as international spin-off; plus, even former stars have indicated the same.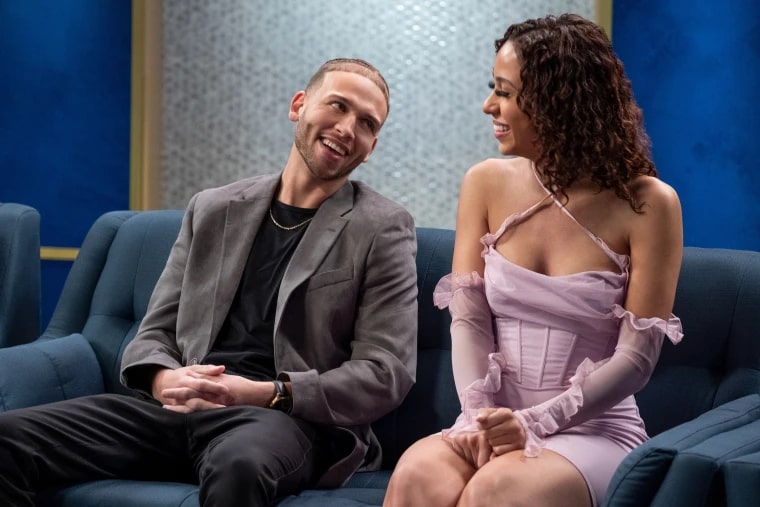 Let's take season 1's trial couple Rae Williams and Jake Cunningham, for example, especially as the latter had made it clear he would sleep with her if he could in the initial few episodes itself. However, they admittedly never crossed this line since they didn't want to betray their original, long-term partners — although they did kiss a lot, which gave rise to undeniable physical chemistry. In fact, Jake later reiterated, "Me and Rae were very respectful doing the whole situation. No matter how it looks, we did not have sex… I slept in a separate bed for the first five days on the show."
Season 2's Antonio Mattei also slept in a separate, inflatable bed throughout his trial marriage with Kat Shelton as he didn't want anything to affect his bond with love Roxanne Kaiser in any manner. Then we have Jeriah "Riah" Nyree and James Morris from the same iteration, whom we clearly see discuss boundaries as well as expectations from their very, very temporary three weeks together. As for their original partners, they were coincidently coupled up too, only to end up developing a deep, emotional connection — yet they never once kissed to remain respectful, let alone have sex.
Though things were a little different in 'The Ultimatum: Queer Love' because while some trial couples had strong boundaries even with profound feelings for one another, others went too far too quickly. The prime examples are Lexi Goldberg and Mal Wright for the former and Vanessa Papa and Rae Cheung-Sutton for the latter – this couple felt no romance yet had some fun in the moment one night.
There was Xander Boger and Yoly Rojas in 'Queer Love' too, but their affinity was almost exactly like Rae and Jake's. And then, of course, the original couples from every edition almost all understandably have sex during their three weeks. In simpler words, it is indeed entirely up to the cast members to decide if they want to get physically intimate with their trial partners and how far they really want to go.
Read More: Why Does The Ultimatum Use Silver Cups?