While 'Shadow and Bone' is a fantasy series, romance is an integral part of the narrative and not limited to the main character. Several love stories run concurrently through the narrative and are quite diverse. The complex relationship between Kaz Brekker (Freddy Carter) and Inej Ghafa (Amita Suman) is one example of this. Kaz is a gang leader in Ketterdam, the capital of Kerch, and the owner of the Crow Club. Before the start of the series, Inej was part of the Menagerie, or the House of Exotics, a popular brothel.
Discovering her talent for doing covert work, Kaz acquired her indenture from the Menagerie's owner, Tante Heleen. Since then, Inej has been part of Kaz's gang, collectively known as the Crows. It's quite evident in season 1 that Kaz and Inej harbor genuine feelings for each other, but the horrors they have endured prevent them from acknowledging it. If you are wondering whether Kaz and Inej will end up together in 'Shadow and Bone,' we got you covered. SPOILERS AHEAD.
Do Kaz and Inej Have a Happy Ending?
In season 1, Kaz learns that an influential and wealthy merchant named Dreesen is offering one million kruge for a crew to travel across the Fold to East Ravka and retrieve something from there for him. It is later revealed that the something is the Sun Summoner herself. Even during this period, Kaz lets Inej know what he thinks of her when she reveals to him that the other girls at the Menagerie want him to buy their indentures as well. Kaz responds by saying that he only invests in unique things and there is no one like Inej.
Kaz, Inej, and Jesper Fahey (Kit Young) — the third member of the Crows — play crucial roles in the Sun Sunnoner's fight against the Darkling and the creatures of the Fold. Afterward, Alina gives Kaz royal jewelry for his silence. Inej, who is deeply religious, offers her service to Alina as the latter is viewed as a saint. She gives Inej a knife that the Suli woman names "Sankta Alina." When Inej contemplates joining Alina, Kaz asks her not to leave him, not yet saying the words he needs to say there. Inej states that she will stay with him just to see Heleen's face when her debt is paid.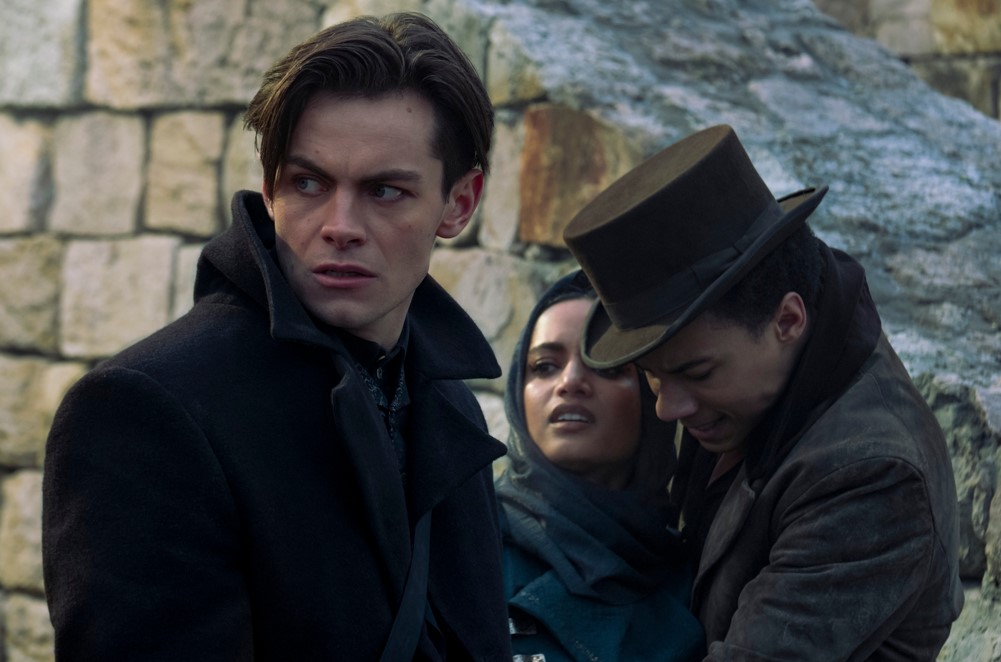 However, as they return to Ketterdam in season 2, they discover that they are wanted criminals charged with, among other things, murdering Heleen. Moreover, Kaz's bitter rival, Pekka Rollins, has taken over the Crow club. Kaz and Jesper go to meet Dreesen, and Kaz realizes someone else is pulling the strings. And this is how he meets Privateer Sturmhond, whose real name is later revealed to be Nikolai Lantsov, the second prince of Ravka.
In season 2, we get glimpses of Kaz's past and why he wants revenge against Rollins. It turns out that Rollins duped Kaz's older brother out of their late father's farm with promises of wealth. The brother then perished in a firepox outbreak. Although Kaz survived, it is heavily implied that he developed his haphephobia, or the fear of being touched, because, during the outbreak, he was thought to be dead and dumped along with his dead brother on a pile of corpses.
The Crows recruit two new members: Wylan Hendriks, Kaz's demolition expert, and Heartrender Nina Zenik (Danielle Galligan), and succeed in sending Rollins to Hellgate prison. After finding out that the Darkling has survived the Fold and has two shadow creatures called the Nichevo'ya protecting him, Nikolai and Alina task the Crows to retrieve the legendary sword Neshyenyer. Toward the end of the season, the Crows arrive in time and once more play crucial roles in defeating the Darkling. This time, as Inej is about to leave, Kaz asks her to stay with him, But his fear of touch and intimacy continues to prevail, prompting Inej to leave and join the privateer's crew in search of her family.
The Netflix series is based on the 'Grishaverse' books by Israeli-American author Leigh Bardugo. There, Inej and Kaz's story has an open ending. Kaz gives Inej a ship with which she can hunt slavers and holds her hands for some time with his gloveless hands, showing that he is willing to work through his trauma for her. He also asks her to promise that she will one day return to Ketterdam and him, and she does. So, if the show follows the books, we might get an open ending there as well.
Read More: Gary Fryklind Shadow and Bone Tribute: Who Was He? How Did He Die?