The fourth season of FOX's action series '9-1-1: Lone Star' revolves around the preparations for Tyler Kennedy "TK" Strand and Carlos Reyes' wedding. After overcoming several challenges, the couple finally decides to strengthen their relationship with a marital union. In the seventeenth episode of the season, Carlos asks his father Gabriel Reyes to be his best man at the wedding after concluding a fight they have over the latter's wish to see his son become a Texas ranger. As the wedding date gets nearer, Gabriel's life gets threatened, making one worry about his fate. Well, here's everything you need to know about the same! SPOILERS AHEAD.
Does Carlos' Dad Gabriel Die?
Yes, Carlos' dad Gabriel does die. Gabriel has been one of the most influential Texas rangers of his lifetime. He has investigated several crimes and criminals, which naturally increased the number of his enemies. As he prepares for his son's wedding, an unknown killer arrives at his house and rings the bell. Right after Gabriel opens the door, the killer fatally shoots the Texas ranger down. Although Carlos, Captain Owen Strand, Ty O'Brien, and Gabriel's superior Assistant Chief Bridges try to find the killer, they fail to even identify him. Carlos then gets married to TK while mourning the death of his father.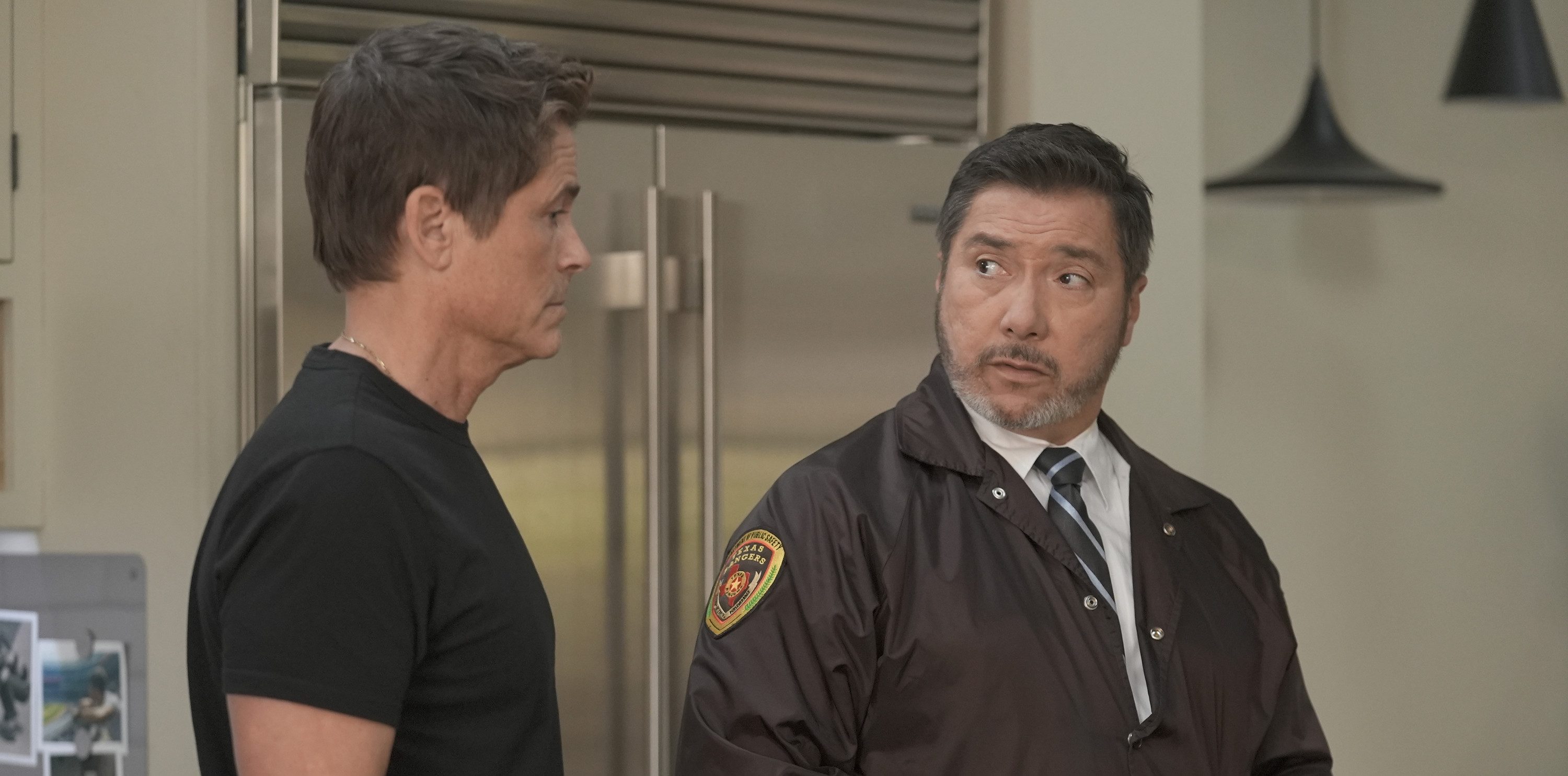 Gabriel's death was conceived for depicting the much-awaited "Tarlos" wedding as unpredictable as possible. "[Showrunners] Tim [Minear] and Rashad [Raisani] really created a form of, 'How do we make the predictable or the expected become unexpected and unpredictable?' Something is gonna happen where it's gonna absolutely throw everyone off," Rafael L. Silva, who plays Carlos, told TV Guide. According to Silva, Gabriel's death serves the purpose of making the viewers emotionally attached to the plight of Carlos and TK.
"I think it [Gabriel's death] just adds a different layer to the wedding. I think it allows the audience to be closer to these characters [Carlos and TK] and not so far away; it's almost like we want to hold them tight. [With] TK having lost Gwyn [Lisa Edelstein], and now Carlos having lost Gabriel, they're now connected in a way that is extremely specific to them, and I think that makes their bond even tighter," Silva told TV Guide in another interview about Gabriel's death. Since the officer is dead, the viewers must be concerned about Benito Martinez's future in the series. Well, here's what we can share about it.
Did Benito Martinez Leave 9-1-1: Lone Star?
Although neither FOX nor Benito Martinez has formally announced the departure of the actor from '9-1-1: Lone Star,' Gabriel Reyes' death makes it clear that Martinez seemingly will not remain a part of the recurring cast of the show. The Texas ranger's death concludes the character's arc for now, which explains the actor's exit from the procedural drama. "I felt my heart drop a little bit. As Rafael, I knew what that meant for me as an actor, to lose [Benito Martinez] as a companion to act with — a friend, truly," Rafael L. Silva told TV Line about Martizez's departure from the series.
Although Martinez left the show, we may haven't seen the last of the actor in '9-1-1: Lone Star.' Like Lisa Edelstein's return to the series in the fourth season finale even after her character Gwyneth "Gwyn" Morgan's death, we can expect him to return to the series for guest appearances. "Benito is a fantastic actor. He is an example of true professionalism, talent, and consistency. It has been my absolute honor to share a screen with him, and this is not gonna be the last time. I have faith that it's not gonna be the last time we're gonna see Gabriel," Silva added to TV Guide about the possibility of Martinez featuring again in the series.
Read More: Does Judd Leave Station 126? Is Jim Parrack Leaving 9-1-1: Lone Star?