The sixth season of FOX's medical series 'The Resident' follows the intricate struggles of Dr. Ian Sullivan, who finds it hard to deal with his drug addiction. After operating on patients under the influence of drugs, Ian finally comes clean to his daughter Kincaid "Cade" Sullivan, who makes it clear that she will report him if he cannot get into a rehabilitation center. Ian gets admitted to one and in the twelfth episode of the season, he returns to Chastain Park Memorial Hospital. Ian makes a startling decision concerning his future at Chastain upon his return and here's everything you need to know about the same! SPOILERS AHEAD.
Does Ian Leave Chastain?
After returning to Chastain from the rehabilitation center, Ian meets Cade, who asks him to meet Kit Voss and comes clean about his addiction. Cade doesn't want the same to be a secret and she realizes the need for Kit to know about the same, especially when she is fighting for everyone at the hospital and the establishment's survival. Ian meets Kit as Cade asks him to but he fails to talk about his addiction. He lets Kit know that he is dealing with several "personal crises" which demand his attention more than his obligations as a doctor. Although Kit offers him a part-time position at the hospital, Ian respectfully rejects the same.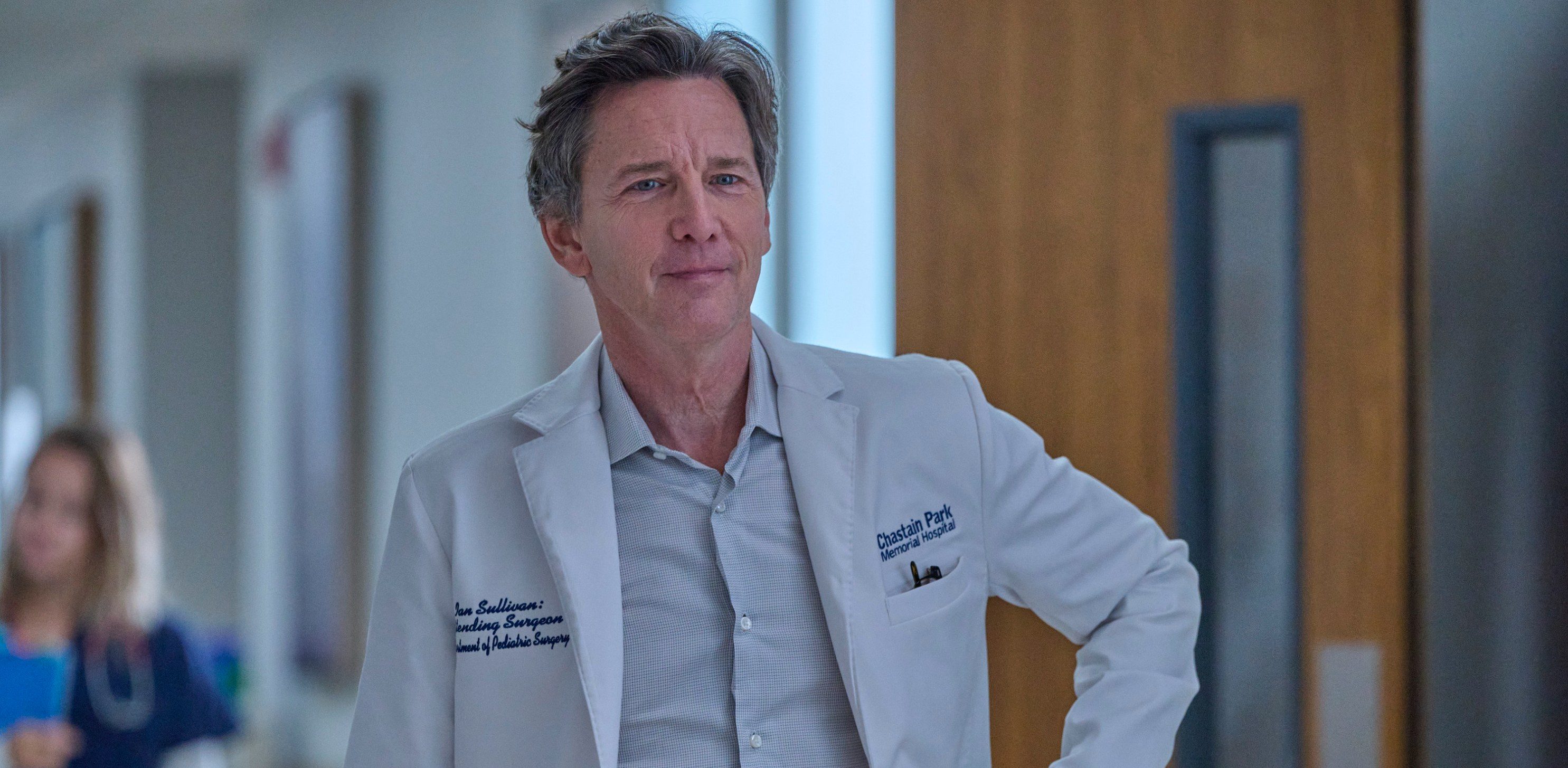 Ian doesn't want to jeopardize his reputation and career by coming clean to Kit. He prioritized his profession over his family, which makes it hard for him to confess to his boss. Ian knows that he may never work again as a doctor if his addiction becomes public knowledge and he cannot risks the same. Cade understands her father's fears and acknowledges the improvement he had made rather than standing against him. Ian lets her know that he is leaving the hospital and ensures that he will stay in touch every day without disappearing from her life as in the past. So, have we seen the last of Andrew McCarthy in the medical drama? Let's find out.
Did Andrew McCarthy Leave The Resident?
No, Andrew McCarthy did not leave 'The Resident.' McCarthy's character Dr. Ian Sullivas is introduced in the show to explore Cade's relationship with her father and the drug addictions among doctors in the medical community. With the completion of Ian's stay at the rehabilitation center and his reunion with Cade, both inter-connected storylines get completed. Since Ian leaves Chastain, the most prominent setting of the show, it is understandable that the viewers are worried about the actor's commitment to the show. However, we haven't seen the last of Ian in the medical drama since he features in the thirteenth and final episode of season 6.
The twelfth episode of the sixth season ends with Sammie suffering from severe stomach pain. In the sixth season finale, Sammie is brought to Chastain for Conrad Hawkins and Devon Pravesh to find out what's happening to her. Fearing her cancer has returned, Randolph Bell and Kit Voss seek the help of Ian to save their granddaughter. Ian comes clean to Kit about his addiction but still performs surgery on Sammie since she needs a crucial surgery that no doctor in Atlanta can do apart from him. Ian's efficiency as a pediatric surgeon triumph over his fears as he saves the little girl. Kit realizes that Ian is an irreplaceable asset as far as Chastain is concerned.
After the surgery, Kit asks Ian to continue working at Chastain on the condition that he will never touch drugs again. Ian is more than happy to accept the offer since he gets to work with his daughter Cade and for a boss who understands his struggles as an addict. Thus, if FOX renews the series for a seventh season, Andrew McCarthy most likely will continue featuring in 'The Resident.'
Read More: Who is James Yamada in The Resident? Who Plays Him?