When I first started watching Netflix's Original 'Stranger Things', I had this weird feeling of deja vu. The whole premise of the show seemed very familiar but I just couldn't recall where I had seen it earlier. About a year later, I decided to re-watch one of my favorite anime series, 'Elfen Lied' and that's when it hit me. There were so many similarities between the anime and the TV show that I found really interesting. So I did something anyone else would — I googled it, and what I found was not even remotely surprising. Firstly, I realized that many other anime fans had noticed the obvious resemblance and secondly, I came to know that The Duffer Brothers, who are the creators of 'Stranger Things', have cited 'Elfen Lied' as an influence for their Netflix show.
Most of us very well know that 'Stranger Things' is one of the best Netflix Orginal Series. But if you think the show is dark, then 'Elfen Lied' can literally give you nightmares. It is the kind of anime that has had the most diverse set of reviews ranging from being called a "masterpiece" to being completely disrespected by people who say that it is "downright horrible". Infamously known for all of its gore and fan-service, most anime viewers know what they're getting into right before watching the show. But even then, what it offers is something no one's really prepared for. The anime leaves no room for breathing and right off the bat, portrays that it's not for the weak-hearted. A few seconds into the show and you realize that it's going to be one gory mess of a season and a few minutes into it, you realize that the "perversion" is no less than the bloodiness.
However, the anime has a lot more to it than just the violence and fanservice. It starts off with a marvelous Latin opening theme named "Lilium", composed by Yukio Kondo and then episode by episode, it dives right into the darkness of its grim storyline. In its short span of 13 episodes, 'Elfen Lied' covers various central themes involving anger, hate, love, betrayal, inhumanity and the darkness in one's soul. It reaches a point where it becomes really hard for you to even judge who's evil and who isn't. It almost seems like the anime makes no effort at character development because the characters themselves come so naturally that you feel like you already know them, after a few episodes. As controversial as it may be, 'Elfen Lied' is one anime that should be watched by anyone who can bear extreme violence. It takes a lot of courage to depict graphic scenes, but in the end, all of it pays really well and it leaves a mark on you; it certainly did, in my case.
Elfen Lied Season 2 Release Date: When will it premiere?
'Elfen Lied' season 1 released on July 25, 2004 and 13 episodes later it ended on October 17, 2004. It has clearly been a long time since the first season of 'Elfen Lied' concluded. As a result, there seem to be no possibilities of getting another season of it because, from what it looks like, Arms Studio has completely forgotten about it by now. So if you're interested, you can just binge on either form, manga or anime, all over again or you could even check out other stuff written by the manga artist Lynn Okamoto who has continued doing other works, which might have some similar elements with 'Elfen Lied'.
If anything changes and by some miracle the anime does get renewed, we will immediately let to know about 'Elfen Lied' season 2 release date. Let's hope that that miracle does happen.
Elfen Lied English Dub:
The English Dub of 'Elfen Lied' Season 1 is available on Crunchyroll, Amazon Prime, VRV and AnimeLab.
Elfen Lied Plot:
The anime was first introduced when the manga was still in publication, so do not expect the plot of the show to be the same as that of the manga. It only follows 7 volumes of the manga, with many alterations made to that, and the ending of the anime is entirely exclusive. The series starts off with the introduction of the main protagonist, Lucy whose character later inspired the creation of Eleven from 'Stranger Things'. Lucy is portrayed as a very different and genetically advanced breed of human which has a pair of devil horns bulging out of her head and she has the ability to use telekinetic hands that have a range of 2 meters. Because of her strange abilities, she becomes the victim of the most brutal government experiments that keep her bounded in an isolated facility. One fine day, she comes across an opportunity to finally escape and that's when she brings the whole place down by unleashing havoc of gore and merciless bloodshed.
During her attempt to escape, a sniper tries to kill her by going for her head. She survives the gunshot but is left with an injury that leads her to suffer from a split personality. One of her personalities now is that of a brutal cold-blooded killer and the other one is that of an innocent child who says nothing but "Nyu". While in the state of her latter personality, Lucy's path crosses with two college-going teenagers who get carried away by her innocence and take her in as a fugitive. Meanwhile, the government hires the best men to get rid of Lucy and goes on a hunt to track her down. Along with Lucy, the two teenagers slowly get dragged into the shadiest parts of the government's conspiracies.
Elfen Lied Characters:
Kouta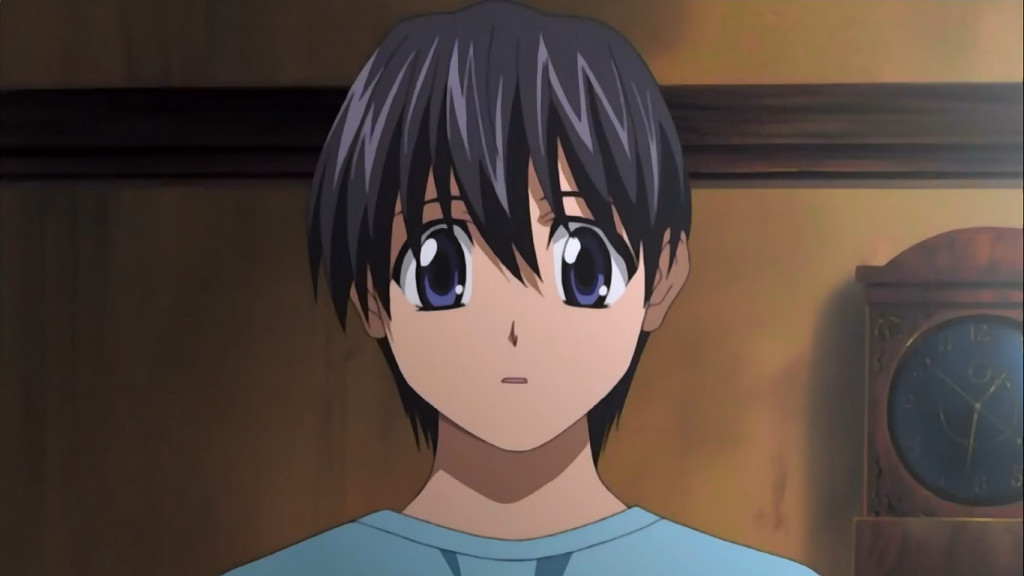 Kouta is the deuteragonist in 'Elfen Lied' and is the love interest of Lucy, who means absolutely everything to her. Kouta comes across Lucy while taking a walk one day and unlike most other normal humans, he actually acts all normal when he notices Lucy's strange appearance and her devil horns. Kouta instantly decides to help her out and takes her home, which shows that he has a heart of gold. It is later revealed that Kouta had known Lucy even during his childhood and the two had been really good friends back then. In the present, where Kouta takes her home with him, Lucy now says nothing but "Nyu!" and that's probably the reason why he is not able to remember who she is.
However, his repressed memories are later triggered when he watches her kill an entire army of men right in front of his eyes. Contrary to the manga, Kouta, in the anime, is actually very forgiving and claims that the only reason why Lucy is what she is today is because of her circumstances. According to him, the world forced her to become the monster she is and even tells her that he's still in love with her. He may not be able to fully recover from all the pain that she caused him in the past but he does decide to move on.
Lucy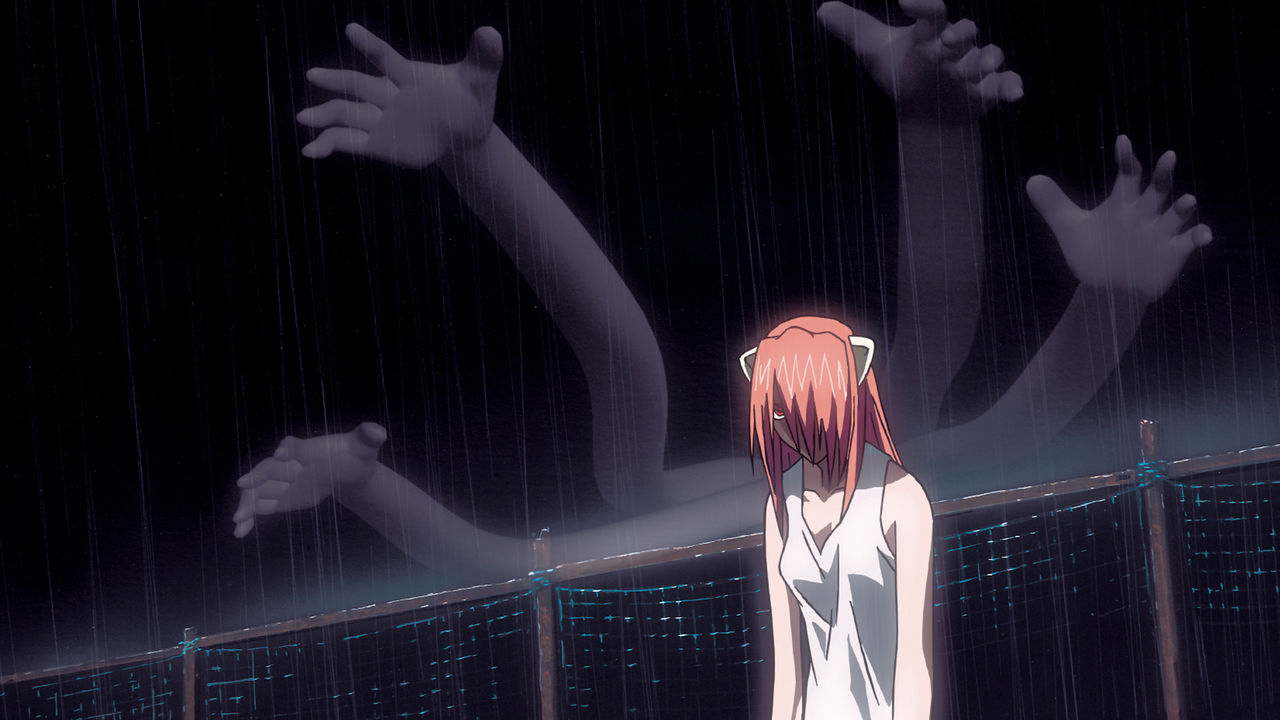 Lucy/Nyu is the protagonist/antagonist of the anime and it becomes very hard to judge whether you should be on her side or not. All her evil actions are backed up with reason and a long history of pain and misery. Having spent her entire childhood trapped in the vicinity of an aloof government and being experimented upon constantly, it becomes obvious why she is so mentally disturbed. Her better side is seen in her alternate personality where she shows the ability to love again. Nyu is not just a split personality but it is also a representation of the innocence that still exists in her. It shows that if she had been treated normally all this while, instead of being abused throughout her childhood, things would have been very different for her.
Lucy's earlier days in a hostile foster home shaped her destiny and were responsible for triggering her violence. What started off as an abusive childhood behavioral reaction, soon turned into a chain reaction leading to a life full of murders. But even the regular humans showed how selfish they are and instead of helping her out or just putting her out of her misery, they chose to perform torturous experiments on her. As a result, in her normal state, she tends to lose the faith that she had in humans and sees all of them as her enemies. She does kill many innocents, but all of that is an outcome of what she has been forced to believe.
Read More in Anime Preview: Inuyasha Season 3 | Haikyuu!! Season 4