Apple TV+'s 'Extrapolations' is a science fiction drama series that explores the consequences of climate change and environmental issues the earth faces. Each episode is set progressively in the future and follows a set of characters tackling complex issues stemming from the rampant exploitation of the earth's natural resources. The seventh episode, titled '2068: The Going Away Party,' stars Marion Cotillard, Eiza González, Tobey Maguire, Forest Whitaker, and Hari Nef. It revolves around wealthy socialites gathering for a dinner party on New Year's Eve. However, the group's dynamics drastically alter when the opportunity for eternal life is presented. If you are curious to discover who seizes the opportunity and what it means for the other characters, here is everything you need to know about the ending of 'Extrapolations' episode 7! SPOILERS AHEAD!
Extrapolations Episode 7 Recap
The seventh episode, titled '2068: The Going Away Party,' takes place in a polluted San Francisco, where carbon credits are the generally accepted currency. The episode follows Anna (Hari Nef), a young woman who works as a housekeeper to make ends meet. Anna is serving as the housekeeper at a lavish house owned by couple Sylvie (Marion Cotillard) and August Bolo (Forest Whitaker), who are modest about their social standard despite being evidently wealthy. However, we learn that the carbon credits-based economy is fragile, and even the wealthy are struggling financially.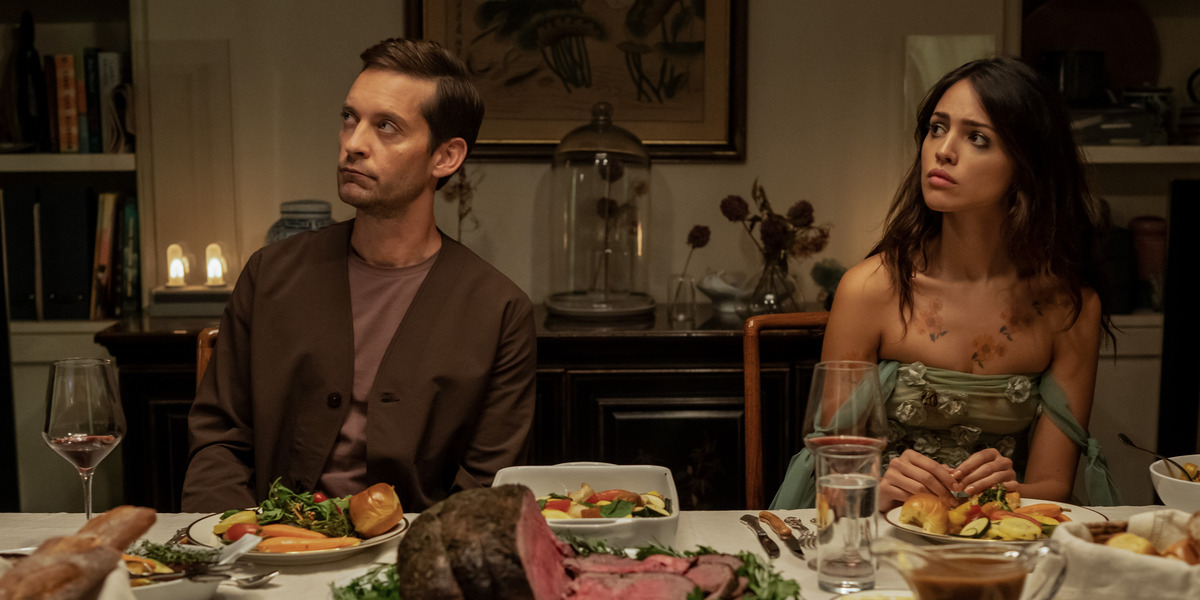 Sylvie is organizing a New Year's Eve party for her friends, costing her considerable money. After showing Anna around the house, Sylvie checks in on August, who is contemplating a critical decision. However, Sylvie asks him to prepare as their guests are arriving soon. The ensuing conversation hints at cracks in Sylvie and August's marriage, and they are certainly not a happy couple. The arrival of their guests halts Sylvie and August's bickering. The couple welcomes Nic (Tobey Maguire), August's student, and his girlfriend, Elodie (Eiza González), to their house.
As the two couples get acquainted, we learn that Sylvie does not like being touched, and there is a generation gap between Elodie and Nic. Elodie is a tech-savvy influencer, while Nic can barely keep up with the modern technology he needs to use daily. Eventually, the conversation turns to the concept of digitally preserving one's consciousness. Nic believes a person's consciousness can be saved digitally and later downloaded into a new host body when the planet heals itself.
August takes the opportunity to announce that he has invested in a company called LifePause that does the exact same thing. He explains that LifePause is the number one choice for wealthy people to escape the confinements of their mortal bodies. Instead, their consciousness is transported to a digital heaven until the earth can be habitable and pollution free again. Moreover, August reveals that he is set to transfer his consciousness as soon as the world enters the new year. Thus, the group realizes they are spending their final moments with August in his current form.
August's decision does not sit right with Sylvie as her husband did not ask her to accompany him, nor did he consult her before making such an important choice. However, August explains that he cannot take Sylive with him as he only has one ticket to LifePause, which he earned through a lottery held for the investors. As a result, Sylvie gets upset and retreats into the kitchen while Nic goes after her to calm her down. Meanwhile, Eldoie stays with August and learns from him about the tests to get into LifePause.
Extrapolations Episode 7 Ending: Who Gets the Ticket to LifePause?
After learning about August's decision, Sylvie cheats on he husband with Nic as the duo pleasure themselves by looking at each other. It is evident that Nic has feelings for Sylvie. Meanwhile, Elodie tries to scam August and take his ticket to LifePause. She convinces him he should be with his loved ones, and he still clearly loves Sylvie. However, Eldoie's plot fails when she cannot clear the aptitude test for LifePause. Eventually, August discovers that Sylvie cheated on him, leading to an awkward dinner conversation. The situation culminates in utter chaos when Elodie announces she is breaking up with Nic, and Nic professes his love for Sylvie.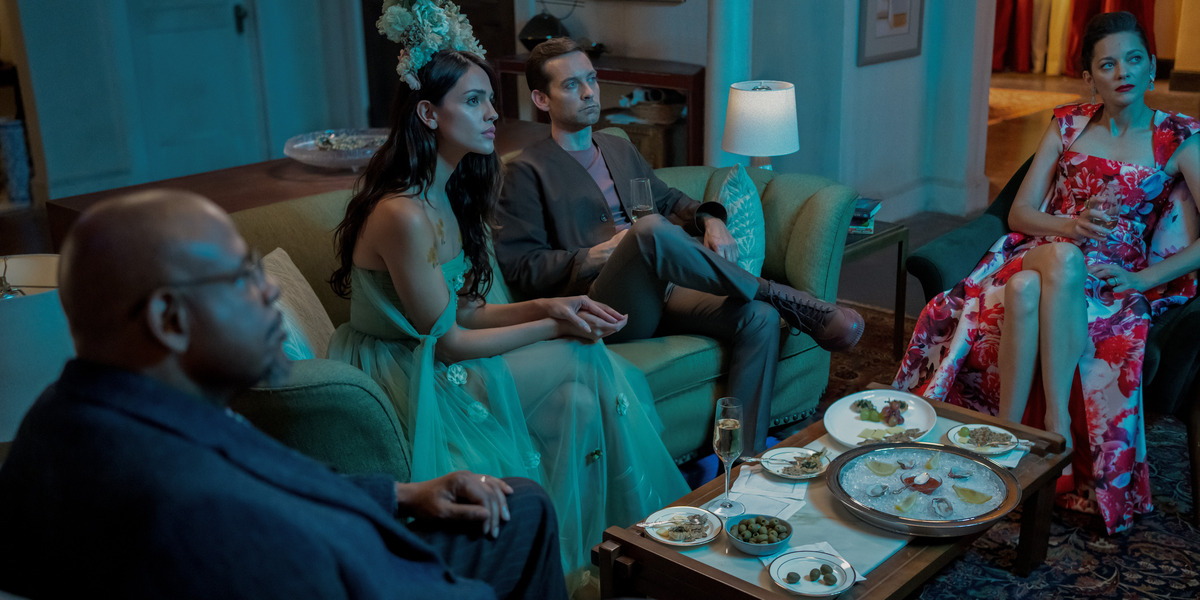 In the end, Nic and August engage in a fight and cause a ruckus that wakes up Sylvie and August's daughter, Agnes. However, Agnes is not a human but an android designed to help infertile couples. After Sylvie takes Agnes upstairs, she thanks Anna for her service and tips her before going to bed. Later, August realizes that Sylvie does not want him to go away, and he decides to stay back, reconciling with Sylvie in the bedroom. On the other hand, Nic and Elodie come to an understanding and part ways with each other after acknowledging they are unfit for each other.
The final moments depict Anna, the housekeeper who was closely following the night's events, sneaking away with August's coat and the ticket to LifePause. She poses as August and enters a LifePause cab, starting a new life. Ultimately, Sylvie, August, Elodie, and Nic realize they have far too much going on in this life to make a fresh start in some digital world. As a result, they chose to remain with their loved ones, seeing through their life cycle on the earth. However, Anna decides to explore digital heaven as it provides her with an escape from a world with nothing to offer her. Anna's family was killed in a heat wave, and it makes the most sense for her to reboot her life, ending the episode on a bittersweet note.
Read More: Extrapolations Episode 6 Recap and Ending, Explained