Soccer is the most popular sport in the world, and the FIFA World Cup Final is the event which is watched by the highest number of people throughout the world. Since the sport is so widely popular and is played by many countries, it is bound to be one of the most important cultural phenomena in the world. It cannot be exactly said when the sport started, but organized soccer (known as football throughout the world except USA and Canada), was first started in England under the authority of the Football Association. Since then, the game has spread rapidly across the world. The first ever soccer club dates back to somewhere around 1860.
Soccer has influenced generations, caused national celebrations, riots, heartbreaks, displays of passion, skills, glory and has influenced millions of people throughout the world. Naturally, it has also given birth to numerous movies in various languages, and the streaming giant, Netflix has a good collection of them. So, here's the list of really good soccer movies on Netflix that are available to stream right now.
7. Lorai: Play To Live (2015)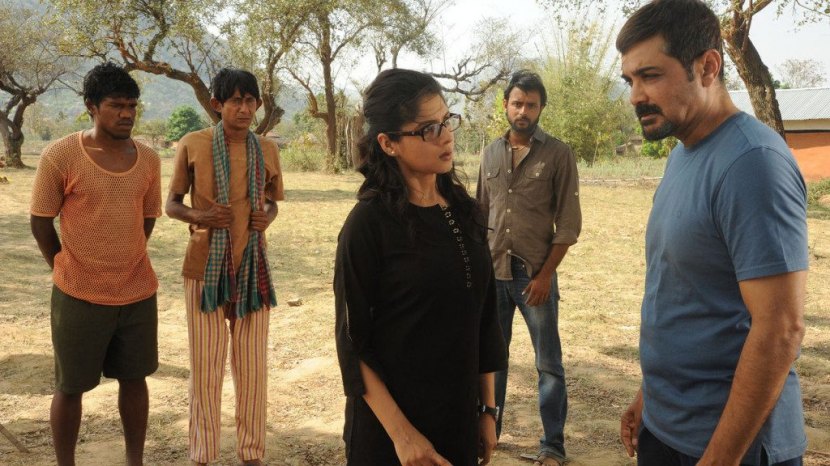 'Lorai: Play To Live' is an Indian movie made in Satyajit Ray's native language, Bengali. It is directed by Parambrata Chattopadhyay, who is also a renowned actor. The movie centers around a small Indian village in the state of West Bengal. The village is infested with criminals and violence is a daily norm. The youth of the village, who are from law-abiding homes, are afraid to get out of their houses after nightfall. In such a tense situation, the youngsters form a soccer team and a former player called Sebastian Ryan is brought in to coach them. An alcoholic, Ryan refuses to coach the team and spend his days in such a remote village.
However, their motivation and heart in the game makes him change his mind and he agrees to train them. With Ryan's expert professional guidance, the team gets stronger. Their promise is to bring glory to their village and not let it be a place only known for violence and misrule. The movie is well-appreciated by critics, and some have also appreciated the fact that movies are being made about rural India away from the glossy urban, song and dance and melodrama which Bollywood generally saturates its movies with.
6. Rembat (2015)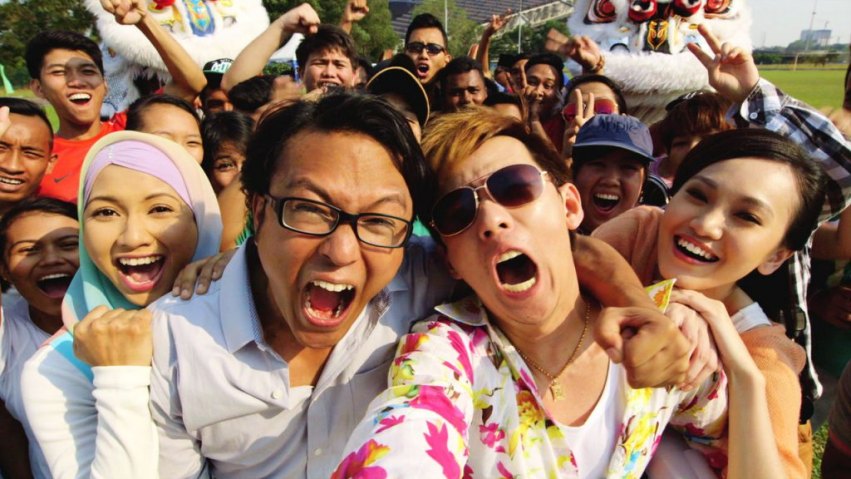 'Rembat' is an interesting shift from the usual sports movies we are used to seeing. Here, it is not the story of a player, but a fan who is so desperate for money that he wants to bribe a team to lose. And it is not just any small club, he wants to bribe the Malaysian national team. The story revolves around two characters, Malik and Chin Chye. Both of them are passionate fans of soccer and the national team, but they have both landed in serious troubles which would require a vast amount of money. They go on a crazy road trip to meet the team and bribe them for losing the match against rivals Thailand.
On their way, they meet a guy who is ready to loan them money for their urgent needs, but being a strong supporter of the Malaysian team, the man gets miffed with them when he learns about their initial idea of bribing the national team. The movie is a sports/comedy and it was well-appreciated by critics for its unique approach. Praises have also been showered upon the two leads, Shaheizy Sam, and Ah Niu for their acting.
5. Mighty Raju Rio Calling (2014)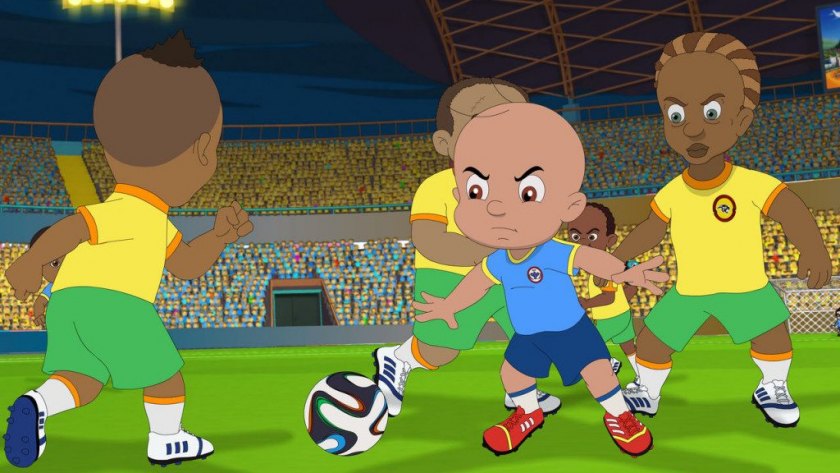 This movie is an Indian animation feature based on the Indian kid superhero Mighty Raju. The film is made by the Green Gold animation studio. The studio earlier became famous for producing another hugely popular kids' show called 'Chhota Bheem'. The character of Raju is based in a small Indian town, but when his father is sent to Rio de Janeiro in Brazil for some work related to the 2014 FIFA World Cup, Raju tags along. In Brazil, Raju finds himself in trouble once again, where he has to defeat some dangerous players in a soccer match. Moreover, Raju gets entangled in a problem regarding the Rio underworld where he has to fight members of the Brazilian mafia and is also pitted against criminals adept in the Afro-Brazilian martial art called capoeira. The tagline of the movie is interesting — "Soccer. Samba. Samosas".
4. A Mighty Team (2016)
'A Mighty Team' is an amazing French sports/comedy film starring Medi Sadoun and Gerard Depardieu. The movie centers around the character of Maxime Belloc. Belloc plays for the biggest soccer club in France, Paris Saint-Germain aka PSG. However, he is aging and hardly can perform like he used to. This makes him desperate and he behaves stupidly at times, getting angry on the pitch. He does not even get a chance in the national team for the Euro 2016 competition and is replaced by real-life football star Antoine Griezmann. His agent wants him to be away from the public eye for a while, and thus sends him to where his father lives. Belloc's father lives in the countryside and manages the youth team of the locality. However, he is old and can hardly give them a professional's understanding of the game. Thus, he asks his son to take over, Though reluctant at first, Belloc does take over and starts bonding with the team.
3. Lusers (2015)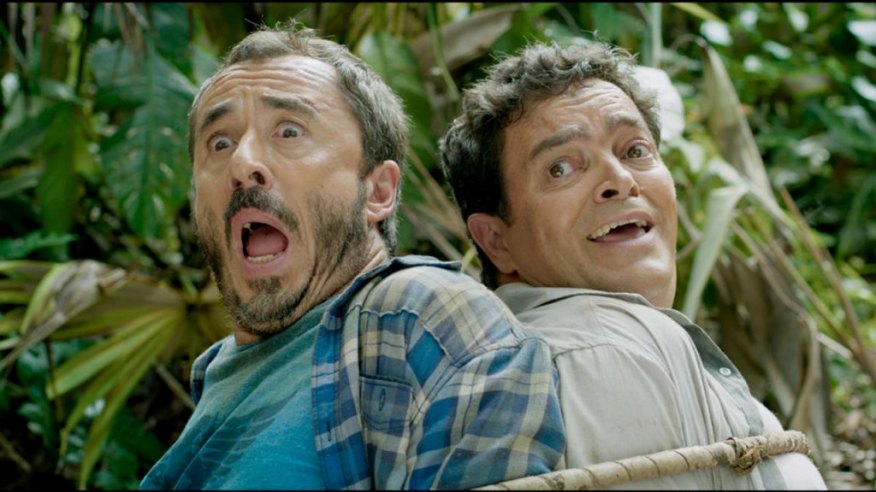 A Chilean-Peruvian co-production, 'Lusers' is about three strangers, an Argentine, a Peruvian and a Chilean, who want to watch the soccer World Cup final in Brazil. They plan to go to Rio, but their journey becomes impossibly perilous. On their way, the three are captured by tribals after the wreck their car, then they get followed by a hitman and finally they even find a historical relic. The movie is very funny with sharp and witty dialogue. Though some have criticized the politics of the movie, the courage of director Ticoy Rodriguez must be appreciated for giving humor and soccer the only priority. The performances of the actors are also praiseworthy.
Read More: Best Inspirational Movies on Netflix
2. Class of '92 (2013)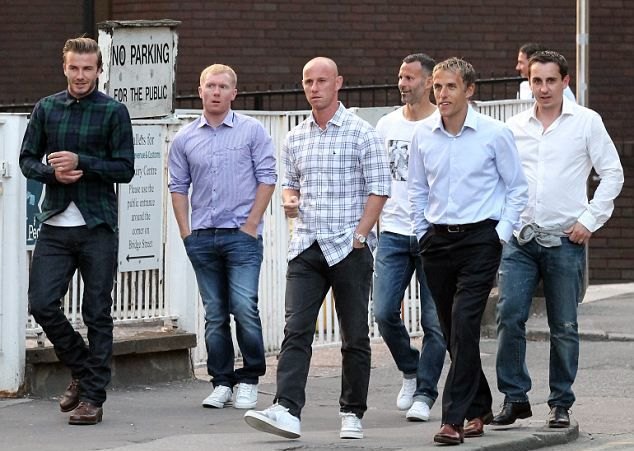 Although not strictly a feature film, 'Class of 92' has an incredible story that deserves its place here. It is the story of six players who started out as youth players for the English soccer club Manchester United. Now most players from youth clubs do not get a chance to play in the senior team. Top teams usually pay in millions to bring the best players across the world to their club. However, due to manager Alex Ferguson's insistence, these six young local kids got to play for one of the biggest clubs in the world. What followed was glory and trophies and successes. This is a brilliant story of success, friendships, and absolute superstardom. The players in question? Ryan Giggs, Nicky Butt, brothers Gary, and Phil Neville, Paul Scholes and David Beckham.
1. Holy Goalie (2017)
This one is another hilarious sports/comedy movie and is the debut feature of director Curro Velázquez. Spanish superstar Alain Hernández stars as a Christian priest who has the mammoth task of saving a monastery. The religious place is going through a financial crisis, which makes Hernandez go there in order to find a solution. The solution he comes up with is that if the monks form a team and win a soccer tournament called Clerum Championship, they will get enough money to pay off their debts and retain the place. The movie is funny and has received immense praised for its writing and acting.
Read More: Best Terrorism Movies on Netflix