League of Legends is a multiplayer online battle arena (MOBA) video game developed by Riot Games. In this game, players can summon and control "champions", who have special and unique abilities. With their champions, the fight other players or computer controlled champions. Here is the list of video games similar to League of Legends that are our recommendations. You can play these open world games like League of Legends for ps4, Xbox One, Xbox 360, mac, android, iphone or even online.
16. Warcraft III: Reforged (2019)
If you are a MOBA lover and happen to love the art of video games, Warcraft III holds a unique place in the world of gaming. Warcraft is what led to the birth of MOBAs through a custom mod in Warcraft III. A custom mod led to the birth of DOTA, and eventually what we know as DOTA 2. League of Legends and every other MOBA has been inspired by Warcraft III's mechanics in some way. While we would not normally recommend going in for a game that is decades old, we have some good news. Warcraft III is being remastered and should be out later this year. If you want to catch up on the brilliant gameplay that Warcraft III offered, then this is definitely a title you have to keep your eyes out for. It is a single-player RTS experience and not a MOBA in any way. The gameplay is superb, and if you are familiar with MOBA mechanics, you will not have any trouble at all.
15. Overwatch (2016)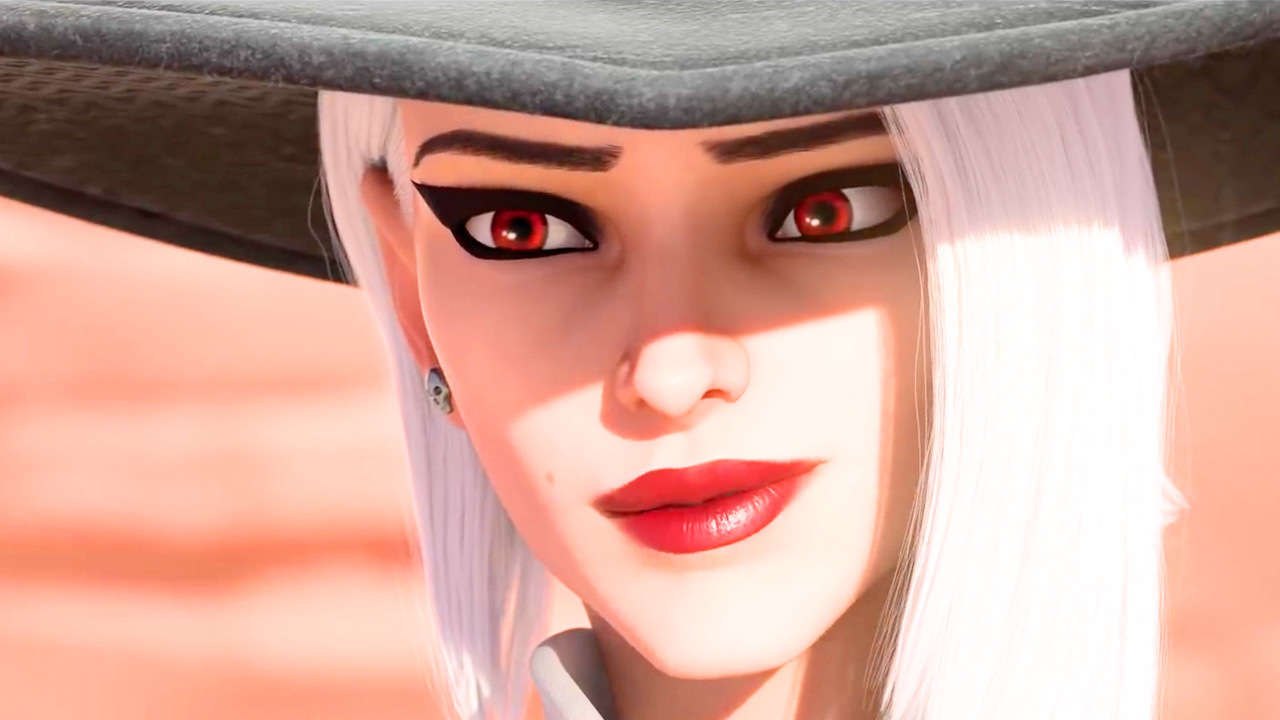 Overwatch is a MOBA and FPS hybrid, and the game drew in millions of players on PS4, Xbox One and PC. The majority of the playerbase is commanded by PC due to the fact that it is an FPS game and a keyboard and mouse will offer the most precision. The game has a diverse cast of characters, and even if you are not adept at FPS games, you can still pick the game up. A number of characters are not mechanically challenging and do not require aim in the generic sense of the term. There are ability-based heroes, similar to that of a MOBA and it's all about cooldown management, objectives and game sense. If you are familiar with MOBAs, you will find yourself right at home. New heroes are released multiple times a year along with new maps to keep things fresh.
14. Vainglory (2014)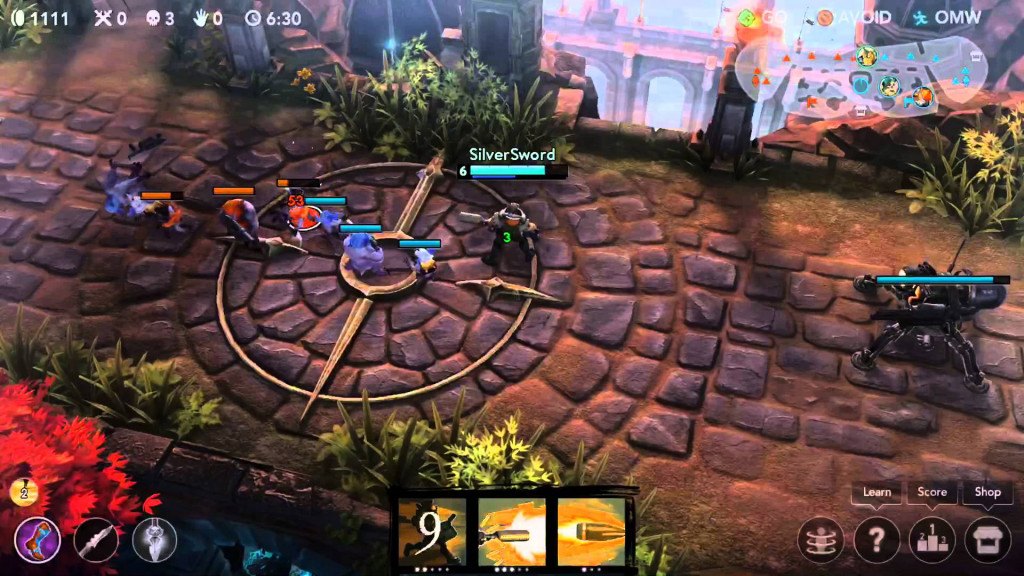 Vainglory is one of the best MOBAs available on Android and iOS, and of course, things get better if you have a good tablet to play on as the added real estate definitely helps out a lot. You can scroll across the map and use abilities very easily using touch-based controls. There are quite a few heroes, and despite being a mobile game, you have all of the core mechanics with no compromises. When it comes to monetization, it follows a system close to League of Legends, and you can buy in-game currency to make the grind easier. You can definitely play free heroes and not be bothered with purchasing anything at all, and it won't hurt your gameplay experience at all. However, if you want to unlock all heroes, then you may want to consider picking some digital currency up. The character design and balancing are on point, and you are definitely going to have a good experience playing the title.
13. Paladins (2016)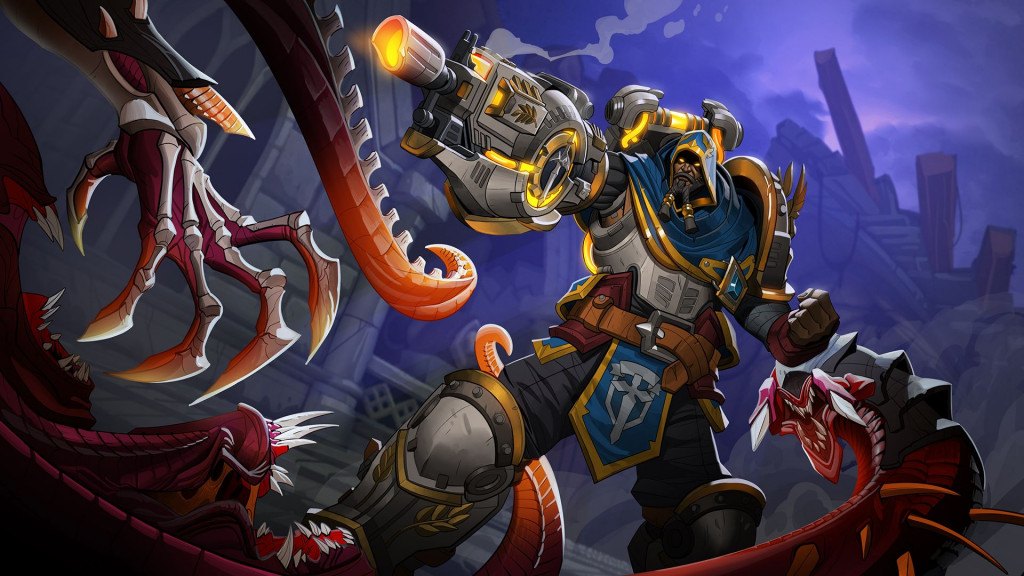 2016 was truly the year of the hero shooters, and Paladins was the number one competitor to Overwatch at launch. Three years down the line the game is still quite fun, and it is one of the most fun free to play games out there. While the hero shooter hype has died down a little with the rise of games like PlayerUnknown's Battlegrounds, the community is alive and well. The game also released on Nintendo Switch recently as well, which is a strict competitive advantage over Blizzard's Overwatch. The game does not compete against the games you will find in the MOBA genre, but it definitely has a lot in common with regards to hero design. Traditional shooters usually involve similar characters, and it's all about using weapons instead of abilities. Paladins, on the other hand, is the ability and cooldown heavy, making it a cross between a MOBA and a traditional shooter. The objective-based gameplay is quite similar to MOBAs, and if you are looking forward to jumping on a free game, Paladins might be the one for you.
12. Awesomenauts (2012)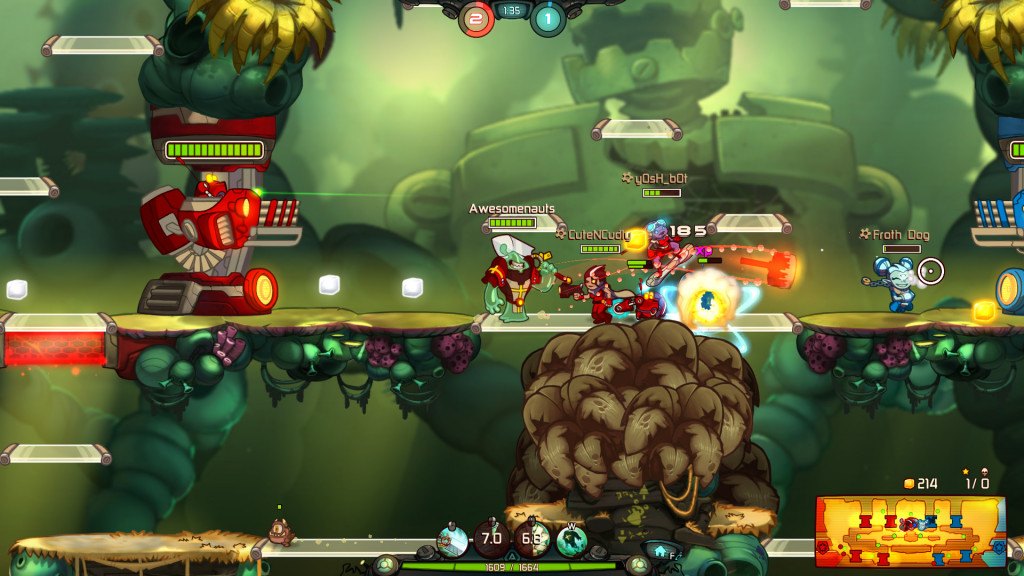 If you are a fan of MOBA games and happen to be tired of League of Legends, Awesomenauts feels like a breath of fresh air. It is a great multiplayer experience, and it gets even better if you have friends along for the ride. The gameplay is superb, and the cartoony design makes it stand out compared to all of the other MOBAs out there. There is a lot of fun to be had when it comes to Awesomenauts, and the hero abilities are just hilarious sometimes. The comic nature of the game is what makes it so special and despite all of the humor, the game is very tactical and you need to be careful with ability usage to give yourself an edge over others. There is definitely a noticeable learning curve, and you will need to invest a few hours before you can take on others who have been playing the title for years.
11. Battleborn (2016)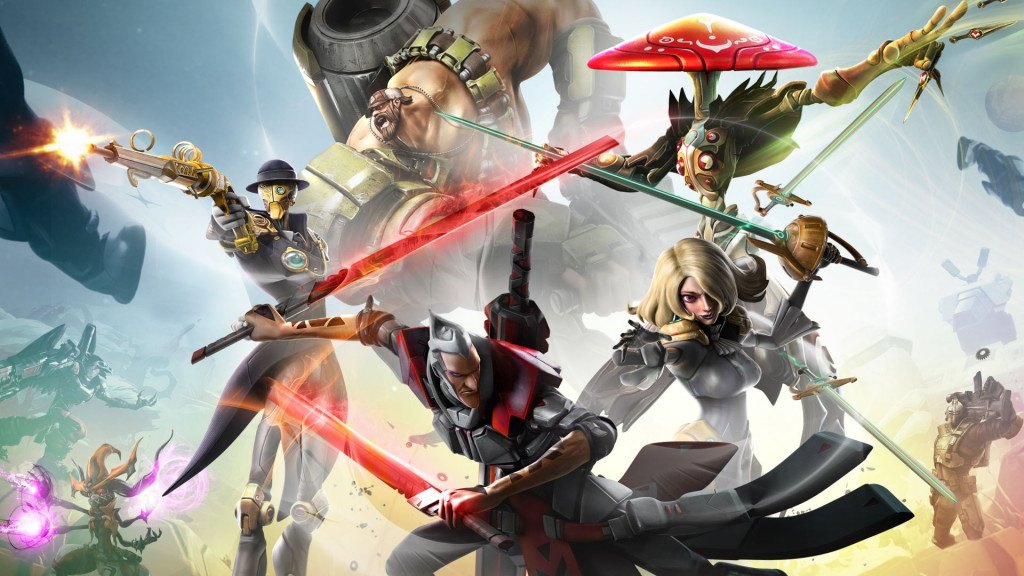 Battleborn is one of the best free to play games out there and unlike many other free titles, Battleborn is far less grindy. You can put in about 25 hours into the game and have access to all of the cast which is quite impressive when you compare it to the likes of League of Legends. The game also offers a ton of customization and cosmetics so if you are interested in the bling; you can go for that as well. There are new outfits to be unlocked for all the heroes, and as you keep progressing through your matches, you will find that there is a great sense of progression. There is a quest system in place that allows you to earn more in-game credits at a much faster pace as well. When it comes to the gameplay itself, the cast is quite great, and you will find a fair bit of variance in design. Each hero is unique, and despite having to grind a fair bit for them, it is definitely worth the wait. The gameplay is quite fair, and we have no complaints when it comes to hero balancing.
10. Clash Royale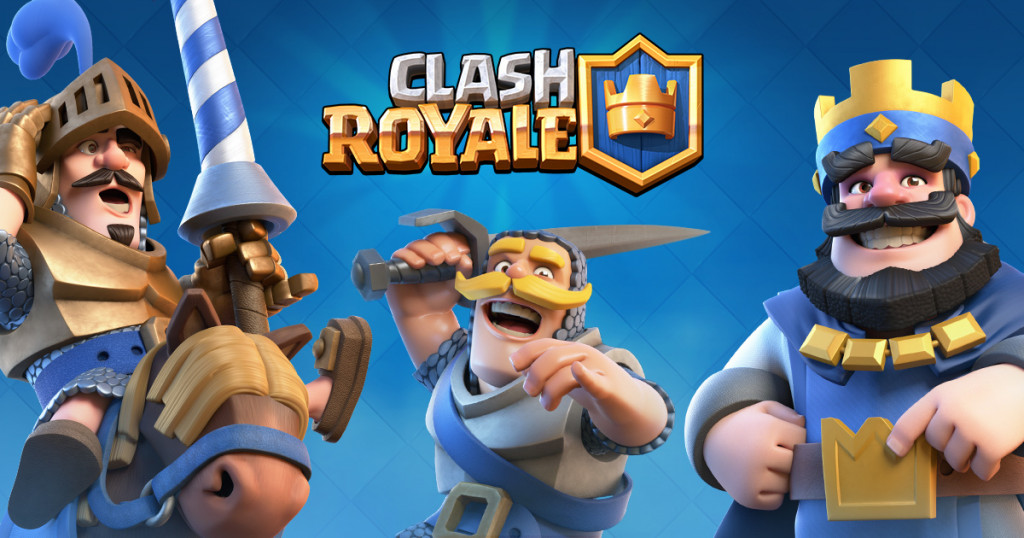 Clash Royale is one of the most famous mobile games developed by Supercell. Many consider the game to be an extension of Clash of Clans. This may be true since several characters from Clash of Clans are present in this game. The main goal of Clash Royale is to destroy the opponent's three forts while preventing him from destroying own's. Through various playable cards, players may "summon" offensive and defensive units to help them achieve this goal. Playable unit cards unlock as the players advances to new rankings.
9. Gigantic
Gigantic is a strategic third-person shooter MOBA game developed by the independent game studio Motiga and published by Perfect World Entertainment. The game focuses on team-based action combat with heroes battling alongside a massive guardian. Players must protect their guardian along with their team and attempt to destroy the opposing team and their guardian.
8. Heroes of the Storm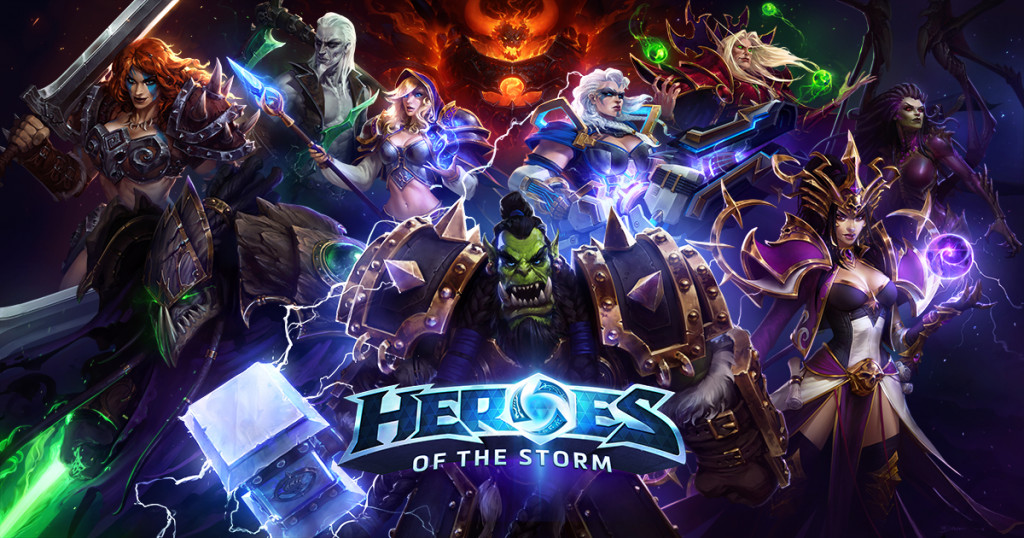 Heroes of the Storm (HotS) is a MOBA video game developed and published by Blizzard Entertainment for Microsoft Windows and macOS. The game features heroes from Blizzard's franchises including Warcraft, Diablo, StarCraft, The Lost Vikings, and Overwatch.
Heroes of the Storm revolves around online 5-versus-5 matches, operated through Blizzard's online gaming service Battle.net. Players can choose from different game modes, which include playing against computer-controlled heroes or other players. Initially, no heroes are permanently available for use; however, players may choose from a list of heroes that are free to use from a weekly rotation. By using gold coins, the in-game currency, or through microtransactions, they can gain permanent access to a hero.
7. Ace of Arenas
An innovative mobile action MOBA (Multiplayer Online Battle Arena), Ace of Arenas is a free to play PVP game that brings all the fun of core gaming to handheld devices. In Ace of Arenas, matches include 1v1 duels to 5v5 group matches. Once a player has unlocked 12 of the 50 champions, he'll be able to start competing in ranked matches of 3v3 or 5v5. Currently Ace of Arenas has over 1 million downloads which for a mobile MOBA makes it very popular.
6. World of Warcraft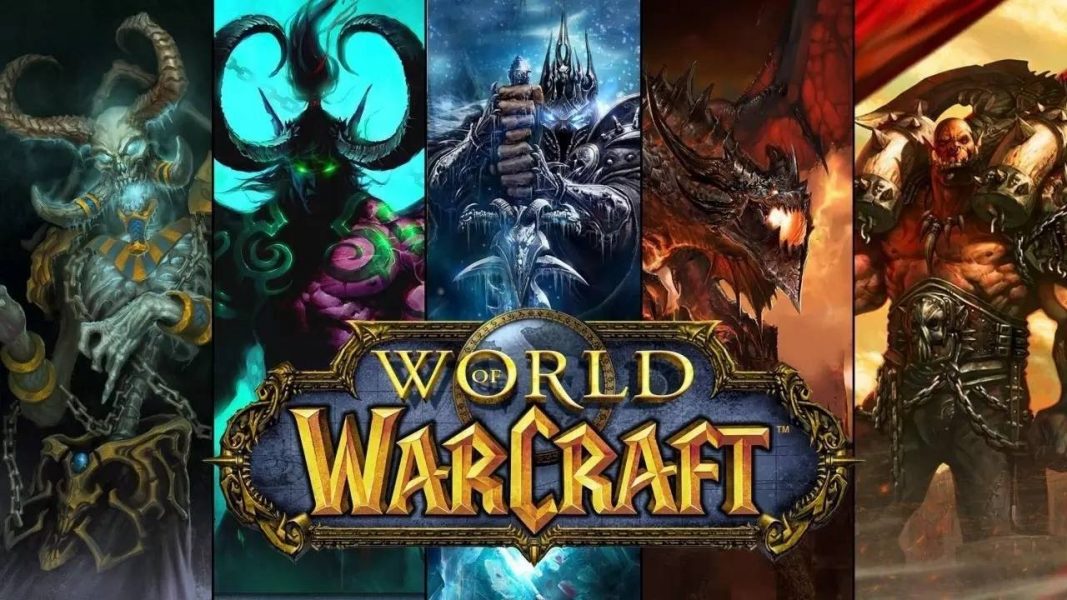 World of Warcraft (WoW) is a massively multiplayer online role-playing game released in 2004 by Blizzard Entertainment. Very similar to League of Legends, players control a character avatar within a game world in third- or first-person view, exploring the landscape, fighting various monsters, completing quests, and interacting with non-player characters or other players. Also similar to other MOBA, World of Warcraft requires the player to pay for a subscription by using a credit or debit card, using prepaid Blizzard game cards or using a WoW Token purchased in-game. Players without a subscription may use a trial account that lets the player character reach up to level 20 but has many features locked.
5. Art of War: Red Tides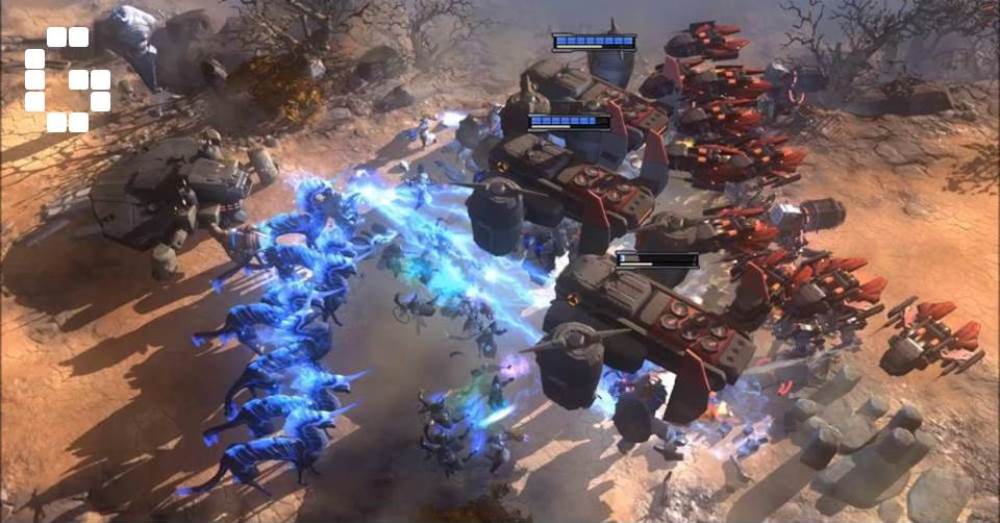 Art of War: Red Tides is a strategy multiplayer game developed by the studio Game Science. It is an arena-style strategy game that is either fought on a 3 vs 3 of 1 vs 1. The goal of the game is to destroy the enemy base while deflecting attacks from the enemy. Without the use of commander abilities the player cannot control the units (I.e. Control the units moment, what enemy they attack ect.), instead, the player must choose wisely on what units to build.
4. Supernova
Supernova is based on a space theme, and thus, it is a unique MOBA game on its own. Supernova has a range of different "commanders" to play in the game. Players can pick from mech pilots to mercenaries or go completely out of this world and play as an alien. The game also adds a new level of customization by allowing players to upgrade and modify their minions. This unique feature can often be the difference between stunning victory and crushing defeat.
Read More: Games Like The Sims
3. Player Unknown's Battleground (PUBG)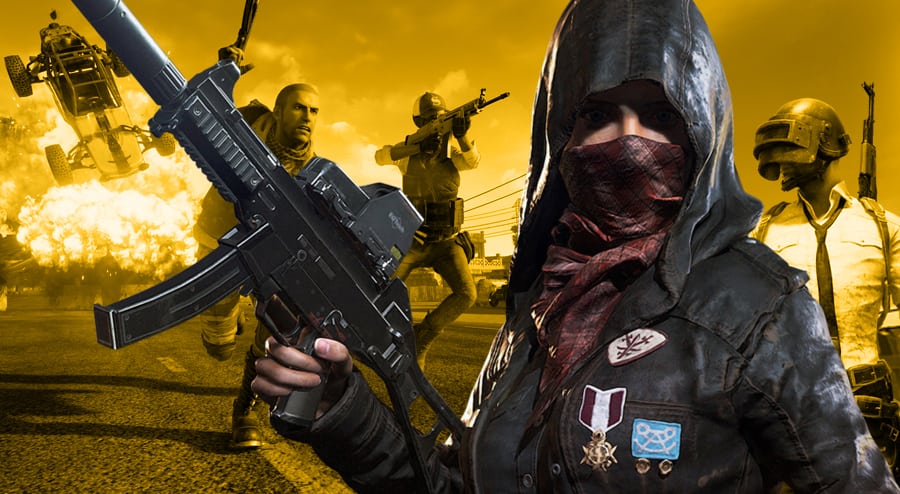 Player Unknown's Battleground (PUBG) is the recent sensation in the gaming industry for both PCs and Mobile phones. The game is considered a "battle royale" game, where survival to the end is the key to victory. When the game begins, a total of 100 players are on a plane – unarmed – that flies over an island. Players may choose when to jump, and use skills to land where they want. They can find supplies and weapons inside the houses, or from other players, once they are dead. The basic goal is to stay within the playzone, a circle inside which the gameplay takes place, and to survive until the end.
Read More: Games Like 'GTA'
2. Warcraft III: Reign of Chaos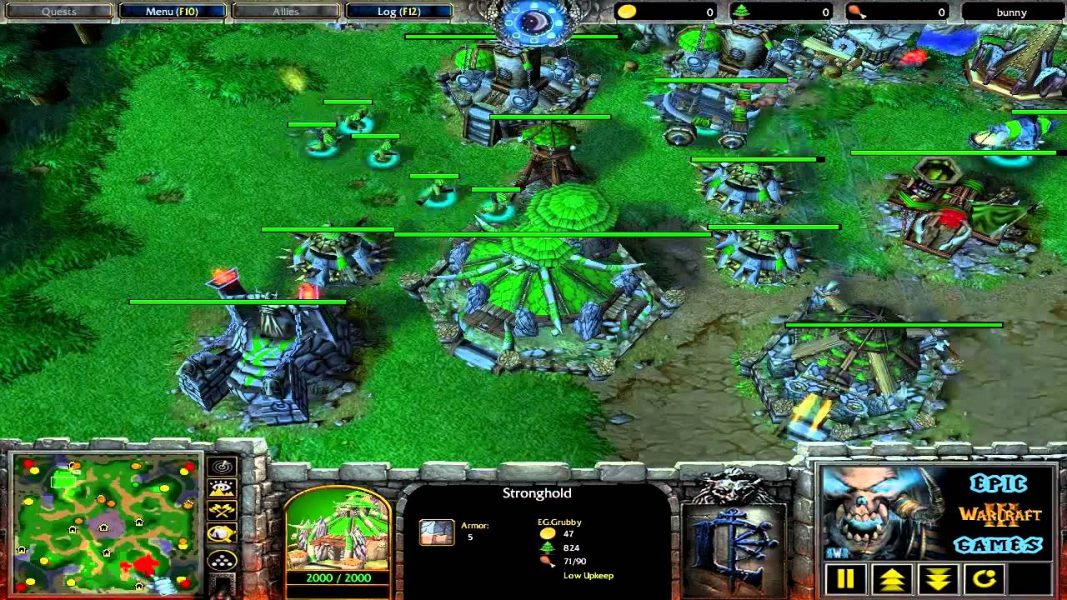 Warcraft III: Regin of Chaos serves as one of the inspirations for League of Legends. "Warcraft III: Reign of Chaos" is a high fantasy real-time strategy video game developed and published by Blizzard Entertainment. Though old, the recent release of the videogame-movie of the same name has once again made this game popular among video game lovers.
"Warcraft III" contains four playable races: Humans, Orcs, the Night Elves and the Undead. It is set in the fictional world of Azeroth. Similar to "Age of Empires", the world of Warcraft also has to be explored. The game takes place on a map of varying sizes, such as large plains and fields, with terrain features like rivers, mountains, seas, or cliffs. There is also an online multiplayer version available.
Read More: Games Like Pokeman
1. DOTA 2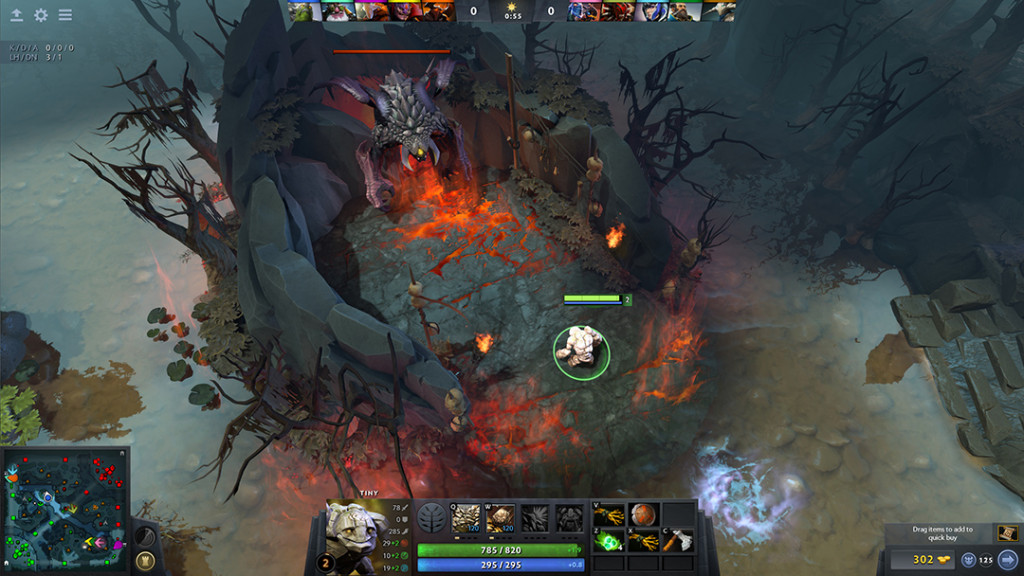 Defense of the Ancients 2 (DOTA 2) is a free-to-play MOBA game developed and published by Valve Corporation. DOTA 2 serves as the main inspiration for League of Legends, which makes it a must-play game. Dota 2 is a multiplayer online battle arena (MOBA) video game in which two teams of five players compete to collectively destroy a large structure defended by the opposing team known as the "Ancient", whilst defending their own. As in Defense of the Ancients, the game is controlled using standard real-time strategy controls and is presented on a single map in a three-dimensional isometric perspective. Ten players each control one of the game's 115 playable characters, known as "heroes", with each having their own design, strengths, and weaknesses.
Read More: Games Like Clash Royale