Endless runners have becomes extremely popular nowadays with the excessive popularity of mobile gaming devices, as the games are extremely accessible and can be played for both long and short sessions. It seems life is getting busier by the day and people simply do not have the time to invest in immersive experiences like Zelda, so games such as Subway Surfer and its clones have gathered a lot of traction lately. People like such short, simple games that are both fun to play and don't require you to invest a lot of time into them.
But in contrast, these games are heavily dependent on skill, so if you are looking for a casual, simple challenge, then the games mentioned in this list will manage to keep you occupied. So, here's the list of the list of video games similar to Subway Surfers that are our recommendations. You can play these games like Subway Surfers on PS4, Xbox One, Xbox 360, PC, iPhone, Android, mac or even online.
12. Punch Quest (2012)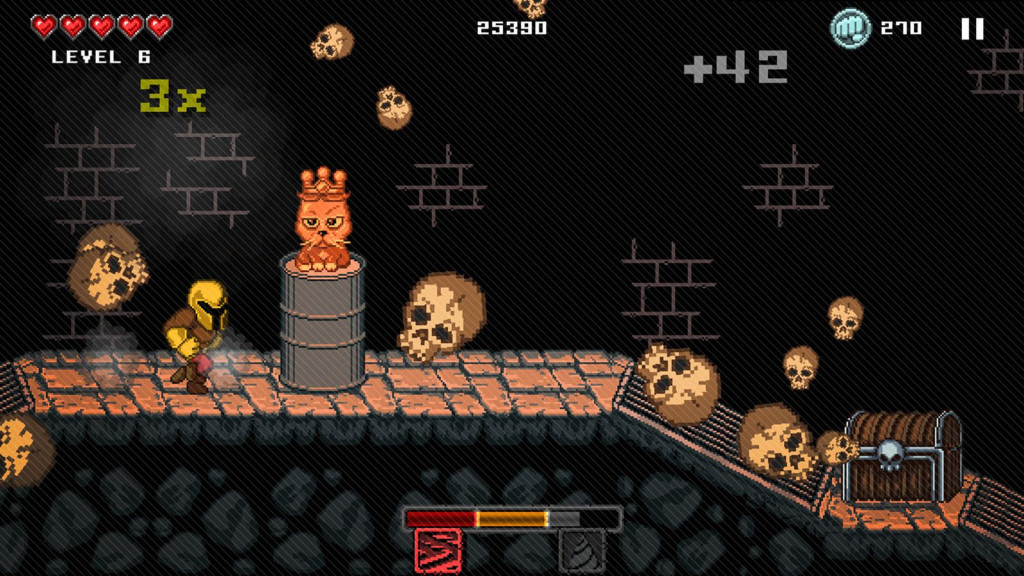 Punch Quest is an endless runner developed by MadGarden and published by Rocketcat games for the iOS platform, while Noodlecake studios published the game for the android platform. It is a fun little freerunner where you are tasked with punching monsters and the more you punch these monsters, the more you gain 'punchos', a form of in game currency that allows you to purchase special moves for your characters. There are a total of three special attacks available to you throughout the course of the game and these can be switched out or additional ones can be purchased in the customization menu. Stress at the workplace is entirely manageable through this game alone and it is available for free at the android and iOS playstores.
11. Giant Boulder of Death (2013)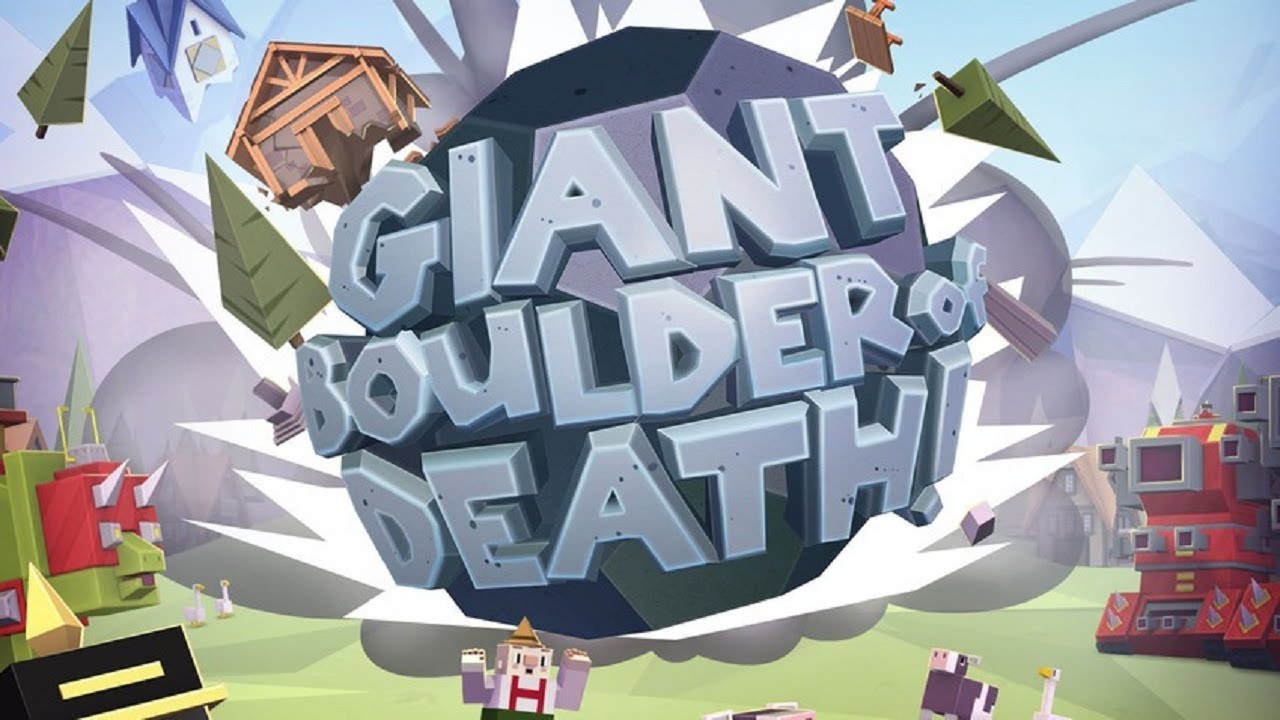 Ever thought how hard life is for a boulder rolling down a hill? No, why will you? You only think about yourself! However, here's a chance to redeem your conscience. Giant Boulder of Death lets you live the life of a boulder that's rolling down a hill and you have limited control over its trajectory as it mows down villagers and yetis alike. The more you manage to destroy on your way downhill, the more you manage to score, so don't feel offended, the game wants you in your destructive best. This boulder holds some serious grudge against those who are unfortunate enough to cross its path and now that you come to think of it, the life of a boulder downhill is not so bad after all!
10. Panda Run HD (2017)
Panda Run HD is exactly what it sounds like. It's a game where you play as a panda that's on a quest to retrieve the legendary stone of soul but the journey is not as simple as it sounds. Across the way lies a variety of puzzles and labyrinths that he must cross in order to reach the legendary artifact. You are required to collect fragments of the soul stone as you make your way towards it and these fragments will help you on your journey during tough times. Panda Run is a fun little endless platformer/runner that you can enjoy for both short and long playsessions, and it generally manages to kill your boredom outright. The game was released in the year 2017 and is presently available on the android and iOS playstore.
9. Temple Run 2 (2013)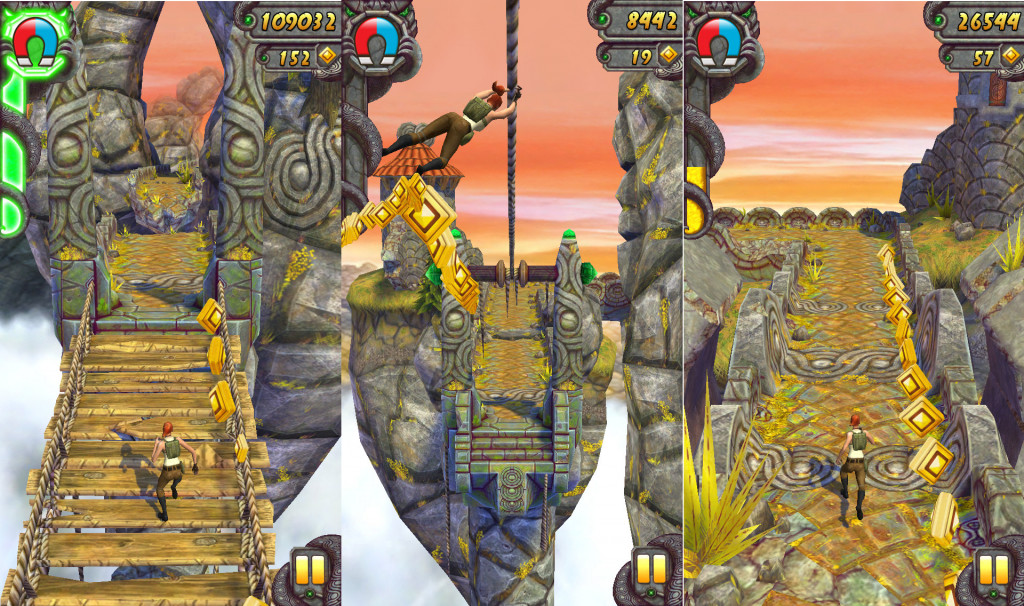 You knew that a list involving Subway Surfers had this coming, so let's just get it over with. Temple Run 2 is this massively popular unlimited endless runner that plays very similar to Subway Surfers. There is nothing much different about this game except for maybe the setting for the game and the art style but everything else plays pretty much the same. You are required to traverse through an ancient temple that contains various traps with a monster on your tail. You need to move right or left as the road takes you sometimes requiring you to jump up or slide down in order to avoid obstacles. There are coins that you can collect throughout the entire game that adds to your overall score for the game while giving you occasional upgrades. If you have played Subway Surfers, then you will feel right at home in this one. The game was developed and published by Imangi studios in the year 2018 for the iOS and android platforms and ports for the Tizen and Windows Phone 8 were released later.
8. Looney Tunes Dash (2014)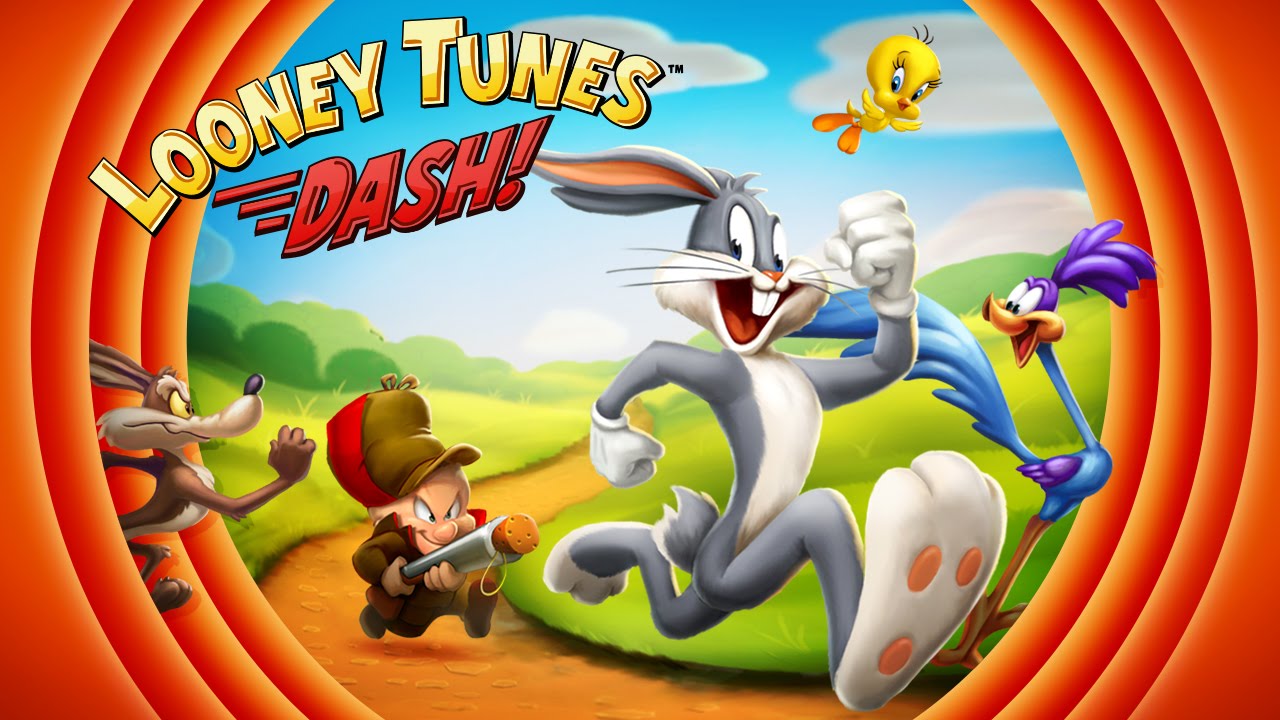 We got the feels when we downloaded this game on our mobile phones and the age old Looney Tunes melody started playing on our speakers and with a heavy heart all my childhood memories came flooding back to me. Looney Tunes Dash is an endless runner that is centered on the popular Looney Tunes characters. Play as Bugs Bunny and Daffy Duck as you run through a procedurally generated level and collect points for the game. The game was developed and published by Zynga and similar to their other games contained two types of in game currency.
7. Despicable Me: Minion Rush (2013)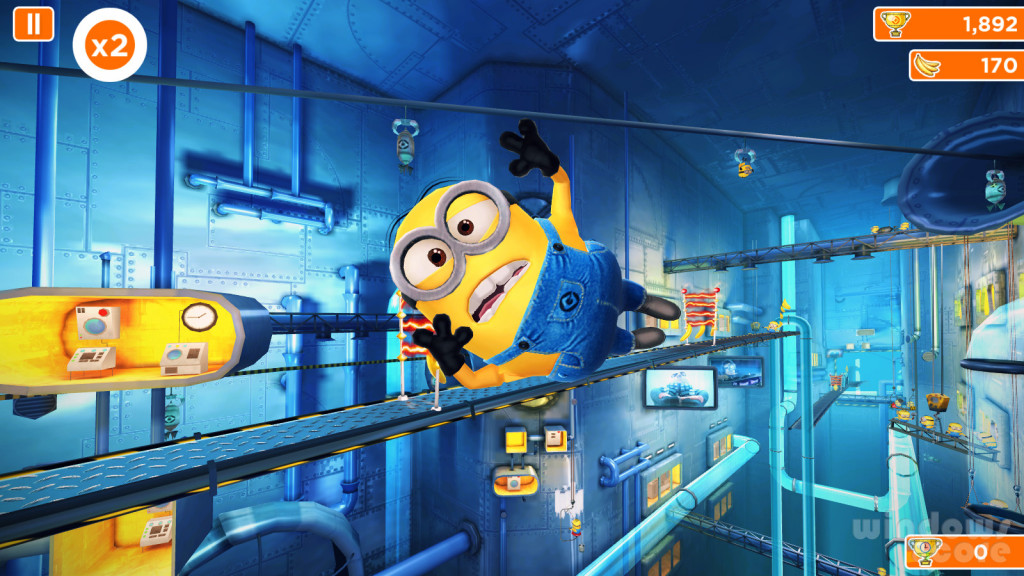 Despicable Me: Minion Rush is game you are already familiar with, owing to the recent madness of the world with minions. It is impossible to visit a mall nowadays without catching a glimpse of this familiar mascot and now you are able to control this character as he runs around endlessly to earn more points. You are able to collect a plethora of costumes for your minions and then play with them in this little endless runner. The bright graphics are extremely inviting and if you are looking for a game for your little one, then this is the perfect game for you. You are also able to visit a collection of unique locations that are popular in the animated series.
6. Agent Dash (2013)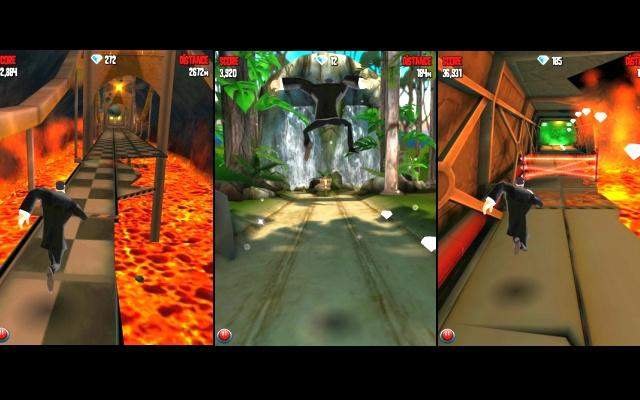 Agent Dash puts you in the shoes of a spy who is on a mission. The game has managed to cater to over 20 million people making it extremely popular among fans of the genre. It is not much different from any other endless runners out there and requires you to control your character so that you survive for the longest amount of time possible while collecting points. The main aim of the game is to attain a high score that is maintained through a leaderboard format and changes every month. You have the option to buy various upgrades in game and the game also provides you with the option to watch video ads to gain advantages. All in all, the game contains all the features that you would expect from a game that plays similar to Subway Surfers, so if that's what you are looking for, Agent Dash will not disappoint.
5. Sonic Dash 2: Sonic Boom (2015)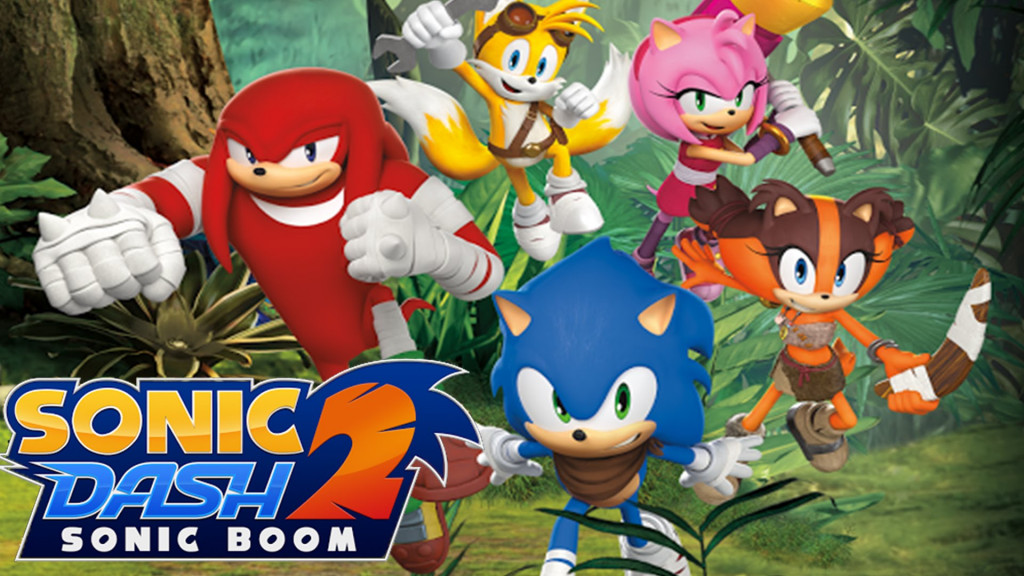 We all know who holds the title for the fastest mascot out there, so when we talk about endless fast runners, we cannot go without mentioning Sonic, our trusty little hedgehog. Almost every single title of Sonic became an instant hit. It's like you make a product and slap Sonic's picture on it, and it will sell like hotcakes. And when Sega announced an endless runner for handheld devices, we know that the genre will finally get a proper AAA release after being stagnant for so long. The game did pretty well and played pretty much as we expected a title like Sonic to play: smooth and polished.
However, the game failed to generate as much intrigue as the original Sonic series and was soon lost. However, Sega did not give in and started developing a sequel for the game and we received Sonic Dash 2: Sonic Boom, a much more fun and immersive Sonic experience. Though the game has been criticized for its inclusion of micro transactions, it is quite a fun little endless runner based on the Sonic franchise that you can enjoy on your smartphones right now.
4. Jetpack Joyride (2011)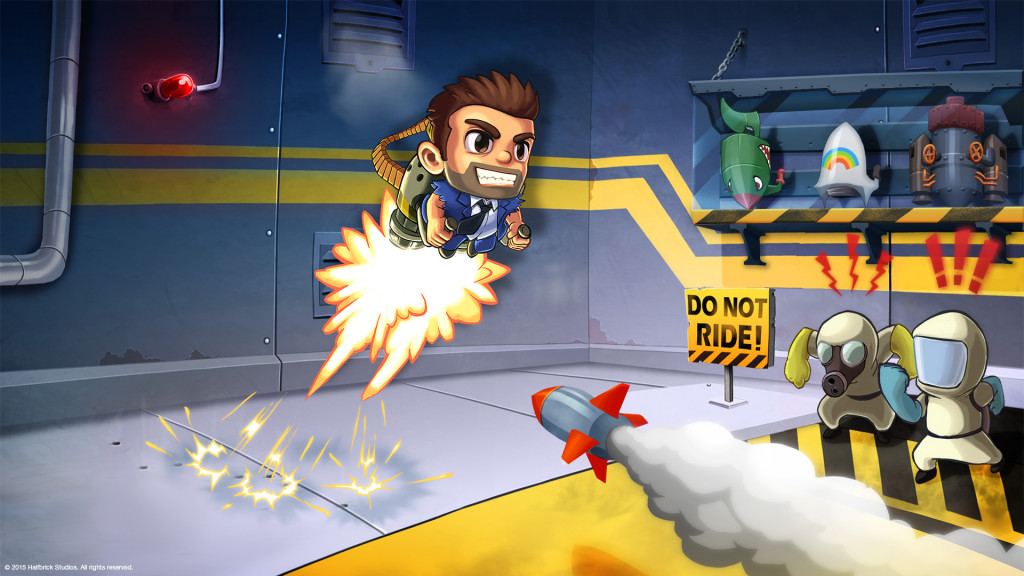 Even though Jetpack Joyride isn't a runner, it is an endless flier so it qualifies for this list. Most of the endless runners and platformers that we have played have managed to stick around for a couple of months max but this little jetpack guy has been keeping our boredom at bay for most part of our working careers. We all have agreed unanimously that Jetpack Joyride is one of the best endless games out there and will manage to keep you occupied for hours on end.
The game can sometimes amount to a certain bit of frustration though, so keep that in mind if you're sneaking around work playing games. It is extremely simple to play and uses a one touch mechanic to control Barry, the protagonist of the game. When you press on the screen, the jetpack on Barry's back switches on and the character goes up and when you let go, the jetpack turns off and Barry starts falling to the ground. You are not given the control of speed, so you can only control Barry along the vertical axis. There are various obstacles in the game that you need to avoid using this one touch mechanic with the ultimate goal being to survive as long as possible.
Read More: Games Like Fallout Shelter
3. Rayman Jungle Run (2012)
We have all known and loved Rayman over the years and similar to the other titles in the series, the game provides a beautiful immersive experience for its players. It is an incredibly addictive endless runner that introduces various new mechanics into the gameplay that are kind of a tribute to the original series. Throughout the game, you will find yourself finding objects and themes that are recurring in the Rayman universe and the game is structured beautifully around it. There are over 70 levels for you to explore, so don't expect yourself to go through this game in a hurry. It was developed by Pastagames and published by Ubisoft for android and iOS devices and the game presently has a rating of 4.8/5 in the Apple playstore.
Read More: Games Like Mass Effect
2. Boost 2 (2009)
Boost 2 is a game that will manage to captivate you on your first play and you will be stuck playing it time after time trying to beat your last high score. It is one of the best endless games that we have played till date and requires you to navigate through a tunnel in outer space while avoiding obstacles. You will find boost pickups on your way that will increase your speed and make the journey harder for you but the score is also multiplied. The world changes as you progress through the game and the tunnel will change automatically as you travel outside on the borders of it and within seconds, you will find yourself enclosed again.
The game can get pretty intense sometimes with the lack of space and increasing speeds will cramp you up making it impossible for you to maintain your boosts. These boosts too can be stacked to a maximum of 3 at which point you are travelling the fastest possible and a different timer will keep track of how much time you manage to spend in this max speed.
1. Alto's Adventure (2015)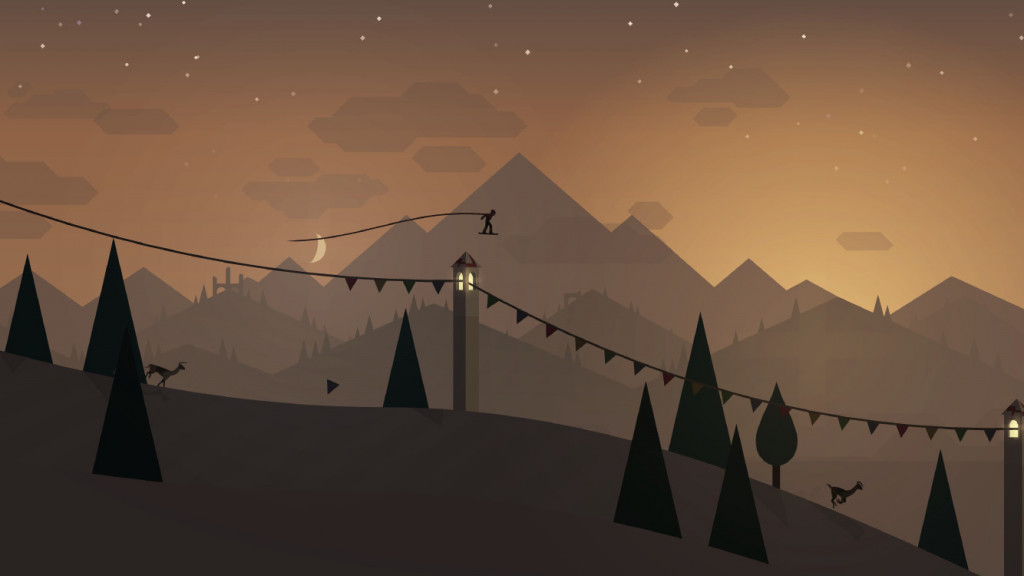 Alto's Adventure is set in a beautiful skiing range where Alto is skiing downhill and performing unique stunts. The game is set in an endless runner format and requires the player to control the character by jumping up and avoiding obstacles. The background score and the scenery in the game are extremely beautiful and calming, allowing you to enjoy the game for hours on end. A beautiful melancholic background sets the mood for the journey and you can assure yourself that you are in for a treat whenever you load up this game. It has been widely praised by critics for its overall gameplay and atmosphere that manages to retain players for long playsessions. If you love endless adventures, then Alto's Adventure should be at the top spot in your wishlist. The game has been developed and published by Snowman in the year 2015 for the iOS, the android, Linux and the Kindle systems.
Read More: Games Like Destiny