Never judge a book by its cover, they said, but little did they know that it doesn't hold true in case of horror movies! The first thing we look at before watching a horror film (or any film for that matter) is its poster. And to some extent, we decide whether the film has the potential to spook us out or not is by having one good look at its poster. Horror movies have always entertained us and they have the power to tell stories that don't have all things sugar and sweet in them!
Despite featuring blood and gore, mutilated bodies, musical scores that send a chill down our spine and all sorts of fear-inducing things in their screenplay, horror is a genre that will always have something fresh to deliver. And as long as filmmakers continue to explore this genre, we will have more reasons to get entertained. Posters have mostly compelled us to watch films and here we have a list of fifteen horror movies with some vintage posters, some classic and some 80s horror movie posters.
15. Paranormal Activity (2007)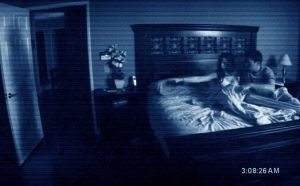 Directed by first timer Oren Peli, 'Paranormal Activity' had instantly become the talk of the town once its trailers were out. The film not only managed to scare the common audiences, but also a person like Steven Spielberg, who took great interest in horror stories, due to some of his spooky childhood experiences. The film, which was the story of a couple, who after having haunting experiences in their new home, start filming the paranormal activity only to find out there's more than what meets the eye. The poster of the film depicted a couple in a camera recording, spooked out in their bed, pointing towards an ominous figure on their door. The poster was what had actually stirred the audiences' interest in the film!
Read More: Best Horror Thriller Movies of All Time
14. Sinister (2012)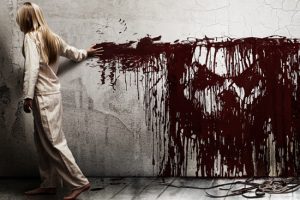 This British-American film is said to be inspired by a nightmare, which co-writer C. Robert Cargill had had after he watched the classic horror film 'The Ring'. Developing his story further, director Scott Derrickson presented the account of a crime writer, who after moving in his new home, finds a box of movies, which show ghastly murders that had taken place in his own attic. The entire series puts his family at risk and that's just the beginning of more sinister things to come. The film, which received mixed response at the box office, had its poster depicting a young girl dressed in white, with her hand touching a wall that has an intimidating figure in the background. The film really had us screaming!
Read More: Best Horror Movies of the 2000s
13. The Ring (2002)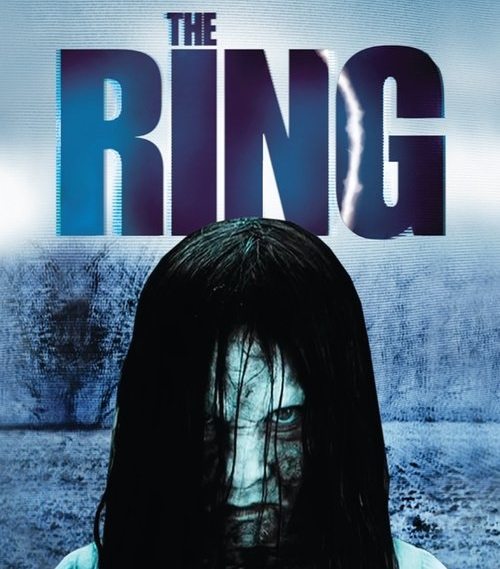 Considered as one of the scariest movies of all time, 'The Ring' is a remake of the Japanese film 'Ringu', which critics say is even scarier! Director Gore (the name has it all!) Verbinski's cult masterpiece, which can scare the wits out of us at any given time of the day, had a cleverly made poster. The film, which narrated the mysterious deaths of people a week after they watch a videotape, received favourable reviews for its haunting background score and creepy visuals; and its minimalist poster freaked us out too. With nothing but an irregularly-shaped white ring on a black background and some horizontal lines running across it, the poster was one craftily made visual, like the entire film.
Read More: Horror Movies You Can Watch Online
12. Halloween (1978)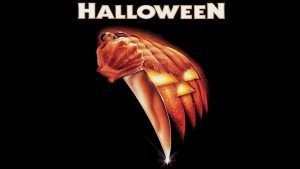 Jamie Lee Curtis, who debuted with this film, and subsequently starred in a string of horror movies, was tagged "Horror Queen" by the audiences and quite rightly, she entertained us too. 'Halloween' narrated the story of a young Michael, who kills his sister on Halloween night and is sent to a sanitarium, from where he escapes years later. Despite being in catatonia for years, an adult Michael poses a threat to people as he goes on a killing spree in the neighbourhood. The film was greatly successful and its poster, too, played an important role. A flaming Jack-o'-lantern with a hand holding a knife, the poster of 'Halloween' depicted what exactly the film was trying to say!
Read More: Best Horror Movies You Can Watch on YouTube For Free
11. The Texas Chainsaw Massacre (1974)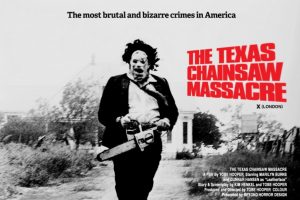 When the film had released a long time ago, it was banned in some countries since it featured a lot of blood and gore and had too much violence in its narration, but 'The Texas Chainsaw Massacre' went on to become one of the most influential horror films ever and also earned rave reviews and profits, some critics even commenting that it had set a new standard in the slasher genre. Loosely inspired by Ed Gein's story, the film's despicable and appalling central character – Leatherface – on its poster, armed with a chainsaw, running towards the screen, spooked almost an entire generation!
Read More: Best Horror Movies of 2016
10. It (2017)
When the film came out last year, it broke several box office records and we weren't surprised. 'It', based on one of Stephen King's lengthiest novels, did proper justice to the narration and critics as well as fans loved the way Pennywise was described in the film. But what stood out were the movie's posters, which like the film, were spooky enough to scare you for days. In a misty background, a child wearing a yellow slicker is being offered a red balloon by a clown, but when one looks at the balloon carefully, that's 'it'!
Read More: Best Horror Movies of the 1970s
9. The Descent (2005)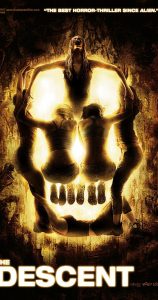 A group of friends embarks on a caving adventure deep inside its unknown part, when they realize they are trapped and there is no way out. One by one, the women start falling prey to creepy humanoids that survive on human flesh. But is the entire supernatural hiking adventure one of the women's nightmare? The British film directed by Neil Marshall was a smash success and it did manage to keep the audiences on tenterhooks. Its dark poster depicted six women at the edge of a cave, which also resembled a human skull. The skillfully developed poster, too, worked in favour of the film.
Read More: Best Space Horror Movies of All Time
8. The Babadook (2014)
When this Australian psychological horror film was released in the country, it didn't taste success and was panned by the critics until it went to the Sundance Festival and garnered the world's attention. The film tells the story of a single mother to a six-year-old, whose life turns upside down when the son wants her to read to him from a mysterious pop-up story book. When the book is opened, it brings with it more troubles for the duo. The film's poster depicted a monster popping out of an open door, as the boy looked on, worried. The film became one of the most well received films of the year and its poster managed to leave a lasting impression too.
Read More: Best Alien Horror Movies of All Time
7. A Nightmare On Elm Street (1984)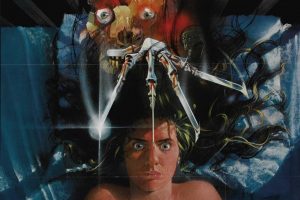 When a nightmare in the form of Freddy Krueger comes to haunt four youngsters one after the other, they realize he's not just in their dreams anymore. The low-budget slasher horror film, which brought Johnny Depp into the limelight, was critically acclaimed and became an instant hit. With director Wes Craven blending together the real and the imaginary worlds deftly, 'A Nightmare On Elm Street' became all the more frightening. Its poster depicted a girl in her bed wide awake, while a disfigured face with blade-fixed hands lurked above. It sure scared us silly!
Read More: Best Horror Movies of the 1980s
6. The Evil Dead (1981)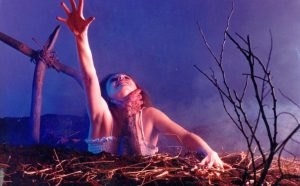 Written and directed by Sam Raimi, 'The Evil Dead' was a story of five friends, who go vacationing in the woods and land in a haunted cabin for the night, only to end up being killed one after another, as an ominous entity forces them to do so. Raimi's film had too much blood and gore and morbid scenes in the screenplay, which were enough to frighten us and the poster too, created the same effect. A girl in tattered clothes is being pulled into the earth by an undead hand and that was when we realized the evil is not dead yet!
Read More: Best Horror Movies Set in Woods
5. Fright Night (1985)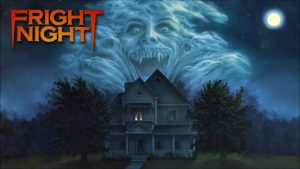 When a teenager discovers his next-door neighbor is a vampire and is responsible for several disappearances in the neighborhood, he goes out to unravel the mystery, ending up losing a lot. Directed by Tom Holland, best known for his movies in the horror genre, 'Fright Night' was his debut directorial, which like the cult film, had a bone-chilling poster too. A lone house across the street in the dead of a night, with some cumulus clouds above forming a creepy figure, was enough to scare the daylights out of us!
Read More: Best Horror TV Shows of All Time
4. Poltergeist (1982)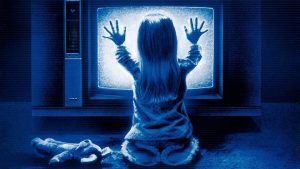 Nominated for three Oscars, this film produced by Steven Spielberg narrated the story of the Freeling family, whose home is invaded by malevolent ghosts. When the youngest daughter is sucked into a vortex and heard through their static television screen, parapsychologists inform that the family is having a ghostly intrusion. Considered a classic in the horror genre, 'Poltergeist' had a giveaway poster, which saw a black background with the silhouette of a little girl fixated to a static TV screen. We knew there was definitely something spooky in there!
Read More: Best Lawyer Movies of All Time
3. Rosemary's Baby (1968)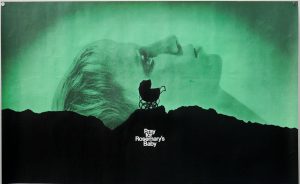 A gem from Roman Polanski, 'Rosemary's Baby' told the tale of a young couple that moves into a new home and decides to start a family when things go well for them. Once, the young Rosemary has a terrible nightmare, following which she conceives, she realizes that the baby is not her husband's. The supernatural horror film managed to give us the creeps and its poster added to our woes. With Rosemary lost in thought on a hazy background, the poster highlights the silhouette of a baby stroller in the foreground. One look at it and you realize the baby inside might have a secret to share!
Read More: Best Feminist Horror Films of the Decade
2. The Omen (1976)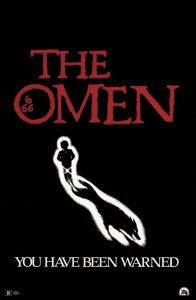 When a guilt-ridden father brings home an adopted son Damien, moments after his wife delivers a stillborn; mysterious events start occurring. As he goes halfway across the globe searching for answers about his adopted son's history, more eerie things begin plaguing him. The film, which dealt with the topic of Antichrist, has its poster describing the theme aptly. As mentioned in the Book of Revelation, triple six (666) is the Number of the Beast and the poster of 'The Omen' bears the number in red on a black background, along with Damien, whose shadow bears a wild dog. Quite apt we say!
Read More: Best Horror Movie Villains of All Time
1. The Exorcist (1973)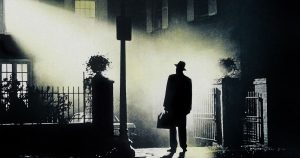 This William Friedkin movie, which was the first ever horror movie to be nominated at the Oscars, has an iconic poster that's not very easy to forget! With a story that is deeply etched in our minds and the effects that had us biting our nails in fear, the poster of the film had the silhouette of the protagonist dressed in formals, complete with a hat, standing in total darkness in front of a villa, with only a ray of light focused on him. The black and misty background reflects the horror genre perfectly and adds to the spooky atmosphere, and quite like the movie, gives us the chills!
Read More: Best Gender Bender Movies of All Time