Hulu's anime catalog has been huge ever since its ties with Sentai Filmworks. It also has a whole lot of sexy adult anime in its collection. Now, what really makes an anime sexy? To put it simply, it's all about how it consistently depicts the content of sexual nature involving revealing character costumes, sexual situations and even artful celebrations of one's sexual preferences. An anime like 'Prison School' is a great example of how the most absurd portrayal of one's sexual fantasies can have a much deeper, profound meaning. But then there are also other anime that use sex as a mere selling point.
Fan service in anime shows can often be annoying but when an anime uses it to explore ecchi, then it's great fun. Here, we've got a list of some of the sexiest anime shows that you can find on Hulu. A lot of the shows mentioned below have engaging stories and interesting characters and at the same time, they also have strong sexual overtones that complement the story in one way or the other. Here's the list of top adult anime that you can stream on Hulu (many of these are R-rated.)
11. Black Butler (2008 – 2009)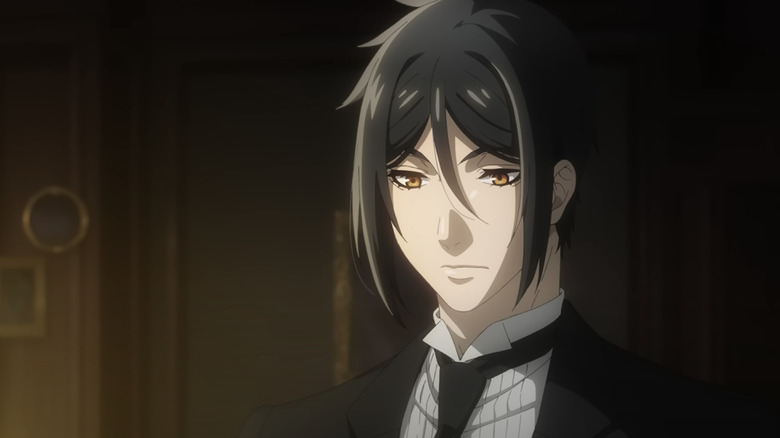 Young Ciel Phantomhive works hard for Her Majesty in Victorian England and is willing to go to any lengths to ensure that he fulfills all the responsibilities given to him. In his pursuit of near perfection, Sebastian Michaelis the butler with his superhuman powers plays a vital role. However, everyone is clueless to the dark reality that Sebastian is actually a demon who formed a contract with Ciel when the latter was going through one of the darkest periods of his life. The unlikely duo now work together so that they can eventually unravel the dark secrets behind Ciel's misfortunes, unbeknownst to the radical change in their own dynamics that their long partnership will have. The series recounts a very gloomy and painful story. In its pursuit of making the show as raw as possible, 'Black Butler' features several sensual scenes that play with the viewer's imagination. If you plan to watch the anime, make sure that you are comfortable with graphic nudity and frequent conversations about sex. The anime is streaming here.
10. Chainsaw Man (2022 -)
MAPPA'S 'Chainsaw Man' is an intense action anime that is well-known for its unadulterated portrayal of gruesome scenes. The show follows an ill-fated teenager who is robbed of the chance for a normal life because of his late father's overwhelming debt that he is forced to pay by doing odd jobs. Aside from his pet, a chainsaw devil named Pochita, he has no one else in the world that he can count on. So, when Denji is betrayed by a greedy yakuza and gets killed, Pochita forms a contract with Denji and bestows devil powers on him. This marks the beginning of a new life for Denji, in which he finally gets to savor the basic necessities of life that have always alluded him.
While the action series is quite popular for its interesting premise and world-building, 'Chainsaw Man' is definitely not made with a younger audience in mind. The show constantly dabbles with conversations that are sexual in nature and the protagonist regularly talks about his desire to touch breasts. In one of the scenes, Denji caresses Power's boobs in the toilet. As if this was not intense enough, the protagonist in another episode makes love with Himeno. You can watch the show here.
9. Rosario + Vampire (2008)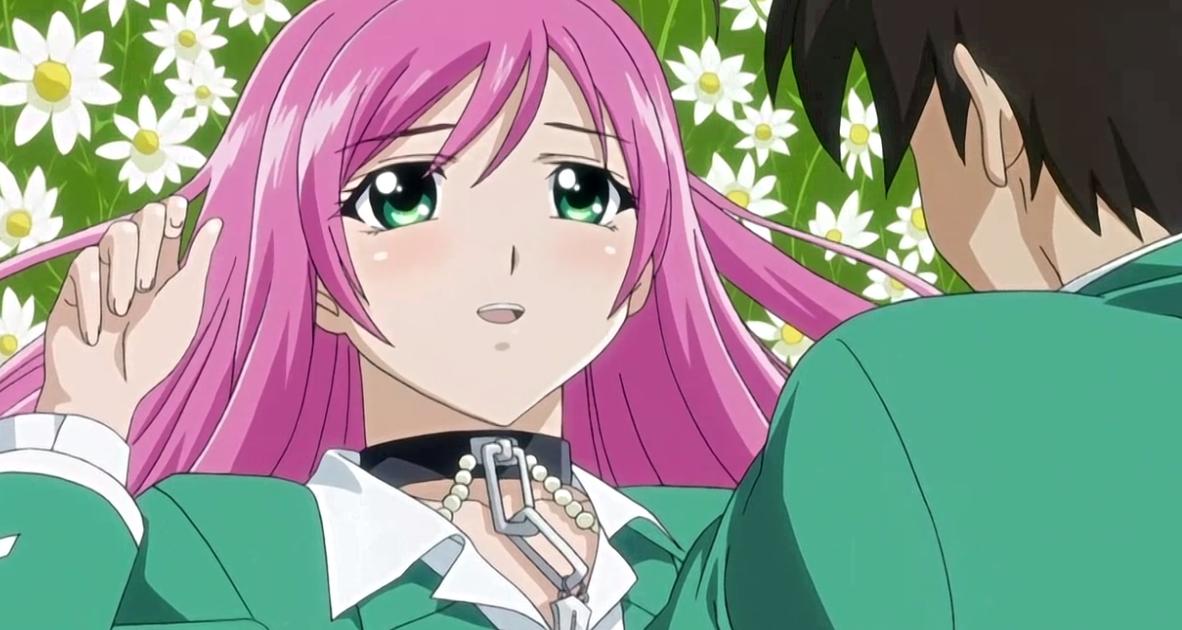 'Rosaria + Vampire' does not have too many nude scenes until it reaches its second season but once it really kicks off with its Ecchi elements, it goes beyond most other shows on this list. There is one episode titled "Skiing + a Vampire" which has some never-seen-before graphic nudity. Overall, apart from all the Ecchi moments, 'Rosaria + Vampire' is quite enjoyable if you don't go in expecting too much. You can watch the series here.
8. Heavenly Delusion (2023 -)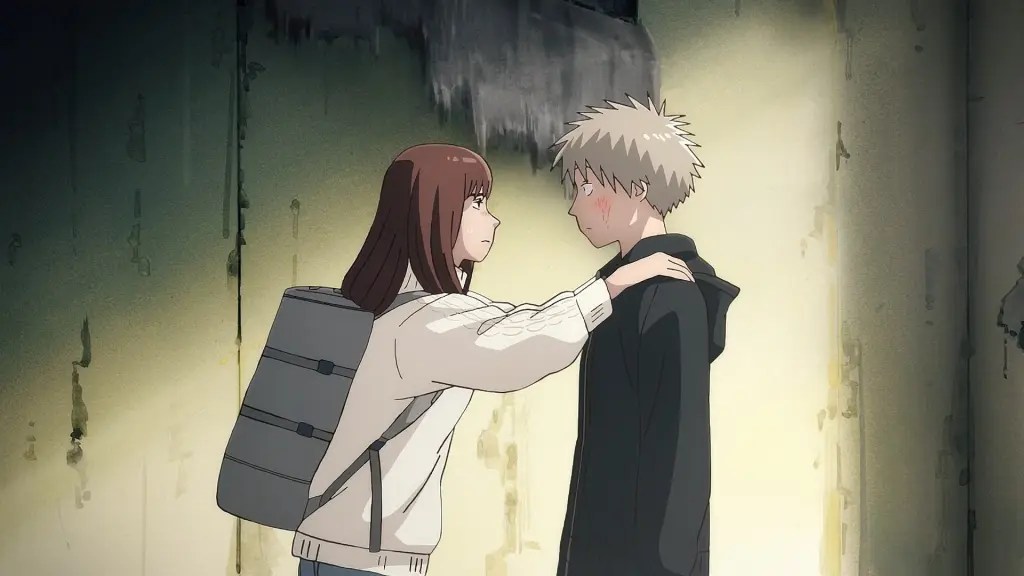 'Heavenly Delusion' takes viewers to a post-apocalyptic world that was brought to its present state because of an unprecedented disaster that occurred sometime around 15 years ago. In the present time, a group of children live in a special facility under the constant vigilance of adults who appear to have their best interests in their hearts. One of the children named Tokio is curious about the outside world and she is told by her friend that she will eventually be rescued by two people from the outside world, one of whom will look exactly like her.
Interestingly, her prophetic words appear to be somewhat true as a boy named Maru who looks exactly like Tokio is searching for heaven with the help of his friend, Kiruko. The science fiction series is packed with mysterious twists and turns that keep viewers hooked. In its realistic portrayal of the world, the show leaves no stone unturned. Nudity is quite common in almost every other episode and there are also several semi-nude scenes. Furthermore, we have suggestive sex moments that just add to the overall sexual appeal of the anime. In one of the episodes, there is an implied rape scene as well which just goes on to show that 'Heavenly Delusion' or 'Tengoku Daimakyo' should not be watched by a younger audience. The anime is accessible for streaming here.
7. JoJo's Bizarre Adventure (2016 -)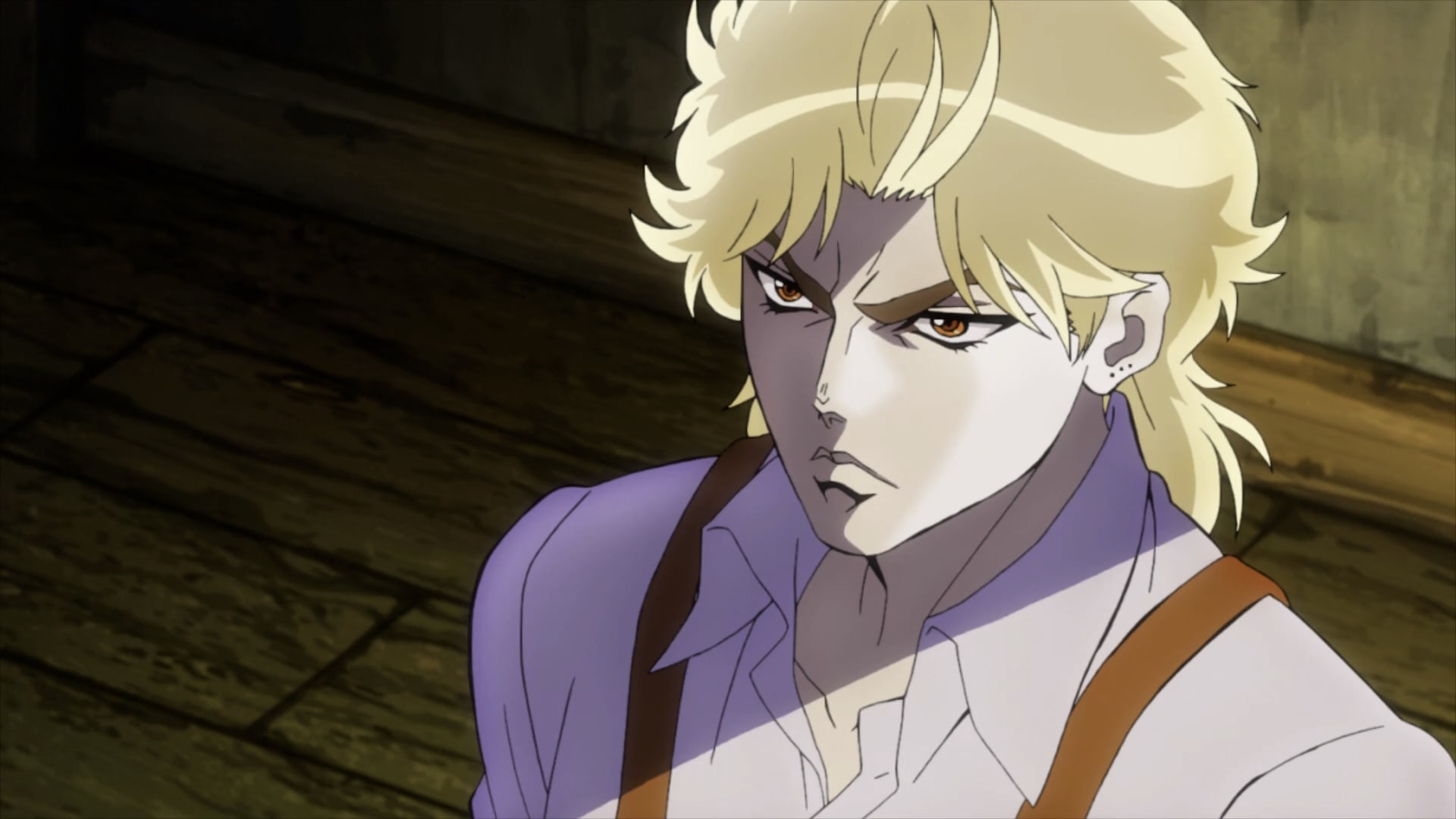 The Joestar family is an extraordinary household whose members are naturally bestowed with powers that they use to fight supernatural enemies. 'JoJo's Bizarre Adventure' tells their interesting story in different parts each focusing on a specific Joestar family member. While the supernatural series is popular for its action-packed shows, fans must be familiar with the fact that the anime in its rare moments does include brief nude and semi-nude scenes. Furthermore, there are implied sex scenes that also play with the viewer's imagination. You can stream all the episodes here.
6. High School DxD (2012-)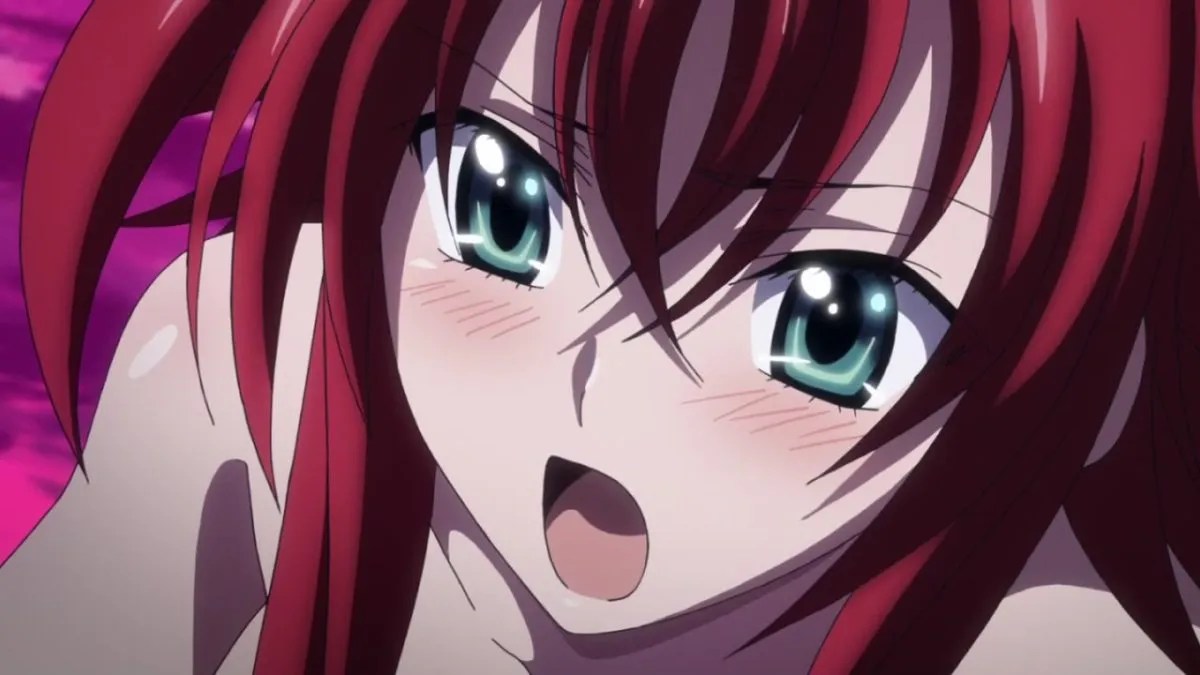 'High School DxD' pretty much defines the Ecchi genre with its extreme levels of nudity and sex scenes. Those who despise Ecchi will definitely look away from it. But don't be mistaken by what it appears to be on the outside as it has a lot more than just adult scenes. You'll be surprised at how much drama and emotion this one packs in every single episode. So if you're an adult anime fan and you're also looking for something that will remind you of your high school days, then go ahead and watch 'High School DxD'. You can stream the beloved anime here.
5. High School of the Dead (2010)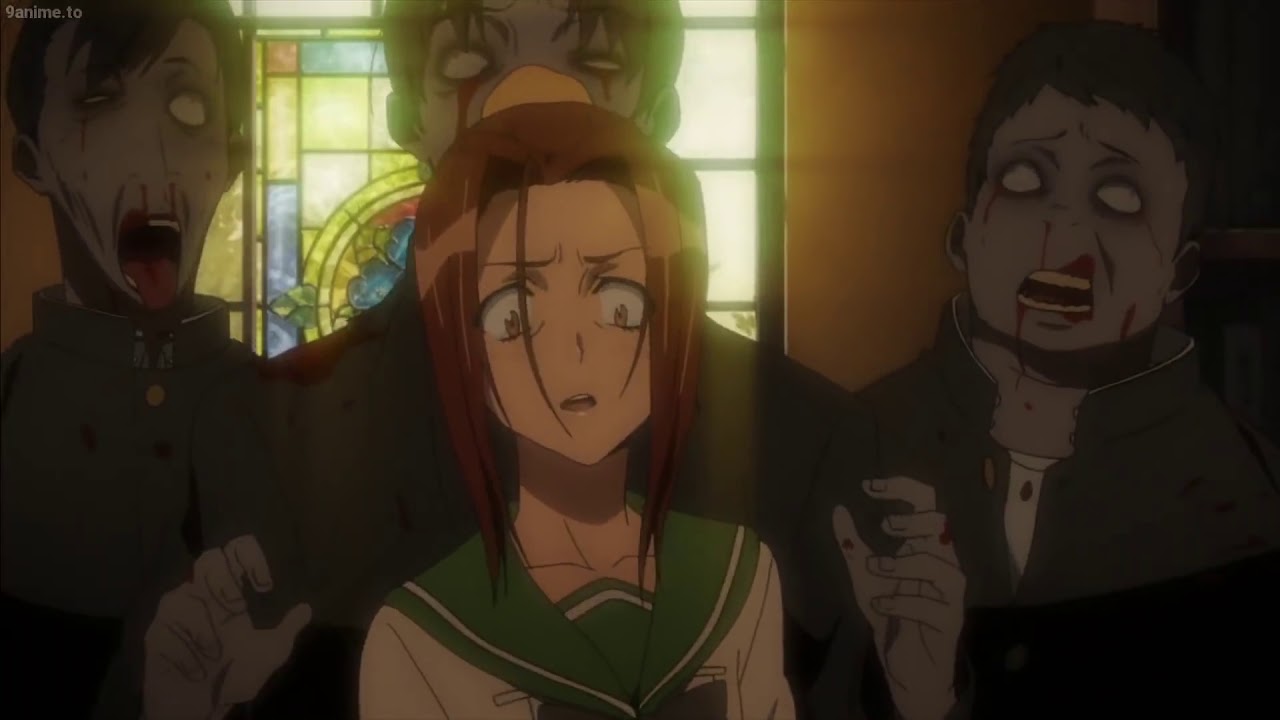 Want to be turned on and pumped up with a rush of adrenaline at the same time? Then 'High School of the Dead' is the perfect anime for you as it includes some of the sexiest adult scenes and along with that, it is full of intense zombie-slaying action. If you're still having second thoughts about this one, then just think of a zombie getting beaten to a pulp by a half-naked sexy woman. That is exactly what 'High School of the Dead' is all about. You can stream the anime here.
Read More: Best Adult Anime on Crunchyroll
4. Devils' Line (2018)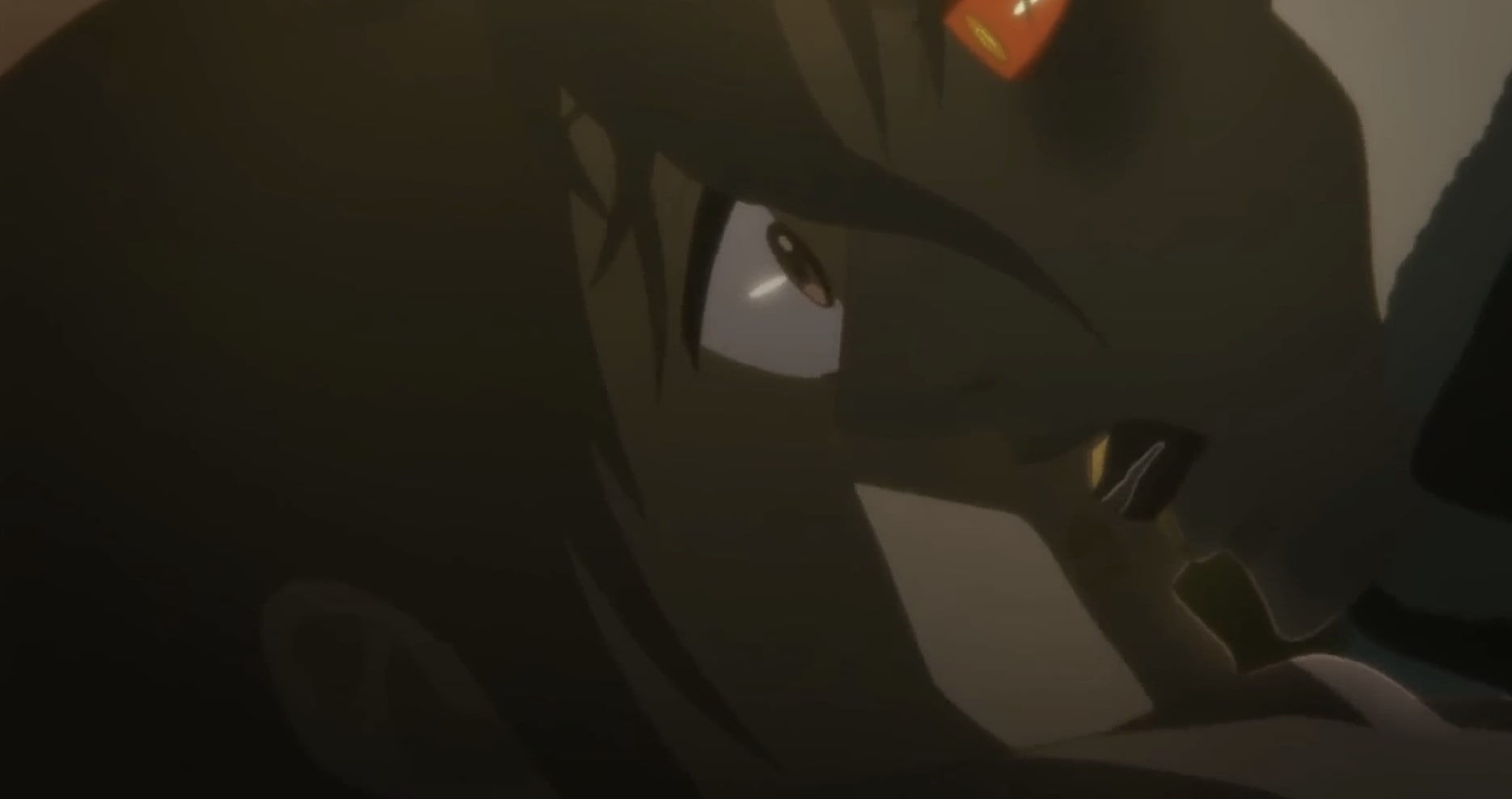 'Devils' Line' introduces viewers to a world where vampires exist as part of society's underbelly. Like most people, a university student named Tsukasa Taira is clueless about their existence until her longtime friend reveals his true identity following a confrontation with a human and vampire hybrid, Yuuki Anzai. After the strange incident, Taira and Anzai start to form a complex relationship that is put at risk by the latter's involuntary instinct to devour the former. There is a sex scene in the series that depicts moments in which a girl dreams of making love with a guy. There are other hot moments too, but the ones mentioned above is the most intense and sexy. You can watch the show here.
Read More: Best Anime on Hulu
3. Kill la Kill (2013- 2014)
Some might even argue that 'Kill la Kill' does not even deserve to be on this list since the Ecchi elements in it is more of a sidelined thing. But then, the reason why I consider it to be a worthy entry on this list is that it uses typical overly sexualized anime troupes to poke fun at the commonalities of the other cliched anime shows of today. If watching sexy adult anime is your thing but you're tired of looking at the same old tales of "harem", the 'Kill la Kill' will be a breath of fresh air for you. You can watch the show here.
Read More: Best Romantic Anime on Netflix
2. Shuffle! (2005 – 2006)
A decade ago for some mysterious and inexplicable reason, the gateway to the Realm of the Gods and the Realm of the Demons opened for the first time. This allowed gods and demons to enter the human world and the migration naturally challenged the status quo in countless ways. 'Shuffle!' does not really have sex scenes, however, the anime regularly features nude scenes in a number of episodes. There is no censorship as well and viewers get to see raw moments that should definitely be watched only by a mature audience. You can watch the anime here.
Read More: Best Anime on Amazon Prime
1. Dragonar Academy (2014)
'Dragonar Academy' follows Ash Blake, a first-year student at the Ansarivan Dragonar Academy, which teaches riding and taming dragons. Considered a laughing stock and deemed the "number one problem child" by his fellow classmates, Blake's life finally takes a positive turn when his dragon awakens in the form of a beautiful girl. The story focuses on Ash's journey to win social validation and respect while he discovers his own purpose in the process. Although the show is set in a school for teenagers, there are several nude scenes throughout its twelve-episode run. You can stream the anime here.
Read More: Best Anime on Crunchyroll