Directed by Mary Nighy, 'Alice, Darling' is a 2022 psychological thriller drama film that revolves around Alice (Anna Kendrick), a young woman trapped in an emotionally abusive relationship with her boyfriend Simon (Charlie Carrick). She lies to him before going on a vacation with her two friends, telling him she is leaving for a work trip.
Once they have arrived, Alice's friends, Tess (Kaniehtiio Horn) and Sophie (Wunmi Mosaku), start to realize the truth. 'Alice, Darling' as a movie, underscores how all-consuming an abusive relationship can appear and the importance of having supportive friends. If that has made you wonder whether 'Alice, Darling' is inspired by actual events, we got you covered.
Is Alice, Darling a True Story?
No, 'Alice, Darling' is not based on a true story. Director Mary Nighy developed her first feature film from a script written by Alanna Francis. In an interview with Screen Rant, the filmmaker reflected on what drew her to the project. "I think what really spoke to me about the script of 'Alice, Darling' was it felt as though Alice had such a rich internal world," she said.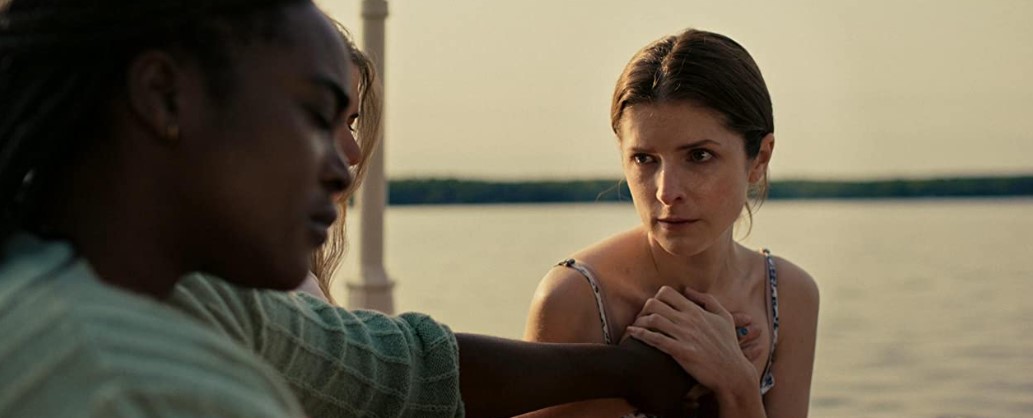 The director continued, "It was mostly without words. I loved the idea of the challenge of that as a filmmaker. How do you make something that's very internal? How do you externalize it? And what techniques can you use with sound or an image to draw out somebody who's in the grip of something that's really quite paralyzing? How do you make that visible to an audience?" Nighy further mentioned that she was intrigued by the friendship between Alice, Tess, and Sophie and how it gives different entry points to people, allowing them to connect with other characters besides the protagonist.
Sometimes, people in our lives are caught in the same situation as Alice. Reaching out to them to ask if they need help is imperative. Nighy continued, "This script felt quite unique in the sense that it was more about an absence than a presence. Rather than being your typical film about a violent man, it was very much focused on what the female character experiences. And I thought that that was quite powerful and also quite important, in a way, for people to be aware that this is happening, that emotional abuse does happen, and to focus on the woman rather than the man."
According to Nighy, the script she received from Francis was incredibly well-researched. Francis and script editor Mark Van de Ven tried their best to ensure that the script would have a psychological authenticity. "We didn't want to make it a pastiche or overemphasize, or sort of heighten for a fact, how that abuse takes place. But we did also have lots of questions at the script stage about how Simon will read," the director explained.
Casting played a pivotal role in ensuring the accurate depiction of Simon as a character. He is initially introduced as a charming and generous man with a successful career in a field where that is rarely guaranteed. However, as the film progresses and the veneer of charm and mellowness slips off, the monster emerges from within Simon. In addition, Nighy spoke about how open Anna Kendrick had been about her abusive relationship, which likely played a role in the development of Alice as a character.
Like Alice, the 'Pitch Perfect' actress was involved in an emotionally abusive relationship, which ended not long before the production of 'Alice, Darling' began."It does feel like something was stolen (from me)," Kendrick told USA Today. "Getting trapped in that loop of trying to make (the relationship) better, and figure out a way to fix it, meant that I was also sacrificing more and more of myself. I was self-abandoning over and over and over again, and something was very lost for a long time. I'm still getting it back." In conclusion, 'Alice, Darling' is a well-researched film that offers a realistic story about emotional abuse, but it is not based on actual events or people.
Read More: Where Was Alice Darling Filmed?