Apple TV+'s 'Flora and Son' is a musical comedy-drama movie directed by John Carney. It stars Eve Hewson, Joseph Gordon-Levitt, and Orén Kinlan in the lead roles. The story follows Flora, a single who struggles to bond with her estranged, rebellious son, Max. However, when Flora brings home a beat-up acoustic guitar, the mother and son slowly bond over their love for music, leading to positive changes in their otherwise erratic lives. Given the film's emotional narrative and focus on exploring music's role in shaping relationships, viewers must wonder if it is based on a true story.
The Inspiration Behind Flora and Son
No, 'Flora and Son' is not based on a true story. The film is based on an original concept from John Carney, who also penned the film's screenplay and served as the director. Carney is an Irish filmmaker who gained recognition for directing the 2001 dramedy movie 'On the Edge' starring Cillian Murphy in the lead role. Carney is best known for the 2013 musical comedy-drama film 'Begin Again' starring Keira Knightley and Mark Ruffalo. He also developed the anthology drama series 'Modern Love' for Amazon Prime Video.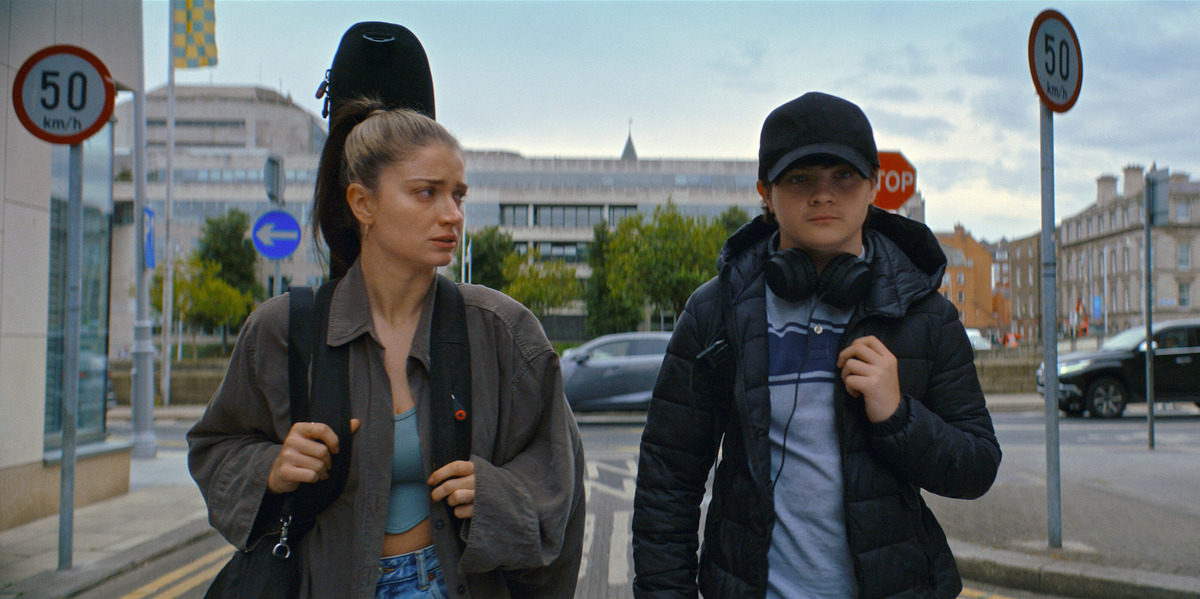 While 'Flora and Son' is not based on any real incidents, the concept was derived from Carney's personal experiences. Carney started his career as a musician and was a bassist for the Irish rock band The Frames from 1991 to 1993. In his personal time, Carney enjoys recycling and refurbishing other people's stuff, including guitars. "It's sort of based on something I do myself, which is recycle and repurpose other people's trash all the time," Carney said in an interview with A.frame. "It all started with the image of a woman pulling a guitar out of a dumpster. I thought that was a great starting point for a film," the Irish filmmaker added.
The film revolves around Flora, a single mother who has a troubled relationship with her son, Max. However, the mother and son's life slowly transforms after Flora refurbishes an old guitar and starts taking guitar lessons. In an interview with Observer, Carney spoke about the film's central theme. "The question (in the film) is, can music really change your life? And music completely changed my life. I really understood that support from your parents—or a parent, in this case—and how important it was. It touches on a lot of real and emotional things that are really important. I could relate to it, and I loved it," Carney said in the interview.
The film explores the theme primarily through the characters Flora, Max, and Jeff. Flora and Max share a tumultuous relationship, which is slowly repaired after they start bonding over music. At the same time, teaching Flora how to play the guitar helps Jeff, who failed to become a commercial musician, repair his own relationship with music. Carney explained that while he wanted to make a light-hearted film about music's power to transform lives, he aimed for a gritty sense of realism with the project. As a result, the central theme is layered into the narrative using realistic everyday circumstances the main characters face, making the narrative emotionally resonant and relatable.
All things said, 'Flora and Son' is not a true story but a fictional one. The movie tells the story of a mother and son's fractured relationship healed through music. As a result, the narrative reinforces the idea of music having the power to change lives. Moreover, through the perils of a working-class, single mother and her troubled teenage son, the story not only emphasizes the central theme but also allows viewers to see themselves in the narrative, resulting in an engaging and realistic depiction of relatable life problems.
Read More: Where Was Apple TV+'s Flora and Son Filmed?