In the sixth season of ABC's medical series 'The Good Doctor,' Dr. Morgan Reznick tries her best to become a mother. She finds a sperm donor and starts IVF procedures hoping to give birth to a child as soon as possible. After a few failed attempts, the procedures start to yield results, only for her to put an end to the same. She becomes the foster mom of Eden, the daughter of a homeless woman who dies at San Jose St. Bonaventure Hospital. Her responsibilities as a mom change her life severely, which makes her consider leaving the hospital. Does that mean we saw the last of Fiona Gubelmann in the series? Let's find out! SPOILERS AHEAD.
Is Morgan Leaving St. Bonaventure?
Eden arrives into the life of Morgan unexpectedly. Saving and nurturing her kindle the motherly feelings in Morgan, which leads her to become the foster mom of the little girl. Upon accepting Eden, she also decides to become her mom for good as she decides to adopt her. Realizing that Eden is everything she has ever wanted, Morgan also puts an end to her IVF procedures. But little she knows about the responsibilities of being a mother initially. In the sixth season finale, she realizes that she cannot take care of Eden as much as she wants while dealing with the obligations she has as a doctor working at such a prestigious hospital.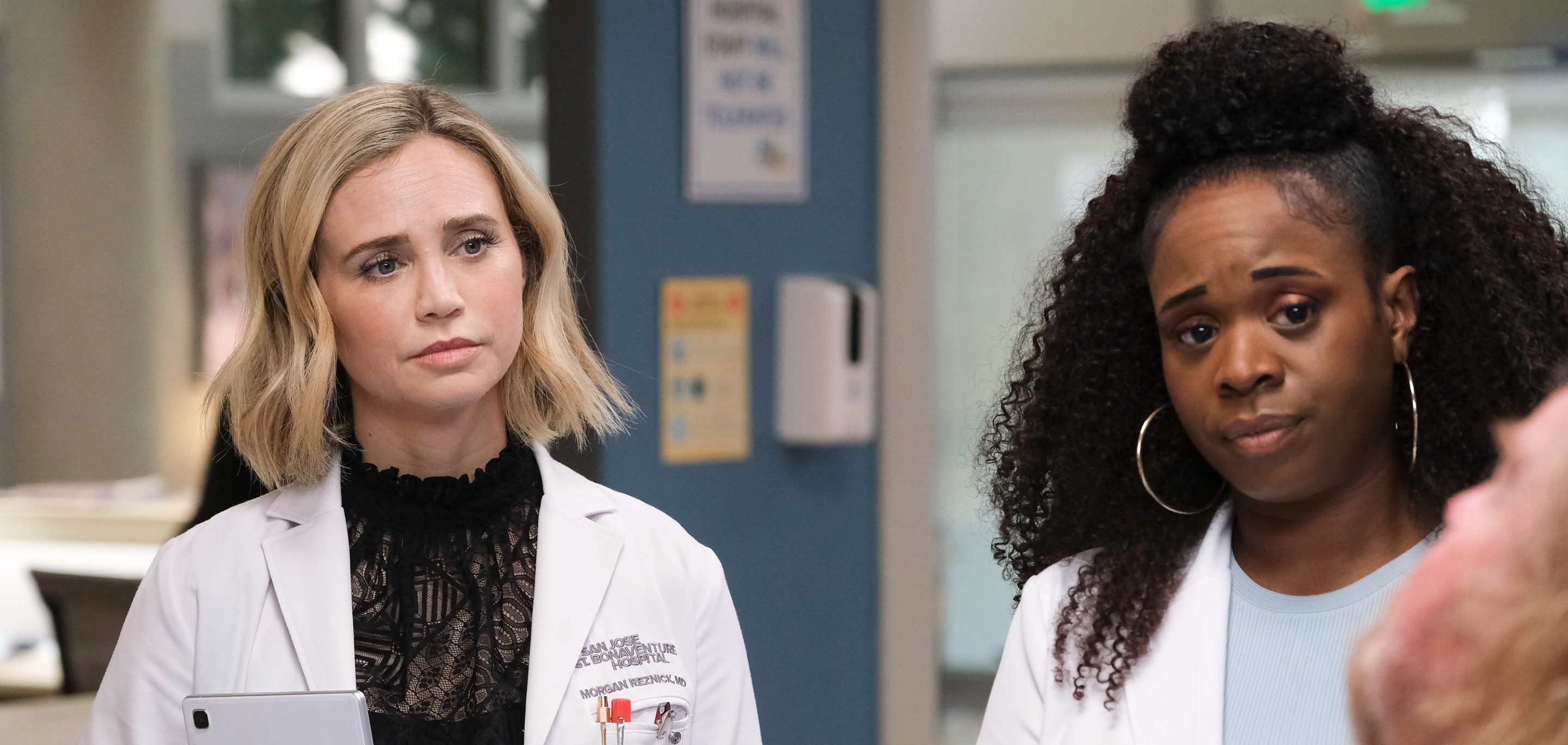 Morgan then decides to prioritize Eden over her career. She has lost several people in her life, most prominently her ex-partner Dr. Alex Park, whenever she has given importance to her career. She doesn't want to repeat the same mistake with Eden. Therefore, Morgan decides to resign from St. Bonaventure Hospital to give her all to take care of her "daughter." However, Park intervenes before Morgan leaves the hospital. Park has always loved Morgan. Even after their break up, he has expressed how much she means to him. When Morgan decides to leave the hospital, he realizes that it is time for him to step up and reunite with her.
In one of the closing scenes of the episode, Park lets Morgan know that he is ready to commit to her and look after Eden. He doesn't want her to leave the hospital when he is there for her and Eden. Morgan reunites with Park and starts to share the responsibilities of looking after Eden right away since she has "work" to do, indicating that she has decided against leaving St. Bonaventure. So, will Fiona Gubelmann return to the show's seventh season? Let's see.
Is Fiona Gubelmann Leaving The Good Doctor?
As of now, neither ABC nor Fiona Gubelmann has released a statement concerning the actress' departure from 'The Good Doctor,' indicating that Gubelmann is going nowhere. Morgan's initial decision to leave St. Bonaventure seemingly is a plot point conceived to pave the way for her and Park's reunion. Her decision to resign from the hospital alarms Park severely, which leads him to open up about his feelings for Morgan to her. Morgan decides to not leave the hospital after getting back together with Park, which makes it clear that we shouldn't worry about Gubelmann's commitment to the show.
In addition, co-showrunner Liz Friedman already has an outline of how Morgan's storyline will progress in the upcoming seventh season. "I think their [Morgan and Park's] relationship is on much more solid ground this time around. I would add as a significant caveat that the first year of your baby's life is not often the best year of your marriage. So, I'm just going to raise that as a possibility. Don't get too settled there, everybody!" Friedman told TVLine. Considering Friedman's words, it is clear that Morgan and Park will be dealing with the hardships of raising a baby together when season 7 premieres.
Read More: Why Did Danny Perez Move to Texas? Why Did Brandon Larracuente Leave The Good Doctor?