Originally titled 'Bytte Bytte Baby,' directed by Barbara Topsøe-Rothenborg, is Netflix's Danish family comedy film 'Maybe Baby' that revolves around two couples' unconventional pregnancy journeys. On the heels of several failed attempts to have a baby, Cecilie and Andreas decide to undergo fertility treatments and get pregnant via vitro fertilization. Simultaneously, a young couple, Liv and Matle, partake in the same treatment to welcome their own child into the world. However, after a mix-up at the clinic, Cecilie and Liv end up carrying the other's fertilized embryos. Thus begins both couples' unexpected but entertaining ride into pregnancy.
The film presents a realistic depiction of the trials and tribulations of pregnancy, with a specific focus on the exploration of fertility issues and how they affect different individuals. Still, the plot maintains a comedic and light-hearted atmosphere through Cecilie, Andreas, Liv, and Malte's unique experiences. However, is there any truth to the outlandish "baby swap" premise of the film? Let's find out!
The Director's Real-Life Experience
'Maybe Baby' is not based on a real-life story. Yet, the film takes plenty of inspiration from director Barbara Topsøe-Rothenborg's life and experiences. Like Cecilie and Liv in 'Maybe Baby,' Topsøe-Rothenborg also underwent fertility treatments in her own pregnancy journey. Although no accidental embryo swap occurred in Topsøe-Rothenborg's case, the director drew from her experience with pregnancy and fertility treatments to grant the film an authentic touch.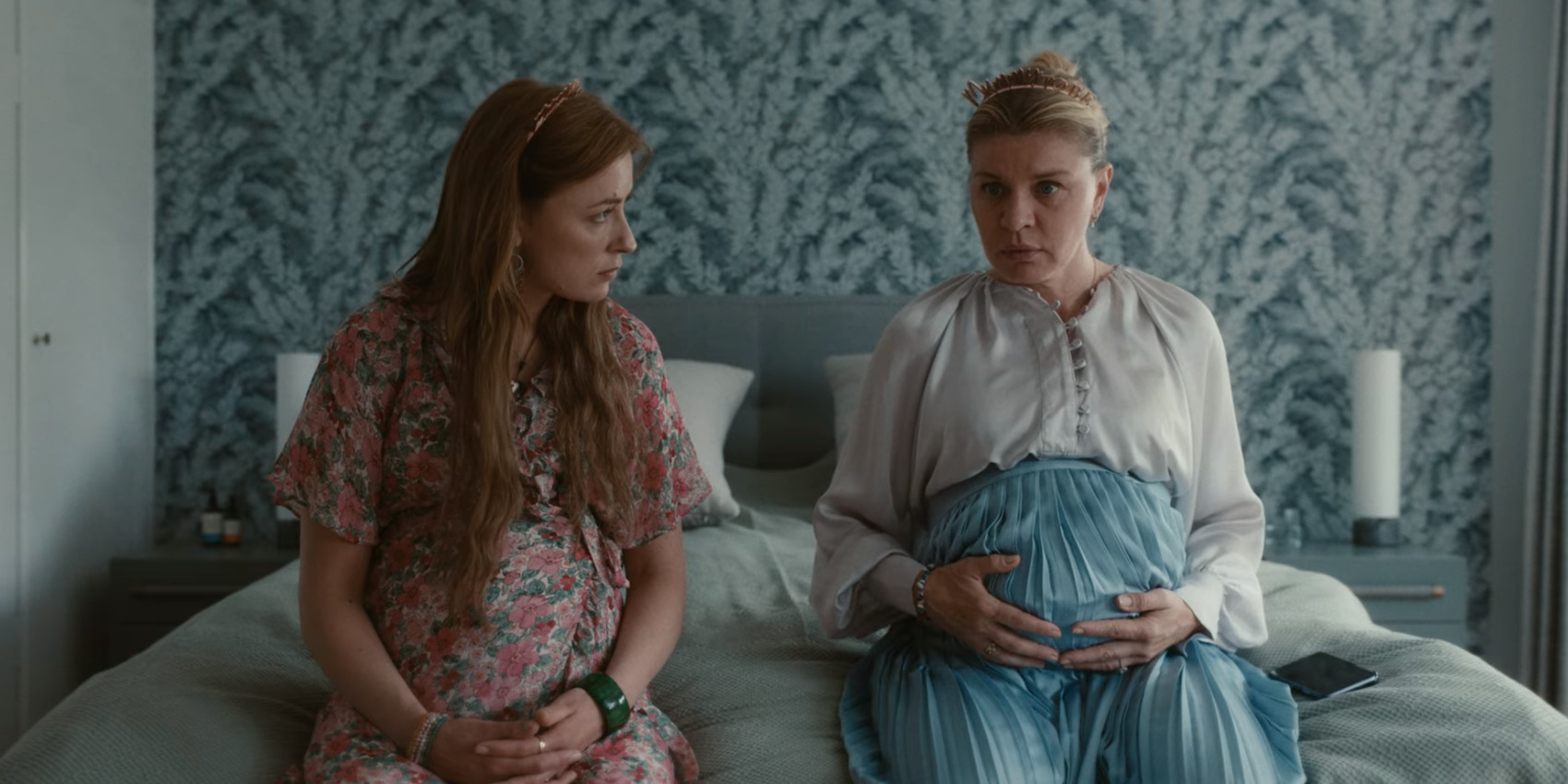 Since Topsøe-Rothenborg dealt with fertility issues herself, she was well-equipped to tell the story of two couples going through the same thing. Due to her own experience with the issue, the filmmaker knew how to ensure the narrative kept Cecilie and Liv's stories alive with realism. Consequently, in the film, Topsøe-Rothenborg highlights the isolation and anxiety that infertility issues can bring.
Furthermore, the filmmaker also wanted to touch upon the more realistic and less picture-perfect aspects of pregnancy. While people often cite pregnancy as a magical time in a person's life, Topsøe-Rothenborg had a different experience, facing the hardships of swollen feet, hemorrhoids, and an all-encompassing perpetual anxiety.
In a conversation with Alt, Topsøe-Rothenborg divulged her story in Danish and said, "I felt most of all alone because I was ashamed not to be very happy about my situation." Therefore, through her off-beat characters and their wild ride into parenthood, the filmmaker explored real-life issues and instances through a realistic lens. By doing so, she hoped to normalize these topics and create space for open conversations surrounding them.
Similarity to Real-Life
Even though the film is not based on a real-life event, viewers may notice a similarity between the events that unfold in 'Maybe Baby' and a few reported instances over the years. In 2021, a Californian couple, Daphna and Alexander Cardinale, sued Dr Eliran Mor and his Los Angeles-based California Center for Reproductive Health for medical malpractice.
The Cardinales underwent vitro fertilization and gave birth in September 2019. However, months later, the couple discovered that the child was not theirs biologically. Likewise, the other couple who carried the embryo with Daphne's egg and Alexander's sperm, who remained anonymous, filed a similar lawsuit against the center.
By January 2020, Cardinales and the other couple were able to swap their babies back. Yet, since each family had grown close to the others' babies in the three months that they grew them up as their own, both couples decided to attempt to keep in touch with one another. Cecilie and Liv's stories played out differently than this particular instance since the former women discovered the mix-up early in their pregnancies.
Still, the Cardinales' bizarre experience is bound to remind viewers of the film. Although the idea of a mix-up akin to this feels unbelievable and out of the ordinary, a few cases of it have popped up in recent years. For instance, in 2019, a couple from New York sued a different fertility clinic on the claims that their IVF treatment had left them impregnated with someone else's twins.
As such, there's no reason to believe the Cardinales served as an inspiration for 'Maybe Baby.' Therefore, the film remains a work of fiction credited to writer Pia Konstantin Berg's imagination and director Topsøe-Rothenborg's real-life experience.
Read More: Best Pregnancy Movies of All Time