'Resort to Love' is a romantic comedy set in the lush island nation of Mauritius. A seaside resort becomes the unlikely meeting point of a former couple who were engaged to be married, only to have then gone through a bitter breakup. Erica tries to focus on her music career while Jason winds up getting engaged to another woman. Strangely enough, both their paths lead them right back to each other, with hilarious consequences. The film's classic "trouble in paradise" setup is an oft-used plot in such movies, which generally end with the central couple eventually ending up together. In this film, however, things seem to be a little more realistic. Could 'Resort to Love' be based on a true story? Let's find out.
Is Resort to Love Based on a True Story?
No, 'Resort to Love' is not based on a true story. The film has the typical plot setup of a romantic comedy, with an estranged former couple being thrown together and having to work through their feelings. Written by Tabi McCartney and Dana Schmalenberg, the story also includes the usual supporting characters like the friend and confidante (Erica's agent Amber in this case) and the external love interest that complicates matters (Jason's brother Caleb).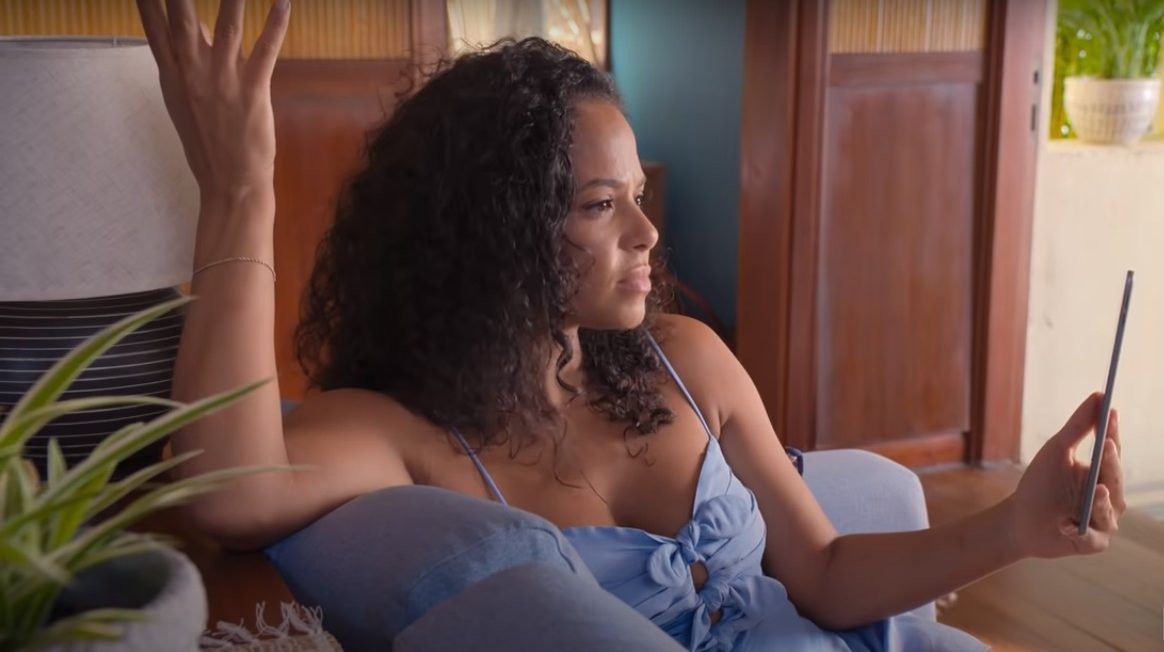 However, the movie's ending steps away from the usual trope of the original couple eventually getting back together and instead has them both realizing that they want different things. This is most likely a way for the film to set itself apart from others in the genre whilst also slightly leaning towards real-world authenticity. The original idea for the film was that of a destination wedding that centered around music. One of the film's producers, Maggie Malina, had the idea, which eventually evolved into 'Resort to Love.' The destination wedding is central to the plot and is responsible for the two lead characters running into each other after being estranged for almost a year.
The film's musical aspect also plays an important role throughout, most notably as the leading lady Erica is an aspiring pop music artist who is in the midst of an unfortunate career misstep. In reality, Erica's role is essayed by the multi-talented Christina Milian, who is also a singer-songwriter. Her first professional appearance was in a song by the rapper Ja Rule, which was a commercial success. Interestingly, in the film, her character Erica does vocals on the wildly popular (fictional) musician Cre's new album, hoping that it will launch her career in mainstream music. Unlike in real life, Cre has a tantrum in the film and refuses to release the record, crushing Erica's dreams.
Christina said that whilst essaying the role of Erica (the singer), she also channeled her true personality as that is what her fans are looking for. In the film, she also covers a song by singer Alicia Keys, who is one of the project's producers. Combined with the many references to various pop songs as Jason and his fiance try to come up with their perfect wedding song, music does begin to take center stage in the film. In the end, 'Resort to Love' is a fictional story that follows the format of countless other fictional romantic-comedy stories. However, the central premise of music and the inclusion of two well-known musicians (Alicia Keys and Christina Milian) in the making of the film separate it from the bunch and give its story a welcome additional layer.
Read More: Where Was Resort to Love Filmed?