'Varsity Blues' is a coming-of-age film that follows the story of Jonathan "Mox" Moxon, a high school student who seems to have everything — he's good at his studies, is the backup quarterback of the Varsity football team, has a loving girlfriend and the respect of his peers — but he remains dissatisfied with his lot in life. This dissatisfaction stems from his need to leave the small town of West Cannan, Texas, as he feels suffocated there. The entire town is obsessed with football, including Mox's father, while all he wants to do is pursue higher education at Brown University.
All set to fulfill his dreams, Mox's entire life is thrown into disarray when he is named the Captain of the football team after the star quarterback, Lance Harbor, ends up injuring his knee and is benched for almost a year. Directed by Brian Robbins, the 1999 sports comedy-drama film stars James Van Der Beek, Jon Voight, Paul Walker, Amy Smart, and Ron Lester. It talks about people's obsession with sports and how athletes are put under too much pressure because of it. With such a serious topic, it's only natural to wonder about its origins. Well, look no further, for we have the answers for you!
Is Varsity Blues a True Story?
No, 'Varsity Blues' is not a true story. It is, however, quite entrenched in reality and brings to light the aggressive side of sports and sports fans. "A lot of times in this country there's a lot of heat put on a kid to do well in a specific sport from adults, from parents, teachers, administrative towns in this case. Maybe a little too much pressure," said the film's director, Brian Robbins, in a behind-the-scenes video. Adding to it, actor Jon Voight remarked that the film "is about this phenomenon of energy around this sport and everything is, like, the town is built around this sport and this team!"
The same is reflected in the sports drama film. Set in the town of West Cannan, California, everybody's main focus in the film is the local high school Varsity football team. With 22 consecutive wins at the district championship, the team members are put under immense pressure to win their 23rd title by their coach, Bud Kilmer (Jon Voight). Kilmer's strategy to train the student-athletes is simple — shout at them, tell them how he is the one responsible for the 22 wins, and push them past their own physical limits to the point of injury.
It is because of Kilmer's overbearing and aggressive personality that Mox does not want to play as a quarterback. But the rest of the team relies on him, so he steps up to the challenge. Coach Kilmer's attitude towards the game is emulated by the rest of the adults as well, who have essentially made the Varsity football team the town's identity. With such a hard-hitting topic, especially one that is centered around football, it's no wonder that director Brian Robbins chose to film all the matches shown in 'Varsity Blues' as realistically as possible.
To achieve authenticity, football coordinator Mark Ellis was brought on to choreograph and coach the actors on the game. A football training camp was set up for the actors for this purpose as well. "This is real football, it's real live contact football and luckily Bryan has chosen five fantastic actors and athletes, and these guys have really taken to it [the sports training], and we have worked everyday…on each one of their roles, and parts and techniques, on fundamentals," said Ellis about his experience coaching the actors in the training camp.
"It's-it's pretty hard," remarked Paul Walker, who, unfortunately, passed away in a tragic accident in 2013. "I mean, this is like a real football camp right here." Aside from the training camp, 22 professional football players were also hired to play the game alongside the actors on-screen to maintain the film's authenticity, revealed actor James Van Der Beek in the same behind-the-scenes video.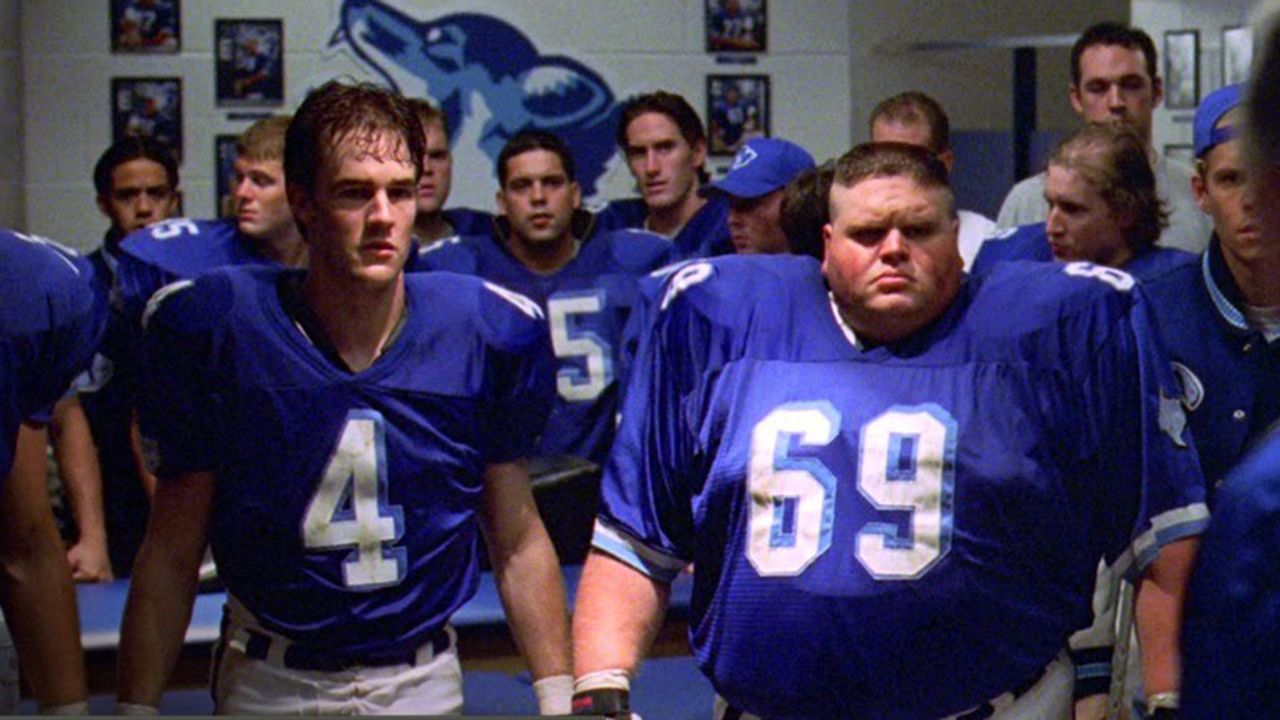 With such close attention to detail, it is no wonder that 'Varsity Blues' has made its place in the hearts of film and sports fans alike. Though not a true story, the film's depiction of the adverse effects that obsessing over a sport can have on both the players and the community at large is a lesson that the audience will carry with them long after the screen has faded to black.
Read More: Where Was Varsity Blues Filmed?