Hulu's 'White Men Can't Jump' stars the famous rapper Jack Harlow as Jeremy and Sinqua Walls as Kamal, both of whom, under first impressions, seem to have lots of differences between them. On one hand, Jeremy is a former star basketball player who has been unlucky with injuries, stopping him from excelling in his career. On the other hand, Kamal was once a promising talent who is responsible for his own downfall in the game. However, in this sports comedy film, Jeremy and Kamal discover that they have more things in common than they had imagined as both of them dribble around complicated relationships, financial issues, and several internal struggles.
The Calmatic directorial, apart from the two leads, features outstanding onscreen performances from a talented ensemble cast, comprising Teyana Taylor, Laura Harrier, Vince Staples, Myles Bullock, and Lance Reddick. Since the basketball film alludes to the hustle and streetball lifestyle of Los Angeles, there are chances that many of you might pose the question — is 'White Men Can't Jump' based on true events? Well, let's explore the same in detail and get rid of your curiosities, shall we?
Is White Men Can't Jump a True Story?
No, 'White Men Can't Jump' is not based on a true story but it is the modern sampling of the 1992 classic eponymous movie directed by Ron Shelton. As for the script, it is the product of the creative minds of Kenya Barris, Doug Hall, and the screenwriter and director of the parent film, Ron Shelton. The original film stars Wesley Snipes and Woody Harrelson as Sidney Deane and Billy Hoyle, respectively, who team up in order to double their chances to keep the cash flowing as they ply their trade across the basketball courts of LA.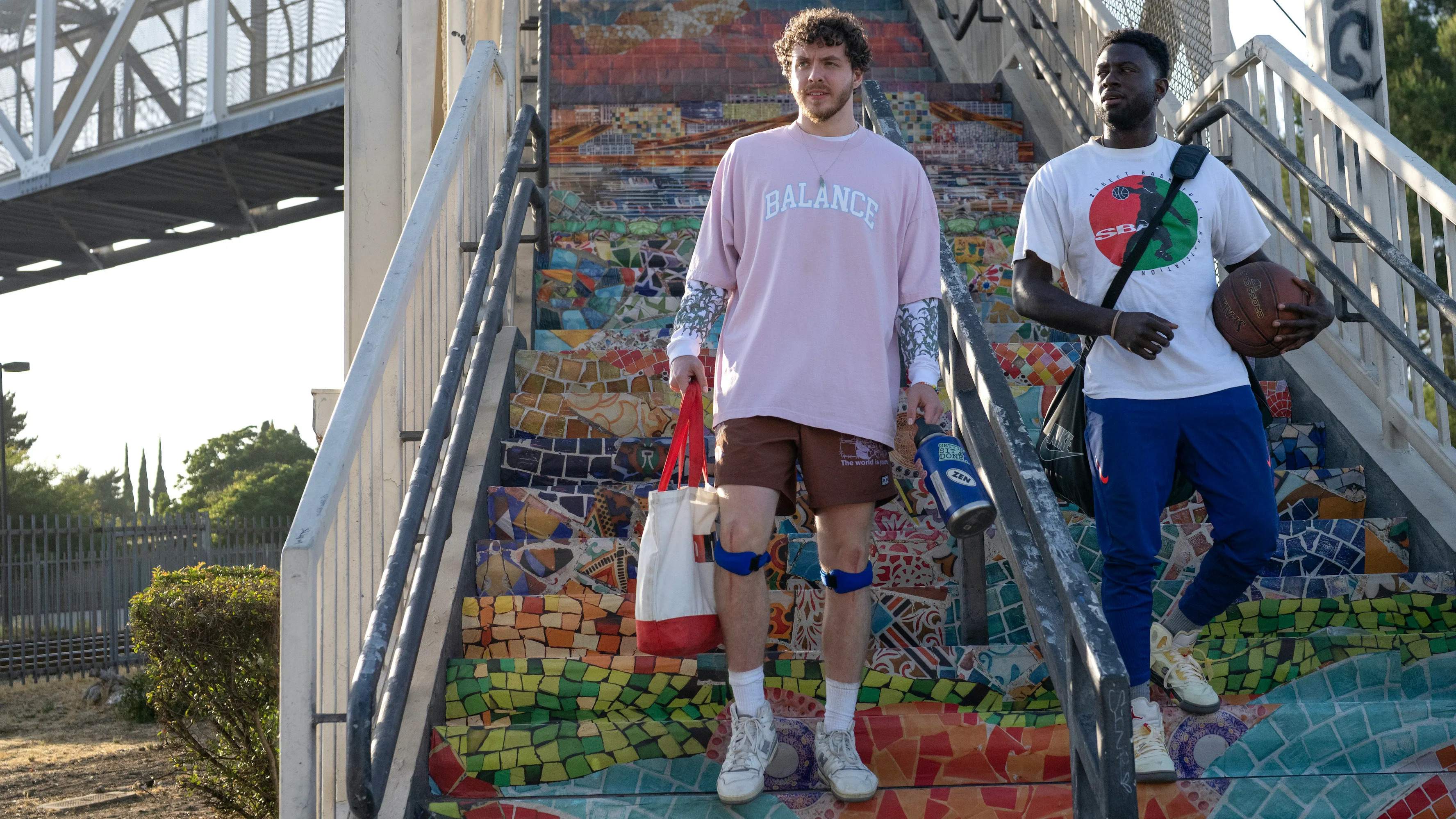 Therefore, what the makers of the Jack Harlow starrer did is retained the essence of what made the original as iconic as it is, and freshened up the story by adapting it to today's time. In a May 2023 interview with Radio Times, star Teyana Taylor explained this point further, "We had the freedom to know that we were going to make it our own and we are going to sample this classic but the majority of it will be us and from our lens of the new school and also being 30 years apart, so where would we be now?"
What adds a certain layer of authenticity to Teyana's character is that just like her character Imani who supports Kamal Allen, Teyana is herself married to an ex-NBA star Iman Shumpert and has known what it feels like first-hand. She opened up, "I've seen my husband have his ups and downs, as I've seen any athlete have their ups and downs. I just had a backstage pass to physically be there and see that." During a conversation with Screen Rant in May 2023, director Calmatic spoke about his inspiration for making the new version of 'White Men Can't Jump.'
He explained, "I never worked with Ron, and there's a whole thing going on with the studios and all that, but I think ultimately I definitely drew inspiration from him. I watched a lot of his interviews about how he approached the film, and I remember he had this whole anecdote about how the first shootout that we see in the original film, he made sure not to use any stunt doubles and not to cut and to see Woody actually make these three-pointers and to see Wesley actually make these three-pointers so that sense of belief could be established at the beginning of the film."
Calmatic further expanded, "I try to do that same thing the first time we see Kamal and Jeremy shoot those three-pointers. There's no stunts. You know what I'm saying? Each shot is really Jack Harlow. It's really Sinqua, and I think it kind of established early on that these dudes can actually hoop." Interestingly enough, the character of Raymond, portrayed by Marques Johnson, in the 1992 'White Men Can't Jump' was reportedly based on a real-life up-and-coming talent named Reggie Harding.
In an early 2023 interview with Fubo Sports, Marques Johnson spoke on the origin and inspiration behind Raymond's character. He said, "One of the best basketball players to ever come out of Detroit, but Reggie had issues with Heroin; he was a heroin addict. He got drafted by the Pistons; he never played college basketball." Johnson added, "He's one of the first guys to go from high school to the NBA without playing college basketball…He was a creature for the east side of the streets in Detroit. You know, pimps and prostitutes and heroin addicts and heroin dealers and that whole thing."
Johnson also said that Harding used to put his mask on to hit the stores and dope houses but allegedly denied when anyone accused or asked questions. In the original movie, this behavior of Harding formed the basis for Raymond robbing a store with a mask on. In conclusion, Hulu's 'White Men Can't Jump' takes some inspiration from the original movie, but that doesn't change the fact that it is a work of fiction.
Read More: Where Was White Men Can't Jump Filmed?