Peacock's 'Love Island USA' has become a favorite of the public since its premiere in 2019. Based on the eponymous British series, the dating reality show's twists and turns have always had the viewers on the edge of their seats, and the recent season 5 was no different with its several intriguing cast members. Consider Jasmine Sklavanitis, who may have been the first person to truly leave the show in this particular installment, but that has not stopped the world from showering its love on her. If you are also one of her fans and are eager to know what she has been up to these days, worry not because we have your back!
Jasmine Sklavanitis' Love Island USA Journey
After entering 'Love Island USA,' Jasmine got the chance to choose which one of the boys she was interested in. Both she and Destiny Davis chose Marco Donatelli, who ended up coupling with the latter, leaving Jasmine available alongside Anna Kurdys. She was then picked by Victor Gonzalez, starting a seemingly amicable bond, even if the two did not look to be the most compatible of the pairs in the show. As the show progressed, Jasmine and Victor seemed comfortable with the idea of pursuing other connections apart from each other. Hence when Hannah Wright chose to go on a date with Victor, Jasmine did not seem very upset, though she did seem worried about what it might mean for her.
She had also developed a close friendship with Anna, and the two became each other's close confidants. In fact, they even took up the responsibility of helping Carsten "Bergie" Bergersen woo ladies. None of the Day 1 arrivals knew that Carmen Kocourek and Hannah, two girls who had entered on Day 2, would get to "steal" someone's partner on Day 3. Before this ceremony could happen, Jasmine initiated a conversation with Victor, complementing his personality and stating she would like to explore their connection. She even asked him for a kiss, which her then-partner agreed to. Hence, when Carmen "stole" Victor from Jasmine, something that he seemed fine with, the latter was shocked.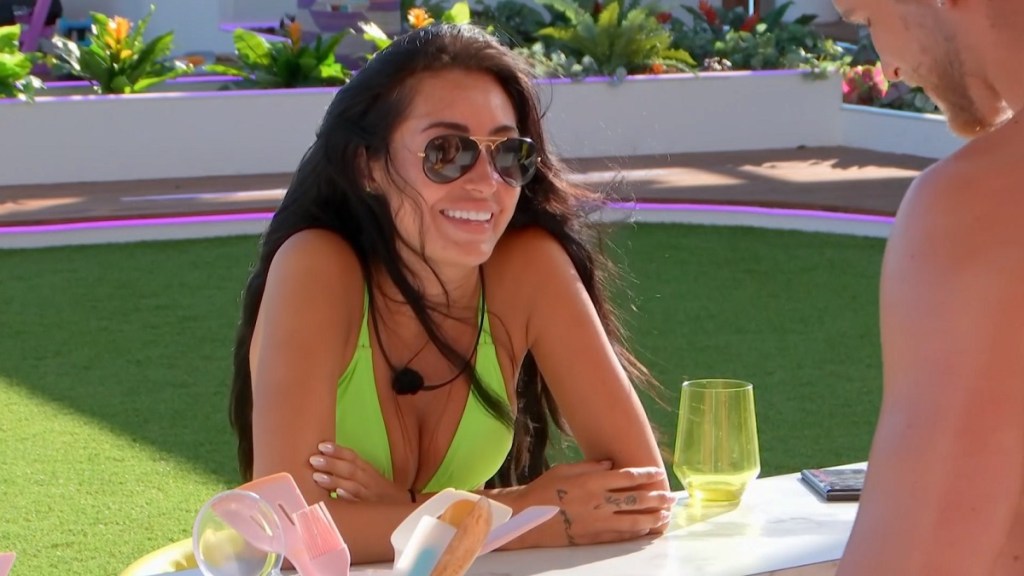 Now worried about her status as a vulnerable contestant, Jasmine was unsure what to do. Not long after, the entry of Harrison Luna gave her the drive she needed as she set her eyes on him and even gave him a mind-blowing kiss that intrigued the Australian contestant's interest. However, when it was shortly revealed that Jasmine had once gotten revenge on an ex by sleeping with his brother and cousin, Harrison thought of it as a red flag.
For almost all of Day 5, Jasmine was more than open about her interest in Harrison and had several conversations with him. Even Marco decided to advocate for her to the new arrival as he and Jasmine seemed to have formed a good friendship. That being said, Harrison instead seemed more interested in Destiny and chose her over Jasmine during the first recoupling ceremony, leading to the latter's elimination.
Where is Jasmine Sklavanitis Now?
As of writing, Jasmine Sklavanitis does seem to be doing well in her life. Primarily based in Nashville, Tennessee, the 24-year-old is a Trauma Stepdown ICU nurse whose work often helped her earn much praise while she was on the show. During her time on the Peacock series, Jasmine was considered a friend by many, and she has earned many fans despite her seemingly short tenure in the competition. Originally from Mount Morris, Illinois, Jasmine is quite in love with her adorable dog Leo, who can often be seen on her social media. We wish the reality TV star the best in her life and hope that both her personal and professional ventures bear fruits of success in the near future.
Read More: Harrison Luna From Love Island USA: Everything We Know