'Five Star Chef' is a British cooking series on Netflix that focuses on Michel Roux Jr's search for the next chef of Palm Court restaurant at the Langham Hotel in London, England. Joining him in this search are Mike Reid and Ravneet Gill, who are always happy to help aspiring chefs. One participant who definitely left an impact on the trio, as well as the viewers, is none other than Jordan Brady. Despite his tumultuous journey, the culinary expert was one of the finalists in season 1 and has garnered much popularity. Needless to say, people are eager to know more about his current whereabouts, and we are here to explore the same!
Jordan Brady's Five Star Chef Journey
Jordan certainly had a strong start in the competition, as he was the first one to present a dish to the judges and was immediately selected to be a part of the top 7. On the second day, he did struggle when it came to creating a tasty yet opulent dish, landing him in the elimination challenge. Competing against three other chefs, Jordan had to turn up as much profit as possible and ended up staying in the competition with a gain of £245 (about $320), which was higher than Anne Banfield's £178 (approximately $233) profit.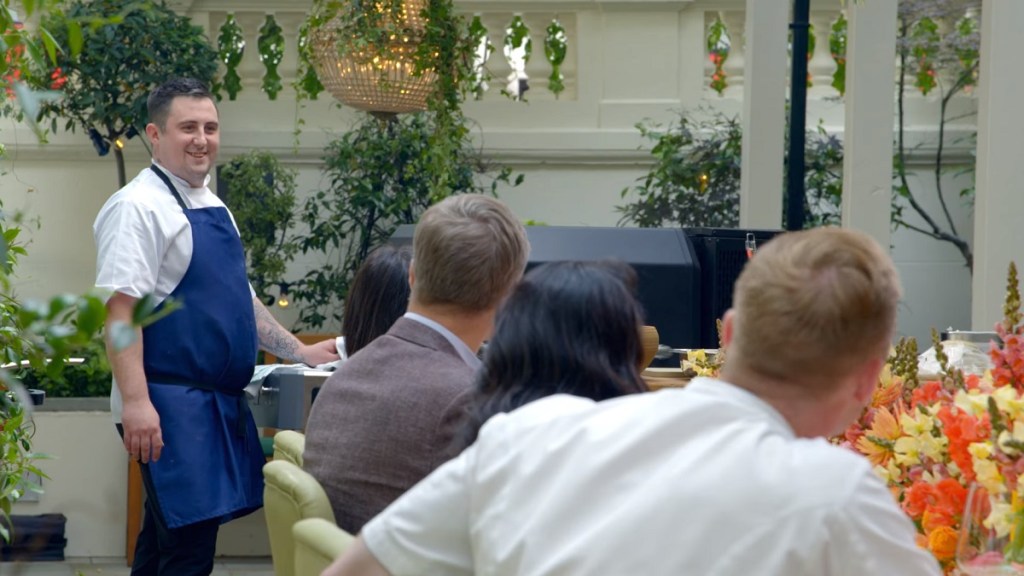 Jordan made s strong comeback during the next round when his team, which had him partnered with Adria Wu and Igor Sapega, won the VIP challenge, saving them from elimination. However, the next day certainly did not start well for the culinary expert. When asked to create three dishes for an elevated afternoon tea, both his presentation and flavors disappointed the judges heavily.
To ensure his survival in the competition, Jordan played to his strengths in the next round and presented a Spanish-style whole roasted pig. The flair of his presentation and the taste of his dish certainly won many over, though Michel Roux Jr commented that his carving could have used some more finesse. Jordan's steady but comforting performance allowed him to move on to the finals, where he had to go head-to-head against Adria and Dominic "Dom" Taylor.
For this round, the participants had to serve as the head chef of Palm Court for a day. While Jordan's concept of three-flavored dishes remained a seemingly modest idea for the judges, they were highly impressed by his leadership skills and how he managed his kitchen. Even though he did not win the coveted position as the restaurant's head chef, the culinary star did earn praise from the three judges.
Where is Jordan Brady Now?
Following his reality TV success, Jordan seems to have made even more impressive strides in his culinary career. Presently, he serves as a chef at JB Kitchen, a restaurant that was established in 2020 and can be found at 1 Lambourne Road, Birstall, Leicestershire, England. Dedicated to delivering the best possible flavors to his customers, Jordan is always open to feedback. His restaurant has also earned numerous awards over the years, and he hopes that this will continue in the future.
Regarding his appearance in 'Five Star Chef,' Jordan expressed his appreciation for all three judges under whom he learned very much. "Being in this competition has completely changed my life. It's allowed me to believe in myself as a chef. It's allowed me to find the food that means the most to me. But most of all, it's made me prouder of myself than I've ever managed to achieve," he shared in an Instagram post. We wish Jordan the best in his culinary career and hope to see more of him in the future.
Read More: Where is Five Star Chef Winner Dominic "Dom" Taylor Now?