Ric Roman Waugh's action thriller film 'Kandahar' starring Gerard Butler and Navid Negahban in central roles, follows two fugitives on the run across hostile deserts. After covert CIA operative Tom Harris' identity leaks, it puts him and his companion, an Afghan translator, Mohammad "Mo" Doud, on the radars of several military organizations. Chased by ISI, the Taliban, and the Iranian government, Tom and Mo must make it to an old CIA base in Kandahar to win their freedom.
'Kandahar' primarily focuses on the dynamic between Tom and Mo and highlights the different but kindred damage the war caused to both individuals. By doing so, it authentically portrays the human connection between the two characters and their involvement in the war. Due to the film's political relevance and the significant part Mohammad "Mo" Doud plays in the same, viewers would likely be curious to learn if Mo has a connection to real life. If so, here is everything you need to know about the same!
Is Mohammad Doud Based on a Real Afghan Translator?
Mohammad Doud is partially based on a real Afghan Translator. 'Kandahar' takes heavy inspiration from screenwriter Mitchell LaFortune's experience in the military DIA. Due to the same, all of the characters in the film are based on real people that the writer met and interacted with during his deployment. As such, the same is true for Mohammad Doud, aka Mo. However, not much is known about the real-life individual who inspired Mo's character.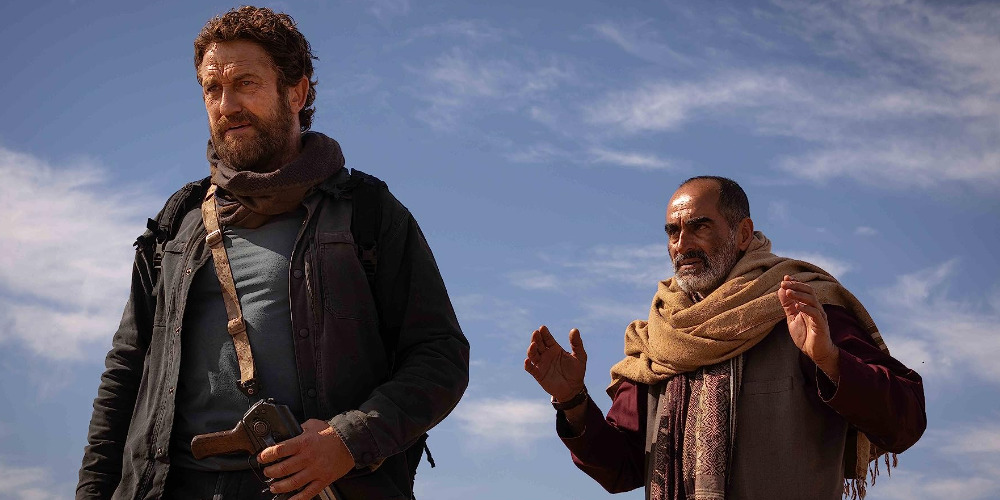 Following the withdrawal of the US from Afghanistan, LaFortune decided to modify his story and bring Mo and Tom's relationship into focus. While talking about the same to We Are The Mighty, the writer said, "I wanted to tell the story of specifically how vulnerable you are as an American in a foreign combat zone. You're entirely reliant upon one specific individual because they can speak the language, and for me, the heart of this movie is the relationship between an operator and his translator, which is something I experienced."
Therefore Mo's role as an Afghanistan local, employed by the American government as a translator, informs a significant part of his character and the film's overall narrative. After America invaded Afghanistan during the former's "War on Terror," several locals collaborated with the U.S. military as translators and interpreters. However, after America's withdrawal from the country, its socio-political environment drastically changed.
According to Atalayar, many of the translators who previously assisted the US have become a target for the Taliban. In a conversation with NPR, one such translator, Reggie, expressed his agitation and said, "Since these insurgents have arrived, I cannot sleep for a minute. I can't sleep for a single minute." Unlike Reggie and numerous others, Mo and his family safely immigrated to the States. Still, Mo faces targeted hatred by certain groups because of his connection to Tom. Through this aspect of his storyline, the film strives to portray the dangers many translators face in reality.
Moreover, actor Navid Negahban, best known for his roles in 2019's 'Aladdin' and the tv show 'Homeland,' also provided some crucial insight into Mo's character. Director Ric Roman Waugh discussed the same with ScreenRant and said, "So, we knew Navid Negahban was always going to be Mo, he just brings so much emotion and humanity to his characters, and he lived this for real. He was a child refugee coming out of the Iran-Iraq war out of Tehran, so he knows what this was about, and he knows the regions, how they speak in the regions, so sometimes, he was a big help of finding people that were great discoveries."
Through Mo's character, 'Kandahar' represented a crucial fallout caused by the decades-long war between America and Afghanistan. Likewise, it also conveyed the urgency of the threat numerous Afghan U.S. collaborators face in their home country. Due to the same, Mo's character brings an authentic perspective to the narrative that many people would be able to empathize with. Ultimately, Mohammad "Mo" Doud takes his base inspiration from Mitchell LaFortune's experience in the military, like everything else in the film. However, his character's true authenticity comes from his politically relevant storyline. Moreover, actor Negahban brings a nuanced portrayal of Mo's struggles rooted in real life.
Read More: Is Kandahar Based on a True Story?