Love is perhaps one of the most complex feelings that we experience as humans and it is pretty much one major thing that makes us who we are. We have all experienced love at some point in our lives in one way or the other and most of us, understood the true value of these feeling while we were growing up. 'Kuzu no Honkai' or 'Scum's Wish' is a very unique romance anime that takes you on a journey of many complications that come in the life of two main characters who experience falling in love for the first time. More or less, 'Kuzu no Honkai' is anime that walks you through a phase of maturity that these characters go through over a short period of time. Based on a manga that goes by the same name, the story initially sounds a lot like one of those "friends with benefits" movies. But the difference here is that the physical desire of the characters are not driven by their hormones but by all the pain that is trapped within them.
Overall, 'Kuzu no Honkai' has a very mature and serious feel to it and it rarely tries to be funny in any way. There are quite a few sex scenes that seem very realistic and are also able to project the idea of love only being an illusion. Even during these scenes, the anime sticks to its emotional coming-of-age feel by using its detailed character expressions and body language. The visuals, done by Lerche Studios, are very impactful and create the right heart-warming vibe that fits the theme of the anime. 'Kuzu no Honkai' brings in a sense of realism to love and is almost like walking into a world where the actions of people are solely determined by twisted desires. If you're looking for something that is deep and original, this anime right here could be your next favorite romance show.
Kuzu no Honkai Season 2 Release Date: When will it premiere?
'Kuzu no Honkai' Season 1 released on January 13, 2017 and came to an end on March 31, 2017. Being the adaptation of a very popular manga, the anime has had a lot of mixed reviews since its release. Most of these reviews have been positive giving it an overall average score. What really draws most viewers towards this anime is its realistic depiction of a love story and also its extremely depressing ending. Speaking of which, the ending of season one aligns with the end of the manga and is quite conclusive. So for obvious reasons, we cannot really expect more from this story.
What we can expect though is maybe a new spin-off anime that covers the spin-off manga that has already been published. This manga revolves around subsequent events of other characters involved in the series. This one also has a more happy ending which will be suitable for those who seemed to have a big problem with that of the first one. We can't really confirm that Lerche Studio would be adapting 'Kuzu no Honkai Decor' into a whole new spin-off anime season, but it could be a possibility considering the popularity of the first season. If we get any updates regarding the spin-off or even 'Kuzu no Honkai' Season 2 release date , we'll make sure that we update it right here in this section.
Kuzu no Honkai English Dub:
The English dub of 'Kuzu no Honkai'Season 1 is available on Hulu along with other anime licensed under Sentai Filmworks. Also, a subtitled version of the anime is available on Amazon Prime.
Kuzu no Honkai Plot:
Hanabi Yasuraoka and Mugi Awaya seem to be the perfect couple who are always together and almost everyone around them envies them. But little does the outside world know that they are both actually in love with other people and are together only because they know that they can not be with the people they want to be with.
Hanabi is deeply in love with her childhood friend and neighbor, Narumi Kanai, since the first time she saw him and to her surprise, he later even becomes the homeroom teacher at her school. She gets really excited about this and hopes that she would be able to spend more time with him now. But before she knows it, Narumi starts spending with the music teacher Akane Minagawa and soon, a relationship starts to blossom between the two.
Meanwhile, much to Mugi's dismay, his childhood love Akane starts dating Narumi and he is left there all alone. One day, Mugi and Hanabi cross paths at the school and that's when the two realize that they're going through something very similar. The two of them get together and try to fill the emptiness in their hearts through physical intimacy. Are they going to ever find true love with this approach or are they going to end up further down in the hole of darkness that they might have created for themselves?
Kuzu no Honkai Characters:
Mugi Awaya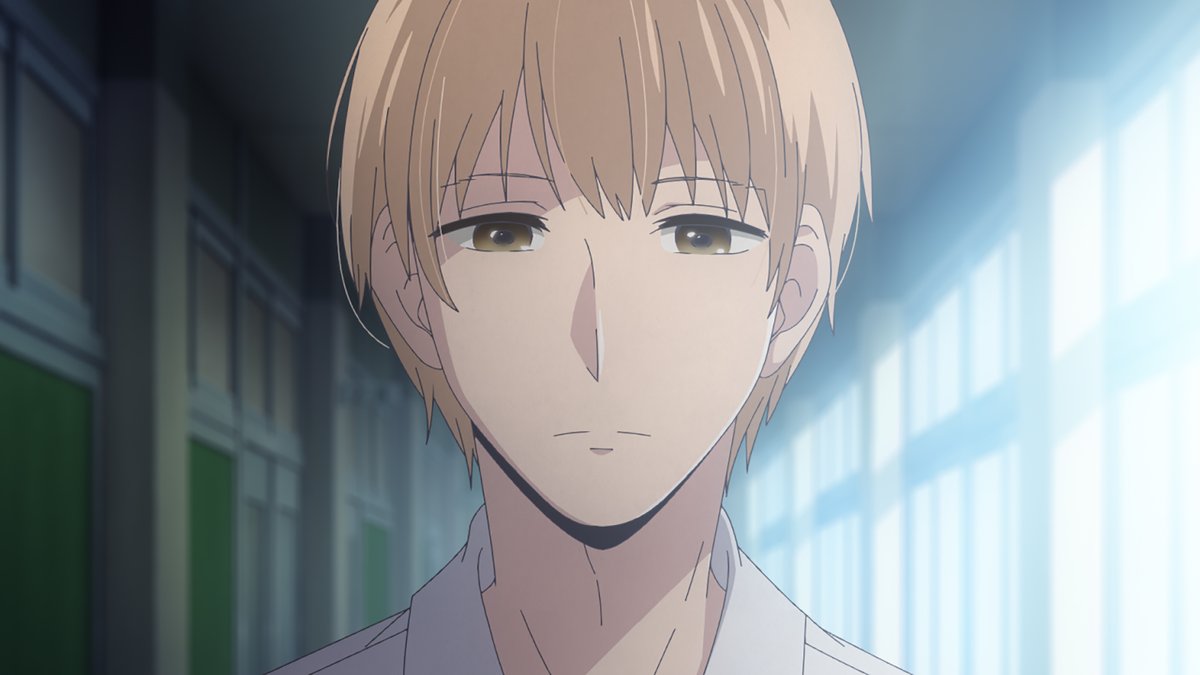 Mugi Awaya is the male protagonist of the show who is a high-school student. He is in love with Akane who was once his home-tutor and is now a music teacher at his school. At the beginning of the series, Mugi is cold and lacks any form of emotions. Her rarely smile and usually walks around with a very blank expression on his face. This, however, starts to change as the show starts to progress and it is also shown that Mugi is more sensitive than what he looks like from the outside. He is considered to be a handsome young man with fluffy blond hair and light brown eyes. He also has a decent height for his age and is quite muscular for a teenager.
He really cares about his friends, especially the ones who have been with him since childhood. Even as a student, he is very smart and manages to get above average grades. Eventhough, he spends time with Hanabi just to fulfill his needs of physical intimacy, he also likes to share his day-to-day problems with her and she does the same with him.
Hanabi Yasuraoka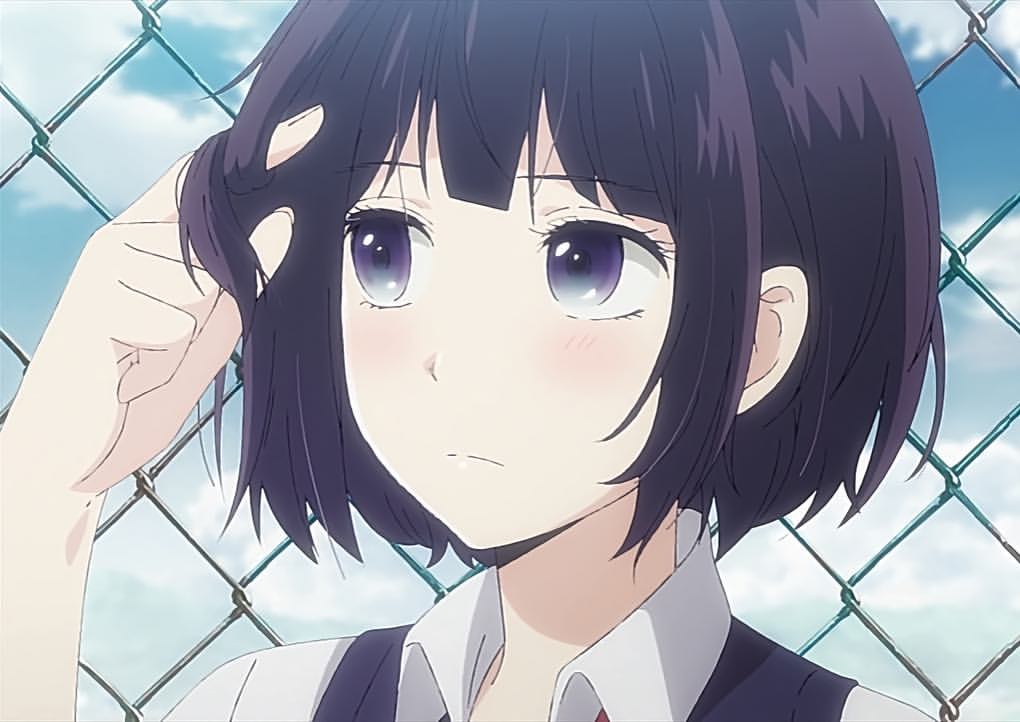 Ahanbi Yasuraoka is the female protagonist of the series who is a 17-year-old second-year student at the high-school. For a long period of time, she is in love with her childhood friend Narumi who is her current homeroom teacher. But later, she decides to abandon her feelings for him as she realizes that he is already happy with someone else. She is a fair skinned girl who is considered to be very attractive and many boys from her class have a crush on her. She has chin length black hair and her eye color keeps changing.
Her best friend is Sanae Ebato and with her, she seems to be very outgoing and extroverted. But in contrast to this, when she is with Narumi, she comes off as shy and timid probably because she has a crush on him. With Mugi, she lets her guards down and in the entire school, he is the only person who understands her worries and deepest problems. She can also be extremely straight forward and brutally honest about how she feels and due to this, many of her peers call her arrogant. She is also portrayed to be bisexual as she shows feeling for both boys and girls.
Read More in Anime Preview: A Lull in the Sea | Citrus