On the outside, 'Citrus' is an anime about an incestuous lesbian relationship, which is quite a common theme for many adult anime these days. But most people fail to look beyond its basic premise and overlook what it truly tires to offer. While it does have scenes that portray assaults, lesbian voyeurism, and other provocative things, most of these come with a meaning and are in no way meant for the purpose of mere fetishes. All of these are used to portray the complexities in the relationship of the two main characters and how they have their own unique ways of dealing with it. 'Citrus' is more of an emotional tale that may be a little rough around the edges but still deserves a shot by anyone who even has the slightest interest in Shoujo.
There's a very common misconception that 'Citrus' actually portrays sexual assault in a positive light. While there are parts where sexual assault has been featured in the storyline and is also the highlight of it at times, it is never shown as a form of love. Instead, the anime uses it for reflecting the true nature of sexual assault and also the personalities of the characters. It also shows how Mei fails to understand how relationships work and instead of choosing to express her feelings, she tries to convey them through an assault. It not only reflects upon the characters' present mindset but also gives you a glimpse of their past events. So if you think about it, 'Citrus' does not romanticize assault in any way and also goes much deeper, if you watch it carefully.
'Citrus' also portrays the complications of relationships between two really complex characters and how they struggle to differentiate between love and the idea of experimentation with their desires. While the characters are pretty solid and are able to direct the show in a pretty good direction, the overall plot lacks substance and often lacks structure. Being only a 12-episode anime, it's strange how it relies heavily on the introduction of new characters just to move the plot forward. One issue that's even bigger is its pacing and constantly shifting priorities. The movement from one event to another is not subtle at all and often lacks meaning.
The animation is pretty good and does a great job with the expressions and body language of the characters. This is the sole reason why, as a viewer, you are actually able to connect well with the main characters and you are also able to differentiate their feelings of lust from love. 'Citrus' is actually a pretty good anime overall if only one tries to look beyond the surface of the plot. It has been widely shunned for being a highly self-indulgent lesbian fan-service anime but it is actually so much more than that. So if you're planning to watch it now, try looking beyond the obvious perspective and if you have seen it already, then give it a thought all over again.
Citrus Season 2 Release Date: When will it premiere?
'Citrus' Season 1 premiered on January 6, 2018 and went on till March 24, 2018. This 12-episode anime series is adapted from a Japanese Yuri Manga series written and illustrated by Saburouta. Till date, the manga has had a total of 36 chapters and the author has been consistently releasing new volumes every four to six months. Most of the manga readers love how closely the anime is adapted and how every detail in the manga has been covered. That's partially the reason why this show has been accepted so well by most viewers. Even the pacing of the anime is almost like the manga and it ends exactly how the 4th volume of the source material concludes.
With 16 chapters already covered in the first season, there are still 20 more chapters that can be covered in the next season. In fact, seeing the rate at which the author is publishing the manga, soon, the creators of the anime might have a lot of content to go for a season 3 as well. This also hints towards the possibility of a two-part season two that could have 24 episodes.
'Citrus' has been trending on Crunchyroll's popular anime list and has also been doing well when it comes to its sales from online streaming on Netflix and Crunchyroll. So pretty much everything seems to be in favor of a new season but considering that it comes from Studio Passione, which is known for anime like 'High School D x D', it seems very less likely that we will get to see a new season anytime soon. That's because most of these decent anime studios already have quite a few projects lined up for the whole year. So, our best guess is that 'Citrus' Season 2 might only release sometime after 2020. Till then, if you're dying to know more about how its story unfolds, you can start reading the manga.
Citrus English Dub:
The English Dub of 'Citrus' Season 1 is available on Funimation. You can also stream it on Crunchyroll with its original Japanese audio and English subtitles.
Citrus Plot:
'Citrus' revolves around a high school teen named Yuzu Aihara, who is forced to move to a new school after her mother decides to get married again. A new school can bring in a little bit of discomfort but it also brings new opportunities for her, which include making new friends, falling in love and also, experiencing her first kiss. But as soon as she joins this new school, she gets a major reality check when she starts experiencing the ultra-strictness of her new all-girls school. Things get worse when she starts getting attention for her appearance and that's when the president of the student's council tries to caress her just to confiscate her cellphone.
She gets really exhausted after her first day at school but feels happy that she'll get to be home again. But a whole new surprise awaits her as soon as she gets home. Her stepsister is no one but the president of the school council — Mei Aihara. She tries to be friendly with her but Mei gives her the cold shoulder and refuses to be normal. This forces Yuzu to tease her but as soon as she opens up her mouth to do so, Mei pins her to the ground and kisses her. Mei then storms out of the room and leaves Yuzu all alone there wondering what exactly just happened between the two of them. This sets the two of them on a journey that is full of hate and also a lot of love.
Citrus Characters:
Yuzu Aihara
Yuzu Aihara is the main protagonist of the series and is also the older stepsister of Mei Aihara. She looks extremely beautiful with her dyed chestnut blond hair and emerald green eyes. She is also known for her amazing sense of fashion and stays updated with all the latest trends. She is rebellious, bold and outspoken and often customizes her uniform in her own ways which usually clashes with the school norms. This gets her into a lot of trouble and even leads her into having a lot of clashes with the Student's Council. Since she does not have any experiences with relationships, she tries to cover it up by ranting about them all the time.
She tries to be as girly as she can possibly be and defies all the rules of the academy. She is surprisingly very good at cooking and often cooks for Mei when their mother is busy with work. Despite her rebellious attitude towards the most basic school rules, she studies really hard and gets good grades. Everyone assumes that she is a "dumb blonde" but she is actually quite smart and also cares a lot about her sister. Eventually, she does find true love but the fact that it won't be really acceptable in society scares her. But she still tries to keep an optimistic attitude towards her relationship and hopes for the best.
Mei Aihara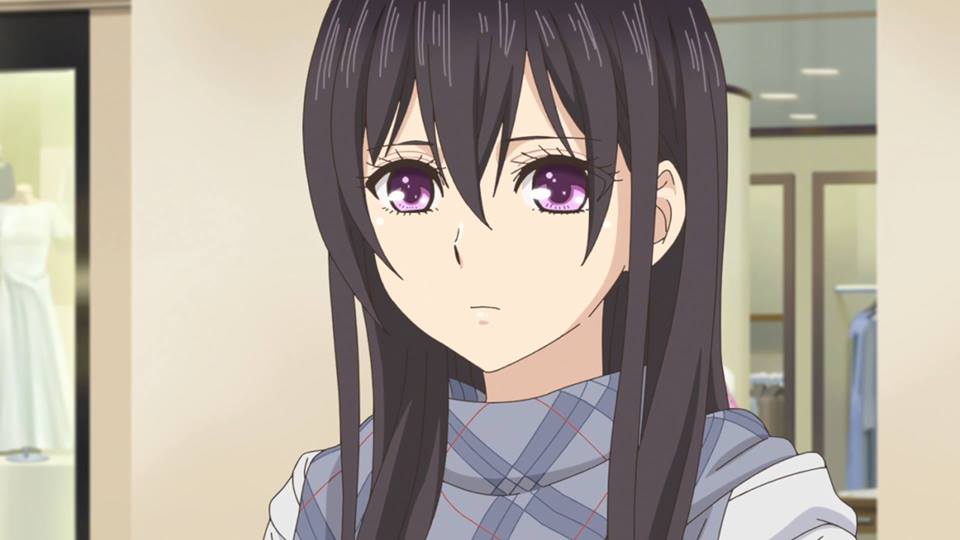 Mei Aihara is another main character of the show who is the younger stepsister of Yuzu and also the president of the student's council. She is a very pretty light-skinned girl who has straight silky black hair and deep purple eyes. Unlike her step-sister, she tries to attract minimal attention from her dressing sense and is often seen in very simple clothes. She seems to have a very cold and ruthless personality, which is a consequence of her father abandoning her as a child.
When she starts to like Yuzu, she is unable to express what she truly feels for her. This results in her making awkward sexual advances at her without any prior communication. She may seem all cool and naive on the outside but inside, she is very lonely and broken. When it comes to her relationship with Yuzu, despite being the younger one, she seems to be more confident about it than her.
Read More in Anime Preview: Kiss x Sis Season 2 | Youjo Senki Season 2