'Little Witch Academia' is the kind of anime that can literally give goosebumps to those who grew up watching Cartoon Network back in the 90s. It brings back memories of some of those old shows like 'Dexter's Laboratory', 'Samurai Jack', 'Johnny Bravo', and 'Powerpuff Girls'. While the premise of the anime is very simple and not particularly original, there is this endearing sense of warmth that acts as a portal, taking you back to your childhood days. Though it is definitely not the kind of anime that I would usually prefer watching, I just love how charming and lovable every aspect of it is. The story is smooth, lighthearted and can be enjoyed not just by kids, but by adults as well. Even the whole magical world building is very polished and goes really well with the diverse bunch of characters.
But after praising the anime so much, I must cover its flaws as well because, like most other shows, this one too has some problems with it. The biggest problem with the plot is that everything just falls into place without any context or backstory. To put this simply, everything just seems too perfectly convenient for the protagonists. Another aspect of the storyline that could be a problem for some viewers is that it lacks an overarching story. 'Little Witch Academia' follows an episodic format where each episode has a unique story of its own. So it's pretty much like watching a 24-minute short film every time you're watching a new episode. While this does not really hamper the character development, it can at times have an impact on the overall viewing experience. If you manage to watch it with the intention of just having fun, then you'll love the episodic format it takes. But if you want a linear storyline throughout, then you may not enjoy it too much.
As you can already tell, it's the child-like innocence of the anime that really draws me towards it. It's a reminder that the animation style of an anime doesn't really have to be too fancy to be good; it can be simple and yet it can have an impact on the emotions of its viewers. When it comes down to having fun, this sure does tick all the right boxes with its unique characters, smooth narrative and beautiful world. More than anything else, 'Little Witch Academia' is very grounded and never gives you over the top expectations of any kind. It stays true to itself and the genre and it's this genuineness that makes it stand out from the rest. So if you're into "magical girl" anime themes, then this is one of the best shows out there. Other casual anime viewers can also give this one a try.
Little Witch Academia Season 2 Release Date: When will it premiere?
'Little Witch Academia' season 1 released on January 9, 2017 and came to an end on June 26, 2017. Soon after this, fans were hoping that the magical world of this anime would fly back to them. It looks like the creators have been hearing out the fans all this while because very recently, one of the voice artists involved in the anime tweeted that she will be revisiting her role all over again. While there are no confirmed dates yet, we can safely predict that'Little Witch Academia' season 2 will be out somewhere in the first half of 2020. We will update this section as soon as we hear more.
Little Witch Academia English Dub:
The English Dubbed version of 'Little Witch Academia' is available on Netflix.
Little Witch Academia Plot:
Asuko "Akko" Kagari is the main protagonist of 'Little Witch Academia', who looks up to a famous witch named Shiny Chariot. During a magic performance, Shiny had once said that "A believing heart is one's magic" and since then, Kagari has always lived by those words. Even though she does not have a magical family background, she enrolls herself at the Luna Nova Magical Academy.
But as soon as Kagari starts believing that her life is about to change, she is bombarded with problems after problems that make her realize that being a witch is not going to be that easy. She makes two friends in the academy, one of whom is the shy Lotte Yansson and the other one is the sarcastic Sucy Manbavaran. Her non-magical background makes it really hard for her to compete with other magical girls who have been doing this all their lives. But with the help of her friends, she manages to keep up with the pressure of the academy and also solves various mysteries that come in their way.
Other witches of the Academy may be more experienced and may have an advantage of their magical backgrounds, but it's Akko's determination and her undying spirit that makes her stand out from everyone else. Which will, in the end, teach her and her friends what it means to be a true witch.
Little Witch Academia Characters:
Diana Cavendish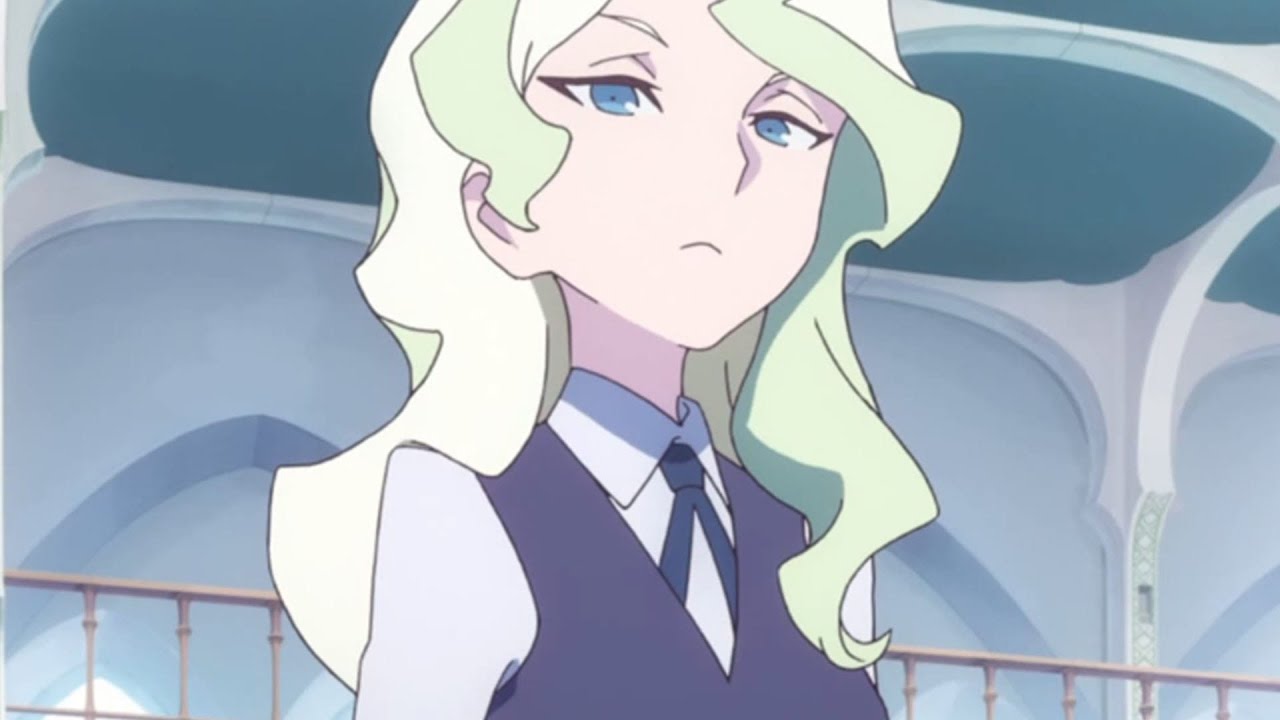 Diana Cavendish is the main protagonist of the series and is known for being extremely famous at the Luna Nova Magical Academy. She looks quite young for her age and has light blue eyes with pale skin. Her hair is blond in color with tea-green highlights that sway below her shoulders. Her unique features make her one of the most beautiful girls in the school. She is the descendant of some very renowned witches and because of that, she maintains a form of elegance in her personality as well. She always remains calm and composed and lives up to her status of being the best student at the academy.
Cavendish often preaches about her philosophies of magic and tries to establish herself as superior by doing this. Her philosophies are very different from Akko's and that is the reason why the two become head to head competitors. She even claims that Shiny Chariot, the witch Akko looks up to, is a fraud. But later it is suggested that deep down, she is actually a big fan of the famous witch.
Atsuko Kagari
Atsuko Kagari, more commonly known as Akko, is a first generation witch from her family. She looks up to a great witch, named Shiny Chariot, and after being inspired by her, she decides to enroll herself at the Little Witch Academia. Akko has an average height and pale skin with long brown hair. Her eyes are crimson shaped and in color, they are almost similar to her hair. Akko is always cheerful, excited and optimistic about everything she does. Her social and kind behavior helps her make new friends and draw others towards her. But she is extremely short-tempered.
Akko idolizes a Shiny Chariot and has a room full of her posters and pictures. This clashes with a lot of fellow witches of her academy but she doesn't care and feels inspired by everything her idol does. She also gets lost in her own world a lot of the times and forgets about the ones around her. Her dreamy state does not suggest that she's selfish in any way; it just shows that she has big dreams for herself and often believes in fantasizing about them. The whole premise of the show has clearly been inspired by the first 'Harry Potter' movie.
Sucy Manbavaran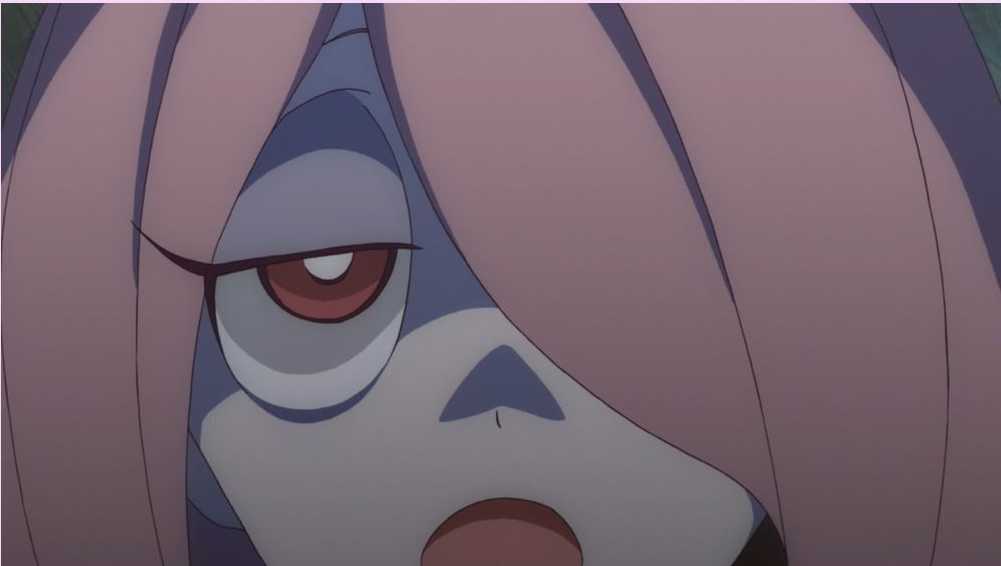 Sucy is a witch in the Little Witch Academia, who is from South East Asia. She is very tall and lanky and looks like one of those typical withes from fairy tales. Her eyes are always droopy and half shut, which makes her look lethargic almost all the time. She covers her left eyes with a long fringe of pinkish hair and is only visible sometimes when she moves. When it comes to her personality, Sucy is a very laid back person who likes to spend her time alone. She stays aloof and even when she speaks, something very sarcastic comes out of her mouth. Things that would drive other girls insane have absolutely no impact on her as she stays indifferent to her outside world.
Lotte Yansson
Lotte Yansson, also written as Lotte Jansson, is another student at the Little Witch Academia, who is from Finland. She is very short compared to her peers and has short bright orange hair. Like almost all the other characters, she has pale skin and small freckles on her face. She wears glasses that have semi-circle rims and are rimless on the top half. She is usually shy and avoids getting into any social situations. She also gets pissed off very easily and once her patience crosses a certain level, she tends to avoid the people who try to harm her in any way. Though she may seem cold towards her friends sometimes, she is very loyal to the people she genuinely cares for.
Read More in Anime Preview: Gintama Season 12 | Clannad Season 3