'Miss Kobayashi's Dragon Maid', or Kobayashi-san Chi no Maid Dragon, is based on a 2013 Japanese manga series illustrated by Coolkyoushinja. It mostly has a fantastical premise but at the core, it comes off as a slice of life anime that portrays the importance of understanding the other person in friendship. It shows how two inter-species live together and with time, learn to adapt to each other's lifestyle. Kyoto animation has never really held back in portraying the most bizarre storylines and character relationships. This again is a great example of that, along with other similar anime like 'Love, Chunibyo and Other Delusions' and 'Nichijou-My Ordinary Life'.
One thing that most 'slice of life' comedy shows struggle with is executing the comedy in an effective and effortless way. Some anime heavily rely on one-liners that get too monotonous after a point, while there are others that try to get way too ambitious and go overboard with the comedic elements. 'Miss Kobayashi's Dragon Maid' does not do that even once and it manages to execute its humor in the most subtle way possible. From the very beginning of the series, it becomes obvious which direction the whole comedy is heading towards and which particular style is being adopted.
Everything escalates really quickly in the show, which is pretty obvious considering the 13-episode format. But still, there's a flow to almost all the aspects, especially the comedy. Comedy is more or less like an underlying theme and that's why it just seems very effortless. For example, a mythical creature going for school shopping in itself is such a hilarious idea that you don't really have to put in extra efforts with some forced one-liners. Similarly, a human-like dragon is portrayed doing other normal things that humans do, which comes off as a very organic comedy style.
So overall, any anime fans who have not seen the show yet and are being slightly hesitant about it should know that it is absolutely worth a try. 'Dragon Maid' is definitely an above-average slice of life comedy anime that is bound to leave you with some heartwarming and good-spirited hijinks. The humor is extremely relatable and will surely put a smile on your face. And most of all, the characters will dominate your heart with their silly yet sweet personalities. Kyoto Animation has indeed surpassed its usual standards with this one and has created a slice-of-life anime that will not be forgotten any time soon.
Experienced anime viewers who have seen the show will know exactly what I'm talking about. Not coming up with a new season of this series would surely be a major loss for the studio. But I guess they are smart enough to realize 'Dragon Maid's true potential because a second season has already been officially confirmed. Read further to know more about it.
Miss Kobayashi's Dragon Maid Season 2 Release Date: When will it premiere?
'Miss Kobayashi's Dragon Maid' season 1 premiered on January 12, 2017, and finished airing on April 6, 2017. So far, neither the Studio nor the original staff has confirmed anything regarding the return of the show. However, Sarah Wiedenheft, the actress responsible for the English Dubbing of the character of Tohru, tweeted about it earlier this year, which clearly indicates that the anime is in production already. So it won't be long now till we get to see a new season of this amazing anime series.
Our best guess is that 'Miss Kobayashi's Dragon Maid' season 2 will probably premiere sometime in 2021. Till then, you can always read the manga that has already come up with many spin-offs.
Miss Kobayashi's Dragon Maid English Dub:
The English Dubbed and Subbed versions of 'Miss Kobayashi's Dragon Maid' are available on Funimation, Amazon Prime, Netflix, and VRV.
Miss Kobayashi's Dragon Maid Plot:
Kaboyashi is your regular working class lady who sets out of her home for yet another boring day at work. But as soon as she walks out of her apartment door and steps outside, she finds the head of a dragon just glaring at her. The dragon then just suddenly pops and turns into a young busty girl who holds a pleasant yet creepy smile on her face. She introduces herself as Tooru and is all dressed up in a maid's outfit.
A simple backstory tells that Kobayashi had gone on one of her drunk tours to the mountains the previous night and that's where she had met this dragon. She had offered Tooru to stay at her place and there she was waiting to be welcomed after the offer with the only intention of repaying for the kindness by working as a maid. Kobayashi starts panicking at first but then eventually, she gives in to her own guilt and also to the impressive convincing skills of the dragon.
Initially, Tooru proves to be of great help by excelling at what she does. But soon, her weird ways of handling the most basic housekeeping activities turn out to be downright horrifying for Kobayashi. Tooru's presence in the house also attracts many other strange mythical creatures that outstay their welcome and bring their own problems with them. Kobayashi still tries to somehow remain calm throughout all of this chaos but this life with a dragon is something she is not prepared for and the only way she can handle it is by going with the flow of things.
The second season will probably continue with the same premise but will have some new characters introduced to the anime. Most of the new characters will again be the strange mythical creatures that get attracted to Kobayashi's place because of Tooru. Hopefully, the anime will not get monotonous and boring as most others in this genre do in their second seasons. As long as we get to see some new comic scenarios wherein the dragon, yet again, takes on human activities, I am sure we will remain beyond satisfied with it.
Miss Kobayashi's Dragon Maid Characters:
Kobayashi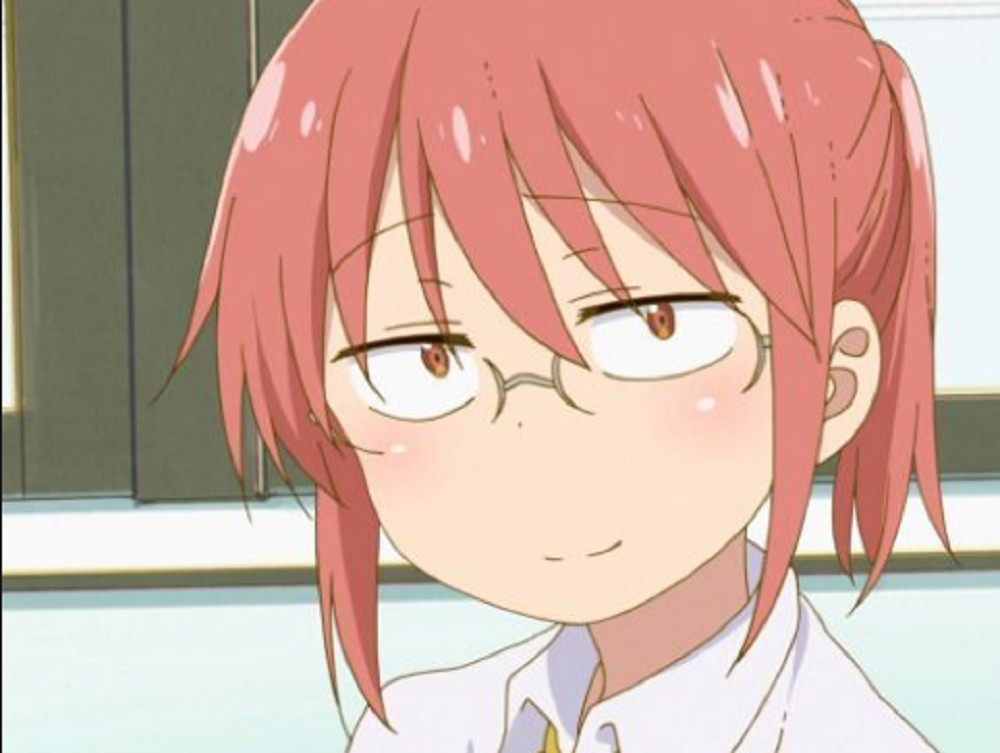 Kobayashi is the main protagonist of the anime. She works as a programmer for a software company called Jigokumeguri System Engineering Inc. Her biggest insecurity is her flat chest and she envies how busty the dragons can get in their human form. In a drunken state, she even asks the dragon if she can share her blessing with her. Kobayashi has shiny red hair that she keeps tied up almost all the time. She is usually seen with a dull face, which is probably an outcome of her boring profession.
Kobayashi proves that she is extremely patient and cool when later in the anime, everything begins to get really chaotic. She even helps out all the other strange mythical creatures that stay at her house briefly. But when in an intoxicated state, she cannot be reasoned with and often comes off as a very aggressive person. In the beginning, Torru's styles of working as a maid really pissed her off. But she later gets used to it and even shows gestures of affection towards her by holding her hand and helping her out with her own personal problems. Even when Tooru's father asks her to come home, Kobayashi goes completely out of her way to defend her and makes her stay. She even risks her own life this one time, only to save Tooru. In moments like these, Kobayashi always proves that no matter what, she can always be relied on.
Tooru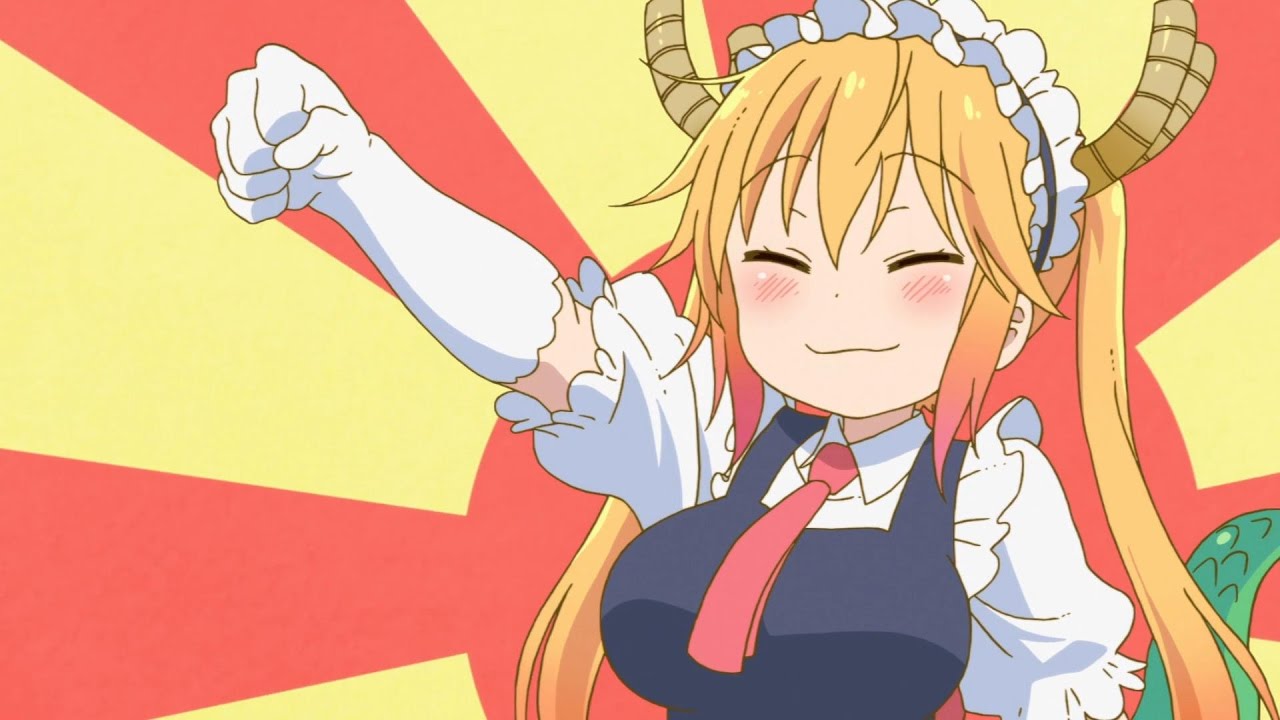 Tooru, also spelled as Tohru, is one of the main characters of the anime. In her human form, Tooru has a funny childish face with wavy blonde hair that has mild shades of pink and purple. She is very curvy and claims that she is a D-cup (Dragon size). While inside the house, where she has nothing to hide, she usually walks around with her tail out and sometimes even her wings. But when she's outside the house, in order to hide her true identity, she keeps her tail and her wings hidden. The only thing that can be seen in public places are her horns but most people just assume that it's some sort of cosplay.
Tooru's dragon form is huge and even towers the entire building of Kobayashi's apartment. It has black wings and light green underbelly. In her true form, her upbringing taught her that she should hate all humans and destroy them if she gets the opportunity to do so. But her chance meeting with Kobayashi shows her that humans are not all that bad. This changes her entire perception about humans and she treats almost everyone with kindness and respect unless they are enemies of Kobayashi. She also gets sexually attracted to Kobayashi and does weird "sexual" things like licking her clothes clean or offering to apply lotion on Kobayashi's body. She claims to be one of the most powerful dragons and like most dragons in mainstream media, she shows immense control over her fire breathing abilities.
Read More in Anime Preview: Prison School Season 2 | Baka and Test Season 3