The plot of the movie 'After' incorporates possibly every cliche available in its depiction of the typical "good girl-bad boy" romance between college students Tessa Young and Hardin Scott. Based on the 2014 adult fiction novel of the same name, 'After' is a romantic drama film directed by Jenny Gage from a screenplay by Gage, Susan McMartin and Tamara Chestna. Starring newcomer Josephine Langford and Hero Fiennes-Tiffin in the lead roles, the initial premise of the plot is set when Tess Young moves into her dorm with the assistance of her mother and her boyfriend Noah. While in the university, she begins a passionate, romantic relationship with the stereotypical "bad boy" Hardin Scott. What follows is the overdone tale of minor heartbreaks leading to the eventual reconciliation, facilitating the box office-friendly happy ending.
Frankly speaking, 'After' adds absolutely zilch, artistically, to the world of cinema. The film received dismal critical reviews upon its release, and currently holds a pathetic approval rating of 23% based on 22 reviews, with an average rating of 3.84/10. Honestly, I don't see how any individual can love this film. However, if you genuinely love it, then we've got some recommendations for you. Here's the list of best movies similar to 'After' that are our recommendations. You can watch several of these movies like 'After' on Netflix, Hulu or Amazon Prime.
10. Dogfight (1991)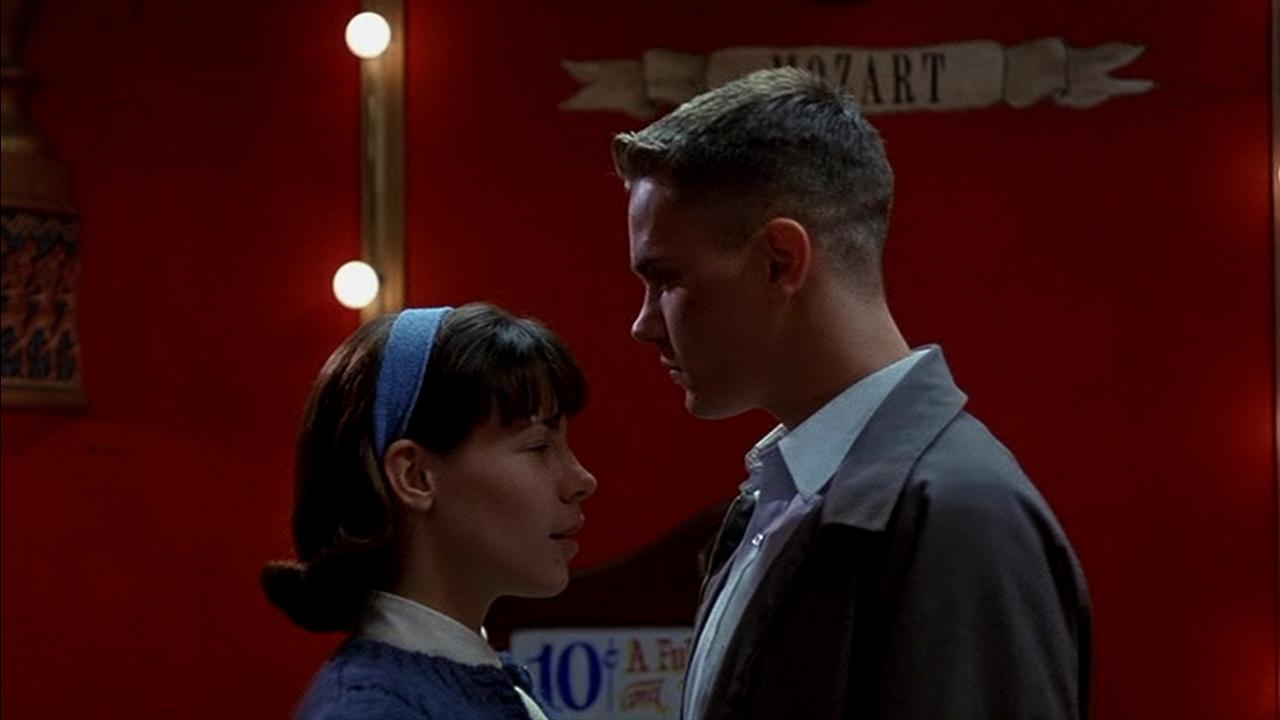 Set in San Francisco, California, against the backdrop of the Vietnam War, 'Dogfight' explores the touching romance between an 18-year-old Marine, Lance Corporal Eddie Birdlace, on his way to Vietnam, and a young woman, Rose Fenny. Directed by Nancy Savoca, the first portion of the film is set on the eve of President Kennedy's assassination, when Birdlace and his three Marine buddies arrive in San Francisco for twenty four hours, before shipping off to Vietnam, and are planing on attending a "dogfight"– a party where Marines compete to bring the ugliest date, unbeknownst to the girls they bring. This lays the premise of Birdlace's chance meeting and eventual romance with Rose.
While Rose isn't particularly ugly, she seems shy and awkward as opposed to Birdlace's brash, intimidating exterior. Soon after, when Rose comes to know about the actual nature of the date, she is heartbroken, resulting in a sense of crippling guilt within Birdlace. This leads him to pursue her desperately, and eventually makes it up to her. The climactic scene where Birdlace returns from the war with a limp to find Rose in the same coffee shop where he first met Rose all those years ago is a magnificently crafted, bittersweet, tear-inducing cinematic experience that must be felt first hand and not read about. Starring River Phoenix, Lili Taylor and E.G. Daily, the film received widely favorable reviews upon its release, with Dustin Putman saying, "A virtually unknown gem, and is one of the sweetest, most touching romances of the decade."
9. A Walk to Remember (2002)
Though not a well-made film per se, 'A Walk to Remember' does well to feed the viewer's romantic appetite through its seamless incorporation of generic romantic comedy tropes and empathetic, convincing performances by Shane West and Mandy Moore. Directed by Adam Shankman, 'A Walk to Remember' is a coming-of-age romantic drama film based on Nicholas Spark's 1999 novel of the same name. Starring Shane West, Mandy Moore, Peter Coyote and Daryl Hannah, the film delves into the unlikely romance between popular and rebellious teenager Landon Carter and the terminally ill Jamie Sullivan, who happens to be the reverend's daughter.
In spite of the film's predictable story-line, it manages to induce feelings of hope and belief in the emotion of love. Before you decide to watch it, let me warn you that this film doesn't pique the interest of the pragmatic film critic in you and neither does it want to. Watch it with a light heart over a Saturday evening with your respective other and a tub of popcorn to give you company, and you won't be disappointed!
8. Reality Bites (1994)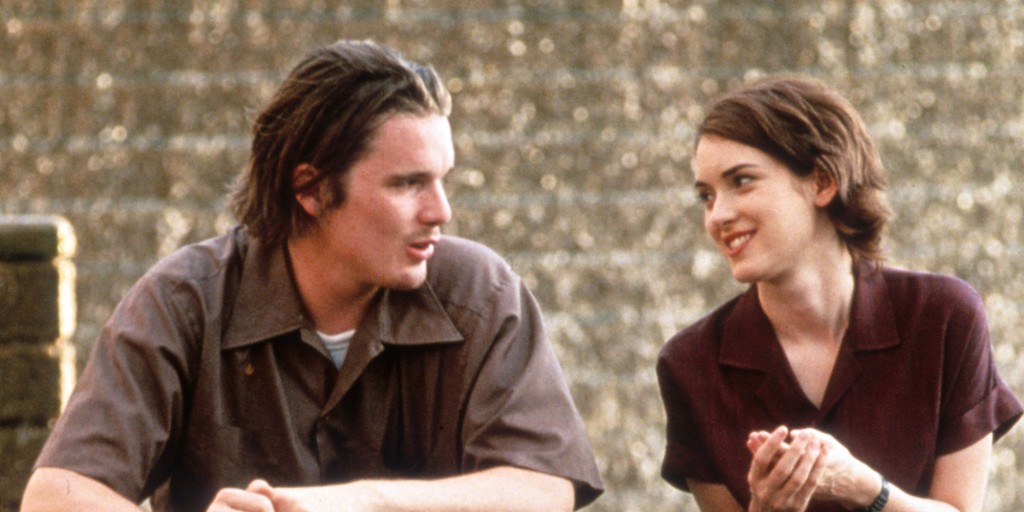 Marking comedian Ben Stiller's directorial debut, 'Reality Bites' is an American romantic comedy-drama film starring Winona Ryder, Ethan Hawke and Stiller, with supporting roles by Janeane Garofalo and Steve Zahn. The plot follows Lelaina (Ryder), an aspiring videographer working on a documentary, called "Reality Bites", about the disenfranchised lives of her friends and roommates. It also stars a young, charming Ethan Hawke as Troy, the brooding musician and eventual love interest Of Lelaina.
The film very tactfully combines two of the most tension filled romantic comedy tropes of close friends eventually falling in love, and that of the spiritually lost "bad boy" finding direction in life through the woman he falls in love with. In the years since its release, the film has achieved cult status and has been singled out as one of the films that captured the zeitgeist of the early 1990s grunge scene among young adults, while simultaneously bringing attention to various issues or the lack of knowledge thereof, that plagued young Americans at the time.
7. Dirty Dancing (1987)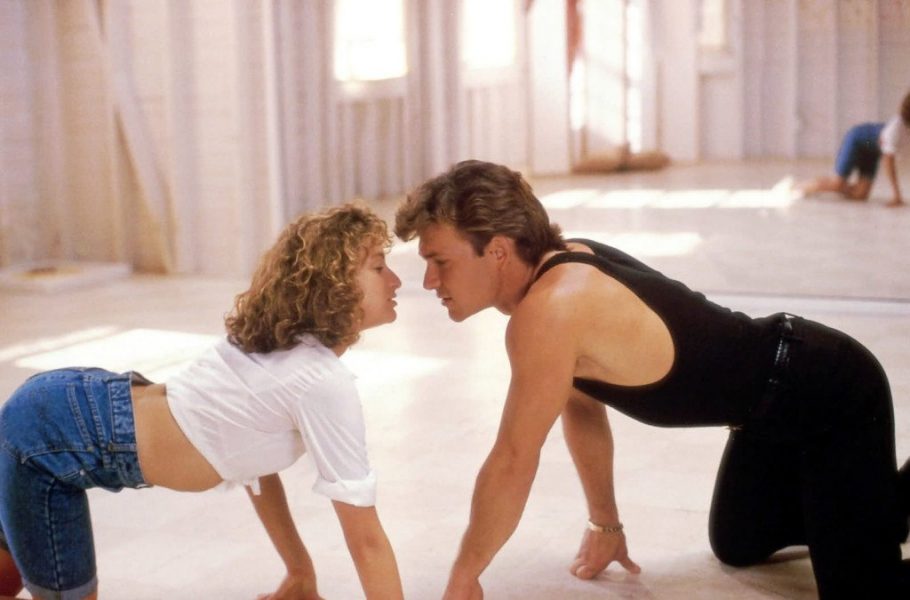 Directed by Emile Ardolino, 'Dirty Dancing' is a 1987 romantic dance-drama film starring Patrick Swayze, Jennifer Grey, Jerry Orbach and Cynthia Rhodes. The film premiered at the 1987 Cannes Film Festival on May 12,1987, and was subsequently released on August 21, 1987, in the United States, earning over 214 million dollars worldwide. The plot of the film unfolds in the summer of 1963 and follows the scintillating romance between 17-year-old Frances "Baby" Houseman and Johnny Castle, a dance instructor in the resort Baby is vacationing.
In spite of the film's predictable plot and the portrayal of the overdone love story between kids from different background, it creates an immersive world for its audiences through authentic performances by its lead cast, and the inclusion of dance as an important plot device. Since its release, the film has cemented itself as a cultural landmark, and has been the primary inspiration behind several similar dance movies.
6. Cruel Intentions (1999)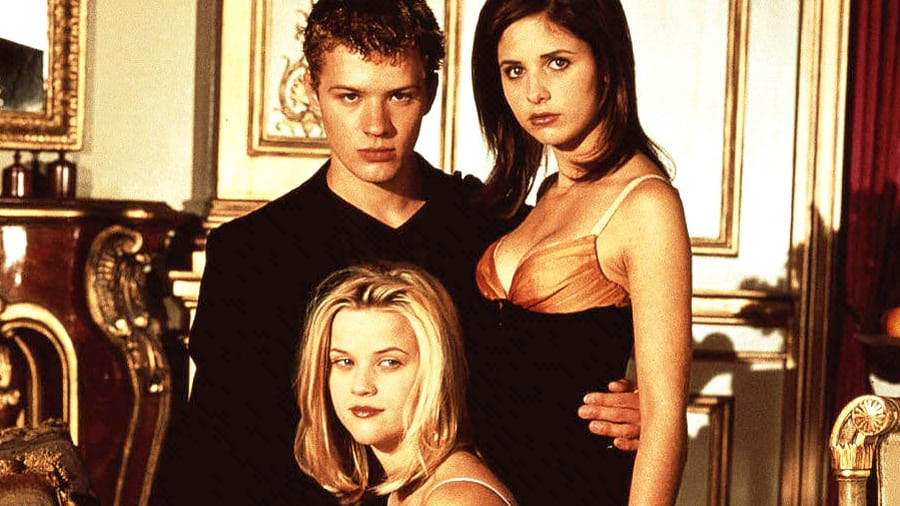 'Cruel Intentions' is a 1999 American teen romantic drama film quite like 'After', directed by Roger Kumble and starring Sarah Michelle Gellar, Ryan Phillipe, Reese Witherspoon, and Selma Blair. Although an adaptation of Piere Choderlos de Laclos' 1782 novel 'Les Liaisons Dangereuses', the film is set among wealthy teenagers attending high school in New York City instead of 18th century France. Having started out production as a smaller budget independent film, it was later picked up by Columbia Pictures and released on March 5, 1999. Set amidst a tale of deceit, lust and debauchery, this "honestly corrupt" film is the perfect watch for fans of 'After' or similar "bad boy-good girl" romances. Despite the predictable, superficial storytelling, noted film critic Roger Ebert for The Chicago Sun Times praised 'Cruel Intentions', stating that it is "smart and merciless in the tradition of the original story."
5. Manhattan (1979)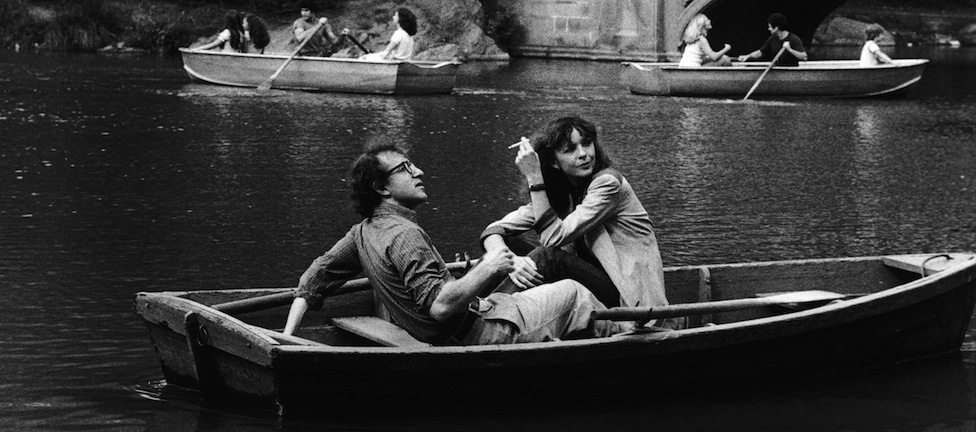 As far as unlikely, dysfunctional romances go in films, Woody Allen's romantic comedy film 'Manhattan' remains, to this day, one of the finest examples. Directed by Allen from the hilarious screenplay written by himself and Marshall Brickman, 'Manhattan' can be very well seen as a thematic follow up to the more successful 'Anne Hall'. Allen co-stars as a twice-divorced 42-year-old comedy writer who is in a relationship with the 17-year-old Tracy (Mariel Hemingway), but falls in love with his best friend's mistress Mary Wilkie, played by the ever beautiful Diane Keaton.
Filmed in black and white featuring George Gershwin's music, the movie can be seen as Allen's love letter to New York. The film was met with widespread critical acclaim and was nominated for two Academy Awards: Best Supporting Actress for Hemingway and Best Original Screenplay for Allen and Brickman. Often considered by Woody Allen aficionados as his best work, the film was selected for preservation in National Film Registry in 1991 by the United States Library of Congress, deeming it "culturally, historically, or aesthetically significant".
4. Roman Holiday (1953)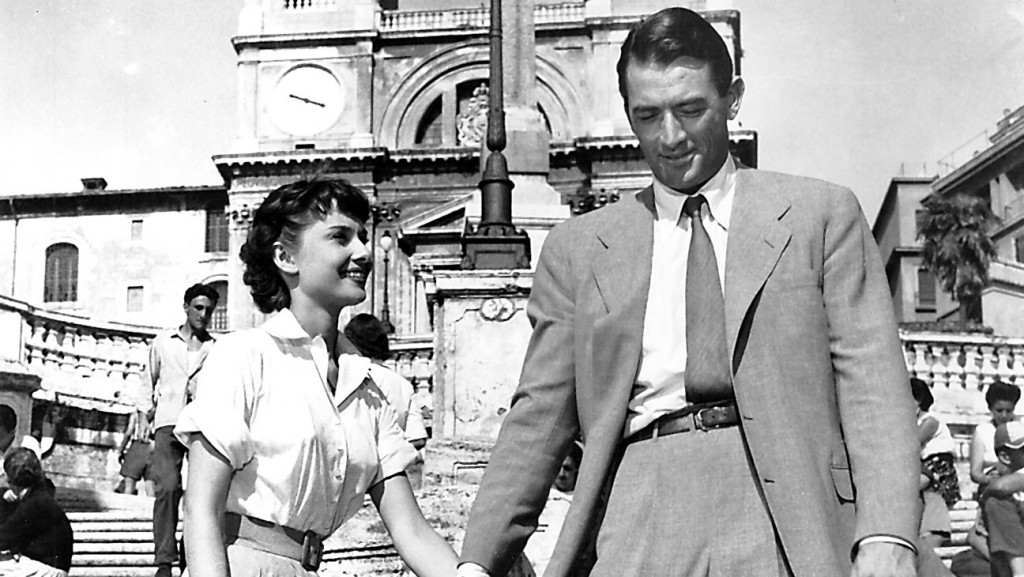 For a romantic comedy/drama fan, there are very few films which serve as wholesomely as William Wyler's 'Roman Holiday'. Written by John Dighton and Dalton Trumbo, the film focuses on the unlikely romance between the lackadaisical American reporter Joe Bradley and the royal princess Anne, a princess out to see Rome on her own. The unique, seamless chemistry between Gregory Peck and Audrey Hepburn makes the film a breezy, immersive cinematic experience for its audiences. Considered widely to be one of the finest movies of the rom-com genre, 'Roman Holiday' was selected for preservation in the United States National Film Registry by the Library of Congress in 1999. Hepburn won an Academy Award for Best Actress for her portrayal of the young and frustrated Princess Anne.
Read More: Movies Like The Perfect Date
3. Rebel Without a Cause (1955)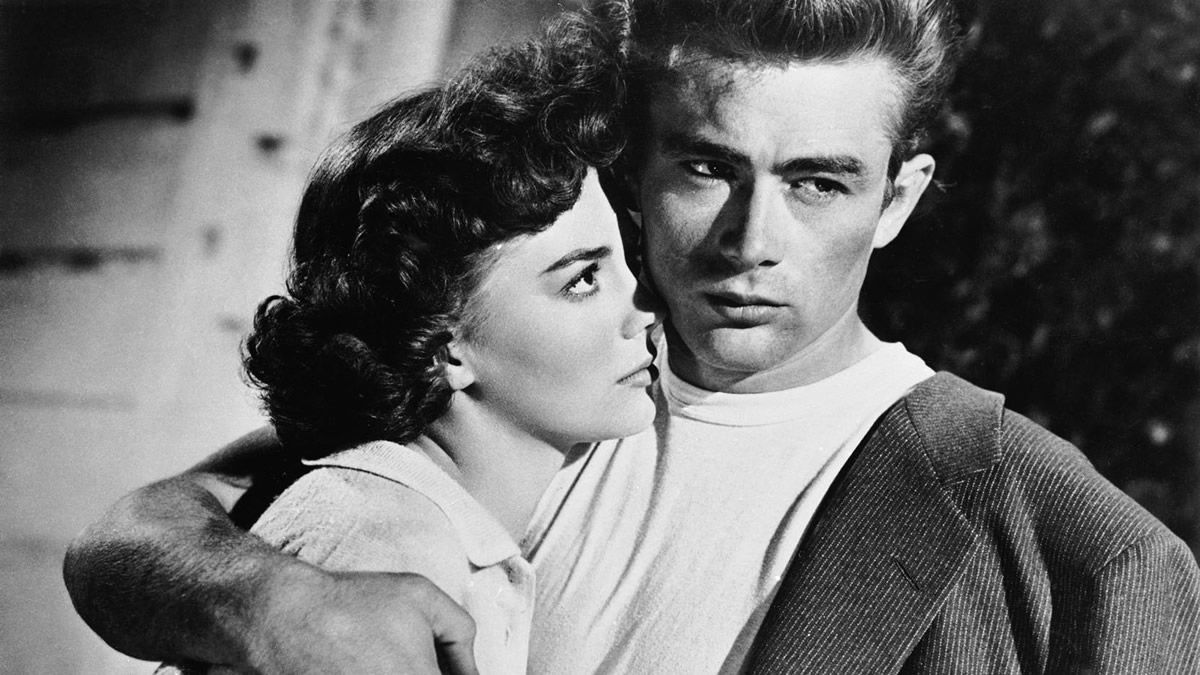 If not for anything else, watch 'Rebel Without a Cause' just to ogle at James Dean. Directed by Nicholas Ray, the film explores the lives of emotionally confused, suburban, middle-class teenagers and has since been widely considered as a groundbreaking attempt to portray the moral decay of American youth, critique parental style, and explore the differences and conflicts between two separate generations.
The plot revolves around trouble-making teen Jim Stark (James Dean), who in his search for stability in his new town befriends his troubled classmate Plato, and falls for local girl Judy. However, it is soon seen that Judy is the girlfriend of the neighborhood alpha male Buzz, leading to an inevitable confrontation. Over the years since its release, 'Rebel Without a Cause' has achieved landmark status for the acting of cultural icon James Dean, fresh from his Oscar nominated role in 'East of Eden'. Additionally, Dean's untimely death in a car crash before the film's release added to its legend, and is often seen as Dean's swan song.
2. It Happened One Night (1934)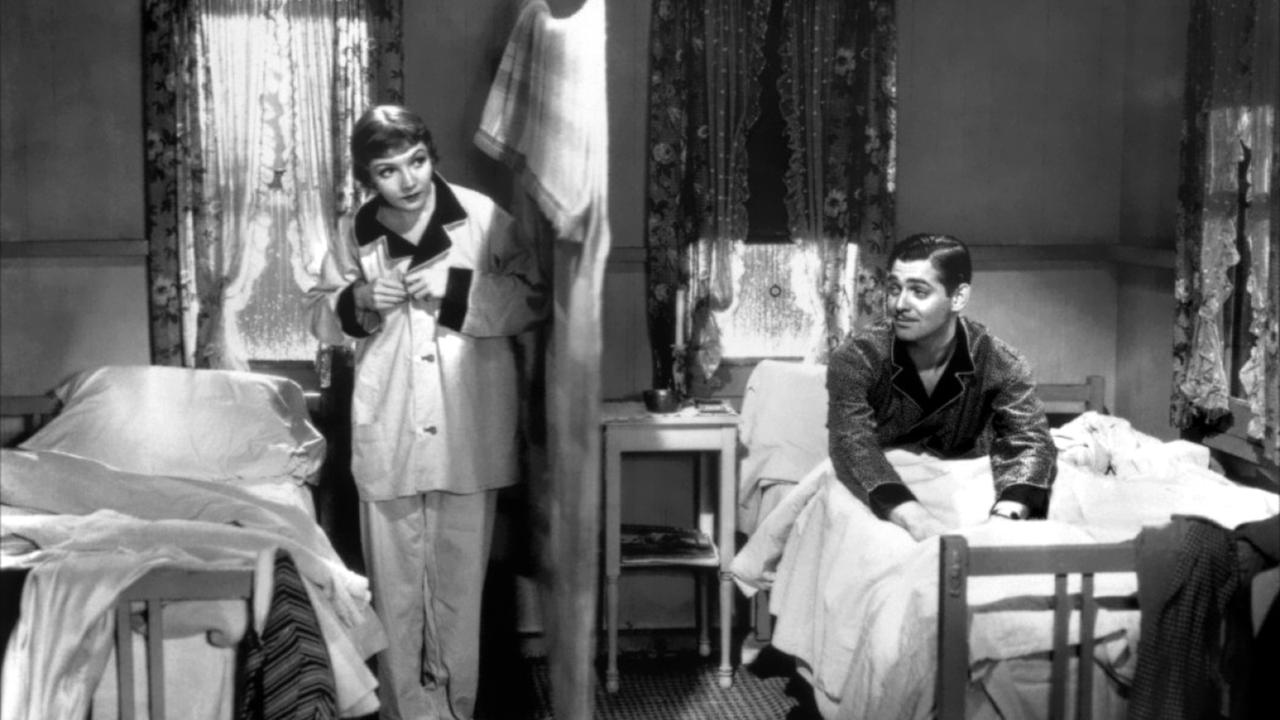 'It Happened One Night' is a pre-Code (before the wide adoption of sound in pictures) American romantic comedy, directed and co-produced by American master filmmaker Frank Capra. The plot follows a pampered socialite (Claudette Colbert), who in her attempt to get out from under her controlling father's thumb, falls in love with a roguish reporter (Clark Gable). Based on the August 1933 short story 'Night Bus' by Samuel Hopkins Adams, 'It Happened One Night' was a massive critical and box-office success at its time of release, and is, till date, one of the only three films (the other two being 'One Flew Over the Cuckoo's Nest' and 'Silence of the Lambs') to win all five major Academy Awards: Best Picture, Best Director, Best Actor, Best Actress, and Best Adapted Screenplay.
Read More: Movies Like The Curse of La Llorona
1. Annie Hall (1977)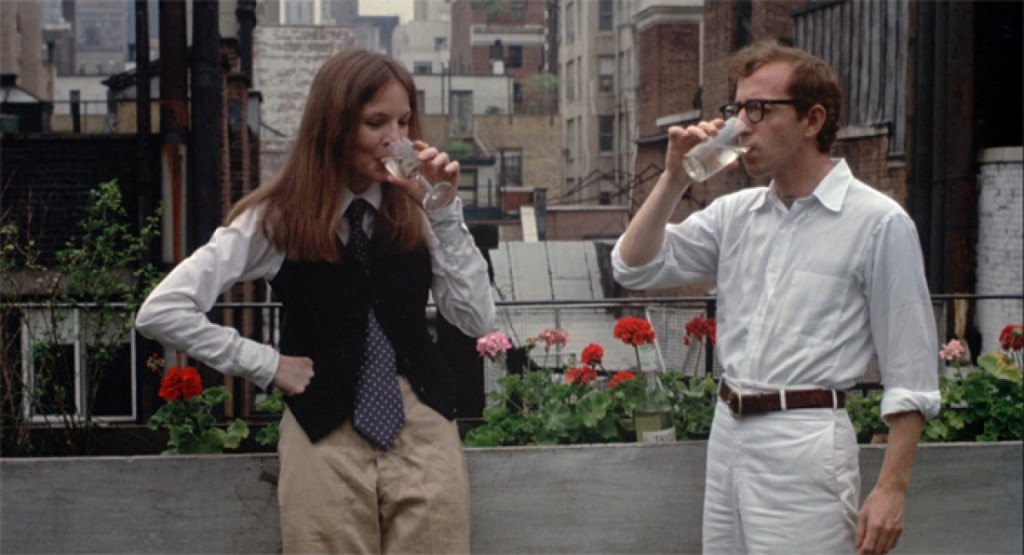 Topping the list is the iconic Woody Allen classic 'Annie Hall'. Written by Marshall Brickman and Allen himself, the film stars Allen as the stand-up comedian Alvy Singer, in his search to figure out the reasons for the failure of his relationship with the film's eponymous female lead, played by Diane Keaton. Widely regarded as one of the greatest films of all time, the film ranks 31st on AFI's List of the Greatest films of American cinema, 4th on their list of greatest comedy films and 28th on Bravo's' "100 Funniest Movies". Additionally, the film's screenplay was ranked by the Writer's Guild of America as the number one in its list of the "101 Funniest Screenplays". I think it'd be rather poetic to end this article with the final quote of the film:
"It reminds me of that old joke- you know, a guy walks into a psychiatrist's office and says, "hey doc, my brother's crazy! he thinks he's a chicken." Then the doc says, "why don't you turn him in?". Then the guy says, "I would but I need the eggs." I guess that's how I feel about relationships. They're totally crazy, irrational, and absurd, but we keep going through it because we need the eggs."
Read More: Movies Like Someone Great