"Good Will Hunting" (1997) directed by Gus Van Sant was a huge success and is still loved by many nowadays for its impactful and emotional story and amazing performances by all, the ones by Robin Williams and Matt Damon being the most remembered. It's a wonderful journey through the development and growth of a character's inner feelings and external approaches on himself and the world around him.
From the prodigies of a kid (in this case Will has a natural talent in mathematics) and the difficult struggles of coming-of-age and crossing obstacles of the path, to the love, counseling and human connection between two people, this movie embodies various themes that can be found in other masterful films. So, if you're looking to dive into the same mood and atmosphere or are interested in exploring similar themes, here is the list of movies similar to Good Will Hunting that are our recommendations. You can watch some of these movies like Good Will Hunting on Netflix or Hulu or Amazon Prime.
12. Wonder Boys (2000)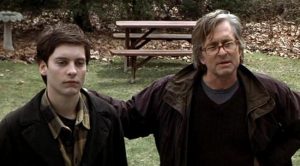 This comedy-drama presents us the story of Grady Tripp (Michael Douglas), a novelist and professor of creative writing, who's second novel is having difficulties finding its end. His wife has just left him, he is involved in a sexual affair with the university chancellor who reveals to him she is pregnant of his baby and finally his editor is on his way to town to see his work. Other characters include two of his students which will take a big part of his story and life, James and Katie, two great writers, the first one being quiet and mysterious and the second being attracted to her teacher, Grady. A lot to process for a writer stuck in a novelist crisis. However this film keeps your attention from start to end and with amazing performances by all is a real pleasure for the eyes and the soul.
Read More: Movies Like La La Land
11. Mona Lisa Smile (2003)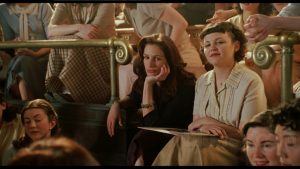 "Mona Lisa Smile" is a film directed by Mike Newell which concentrates on education and the open-mindedness given from teacher to student in a time where lives were strongly followed by the conventions of conservative social norms. Julia Roberts portrays Katherine Ann Watson, a young teacher who begins her work at Wellesley College, a private art school for women in the early 1950's. There, she teaches Art History and through her classes incentives her young students to guide their lives further than the traditional idea of marriage and housewife status. The acting is great and the characters feel complete despite perhaps having a predictable character arc. It's message is rightfully conveyed and the story follows through a great combination of handsome cinematography and mastered direction.
Read More: Movies Like Pretty Woman
10. Little Man Tate (1991)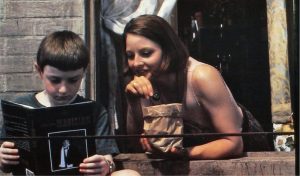 "Little Man Tate" marked Jodie Foster's directorial debut in cinema and takes the theme of the prodigies of an individual on a 6-year-old kid by the name of Fred (Adam Hann-Byrd). The boy's incredible capacities in mathematics, reading and playing the piano make him none other than a little genius, who on the down side finds difficulty in adapting in his social surroundings. Fred's mother Dede (Jodie Foster) is a caring single woman who wants her son to be brought up as a normal kid however after nobody shows up at his birthday she consents his entry in a school for prodigy children.
Read More: Movies Like Heat
9. Searching For Bobby Fischer (1993)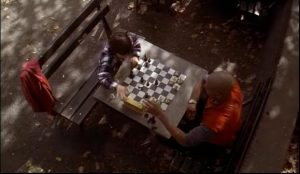 Being a prodigy in chess is an unusual gift definitely less thought of when thinking of children with special gifts than other most common skills. However Josh possesses this talent and as soon as his family realises, he's put under the strict teachings of a chess instructor that seeks to train him as hard as needed for him to attack and defend himself like chess legend Bobby Fischer. Josh on the other hand loses interest of his teacher's strategy and planning techniques and begins to take his own decisions in hand that in the end only reveal inner feelings that are more important than anything else on the board. A balance between mentoring, teaching and feeling for oneself whats right and wrong, and what it is that really matters in the end.
Read More: Movies Like Divergent
8. The Diving Bell and The Butterfly (2007)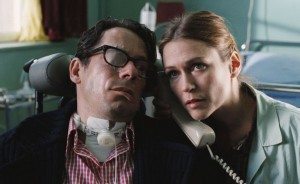 This exceptionally beautiful and poignant biographical drama is based on the memoirs of Jean-Dominique Bauby, who was a french editor of the fashion magazine Elle. However that is not the aspect of his life this movie is about. At the age of 43, Bauby had a monstrous stroke which left him in a state of almost total physical paralysation which disabled him from every little thing a normal person should be capable of, from moving your little toe to speaking a word out loud. His mind was alive and trapped in a body that couldn't react. Played by Mathieu Amalric, this movie goes beyond visualising the unfortunate event of this man's life, as it brings to life his thoughts and dreams, the imagination and emotion of his being and the memories of his past he beautifully kept inside of him. His condition wasn't enough for him to go down with it and he managed to find a communication technique for which his book saw the light. A down-to-earth sensitive masterpiece that shows a lot is possible and that words can come in other forms when in need to be expressed.
Read More: Movies Like The Butterfly Effect
7. Awakenings (1990)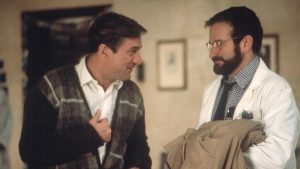 This wonderful movie brings to the screen the achievements and life-changing actions of real-life character Oliver Sacks, here portrayed as Dr. Malcom Sawyer by the great Robin Williams, through a heart-breaking and emotionally touching story where Robert De Niro proves his excellence once more. Sawyer is a hard-working physician who "awakens" his patients from their decade-long disease of catatonia when discovering the positive effects the L-Dopa drug conveys. With main focus on Leonard Lowe (De Niro), we accompany his change and the one from the ones surrounding him in the hospital and truly experience the wonders of life and the tiniest of things we often take for granted. A unique perspective on human connection where the dedication and empathy of some can bring a life-changing experience for others. Do prepare yourself for some inevitable tears.
Read More: Movies Like Troy
6. Rain Man (1988)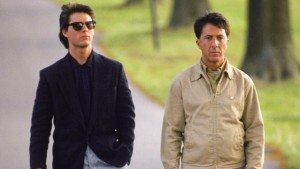 "Rain Man" is a film you shouldn't miss. Winning four Oscars and the Golden Bear, it was a huge success that rightfully deserved every recognition it received. Tom Cruise plays a selfish arrogant young man who's estranged father dies, leaving all his fortune to another son of his, Raymond (Dustin Hoffman), who's existence the latter wasn't aware of. Hunting down his unknown brother, he finds himself facing an autistic savant living in a mental institution. He starts off attempting to gain control over his father's heritage leading Raymond out of the institution. However as he spends more time with his brother and discovers his unusual talent of photographic memory and calculating skills, he grows affectionate of him and a real meaningful relationship starts to settle between the two. With amazing character developments and performances by the two of them, this movie is a masterpiece at elevating emotions and showing the wonders and healing of human connection.
Read More: Movies Like Mission Impossible
5. A Beautiful Mind (2001)
Back to the mathematic prodigy with this fabulous one-of-a-kind film set in the late 1940's and staring Russel Crowe as John Nash. He's a brilliant mathematician at the Princeton University who wants to successfully publish his own original idea. Following this he settles down working for the Massachusetts Institute of Technology before years later being approached by the United States Department of Defence who admire his natural skills of easily breaking and deciphering codes. In order to prevent a possible Soviet secret plan, he is subsequently assigned to find and decode patterns in newspapers that should hide significant elements in the matter. However he soon becomes obsessed with his task and convinces himself he is being followed. Nothing else can be said about this amazing storytelling experience other than a plot twist is on its way. Watch it.
Read More: Movies Like Her
4. The Talented Mr Ripley (1999)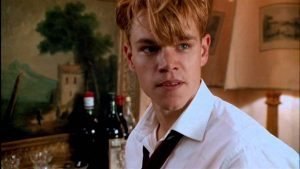 This intelligent, greatly written and directed movie gives us another opportunity to witness Matt Damon's huge talent in acting with his performance as Tom Ripley or Mr.Ripley, as you prefer. In this psychological thriller, he plays an interesting character who's actions make him an immoral and evil individual, however, we somehow root for him as the main character who's journey we're intensely following. Ripley, a young man living in New York's 1950's is approached by a wealthy shipbuilder, from whom he is offered a heavy sum to travel to Italy , find the millionaire's spoiled son Dickie Greenleaf and convince him to return to the United States. However when his quest begins, things don't go as planned and quickly get out of hand leading him to take drastic and permanent decisions.
Read More: Movies Like Oldboy
3. The Paper Chase (1973)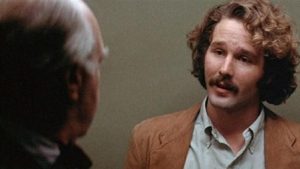 A story about education, love and life set in between the walls of the prestigious Harvard Law School. James Hard is a first-year student who begins his studies on the wrong foot with public humiliation during his first class lead by professor, Charles W. Kingsfield Jr., a strict teacher with rigorous approaches. During his stay at the school he will find himself struggling with the balance between his studies and the amorous relationship with Susan Fields who happens to be his instructor's married daughter. The relationship between teacher and student is simply brilliant, where the first sees the capacities of his pupil yet hides it away and shows no fondness in order to bring the best out of him with. The performances are excellent, the plot keeps you awake at all times and its intelligence is simply delicious to devour.
Read More: Movies Like Lost In Translation
2. Dead Poets Society (1989)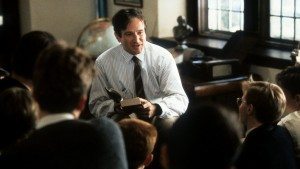 This classic of American cinema is a beautiful and inspiring film that has the remarkable capacity to shed tears, create smiles and touch the soul and heart of its viewer. Robin Williams has a number of successful films on his list but this might be one of the most important ones for which his spectacular being will forever be remembered. His character is the one of John Keating, an English teacher at a prestigious all-boys boarding school. It is through poetry that he opens his students ideas and inspires them to look at it from a different point of view and embrace the feelings and thoughts this art form conveys. It's a true cinematic jewel, from amazing direction, to outstanding performances by the cast, not to mention a flawless cinematography that does its job swimmingly.
Read More: Movies Like Dead Poets Society
1. Finding Forrester (2000)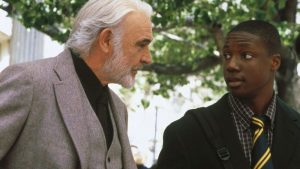 From the same director of "Good Will Hunting", here we find another approach on the observation of two people forming a bond who directly and indirectly help one another succumb the obstacles of life, whether from the past, present or future. Jamal Wallace is a 16-year-old boy who enjoys playing basketball with his friends on a court that faces a lonely building, who's top floor window frequently shows a man observing their games. After being given a dare, he enters the apartment but is surprised by its owner and quickly exits, leaving his backpack behind. When given back his backpack he notices that his writings have notes and after re-visiting the apartment he learns that the mysterious secluded man is William Forrester, the author of a well-known book. They arrange a deal in which Forrester helps improve Jamal's exceptional writing as long as the latter does not reveal the position and existence of the author.
Read More: Movies Like Malena