Created by Francesca Delbanco and Nicholas Stoller, 'Platonic' is an Apple TV+ comedy–drama series. It marks Stoller's reunion with his 'Neighbors' actors, Seth Rogen and Rose Byrne. The two actors bring their easy, engaging chemistry from the films to the show, even though they aren't portraying spouses. In episode 5, titled 'My Wife's Boyfriend,' Will becomes genuinely interested in his relationship with Peyton (Emily Kimball), making him feel vulnerable and secretive. Meanwhile, Charlie (Luke Macfarlane) feels increasingly left out as his wife begins to do more and more activities with Will (Rogen). This prompts him to invite the other man to a baseball game. Here is everything you need to know about the ending of 'Platonic' episode 5. SPOILERS AHEAD.
Platonic Episode 5 Recap
The episode begins with Will and Peyton out on a date. They visit an egg sandwich stand, where Will demonstrates his line-cutting skills, before heading toward a thrift store, where Will helps Peyton protect the Britney Spears t-shirt from another person, earning a kiss. They subsequently go trekking together, and Will learns about Ari Lennox. He has been under the impression that there was only one Lennox in the music industry, and that's Anine. As Will comes to terms with that generational disconnect, the couple comes across Machine Gun Kelly. Seeing how big a fan Peyton is of the man, Will decides to bleach his hair.
The next scene takes place in the kitchen of Charlie and Sylvia's (Byrne) house. As Sylvia helps her friend bleach his hair, Charlie walks in. He initially doesn't know how to respond to the scene before him. A part of him seems to feel frustrated as Sylvia reveals that she didn't go to the open house as she was supposed to. He also feels a twinge of jealousy as his wife gradually reverts to how she used to be when they first met. The following day, all three characters discuss the encounter with their respective friends. Charlie talks about it to Stewart (Guy Branum) and decides to invite Will to a Dodgers game, even though the other man reminds him that this is a company event.
When Charlie messages Will and invites him, the latter thinks it's weird, and his friends agree. Will then calls Sylvia, who, even though she doesn't say it to him, also thinks it's weird. At the game, Will, with his contemporary fashion, sticks out among the lawyers attending a baseball match. Watching any form of game from the stands is already a ritualistic thing. There are norms to maintain and rules to follow. Moreover, being there with a group of lawyers adds another layer of conventionality to the experience.
It's extremely fascinating to see Rogen play the "straight man" character for a change. In a hilarious sequence where His character is supposed to stand out, the lawyers around him become the subject of humor. Will learns that some of these lawyers refer to him as Charlie's wife's boyfriend.
After the game, Will takes Charlie and Stewart to Lucky Penny, where they get drunk on quality beer and start throwing e-scooters for sport. Charlie begins to sing just as Sylvia shows up at the bar, and Stewart demonstrates that he can name all the prime numbers up to 1,000. Sylvia reveals that Will can perform the dance from 'Coyote Ugly,' leaving him with no choice but to do so.
When things start to simmer down, Sylvia learns that Will lied to her about having a girlfriend even after she explicitly asked him about it. As she starts questioning him, things remain light as if it's an extension of the fun they were having. But it soon becomes intense, and in order to navigate the focus away from him, Will tells Sylvia that he is referred to as her boyfriend at Charlie's workplace. Now, it's Charlie's turn to defend himself, but that also changes when Reggie blurts out that Sylvia took Ketamine the last time she hung out with them.
Platonic Episode 5 Ending: Why Didn't Will Tell Sylvia about Peyton?
Relationships are almost always hard, but they become additionally complicated if one of the partners has recently exited another relationship. Even if they are responsible for the dissolution of it — as Will is — it doesn't diminish the fear one feels when they let themselves be vulnerable again.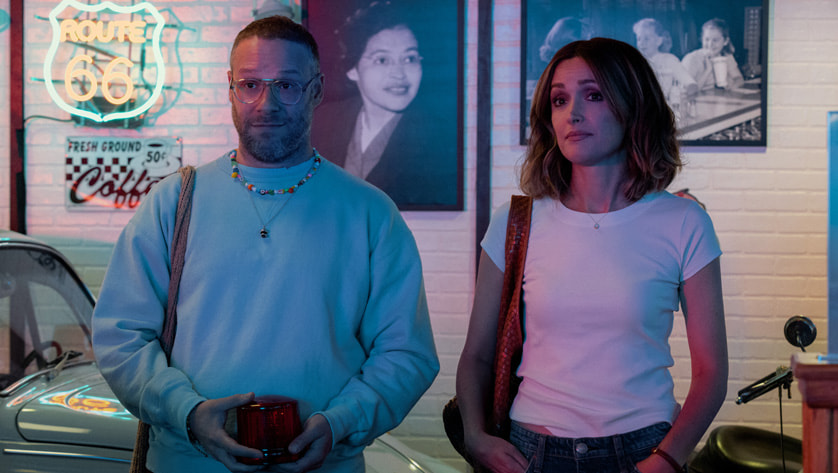 Additionally, Will is afraid that people will comment on the age gap between him and Peyton, who is 25 years old. Will seems genuinely interested in her; he wouldn't have done some of the things he does in this episode otherwise. As the argument escalates after Charlie finds out that Sylvia took Ketamine and cocaine, Will has an accident from the broken pieces of glass that he himself kicked to the floor.
When Will pulls out the shard of glass embedded in his wrist, he starts bleeding profusely, and Charlie has to step in before the situation worsens. One of the final scenes of the episode involves Peyton cooking for him. It makes him emotional, as he acknowledges that he didn't have someone to take care of him for a while. It seems that Will told the others mostly because of circumstances, especially his work colleagues, who are actively involved in most of his life. He avoids speaking to Sylvia about Peyton because it was simply easier to do so with her than others.