There's a lot of harem trash out there in the anime world these days and the sole reason behind it is that it's comparatively easier to make one. It's almost like if you have seen one of these anime, you have pretty much seen most others. I've seen a fair bit of these myself but I've reached a point where it's hard for me to differentiate between all of them now. And for the most part, I don't even remember what goes on in these shows. The only difference between all of them is that they use different weird concepts to lure the viewer into watching it. Some might have a weird monster girl as a protagonist while others might have a guide to picking up girls in a dungeon. But in the end, the basic story, the romance, and even the comedy are pretty much the same.
Even when it comes to the story of 'Saekano: How to Raise a Boring Girlfriend', it isn't all that creative but for some reason, it is quite fun to watch. Even the inhibitions and dreams of the protagonist are very similar to those of other anime of the same genre. What slightly stands out about this anime is how every situation unfolds in a never seen before comic manner that does not make you cringe; instead, it makes you laugh out loud. The fan-service here can be annoying but the protagonist's exaggerated reaction to these moments is just priceless. The best thing about the jokes in this anime is that they fit in very well with the story and are never thrown around randomly. They are usually coupled with the most appropriate situations, which indeed proves to be a big positive for the entire series.
Another great thing is that the anime's English Dub is way better than most other anime these days. Now, this may not be a big deal for the ones who, like me, prefer watching anime with subtitles. But I'm pretty sure that a huge chunk of the western audience prefers the dubbed version over the subbed one, so for them, this one definitely proves to have some quality content. Even the music is surprisingly good and fits really well into every situation it is placed in. The main OSTs are also quite memorable and since the anime only lasts for 12 episodes, you don't really get tired of them.
Overall, 'Saekano: How to Raise a Boring Girlfriend' is definitely not a perfect anime, but it surely is very satisfying and enjoyable. For someone who is looking for a serious romance story, this may not really be the best option. But for someone who genuinely enjoys even the most typical harem series, this one gives you the same amount of fun and also introduces new ideas to the genre. A lot of humor in the show is built around a viewer's prior knowledge of the genre, but even then, I would recommend it to pretty much everyone. So if you haven't really seen it yet, then it's definitely worth a try.
Saekano: How to Raise a Boring Girlfriend Season 3 Release Date: When will it premiere?
The whole series first started off with an OVA that was released on January 9, 2015. This was then followed by a Saekano: How to Raise a Boring Girlfriend Season 1 of 12 episodes, which was released on January 16, 2015 and ended on March 27, 2015. Much later, another OVA was released on April 6, 2017 which was followed by a Saekano: How to Raise a Boring Girlfriend season 2 that released on April 14, 2017 and ran until June 23, 2017.
As far as the next season goes, we don't have an official announcement yet. Though considering the fact that the anime has consistently released over last few years, there's a good chance that we will get to see another season. Our best guess is that if the show does get renewed, Saekano season 3 can release sometime in 2021. We will update this section as soon as we hear more.
Saekano: How to Raise a Boring Girlfriend English Dub:
You can stream 'Saekano: How to Raise a Boring Girlfriend' on Amazon, Crunchyroll, and AnimeLab with its original Japanese audio and English subtitles.
Saekano: How to Raise a Boring Girlfriend Plot:
'Saekano: How to Raise a Boring Girlfriend' centers around a boy named Tomoya Aki, who is a typical otaku. He has been obsessed with watching anime and reading manga for many years now. His obsession has reached a point where that's all he does and often attaches himself to the fictitious characters. So he decides to design a game where he can share his love for anime and manga with everyone else. The only problem here is that he will not be able to do this all on his own.
So, Aki decides to recruit two other girls, one of whom is his childhood friend Eriri Spencer Sawamura, who will be his illustrator. The other one is a literary genius named Utaha Kasumigaoka, who writes the script for his visual novel. He plays the role of the director and together, this super-trio start working on their project. But before they completely dive right into it, Tomoya needs the inspiration to drive his project and that's when he meets the beautiful Megumi Katou, who becomes his main character.
Now he has pretty much everything he needs and all he has to do is apply himself in such a way that the people who end up playing his game actually enjoy it. But little does he know that in order to evoke emotions in the minds of the gamers, he must first experience those feelings himself along with the other members of his team.
Saekano: How to Raise a Boring Girlfriend Characters:
Tomoya Aki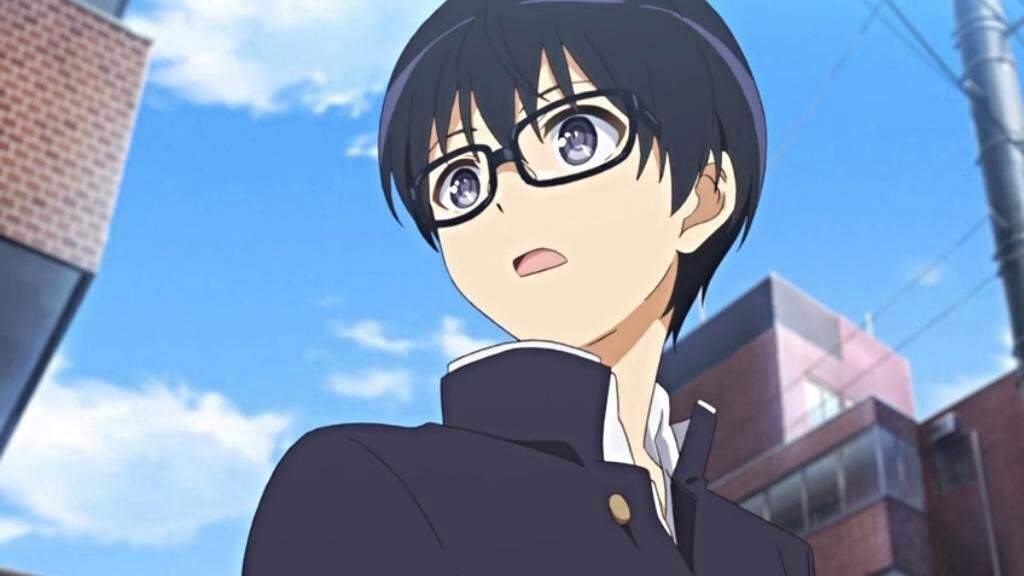 Tomoya Aki is the main protagonist of the show, who is a hardcore geek Otaku. The only thing that he has ever enjoyed doing is watching anime and reading manga. But even then, he is one of the most notable students of the school along with Utaha Kasumigaoka and Eriri Spencer Sawamura. Tomoya is built like any other teenager and has straight black hair that covers his entire forehead. He has light blue eyes and is often seen with square-shaped specs on. He is seen with lenses on at times, but mostly, he prefers wearing glasses after Megumi gifts him a pair.
When his motivation is driven by something related to otaku, he starts working really hard on it and even when he first meets Megumi, he feels a strong urge to work harder on his visual novel. At this point, he forces himself to pick up various part-time jobs to fund his work. Even though he shows signs of being a little anti-social, he is very kind to the people around him and follows a very strict moral code when it comes to treating the people around him in a certain way.
Utaha Kasumigaoka
Utaha Kasumigaoka is an upcoming novelist, who tries to balance out her career as a writer with her student life. She uses the pen name Utako Kasumi for writing her novels and has sold over 500,000 copies with her first novel itself. Despite being a successful novelist, she never really misses out on school and is really good at studies. She is also very well known for her beauty and draws the attention of many guys with her charming personality. She believes in working hard at everything and even when she starts working for Tomoya, she finishes off the entire script for the game in one single night.
Utaha comes off as a little self-centered at times and often makes herself look unapproachable by carrying a disdainful expression on her face. But when she is with the people who are close to her, she can be quite a fun person to be around. Her sarcastic comments are quite funny and her sharp tongue is just unbeatable. Though she's generally cold towards the people around her, the one time when Tomoya compliments her, she acts all shy and embarrassed, which is very much unlike her usual behavior in school.
Megumi Katou
Megumi Katou, also pronounced as Megumi Kato, is Tomoya's classmate, who is rarely noticed by anyone else in her school. Tomoya has been with her since the first year of school and until now he had no clue about her existence. She later inspires him to make his own visual novel and he gets so inspired that he even decides to cast her as his lead character. Tomoya claims that she is the most beautiful girl he has ever met, which is funny because he never really noticed her before this. She has shoulder length chestnut brown hair and dark brown eyes. According to Tomoya, she has the "perfect proportions."
Megumi's personality is very blank and there isn't anything extraordinary about her. She is very soft spoken and because of this, she always goes unnoticed in class and in pretty much every other place. Though she does not talk much, she really values people and would go out of her way to help them out whenever needed. Unlike others on the team, she does not know much about the otaku culture but she still tries her best to make some contribution.
Read More in Anime Preview: Death Parade Season 2 | Berserk Season 3