Created by Adam DiVello, Netflix's 'Selling Sunset' is perhaps one of the most popular reality shows that combines real estate and drama in a way that few cannot help but be tempted by. The various employees of the Oppenheim Group are based in Los Angeles, California, and certainly have many personal and professional obstacles to get through that often pits them against each other. The recently released seventh season of the series is no different and has brought viewers even more entertainment. Needless to say, it has left everyone eager to explore just what their favorites have been up to since then!
Jason Oppenheim Is Now Separated From Marie-Lou Nurk
We are starting off with none other than Jason Oppenheim, the man who has been serving as the President of The Oppenheim Group since December 2013. Additionally, the Broker is known for often taking up listings himself and has not let his realtor skills rust away. However, his love life has certainly seen many changes since his time in the latest iteration of the Netflix show. While his partner, Marie-Lou Nurk, played a prominent role in season 7, she and Jason have since separated, having announced the news to the world in May 2023.
"While we still love and care about each other very much, the distance between us has proven to be too great a challenge to overcome," Jason shared on his Instagram, referring to the fact that Marie-Lou had to spend a significant portion of her time in Paris, France. The break-up did seem mutual and amicable. However, after about three months since the development, Jason was reported to have been seen kissing Danika Tanya in August 2023. That said, neither party has yet confirmed or denied this development.
Brett Oppenheim Is Now Single
Talking about The Oppenheim Group will certainly not be complete without mentioning Brett Oppenheim, who serves the company as a President and Broker. The highly successful realtor is also a proud developer and attorney, though he is also known for being a public speaker. Additionally, he is known for offering "masterclasses" to those looking forward to expanding their knowledge about the world of real estate through online lessons for realtors as well as investors. Since his break-up with Tina Louise in December 2021, Brett has not indicated that he might have started to date someone else.
Chrishell Stause Is Now Happily Married
Perhaps one of the most popular cast members from 'Selling Sunset,' Chrishell Stause seems to be thriving in her personal as well as professional life. The reality TV star works as a Realtor Associate for The Oppenheim Group and has been lauded for her work numerous times over the years. As viewers of season 7 may already be aware, Chrishell is now happily married to Georgia Flipo, AKA G Flip. The couple shared the news with the public in May 2023 and has been enjoying marital bliss ever since.
Mary Fitzgerald Is A VP For The Oppenheim Group
Mary Fitzgerald's connection with The Oppenheim Group is an old one, having joined the company at the very start in 2014. As of writing, she is part of the organization as a Vice President as well as a Realtor Associate. Happily married to Romain Bonnet, she has a son named Austin, who does not appear much in the Netflix series. The couple's journey in season 7 is both heartbreaking and indicative of just how strong their bond is. Hence, they take joy in celebrating their wedding anniversary every October 12.
Amanza Smith Is Now Focusing on Her Health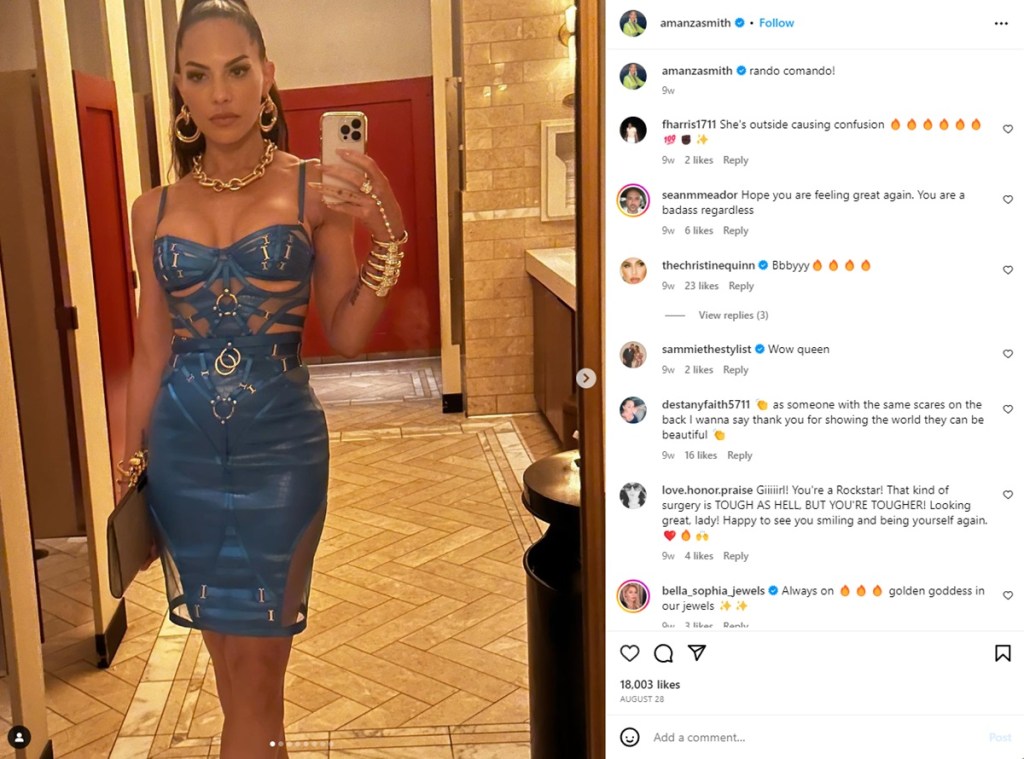 Not long after the production of season 7 of the show, Amanza Smith learned some devastating health news. "Come to find out, I had an infection in my blood that had caused a great deal of infection to be spread to the bones of my spine, and it's called osteomyelitis," she shared in an Instagram post in June 2023 to update the world about her ongoing medical procedure. Thanks to the medical professionals, Amanza was able to undergo the surgeries required to ensure that she would soon be on the path to recovery. As both a Realtor Associate and an Interior Design Specialist for The Oppenheim Group, she is a huge part of the company and received much support from her colleagues, including the Oppenheim brothers. While she was in the hospital, Amanza made sure to remain in contact with her son, Noah Brown, and daughter, Breaker Brown.
Emma Hernan Is Now A Businesswoman
A Realtor Associate for The Oppenheim Group, Emma Hernan has spread her wings and ventured into the world of business. As of writing, she is the proud Founder and CEO of Emma Leigh & Co, a company dedicated to making plant-based food options for its customers, like its delicious mini-empanadas. The realtor remains close to her father, Tom Hernan, whom she often brings to various events and who is perhaps one of her biggest supporters. Happily single, Emma is always down for having a great time with her friends, though she perhaps takes the most joy in the company of her adorable dog, Benny.
Chelsea Lazkani Is Now A Happy Mother of Two
With a passion for food and a real estate skill that many cannot help but envy, Chelsea Lazkani has emerged as one of the most intriguing cast members of 'Selling Sunset.' Her success as a realtor, combined with her frank personality, has allowed her to shine bright. The Netflix star is happily married to Jeff Lazkani, and the couple has two children, Maddox and Melia Lazkani, whom they love dearly. Additionally, Chelsea enjoys spending time with her friends, many of whom are also her colleagues.
Nicole Young Is A Proud Dog Owner
Nicole Young has been a Realtor Associate for The Oppenheim Group since December 2014 and remains keen on leaving an impact. The reality TV star is also associated with The Klassic Agency. Recently, in an interview with People, Nicole shared that she apparently had been meant to be part of the show since season 1 but was unsure at the time how it would affect her life when it came to privacy. As for her personal life, Nicole is happily married to Brandon Young. The couple enjoy the company of their two dogs, Charlie and Leo. In September 2021, their third dog, Frankie, went missing, and Nicole remains hopeful about being reunited with her soon.
Bre Tiesi Is Now Mother To a One-Year-Old
Despite her hesitance about continuing working with The Oppenheim Group at the end of season 7, Bre Tiesi is still a part of the company as a Realtor Associate. Additionally, she works as a model and is quite popular on the internet. She is in an open relationship with actor Nick Cannon and is a proud mother of their son, Legendary Love Cannon, who was born on June 28, 2022. The celebration of Legendary's first birthday in June 2023 was certainly a special occasion, and it seems evident that both parents love him very much.
Read More: Are Amanza Smith and Chrishell From Selling Sunset Still Friends?