HBO's 'Succession' follows the complex and almost Shakespearean tale of the Roy family as Logan Roy and his children's internal conflict sees them vying for their father's approval. However, as the fourth and final season hurtles towards the finishing line, Logan is no longer in the picture. The ninth episode of the season deals with Logan's funeral as an intricate game of politics and promises unfolds in the background. Shiv continues her alliance with Lukas Matsson and tries to bring Jeryd Mencken to their side. If you are wondering whether Shiv's efforts find success, here is everything you need to know about the ending of 'Succession' season 4 episode 9! SPOILERS AHEAD!
Succession Season 4 Episode 9 Recap
The ninth episode, titled 'Church and State,' opens with Shiv watching a news broadcast of the aftermath of the Presidential Election race as a clear winner is yet to be certified despite the ATN calling the election for Jeryd Mencken. Meanwhile, Roman prepares his speech for Logan's funeral and seems to have it together. Kendall calls Roman, and the brothers discuss Mencken's role in their overall plan to keep hold of Waystar RoyCo. Later, Rava calls Kendall and informs him that she will be taking the kids away from New York City as protests occur across the city, especially against ATN and Mencken.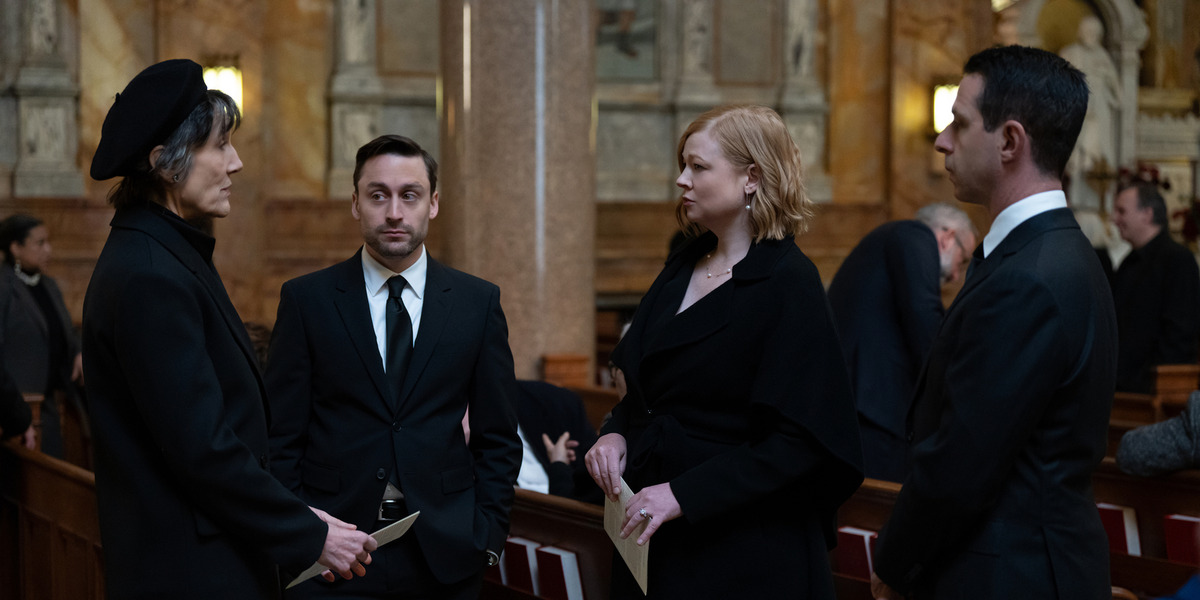 Meanwhile, Lukas Matsson and Shiv discuss their plans for taking over Waystar, but the exaggerated subscriber numbers pose a problem for them. However, Shiv suggests dropping the numbers while the media is preoccupied with the news of the Presidential Elections. Kendall confronts Rava and is pissed that his children will not attend their grandfather's funeral. Nonetheless, Rava drives the kids away while Kendall threatens her with legal action. Tom is stuck at work and orders Greg to hold a place for him at the funeral. He also instructs Greg to tell Mencken they made the call, declaring him the next President.
Kendall, Roman, and Shiv drive together to the funeral, and Kendall reveals Rava took the kids away from the city. Roman brings up their mother's invitation for a vacation, but the siblings unanimously turn it down. Shiv reveals that she is pregnant, and Roman responds by making some incest jokes. Roman and Shiv start bickering, and Kendall calms them down by reminding them of the sad occasion they are dealing with. Kendall's secretary, Jess, calls to inform him about a march heading towards their route, resulting in the Roys being confronted by an angry mob.
Kendall tells Jess to arrange a meeting with lawyers to get custody of his kids. However, Kendall is surprised and angry when Jess reveals she is quitting her job. Hugo informs Kendall about GoJo dropping the news of their subscriber count, but it is getting buried under the noise of the elections. At the church, Connor wants to give the eulogy, but Shiv turns him down after reading his speech which could potentially get the family into legal crosshairs. Greg arrives at the church and wants an intro with Mencken with Roman's help. However, Roman puts him in charge of observation duty.
Kendall, Shiv, and Roman reunite at the funeral with their mother, Caroline Collingwood. Others, such as Logan's present wife, Marcia Roy, and secretary, Kerry Castellabate, have also gathered to pay their respects. Matsson praises Shiv for her decision to bury the news of GoJo's subscriber count with the election news causing significantly low blowback. However, Matsson is concerned about bypassing Mencken and his regulatory constraints, which could prevent them from completing the takeover of Waystar RoyCo.
During the funeral, Logan's brother, Ewan Roy, delivers a scathingly honest speech about Logan, and Roman breaks down in tears when it is his turn to give the eulogy. As a result, Kendall is forced to step in. Kendall delivers a heartwarming eulogy perfectly encapsulating the spirit of Logan Roy. Shiv also takes a moment to say goodbye to her father. Tom fails to make it to the funeral, and Greg is forced to serve as the wheelman for the casket. Connot, Kendall, Roman, and Shiv visit their father's resting place and seemingly make their peace with Logan's passing before returning to the twisted game set to unfold within the family.
Succession Season 4 Episode 9 Ending: Does Shiv's Plan Work?
Toward the episode's end, the Roys and their guests gather for a post-funeral meet and greet where everyone tries to further their agenda, including cousin Greg who wants to ensure Mencken knows his role in calling the elections in his favor. Connor wants to discuss his ambassadorial role, while Kendall wants to know what actions Mencken will take to stop GoJo from taking over Waystar RoyCo. However, Shiv manages to get Mencken away from those hounding him and introduces him to Matsson. According to Shiv's plan, she wants Mattsson to propose installing a US-based CEO after taking over the company.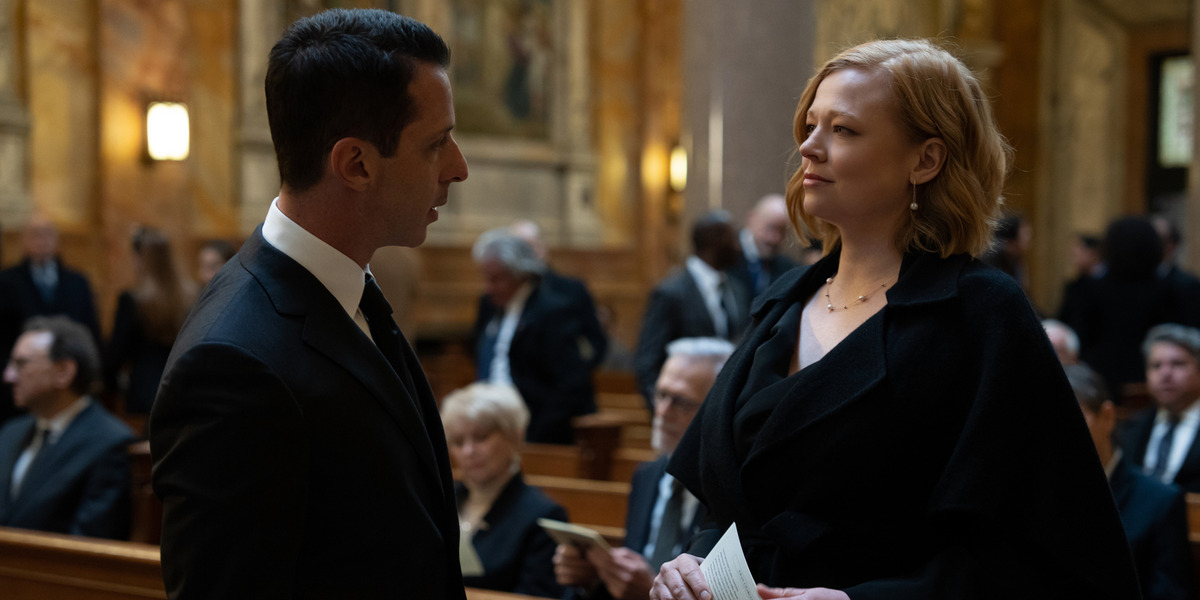 Matsson tries to convince Mencken to side with him, but when he fails to convince him, he suggests Shiv's name for the position of CEO to bypass the regulatory processes and ensure that GoJo buys Waystar. However, Mencken is concerned about Shiv's dislike for him and his political ideologies. Shiv assures Mencken that she is flexible, and the former leaves before promising to consider their offer. Kendall learns of Matsson and Shiv's plan from Hugo and speaks with Roman to devise a counter-move. However, Roman is convinced that Mencken will support them and leaves just as his video of sobbing at the funeral goes viral on the internet. Matsson calls Shiv and informs her that Mencken has accepted their proposal. Thus, the episode ends with Shiv returning to the forefront of the game and turning the table on her brothers. As a result, the conflict between Roys and Matsson reaches its peak ahead of the impending series finale.
Read More: Succession Season 4 Episode 8 Recap and Ending, Explained