'The Ark' reaches a point of no return in its eleventh episode as the characters scramble to resolve several crisis situations. The penultimate episode of the first season of the sci-fi series sees Lt. Sharon Garnet and her crew facing the nefarious Evelyn Maddox, who seeks an elusive package to cure a mystery ailment. Meanwhile, Angus, Lane, and Trust find themselves in Evelyn's capture as Garnet desperately tries to save them. On the other hand, Brice's condition worsens because of Klampkins, and he faces a near-death situation. If you are wondering whether Garnet saves her crewmates and Brice survives the death scare, here is everything you need to know about the ending of 'The Ark' episode 11! SPOILERS AHEAD!
The Ark Episode 11 Recap
The penultimate episode of the season, titled 'The Last Thing You Ever Do,' opens with Lt. Sharon Garnet sneaking aboard Ark Fifteen. Meanwhile, Brice, Eva, and Felix guide her from Ark One. Garnet searches for Angus and runs into some of Evelyn's guards. She quickly takes them out and makes her way to the weapons room. Garnet shares the ship's layout and the weapon's details with Eva on Ark One and instructs her to find a way to destroy the weapon. Meanwhile, Alicia and Dr. Kabir monitor the spiders in the med bay. The duo works on using spider venom to find a cure for Klampkins.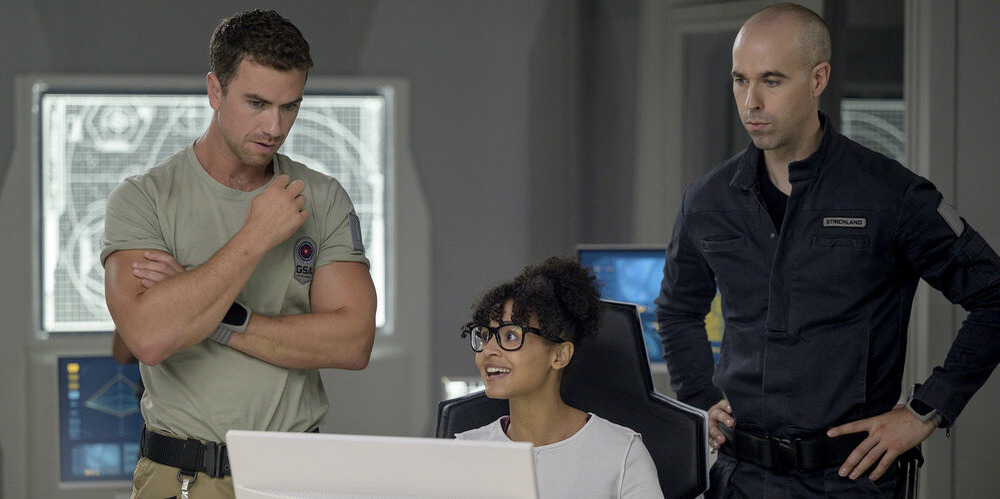 Alicia becomes upset after Kabir talks about Angus and admits to having feelings for him. Later, Alicia and Eva work together and guide Garnet to hack the mega weapon on Ark Fifteen. Garnet successfully hacks the weapon before heading out in search of Angus. Meanwhile, Angus is locked inside his quarter until Kelly arrives to take him on a dinner with her mother, Evelyn Maddox. Angus slowly unravels Kelly and Evelyn's complicated relationship and deduces it is Kelly's weakness.
Elsewhere, Garnet discovers important components for the Klampkins cure from Ark Fifteen and relays it to her home ship. On the other hand, Evelyn visits William Trust and Spencer Lane in their quarter. She demands Trust give her the programming necessary to restart the planetary rotation on Proxima B and make the planet habitable. After Trust refuses, she dislocates his finger and threatens to harm him before leaving. Later, Lane fixes Trust's finger and reassures him that Garnet will save them.
Later, Angus has dinner with Kelly and Evelyn. However, Evelyn is dismissive of Angus and does not want him to join the team of scientists on Ark Fifteen. However, Evelyn suffers a heart attack and falls unconscious. The heart attacks are the final stage of rotation Klampkins and Evelyn is on her death bed. However, Angus' timely intervention saves Evelyn's life, and she starts respecting him. On Ark One, Brice also falls unconscious because of his Klampkins entering an advanced stage.
Meanwhile, Garnet finds the prisoners' cell and discovers Lane and Trust inside. However, Garnet is only willing to save Angus as he did not betray her. Nonetheless, Garnet ends up imprisoned after a guard catches her. Lane apologizes to Garnet and asks for an opportunity to right his wrongs. Elsewhere, Kabir and Alicia administer a cure to Brice without proper testing, adversely affecting him. An ailing Brice entrusts Felix with the ship's leadership in case anything happens to him and Garnet.
The Ark Episode 11 Ending: Does Garnet Save Lane, Angus, and Trust?
In the episode's final act, Brice recovers from the heart attack, but his condition is still dire. As a result, Eva professes her love for him. Meanwhile, Evelyn learns that Garnet is trying to free Lane and Trust from Ark Fifteen. However, she cannot shoot down Ark One in retaliation since the ship has valuable cargo. Meanwhile, Garnet engineers an escape from the cell with Trust and Lane. Meanwhile, Angus convinces Kelly to let him meet Trust and Lane. He promises to turn them over to Evelyn's side, earning Kelly her mother's respect. Eventually, Angus and Garnet reunite on the bridge. However, Angus seizes the opportunity to knock out Kelly and escape with his group.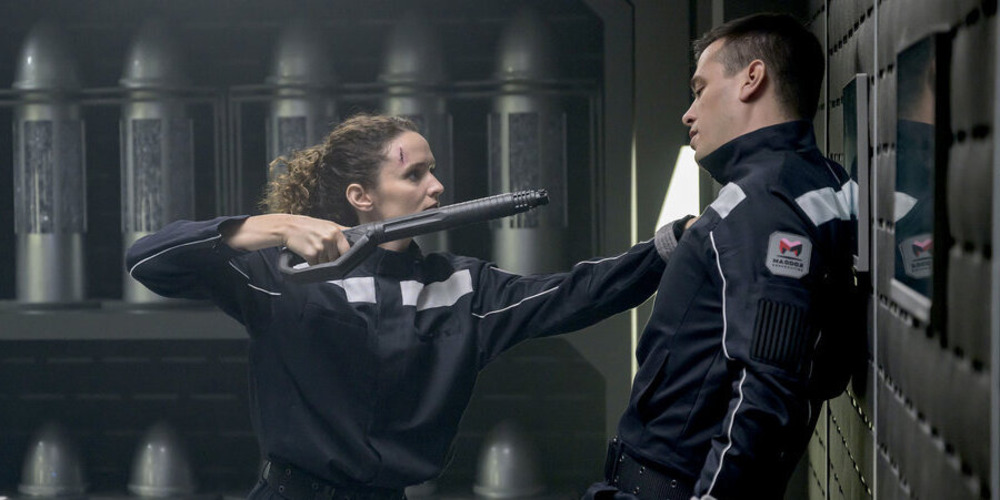 Lane and Garnet fight a horde of guards as they travel to the shuttle. Meanwhile, Evelyn finds Kelly knocked out and insults her for failure in keeping hold of Angus and freeing the others. Eventually, Garnet's group reaches the shuttle and prepares to take off. However, they cannot leave due to a shuttle system malfunction. As a result, someone needs to pull an external lever for the shuttle to take off. Lane volunteers to perform the task despite knowing it would mean he is recaptured. However, Lane intends to prove his loyalty to Garnet and pulls the lever.
Consequently, Lane is captured by the guards as Garnet, Trust, and Angus fly off to safety. Evelyn makes a last-ditch attempt to stop the group and fires her mega weapon on their shuttle. However, Eva's machinations cause the shuttle to implode upon firing. The episode ends with Lane awaiting his impending fate while Garnet's crew celebrates the return of their commander. While Garnet delivers a massive blow to Evelyn, she will likely face retribution from the Ark Fifteen's commander. Moreover, without Lane and Brice recovering, Garnet faces an uphill battle against Evelyn's overwhelmingly powerful forces.