Let's face it, at least once in our lives, we've all had that phase where we couldn't help but obsess over reality shows. Call it a guilty pleasure or simply a way of escaping reality, we cannot deny that shows involving real people with real problems can at times be much more entertaining than the ones that are works of fiction. With the rise in social media, there seemed to be a massive drop in the demand for reality shows but that's where 'The Circle' comes in.
The show uses social media as an asset by involving a faux social media platform where the contestants compete against one another to be liked by the others. The ones who are seemingly the "most real" in their posts and pictures eventually get a shot at winning the game. When it comes to the overall setting of this show, it is somewhat of a spin on "Big Brother," where all the contestants are confined to an apartment building. Each contestant acquires an apartment in the building and only gets to interact with the others through the social network.
With that said, if you're wondering where exactly is this reality show held, read on further to know all about its filming location.
The Circle (Brazil) Filming Location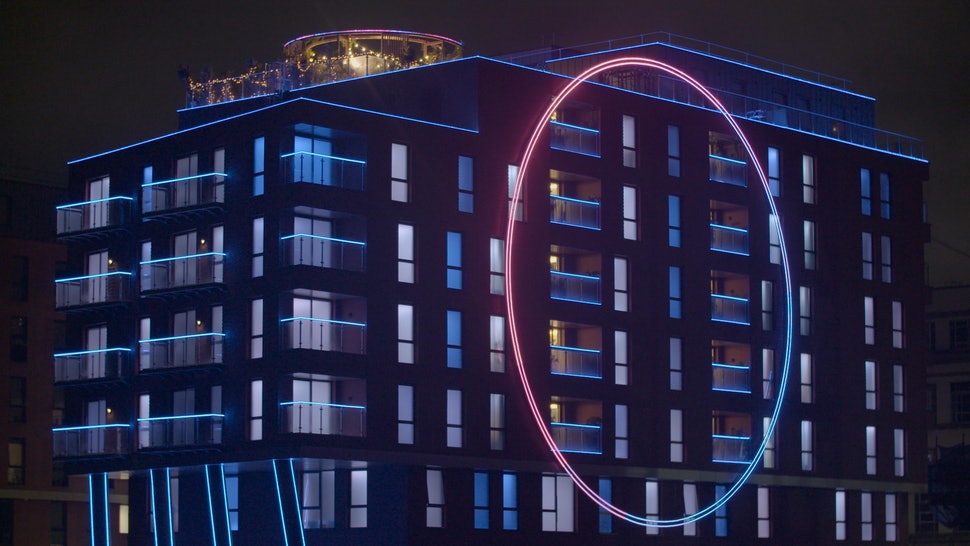 As mentioned earlier, the players of 'The Circle' move into the same apartment building and acquire individual apartments. And throughout the runtime of the show, until they get eliminated, they are not allowed to leave the apartment. So for obvious reasons, unlike other popular reality shows like 'Survivor' and 'The Bachelor' that walk you through several exotic places, the entire filming of 'The Circle' takes place only in one single location. 'The Circle (Brazil)' has been filmed in an apartment building in Salford, England which is exactly where the filming for the American version and second season of the British version took place.
Salford, United Kingdom
In an interview, the creator of the show, Tim Harcourt, also confirmed that it was actually filmed in Salford. According to a local news channel, the illuminated circular logo of the reality series was spotted on the Adelphi Wharf Appartments which sits on the bank of the River Irwell. The complex has been recently opened and some of its apartments are apparently still under construction. And just like you see in the show, it has its own car park and a well equipped underground gym. Moreover, it is also located extremely close to the Machester City Center and the University of Salford.
The series is probably being shot in the same venue again because the building is already equipped with cameras and high-tech gear, which was used in the previous seasons. And instead of setting up a whole new apartment complex just for a new season, it was probably more economically convenient for the creators of the show to use the old location.
You can spot the apartments on Google Maps below:
Check out the video below to get a complete tour of 'The Circle' Apartment Complex:
Read More: Best Reality Show on Netflix