Shawn Levy's 'The Internship' has Owen Wilson and Vince Vaughn teaming up once again after 8 long years. The "Frat Pack" duo were last seen together in the cult-favourite, 'Wedding Crashers'. And for their next big adventure they gatecrash a Google internship. Yeah, 'The Internship' is a wacky summer comedy about two middle-aged men interning at Google, competing against their fellow interns, who're both brighter and younger.
The film centers around two hapless 40-something year old salesmen, Billy and Nick, as they face their sudden unemployment. In an attempt to turn things around for them, they apply for an internship at Google. Despite lacking relevant experience, they're accepted due to their unconventional answers.
'The Internship' then follows the two as they spend their summer competing to in teams to land themselves a job. It stars Wilson as Nick, and Vaughn as Billy, along Josh Brener as Lyle, Dylan O'Brien as Stuart, Tiya Sircar as Neha, Tobit Raphael as Yo-Yo, and Rose Byrne as Dana. The film also features Max Minghella, Aasif Mandvi, Josh Gad, among others.
'The Internship' is essentially a comedy about group of underdogs accomplishing what they set out to do. Despite being regarded as rejects, Nick and Billy's team eventually wins the challenges and the job. The film also serves as a subtle commentary on recession and the economic struggles of Gen-X. 'The Internship' boasts of the iconic pairing of Wilson and Vaughn, and is often hilarious. But despite the duo's chemistry and humour, the film fails to hit the mark. So is there a possibility of getting a sequel to 'The Internship'? Or is that a ship that has sailed? Here's everything you need to know.
The Internship 2 Release Date: Will there be a sequel?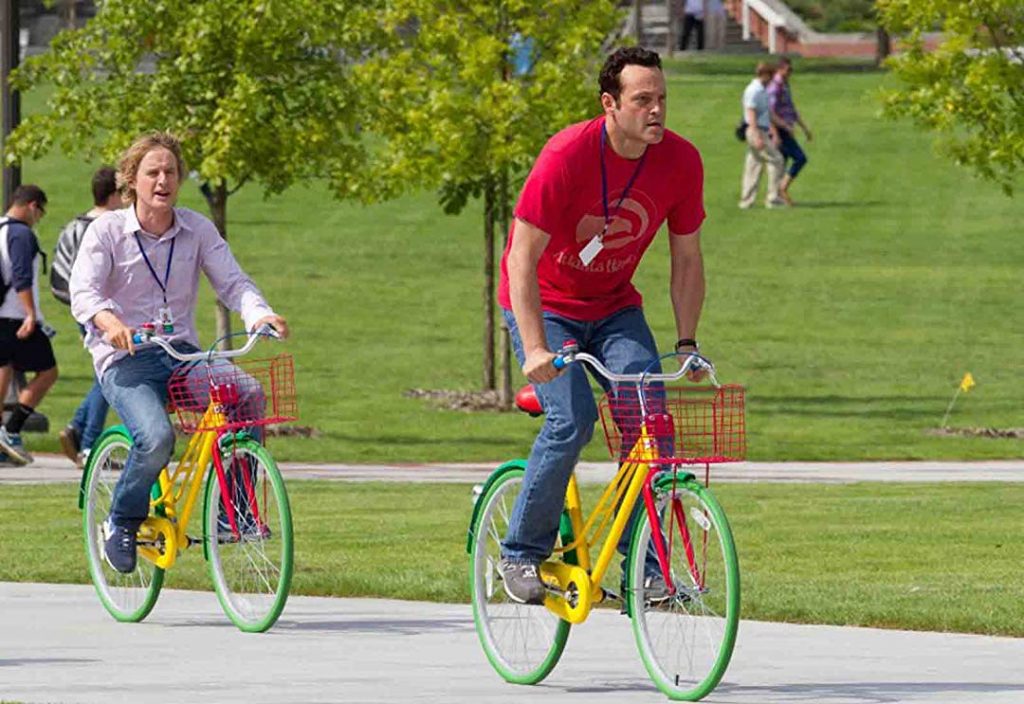 'The Internship' is meant to be a goofy, summer comedy. But in reality, it seems like an almost 2-hour long Google infomercial. This obviously did not sit too well with critics, who gave the film a lukewarm response. In fact, it largely received mixed to negative reviews from critics, with a 35% score on Rotten Tomatoes. But it did manage to be moderately successful at the box-office, grossing upto 93.5 million worldwide, against its budget of $58 million. However, this was nothing in comparison to the success of the duo's previous endeavor.
The film was largely criticized for its predictability. It is ridden with clichés, and has nothing new to offer. It was also derided for promoting "Googliness", almost in an attempt to sell Google's culture and philosophy. Having said that, the film certainly has potential. But it does not really manage to reach it.
Apart from the lukewarm response from critics, there are also other reasons for the film's weak performance. For starters, Vaughn revealed how the film was meant to be an R-rated comedy. According to him, the PG-13 rating did not let the film reach its potential. In an interview with Cinemablend, Vaughn expressed:
"Well, The Internship was supposed to be an R-rated comedy. Right before we started shooting, the studio said they wanted to go PG-13. I said I just didn't see that."
Another obvious reason is that the "Frat Pack" comedies haven't exactly aged well. The timing of 'The Internship' was not ideal, considering the last time we saw Vaughn and Wilson together was in 2005. While these comedies ruled the late '90s and early 2000s, the laughs of the audience eventually withered away as their wants changed with time.
This explains why there haven't been any talks or speculations about a sequel to 'The Internship'. The film's weak performance reveals the end of an era, marking a new beginning where the audience wants something else, something more. This is precisely why 'The Internship' wouldn't happen. But if at all it does, we shouldn't expect it before 2025.
Read More: Will There be a Gone Girl Sequel?