Horror has many faces, and zombies are one of those faces. The idea of Armageddon isn't just the destruction of the whole world anymore. It is about the annihilation of humanity as we know it. A single virus turns from bad to worse, and in its worst phase, kills people, only to bring them back as mindless cannibals. This is just the basic concept that has been adopted by the filmmakers. And because this is a cliché, the only way to escape failure of a story is by experimenting with the characters, putting them is the situations that they have never faced before and set a fate for them that the audience will not see coming. Experimenting with the genres of this genre has also gained popularity. The success of movies like 'Shaun of the Dead' and 'Zombieland' has proved that horror is the not only thing that these stories can deliver. Television has also been cashing in on the love of the people for zombies and has produced some truly amazing shows like 'The Walking Dead'.
Yes, there are bound to be some similarities in all these films and TV shows, but how the storytellers choose to narrate these stories is what matters the most. If you too are a fan of the genre then the future holds a lot of promise, my friend!A t this point, the question that might be circling your mind is what are the new zombie movies? Well, the good news is that we have a clear answer to that question. Here's the list of upcoming zombie films scheduled to release in 2019 and 2020 that will further help you complete your "guide to a zombie world". We can only hope that the latest zombie movies would be as good as some of the recent ones.
11. Zombie Blondes (TBA)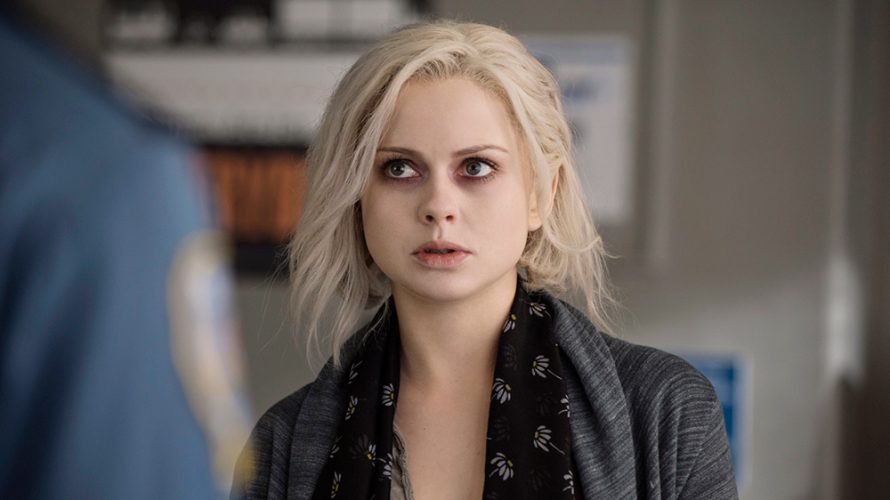 Based on the book of the same name by Brian James, 'Zombie Blondes' tells the story of a teenager named Hannah, who moves to a new town with her father. Her inner alarm starts blaring as soon as she steps foot in the town, however, it takes some time for her to discover the cause for it. Meanwhile, the town exhibits an eerie quietness and she observes that more and more properties are being put up for sale. On her first day in school, she meets a group of cheerleaders, who, obviously, are the most popular girls in the whole school. But there is something seriously wrong with them. No, not the way it happens to be in the normal movies! These ones are not dumb and scheming. They are actually all blonde and unnaturally pale. This could point them being a member of the Cullen family, but actually, it is worse. To her advantage, Hannah finds a friend in the form of a boy who has been in the town long enough to know its secret and he constantly warns Hannah to stay away from the path of the cheerleaders.
Read More: Upcoming Sci-Fi Movies
10. Twittering from the Circus of the Dead (TBA)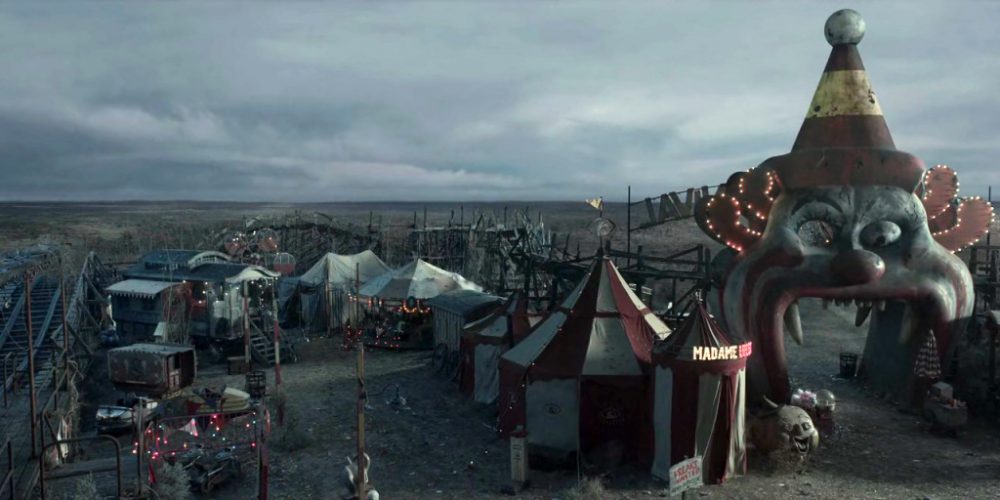 Today's is the world of social media. Everyone is connected to the rest of the world through one way or another. Facebook, Instagram, Twitter, Snapchat: choose your poison! Finding some of this generation not being on any social media platform is like finding a unicorn in the middle of a busy street. However, that's not what brought me here. 'Twittering from the Circus of the Dead' was a short story written by Joe Hill. It told the story of a teenage girl who excessively uses of social media. When her family decides to embark on a road trip, Blake feels revolted at the thought of spending so much time with her family in a congested place. In order to vent out her anger, she begins to tweet her way through the journey. While in the beginning, her tweets are mostly rants, the tone changes when her father decides to stop and visit a circus in the middle of nowhere. They soon find out that it was not such a good idea. The story is being turned into a film now and mayhem can be expected of it, especially considering that Hill is the son of "the King of Horror" and has the knack of writing stories in the same vein as that of his father's.
Read More: Upcoming Superhero Movies
9. Rise of the Living Dead (TBA)
George Romero's 'Night of the Living Dead' is what started it all for the zombie genre. The film told of an event that changed people into flesh-eating animals. Romero's son, for a long time, has been working on a script that will be a prequel to his father's 1968 movie. It will focus on a couple of years before the events of 'Night of the Living Dead' and will trace the all the things that lead up to the story of the film. Although the script has been finalised for some time now, the production of the film is yet to begin. However, Cameron Romero seems adamant at telling his story, so pretty sure, the film will be made, hopefully in the near future.
Read More: Upcoming DC Movies
8. George A. Romero's Road of the Dead (TBA)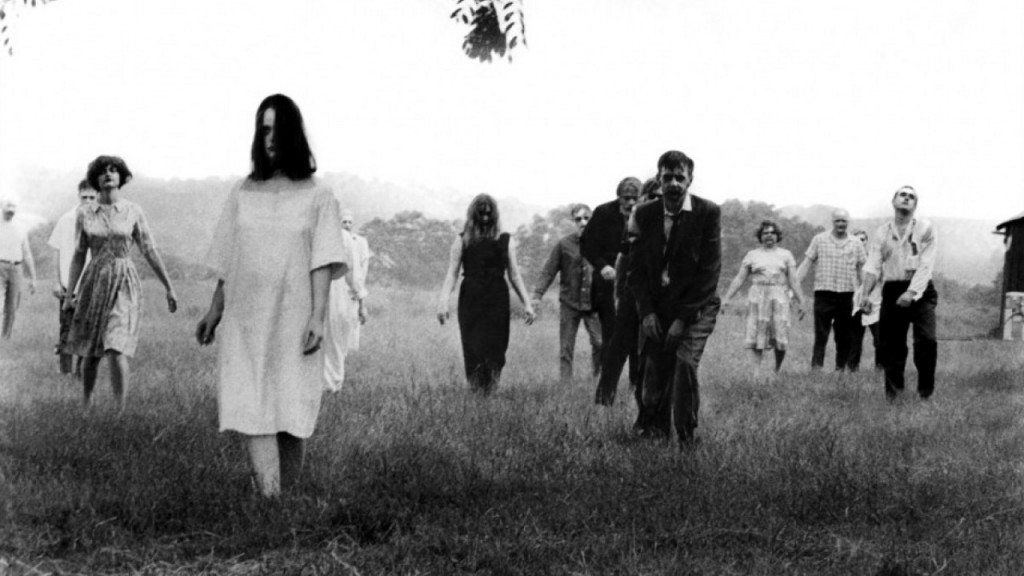 You might think that the genre of zombie movies is quite recent, especially considering the significant rise in the number of zombie films in recent years. But, in believing so, you would be wrong by a long stretch. It was in 1968 that a movie came out which set a new type of category in the horror genre. George A Romero's 'Night of the Living Dead' became a landmark as it first introduced the concept of zombies to the world. It is this basic concept which is still used in movies nowadays. Now, it is being said that Romero is working on a new film about zombies called 'Road of the Dead'. There is a faint idea about this film which dictates that this film will feature zombies racing cars in a Colosseum-like setting for the amusement of humans! Sounds interesting, and rather different to me. Let's see how it turns out.
Read More: Upcoming Star Wars Movies
7. The Zombie Survival Guide (TBA)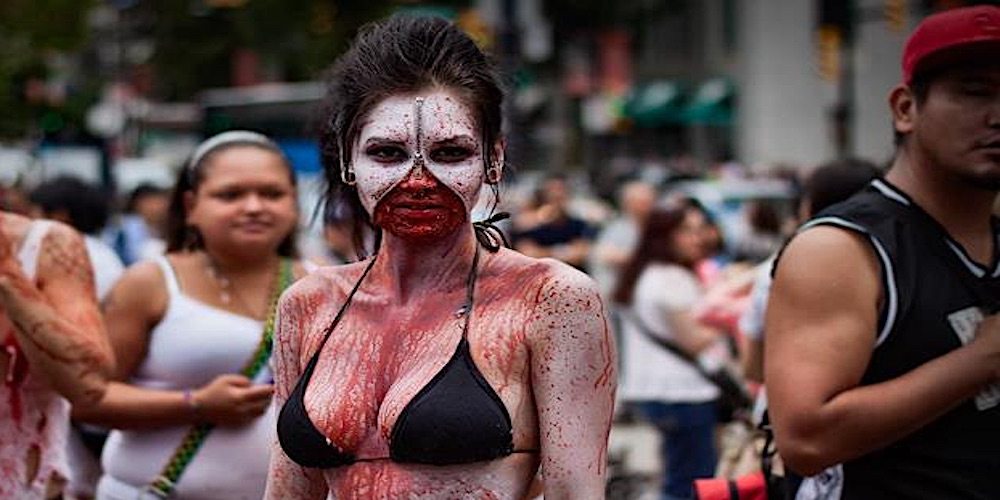 Watching so many movies about zombies, you wouldn't be paranoid to think about preparing for something like this. All the experience that you have accumulated over the years might one day, actually, save your life! You need to watch the films and TV shows of this genre to be prepared for a zombie attack. I mean, it's not like they print manuals or guides about this. Wait a minute? Don't they? A quick search on Google will tell you that they actually do! In fact, it was done quite some time ago. Max Brooks is an American author who wrote a series of books that are supposed to act as a guide in case you ever land yourself in a world full of zombies. (Now you know the only book that could save your life!) But, in the meantime, while this tragedy doesn't fall on our heads, what are we to do with this book. Some people gave some serious thought to this and came up with the idea of making a film out of it. Turns out, these people work in the Paramount studios, the same one who is also responsible for 'World War Z'. Also, Brad Pitt might be involved with the project!
Read More: Upcoming DC Animated Movies
6. Breathers: A Zombie's Lament (TBA)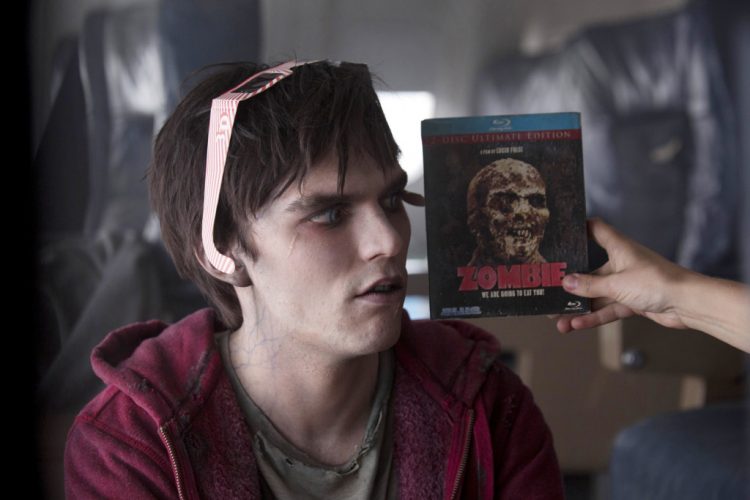 If I told you that there is a scope for romance in a zombie movie, then don't feel so surprised. It has already been done before, and if you don't know where, you should watch 'Warm Bodies' starring Teresa Palmer and Nicholas Hoult. And while your limited imagination might not allow you to think of zombies as nothing more than flesh-eating dumb heads, there is actually much more to their identity. If you want to get into some serious moral talk about the life of a zombie, you should talk to S. G. Browne. Or, if it seems like an out of reach thing, you could just read his book, 'Breathers: A Zombie's Lament' which is soon going to be adapted for the theaters near you. At the focus of this story is Andy Warner. A tragic accident changed the meaning of being human for Andy. This happened as he turned into a zombie and started seeing humans as nothing more than food. It didn't take time for him to become a social outcast, and depressed with his conversion, he now spends life in the basement of his parents' home. It is during a visit to the Undead Anonymous meeting that he meets the love of his zombie life, named Rita. And the entry of another rogue zombie introduces him to the possibility of letting go of his limitations and feasting on humans.
Read More: Upcoming Comedy Movies
5. World War Z 2 (TBA)
The most successful zombie film of recent past has its sequel scheduled to release this year but it is not sure as of yet since a script does not appear to be ready. However, it seems as if David Fincher is on board and any Fincher film should automatically merit a watch. Starring Brad Pitt, this film will be a sequel to the World War Z. If the zombie apocalypse in the first film was anything to go by the second one promises to deliver on ample action and zombie films mean death and gore and plenty of bullets. We can't wait to see what Fincher does with the film but it is sure to be an exciting watch.
Read More: Upcoming Disney Movies
4. Train to Busan 2 (TBA)
When a workaholic father, unable to give enough time to his daughter, agrees to take her to Busan to see her mother, a zombie apocalypse breaks out in their hometown. An escaped woman, who hurriedly boards the train, later zombifies and sets off a chain of events, which claims several lives in the process. The South Korean zombie horror movie, which was a runaway international success, received several awards in the Asian countries and is all set to receive its sequel. Director of the first film, Sang Ho-Yeon, is on-board and is developing the film with writer Joo-Suk Park
Read More: Upcoming Action Movies
3. The Dead Don't Die (TBA)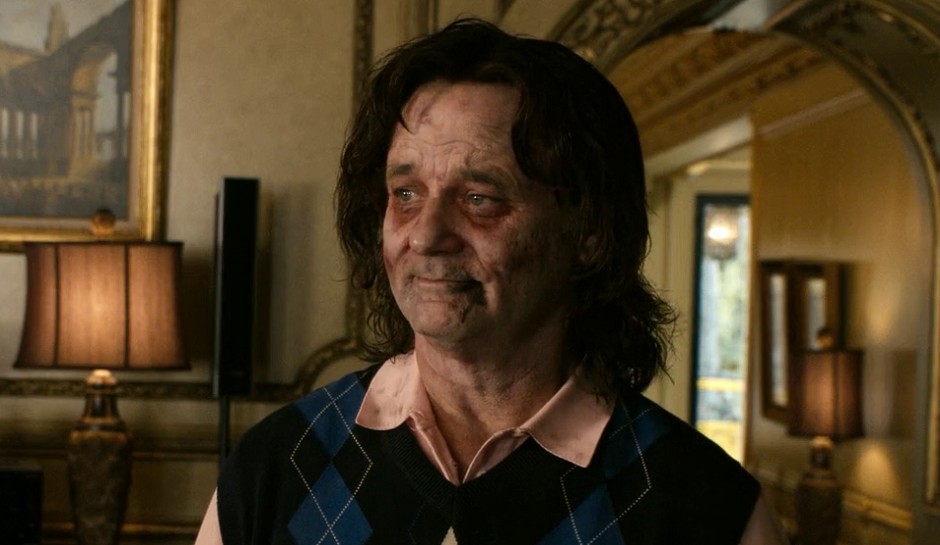 The genre of zombie movies has widened over the years. It used to be a subgenre in the category of horror, which it still is. But, now, it has its own subgenres. Filmmakers have been experimenting with it for some time now, and one of the most prominent branches of it have come out in the form of comedy. 'Shaun of the Dead' and 'Zombieland' are only a couple of movies that have mixed and frothed the categories of zombie world and comedy movie in one screen. Now, 'The Dead Don't Die' will attempt to do the same thing. We don't have much idea about the plot of the film, but what we do know is that some very big names in Hollywood are a part of it. Selena Gomez, Adam Driver and Austin Butler will appear in the leading roles, but that's not it. Things get better in the supporting cast, where Bill Murray's name appears alongside the film. Coincidentally, Murray also appeared in 'Zombieland', as himself, and added to some quality moments in the film. We just hope that he has a better fate in this film than he had in the last one. Chloe Sevigny, Tilda Swinton, Steve Buscemi and Danny Glover will also be a part of the film.
Read More: Upcoming Movie Remakes
2. Zombieland Too (October 11, 2019)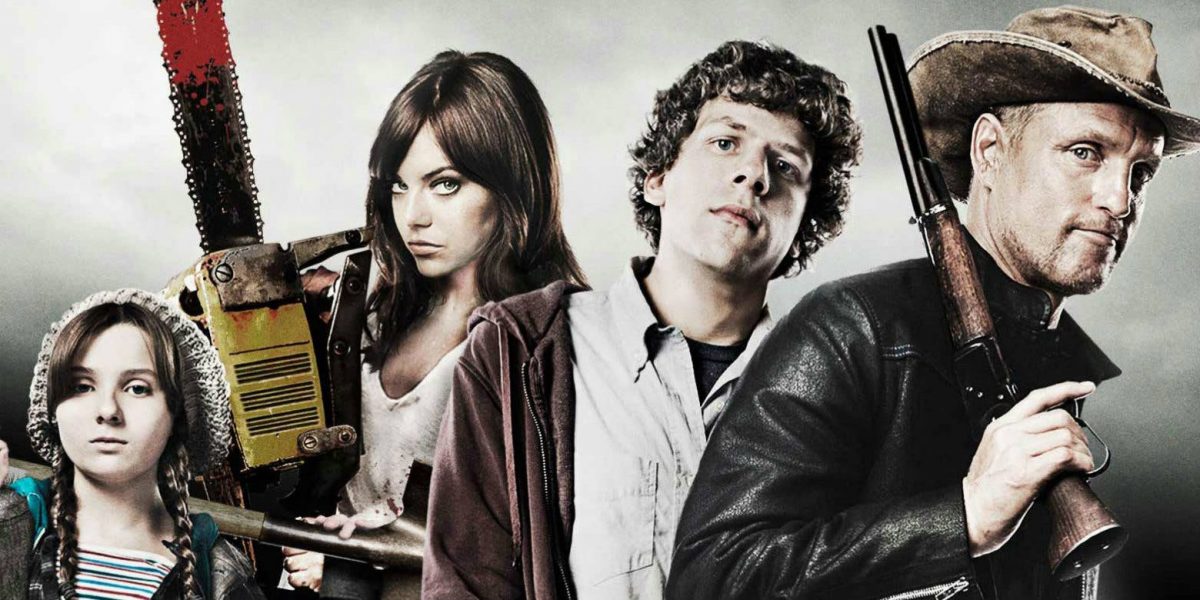 There are only a few ways in which the story of people living in a world full of zombies could end. Worst case scenario, they are eaten by zombies and turn into one themselves. A little better than that is to be killed before you are turned. A little better is to die of hunger or thirst, or sheer boredom of being alone. And even if you do find humans, who's to say they won't screw you over. So, how do you survive in such a world? Simple! You lay down some ground rules and you always follow them. Always! This is how Columbus had been faring in this new world. He knew what was needed of him and stuck with it. But then, he met Tallahassee and soon after, the con sisters, Wichita and Little Rock. In the events of the first film, we saw Columbus becoming a part of the group that couldn't have been more misfit. They rode off into the darkness in their worn-down car. Normally, a story would end at this note. But that story would have been set in the world of fairies and princess. But this is no Disney movie and there are no endings like this in 'Zombieland'. For years, fans anticipated a follow-up that would continue with the adventures of the fantastic four. It took ten years, but it is finally happening now. Some new rules are going to be added in the book of survival as new threats will emerge in the second part.
Read More: Upcoming War Movies
1. The Walking Dead trilogy (TBA)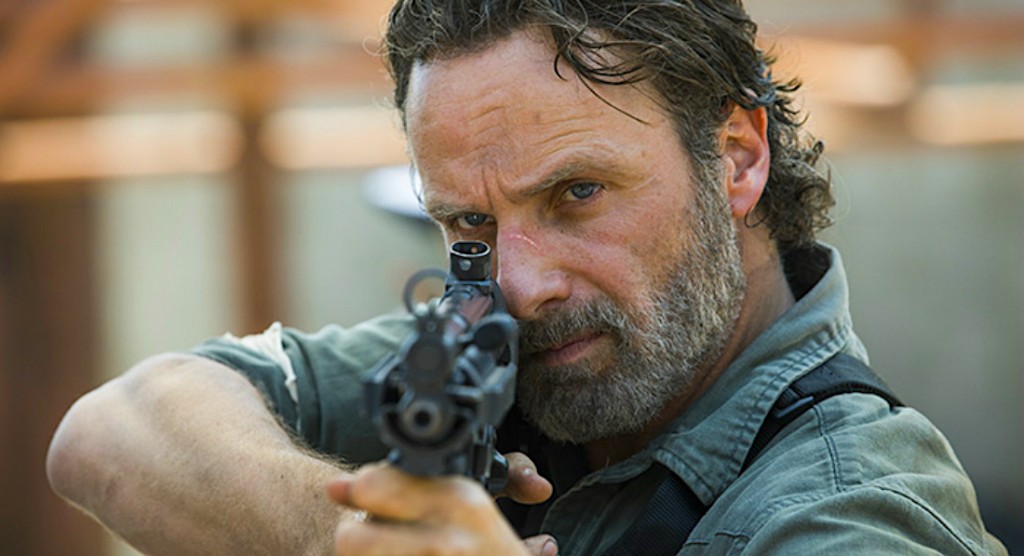 'The Walking Dead', no matter its genre, is one of the best television shows of this time. The show has come a long way since its first season and evolved into so much more than just a story about a bunch of people running away from zombies. Based on the popular comic book series of the same name, the show came at the time when the zombie genre was only known for its bloody and gory ways. 'The Walking Dead' showed the world that there can be quality content in this genre as well. With well-written character and impeccably drawn storyline that arched over a whole season to bring everything together, 'The Walking Dead' deserved all the praise that it received. And much of it was because of Andrew Lincoln. In the lead role of Sheriff Rick Grimes, Lincoln gave one refined performance after another and left no stone unturned in his study of the protagonist's complicated character. When Lincoln decided to call quits with the show, everyone assumed that it was the end of the story for Rick. However, contrary to our expectations, the story runners decided to keep him alive. And now we know why. Lincoln might be done with Grimes, but the character isn't letting go of him yet. Recently, it was declared that there will be not one, not two, but three (and that number could easily go up) movies set in the universe of 'the Walking Dead'. And who will play the role of the lead? None other than Andrew Lincoln. Reporting back to duty soon!
Read More: Upcoming Comedy Movies