Created by Kurt Smeaton, 'Children Ruin Everything' is a sitcom that chronicles the lives of Astrid and James, a once young and loving couple whose life and world have reshaped ever since they gave birth to their three children. Swallowed by responsibilities and duties related to their kids, the couple struggles to hold onto their respective identities of the pre-kid life.
Featuring hilarious onscreen performances from talented actors like Meaghan Rath, Aaron Abrams, Nazneen Contractor, Mikayla SwamiNathan, and Logan Nicholson, the comedy show focuses on the transition one goes through when welcoming a child of their own into this world, which keeps the viewers hooked and entertained through each episode. At the same time, the use of different locations, including the couple's residence, makes one wonder where 'Children Ruin Everything' is shot. If you are interested in finding out the same, we have you covered!
Children Ruin Everything Filming Locations
'Children Ruin Everything' is filmed in Ontario, particularly in Hamilton and Toronto. According to reports, the shooting for the sophomore round began in April 2022 and concluded after 61 shooting days in mid-July. As for the third season, its principal photography commenced in April 2023. Now, without much ado, let's look at James and Astrid's lives and get a detailed account of the specific locations where they attempt to handle their children.
Hamilton, Ontario
Most of 'Children Ruin Everything' is lensed in and around the port city of Hamilton, with the production team traveling across the city to numerous neighborhoods and streets to shoot different scenes against suitable backdrops. It appears that many of the interior sequences are recorded inside actual establishments. For instance, the filming unit reportedly sets up camp in and around Donut Monster at 246 Locke Street South in Hamilton for taping a few key scenes. The area around the eatery, Charlton Avenue West & Locke Street South, including the Hamilton Amateur Athletic Association Grounds, is also featured in the series.
Various significant portions of 'Children Ruin Everything' are also shot at Knollwood Golf Course in the historic town of Ancaster, Stanley Avenue, in Hamilton, and the Christie Lake Conservation Area in Dundas. Situated in Southern Ontario on the western end of the Niagara Peninsula, Hamilton has several local attractions. This includes the Canadian Warplane Heritage Museum, the HMCS Haida National Historic Site, Dundurn Castle, the Canadian Football Hall of Fame, the African Lion Safari Park, and the Cathedral of Christ the King, some of which you might spot in the backdrop of a few scenes.
Toronto, Ontario
For shooting purposes, the production team of 'Children Ruin Everything' also travels to the capital city of Ontario — Toronto. They use the city's vast and versatile terrains in almost every other episode of the series. Popularly known as Hollywood North, Toronto is a prominent filming site for different productions besides the comedy series. Some notable ones include 'Uncle Buck,' 'Mean Girls,' 'Scott Pilgrim vs. the World,' 'My Big Fat Greek Wedding,' 'Glamorous,' and 'Schitt's Creek.'
Is Children Ruin Everything a True Story?
'Children Ruin Everything' is somewhat based on a true story as it is inspired by the belief system of many people that parenting is time-consuming, expensive, and frustrating most of the time. The hilarious yet seemingly realistic storyline can be credited primarily to the creator, Kurt Smeaton, and the writers, including Jessica Meya, Nadine Bhabha, Rob Michaels, Wendy Litner, Shebli Zarghami, Kathleen Phillips, Andrew De Angelis, Anita Kapila, and Courtney Jane Walker, who make the most of their creative minds and brilliant penmanship.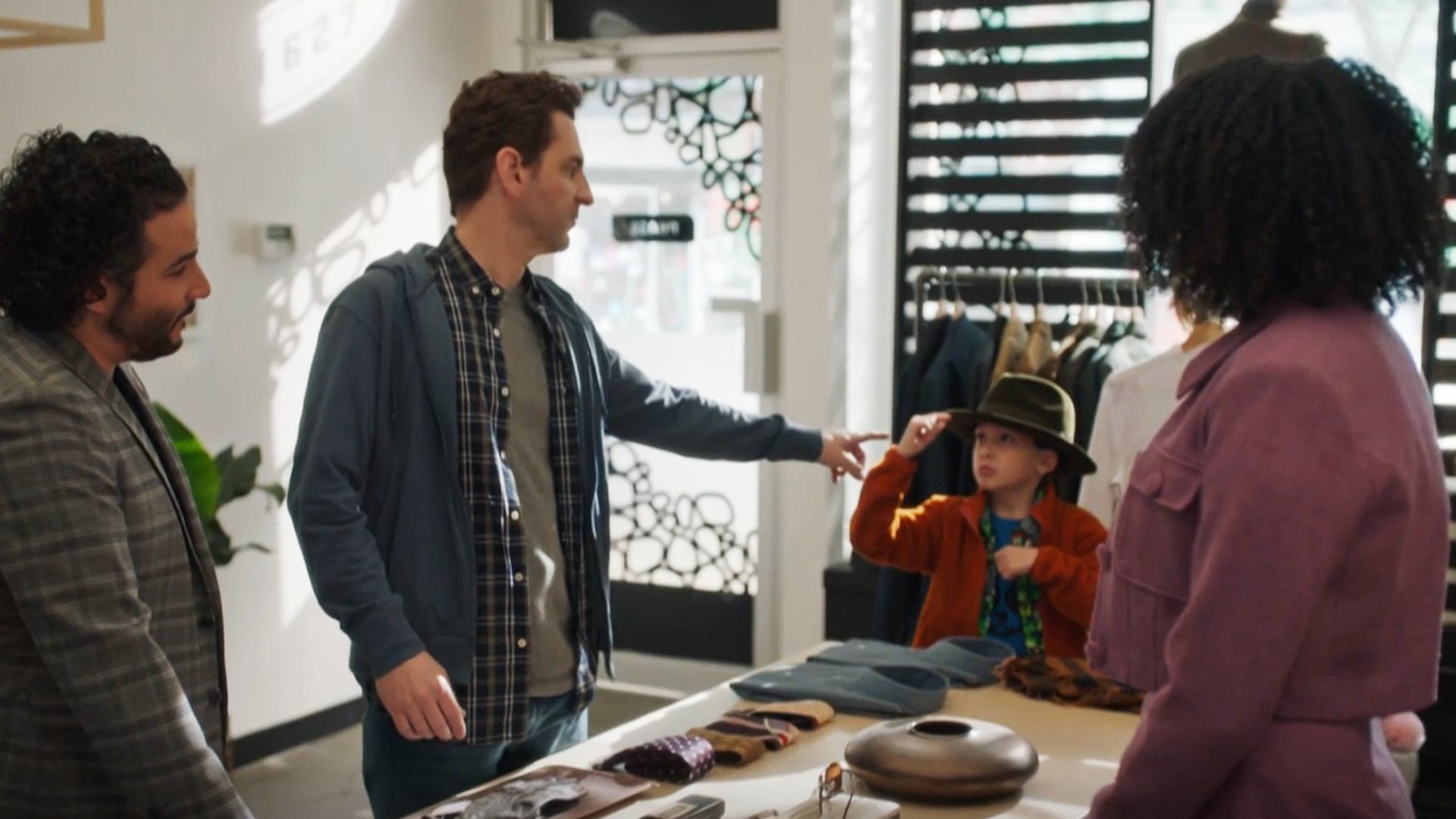 In an October 2022 interview with The Televixen, Aaron Abrams talked about how they worked towards making each episode better than the last and striking a strong chord with the audience. He expanded, "That's what the writers are trying to do, and each episode comes directly from our showrunner, Kurt Smeaton's life. It's a love-forward, fun comedy, but Kurt is pouring his guts out and his personal story out on every page. Meaghan and I try to honor that, and that's what ultimately connects with audiences."
Described as a love letter to parenting by the creator Kurt Smeaton in a conversation with Toronto Star in January 2022, the show was conceived by him as he went through some articles that made some reasonable points as to why childless people were happier than parents. He claimed he was offended at first, but then he took it as his inspiration to come up with "a show that acknowledged that but also showed the other side, which is having a family is worth it." So, it would be fair to say that although 'Children Ruin Everything' is not based on a particular true story, it is inspired by the amalgamation of actual experiences that parents go through across the globe.
Read More: Best Parenting Movies