During the early hours of February 24, 2019, a boating accident near Parris Island, South Carolina, left one dead and five others reeling from it. Anthony Cook was one of the five, and the person that unfortunately passed away was his girlfriend, Mallory Beach. This boat belonged to their friend Paul Terry Murdaugh, whose family had held tremendous, indubitable influence across their native of Low Country, South Carolina, for literal generations.
HBO Max's 'Low Country: The Murdaugh Dynasty' as well as Netflix's 'Murdaugh Murders: A Southern Scandal' focuses on the aftermath of this tragic accident and the series of bizarre and shocking revelations to follow. They also feature Anthony, who talks about the pain of losing his girlfriend.
Who is Anthony Cook?
On that fateful 2019 evening, Anthony and Mallory had plans to attend a house party on Paukie Island with his cousin, Connor Cook, Connor's girlfriend/Mallory's best friend, Miley Altman, Paul, and his girlfriend/Mallory's friend, Morgan Doughty. They thus met at Paul's river property, where he said they'd travel by his family boat to the party for comfort. But earlier in the day, the then-19-year-old had used his older brother Buster Murdaugh's ID to purchase alcohol at a local convenience store.
The truth is the group left the party around midnight, but then Paul and Connor decided to go to a bar in Beaufort, South Carolina. The duo had a couple of drinks before returning to the boat and that's when the group finally left to return home at around 1 am. It was reported that by this point, Paul had become belligerent and intoxicated, with a blood alcohol level three times over the legal limit. Anthony later stated that Paul refused to let anyone else drive the boat. He did honestly think about taking an Uber home with Mallory, but he also didn't want to leave their friends behind despite the dangerous conditions.
Anthony said, "The whole way [back], everybody was fighting and arguing. We drifted around in circles numerous times. We idled along… Miley was steady hollering that she had to work the next morning. She was ready to go. All Paul was doing was making a fool of himself… then for some reason, Paul acted like he was on drugs or something. He started taking off his clothes during one of the arguments, and it is 40 degrees outside." He also once stated that Paul often left the helm to mess around, got angry whenever anyone else tried to steer, and got into an argument with Morgan before putting the boat at full speed.
Anthony further recalled, "I finally got to the point I grabbed my girlfriend and put her in my lap in the bottom of the boat, and I was holding on with my eyes closed. next thing I know, I'm in the f—ing water, and I can't find her." The boat had crashed, ejecting Paul, Anthony, and Mallory. While the others were accounted for and the two boys managed to make it to the surface, Mallory was missing. However, Anthony did not waste a second before diving back in to find her. The couple was admittedly in the initial stages of their relationship, but they'd known each other forever, understood they wanted to be together, and had already realized what they had was real love.
Anthony did have to quit his search after a while, but the authorities arrived soon after thanks to Connor's quick thinking 911 call. That's when he saw Paul smiling and understandably screamed at him because there was nothing funny about the situation they were in. While the rest were rushed to a hospital, Anthony refused, not wanting to leave until his girlfriend was found. In fact, at one point a day or two into the search, he apparently told a friend if Mallory made it out, he'd immediately take her away and marry her. Sadly, in a tragic twist, her body was located about a week later. And that's also around the last time Anthony ever saw his childhood friend Paul too. He was mad, he was angry, and he wanted nothing to do with the man whose action led to the death of his girlfriend.
Anthony Cook is Overcoming From the Tragedy Today
While Paul was later charged with three counts of driving under the influence, there was severe speculation regarding lapses in the investigation because of the Murdaughs' ties to law enforcement. Nevertheless, the case ultimately didn't go forward because Paul and his mother, Maggie Murdaugh, were both found shot to death on their property in June 2021. As for Anthony's stance on Paul, he candidly said in the Netflix original that he knew his friend well enough to know his life was never the same following the crash despite what the media or his social platforms might portray. Plus, he added, although he was genuinely infuriated about the whole 2019 incident, no one deserves to die in the way Paul did either. It was just another tragic end to a young life — Mallory died at 19 and Paul at 22.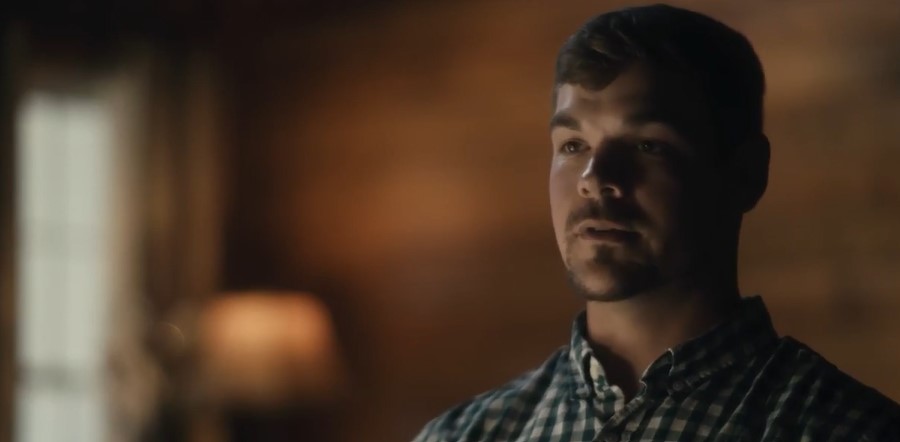 Anthony was understandably devastated after losing Mallory Beach. Around a month after the incident, he shared a bit of how he was feeling on Facebook by penning, "I have to live the rest of my life with the memory of getting thrown into the freezing pitch black water with the true love of my life in my arms. I had to swim against that current for 15 minutes in a panic screaming her name, begging her to answer me. I had to swim to shore without her to save my own life and live in regret of that forever. I'm reminded of that by every little thing all day, everyday!"
This grief did admittedly drive Anthony to fall into a phase of partying too much in the hopes of forgetting the past for a while, but it obviously wasn't good for him so he soon decided to clean up his act. From what we can tell, he has since preferred to maintain a low profile, but it does appear as if he currently works as an electrical lineman in Southern USA. We should also mention that Anthony filed a lawsuit against Paul's father, Richard Alex Murdaugh, the convenience store where Paul bought the liquor, and the clerk who sold the alcohol in December 2021. He claimed that Alex knew Paul used Buster's ID to purchase alcohol and that he was drunk that night but still let his son drive the boat.
Read More: Where is Connor Cook Now?