The eighth season of AMC's post-apocalyptic series 'Fear the Walking Dead' revolves around Morgan Jones' efforts to reunite with his daughter Mo after handing over her to PADRE. Morgan buries his haunting past and guilt in King County by properly burying his son Duane and wife Jenny. Although he suffers from the loss of his partner Grace, who turns after getting bitten by a walker and gets killed by him, Morgan dedicates his life to safeguarding Mo. The sixth episode of the season follows Morgan's attempts to save his daughter, which leads him to a pivotal decision concerning his future. Since the same threatens Lennie James' future in the series, let us share everything you need to know about the same! SPOILERS AHEAD.
Where is Morgan Going?
In the sixth episode of the eighth season, Morgan and Madison Clark team up to save Mo, who sets out to kill over a thousand walkers who were locked up at the shipyard. Mo and her group release the walkers from the region and leads them to the swamp to kill them. However, the walkers end up surrounding her. Morgan talks to Mo through the radio but she doesn't listen to him until her life gets threatened severely. Still, Morgan finds a way to save his daughter from the walkers who try to kill her. Meanwhile, PADRE falls as a civilization upon the presumed death of Shrike, who lets her walker father Krennick bite her.
Morgan decides to leave Madison, along with Mo, to find the people he had abandoned before ending up in Texas and eventually PADRE. In the past, Morgan always ran away from people and predicaments rather than confronting and dealing with the same. He always looked for easy fixes rather than taking responsibility, which is the reason why he hands over Mo to PADRE rather than protecting her as her father. But he changes as a person after meeting Madison, who motivates Morgan to confront troubles and stand up for his loved ones. He starts to do so by becoming a father to Mo rather than leaving her in the hands of PADRE.
Morgan realizes that the best way to live is by sharing his life with the ones with whom he shares an attachment or companionship. Thus, he decides to find and help people who were a part of his life before he ended up in Texas. The list of people Morgan wants to find begins with Rick Grimes, who helps him immensely during the early months of the zombie apocalypse. Along with Rick, Morgan may try to find more former allies amid his journey as well. Does that mean Morgan is bidding adieu to his current friends and allies? Did Lennie James leave the post-apocalyptic drama? Let's find out.
Did Lennie James Leave Fear the Walking Dead?
Yes, Lennie James did leave 'Fear the Walking Dead.' The actor's exit is confirmed by showrunners Andrew Chambliss and Ian Goldberg in the aftershow 'Fear the Walking Dead: Episode Insider.' "We knew it [Lennie's exit] was coming this season and as we wrote it, we knew it was happening. Then, like, the day comes and you are like, no, this can't be happening. Lennie has been such a fixture of 'Fear the Walking Dead' that it's really hard to imagine making this show without him. So, there was always the hope, at least in my heart, that we may see him again," Chambliss said about Lennie's exit.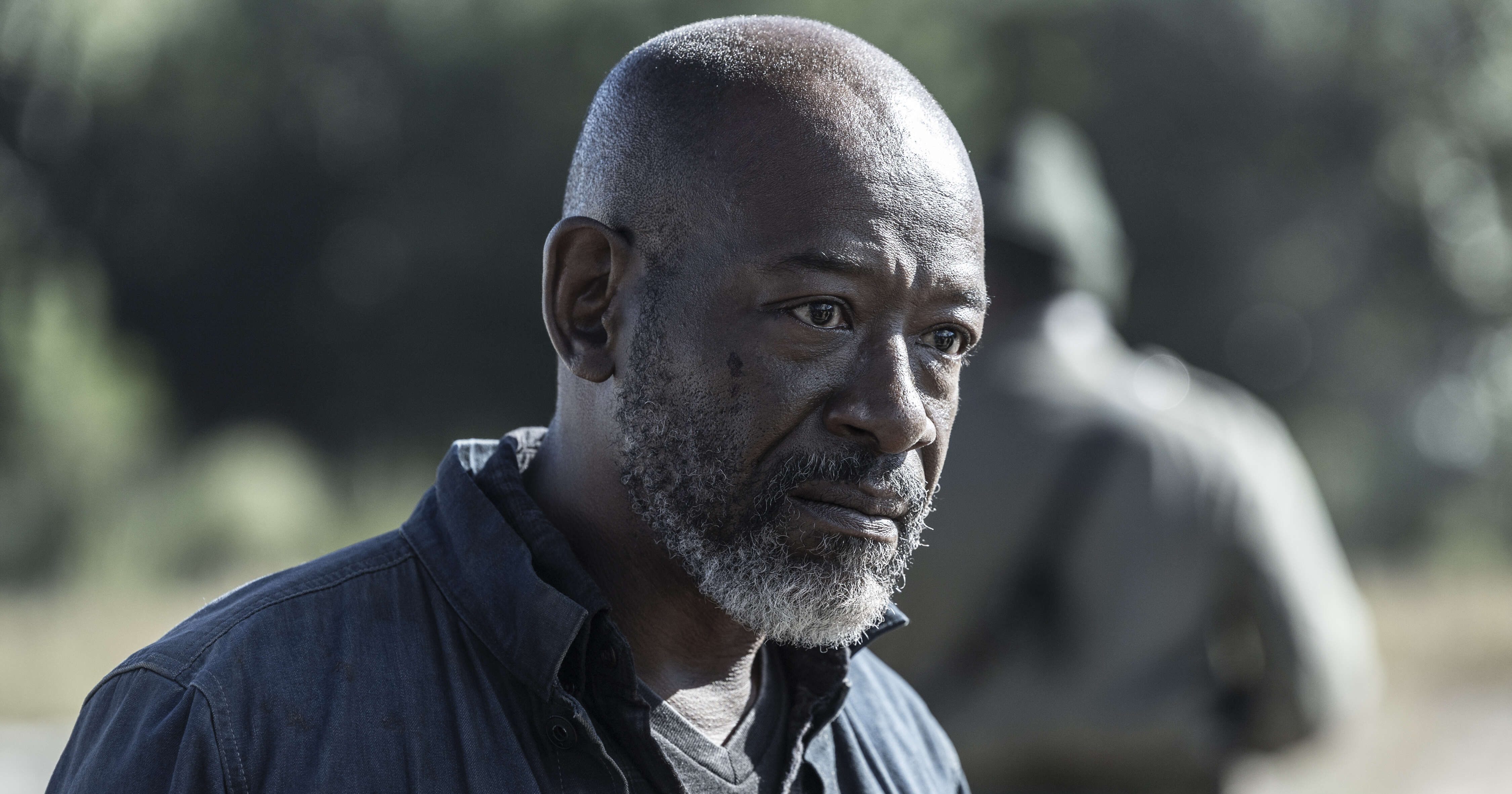 Morgan's decision to leave PADRE to find his former allies with Mo paves the way for Lennie's departure from the post-apocalyptic drama. "I am a bit in denial that Lennie is gone, to be honest, because he has been such a vital part of the journey for me and Andrew. And he is as talented as he is kind. And we know he's going to go on to do other wonderful things but we will be forever grateful to Lennie for his time with us here on 'Fear,'" Goldberg added. Lennie's departure from the series seems like the result of the natural conclusion of Morgan's story arc in the show.
As Chambliss said, we may see Morgan again in the post-apocalyptic drama as his path ahead may interconnect with the path of Madison or Victor Strand, possibly towards the end of the series. Even if he doesn't feature in 'Fear' again, we may see Lennie reprising Morgan in 'The Walking Dead: Rick & Michonne,' which revolves around Rick Grimes and Michonne's lives, especially since Morgan is trying to find Rick.
Read More: Does Grace Die? Did Karen David Leave Fear the Walking Dead?