'Love Allways' is a Paramount+ dating series with a fresh and familiar concept. In season 1 of the reality show, all the contestants had to compete to win the heart of bachelorette Lexi Paloma, a pansexual woman interested in both men and women. The pool of romantic hopefuls contained people of the two genders, leading to some fascinating turn of events. The elimination of Tyler Hearing was undoubtedly one such situation, and people are pretty curious about where he is these days. Luckily, we are here to explore the same!
Tyler Hearing's Love Allways Journey
While Tyler Hearing was meant to win Lexi Paloma's heart on the show, his initial interest gravitated toward Sienna Scibird and Jayme Aiden. Initially, he tried to flirt with the two women, but it soon became apparent that they were not interested in his romantic advances and clarified the same to him. This soon led Tyler to reevaluate his position in the competition, and he decided to only focus on Lexi.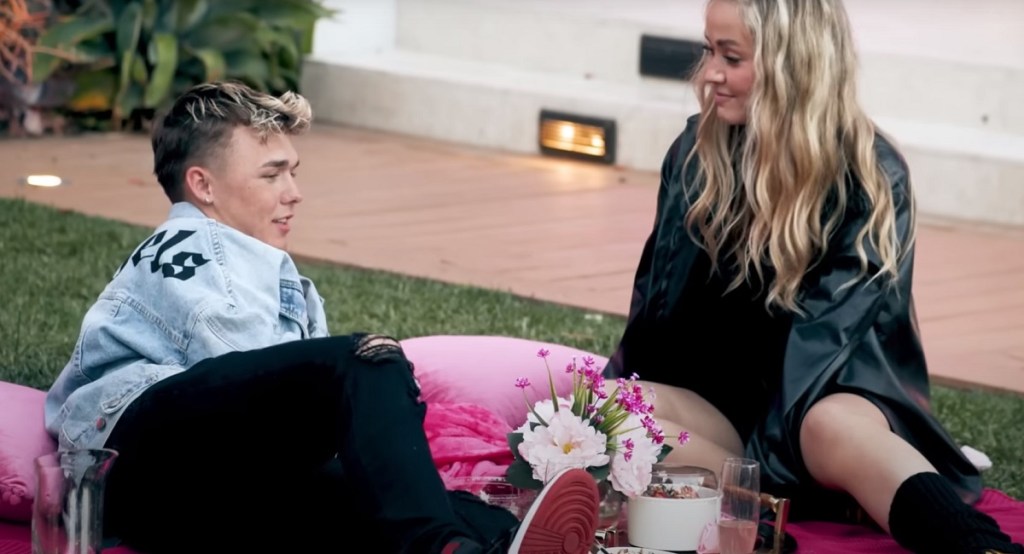 Despite his team losing the first challenge, Tyler prepared a picnic date for Lexi when she returned, making her extremely happy. This particular moment forged a strong connection between them and shot him near the top of her list of preferred partners. Following this, Tyler also formed a seemingly amicable relationship with Sienna, and the two could often be seen bantering with each other.
However, many participants were uncomfortable with Tyler's actions, especially when it seemed he was not exclusively focused on Lexi. This was a point brought up by Camille Cupid in front of everyone because she thought it disrespectful of him to act this way, but he remained firm that he was only interested in Lexi regarding romance. Though that brought Tyler dangerously close to elimination, he was able to maintain his position in the competition.
Over the next few days, it was evident to see that Lexi cherished the connection between herself and Tyler, and the latter was also eager to be the one to win her heart in the end. The two had even kissed off-screen at a certain point, indicating the growth of their bond. Yet, following the fourth challenge, things took an interesting turn. Following Camille's voluntary exit, Sienna told Lexi that she felt disrespected by some of the comments made by Tyler.
While explaining the situation with Tyler, Sienna remained firm that while she thought he was a good person, some of his comments made her highly uncomfortable. Besides, she had just realized that, having previously let a few things go because of her genuine fondness for the man in question. This threw Tyler off, and he tried to talk to Sienna about the same next day, but she explained that the seemingly innocent comments did sometimes feel like attacks towards her sexuality.
Not willing to let Tyler have no consequences for his actions, Lexi asked him to leave the show even though she was visibly distraught about the decision. Before leaving, he wrote a heartfelt letter to every house member and apologized for his actions hurting Sienna and Lexi, two women he claimed he cared much for.
Where is Tyler Hearing Now?
It seems Tyler Hearing has been doing quite well after participating in the Paramount+ series. The reality TV star has over 504 thousand followers on TikTok and a following of more than 69 thousand on Instagram. Working as an Online Content Creator, he is known for collaborating with others and keeping his fans entertained with his work. Moreover, Tyler has been promoting his reality TV show-like project that will seemingly arrive on July 29, 2023.
That said, Tyler has not really been talking about his time on 'Love Allways,' which could be likely due to the unconventional nature of his exit. Nevertheless, he has continued to move forward online and enjoys his work immensely. The beloved internet creator even has a website where one can buy merchandise to support him and his various ventures. Tyler enjoys spending time with his friends and family when not creating content.