A direct sequel to 'Insidious' and 'Insidious: Chapter 2,' 'Insidious: The Red Door' is a mystery horror movie that serves as the final chapter of the Lamberts' horrific saga. Set a decade or so after the events of the second movie, the narrative focuses on Josh Lambert and his son Dalton, both of whom travel to a secluded Ivy League university for the latter. But when Dalton's repressed demons come back to haunt him and his father, his college dreams become a nightmare.
Now, to put an end to the curse once and for all, the Lamberts must dive deeper into the Further and confront their family's dark past and tons of terrifying truths that stay hidden behind the red door. Directed by Patrick Wilson, the horror film includes dark visuals and undertones against some hauntingly secluded locations, including the idyllic college, that keep the viewers on the edge of their seats. If you are interested in knowing where 'Insidious: The Red Door' was shot, allow us to provide you with all the details!
Insidious: The Red Door Filming Locations
'Insidious: The Red Door' was filmed in New Jersey and Georgia, particularly in Morris County and Atlanta. As per reports, the principal photography for the horror film commenced in July 2022 under the working title 'Fear the Dark' and wrapped up in August of the same year. The filming unit returned to work in April 2023 for some important reshoots just three months before the movie's theatrical release. So, let's not waste time and traverse all the haunted locations that appear in the Patrick Wilson directorial!
Morris County, New Jersey
A significant chunk of 'Insidious: The Red Door' was lensed across Morris County, with the production team setting up camp at various sites within the county. For instance, the locales of Morristown, especially the Convent Mews condo complex near the vibrant area of Morristown Square, served as an important production location. Its interiors, as well as exteriors, were utilized to record key scenes for the movie.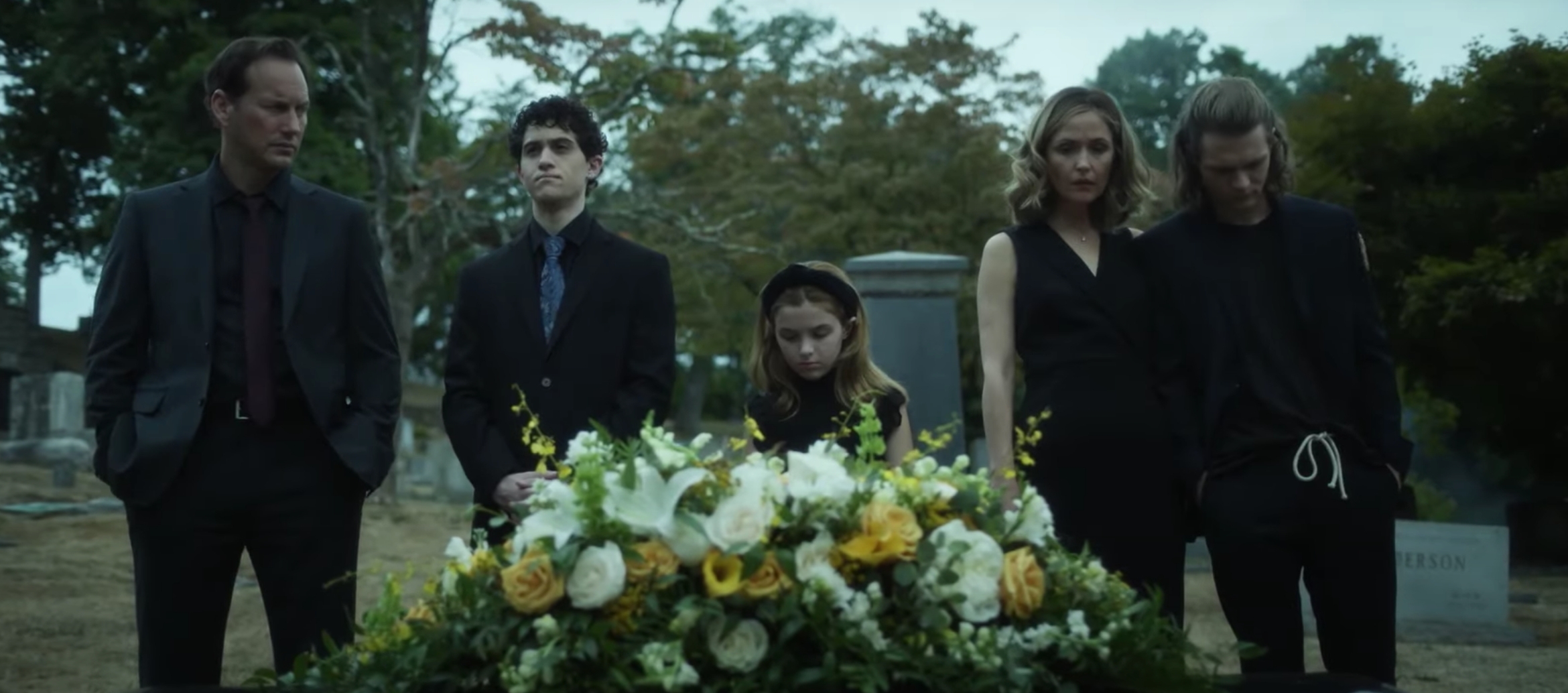 To tape a funeral scene for the Rose Byrne starrer, the filming unit took the production to a real-life cemetery, the Fair Mount Cemetery at Fair Mount Cemetery in Chatham. Furthermore, in early August 2022, the Tilghman House, an academic building at Drew University at 36 Madison Avenue in Madison, was redecorated as a fraternity house for shooting purposes. As far as the shooting in the city of Madison is concerned, it took place around Glendale Road. Reportedly, the borough of Florham Park also features in several scenes throughout the movie.
Given that the filming unit traveled from one place to another in the county, it is highly possible that you might be able to spot a few popular points of interest and attractions in the backdrop of some sequences. Some are Morristown National Historical Park, parts of Great Swamp National Wildlife Refuge, Morris County Golf Club, and Rockaway Townsquare.
Atlanta, Georgia
To record the reshoots for 'Insidious: The Red Door,' the production team set up camp in the city of Atlanta. They spent a week or so completing the reshoots in different parts of the city, which means you will likely notice several popular buildings and attractions in the background, including the Georgia State Capitol, Bank of American Plaza, the World of Coca-Cola, and Centennial Olympic Park. Apart from the horror movie, its locales have been featured in numerous film and TV projects. Some notable ones are 'Doctor Sleep,' 'The Conjuring: The Devil Made Me Do It,' 'The Walking Dead,' 'Stranger Things,' and 'The Haunting of Hill House.'
Read More: Movies Like Insidious