Greta Gerwig proved that she's a force to be reckoned with her solo directorial debut 'Lady Bird' that released last year. This year, we have her bringing back to us a timeless classic with her adaptation of Louisa May Alcott's evergreen coming-of-age novel Little Women which has had generations after generations indulging in it irrespective of their age. This is also the reason why this 19th century novel has had countless adaptations over centuries, ranging from plays to films to even TV series.
But perhaps Gerwig's adaptation is a classic in its own right with the way it reshapes itself for the audience of today in the most unexpected and brilliant ways, and does it while staying faithful to the original. What makes Gerwig's feature all the more spectacular is the dream cast it has. The film features Saoirse Ronan as Jo, for which she got a Golden Globe nomination this year. It also stars Emma Watson as Meg, Florence Pugh as Amy, Eliza Scanlen as Beth, Timothee Chalamet as Laurie, Laura Dern as Marmee and Meryl Streep as Aunt March.
The adaptation, like the book is set in 19th century New England post American Civil War, and follows the lives of the March sisters and their family, as they become of age. What made the novel so different from the others around the time was the way it reinforced the importance of individuality with its strong female characters who are all very different from one another, and normalized ambitious women especially with Jo's character, which Alcott based on herself. In fact, the book was an inspiration from her own childhood and her relationship with her sisters, and was set in the Orchard House, Alcott's own family home in Concord, Massachusetts.
Gerwig's adaptation makes use of all this information and presents to us characters that are true to the classic but also so much more real, where each one of them shines no matter how different they are. The movie, being faithful to the original, has made use of several real-life locations from the classic, and also from Alcott's life. Here's everything we know about it.
Filming Locations
Greta Gerwig wrote the screenplay of 'Little Women' making use the book it was based on, Alcott's letters and diaries, along with 19th century paintings, especially of women, as inspiration. Though there have been numerous adaptations of the classic 1868 novel, Gerwig's provides authenticity in a way none of them do, especially because she is the first to shoot in the region where Louisa Alcott actually grew up, and also where the book is set, in Massachusetts. Perhaps, it is just something Gerwig does as her semi-autobiographical 'Lady Bird' was also shot and set in Sacramento, the city she grew up in. For 'Little Women', the shoot entirely took place in Massachusetts between October to December 2018. Here are the filming locations she used for 'Little Women'
Concord, Massachusetts, U.S.A.
Since Louisa May Alcott's own home, Orchard House, has been made into a museum, and shooting was not allowed in the premises, the team created a replica. Concord was a crucial location for the film as it is not only where book is set, but is also where Alcott spent most of her childhood. It was one of most critical sets made by production designer, Jess Gonchor, as it made from scratch on a plot in Concord.
In an interview mentioned with the Hollywood Reporter, Gonchor mentioned, "I wanted it to be like a mushroom growing out of the ground, that if you went by it fast enough, you wouldn't see it because they weren't a fancy family". The team studied 19th century paintings to get the colour palette correct for the set, along with the interiors of the March Home. The cast and team even made a trip to the real Orchard home where the Alcotts once lived and where the novel is set.
Harvard, Massachusetts, U.S.A.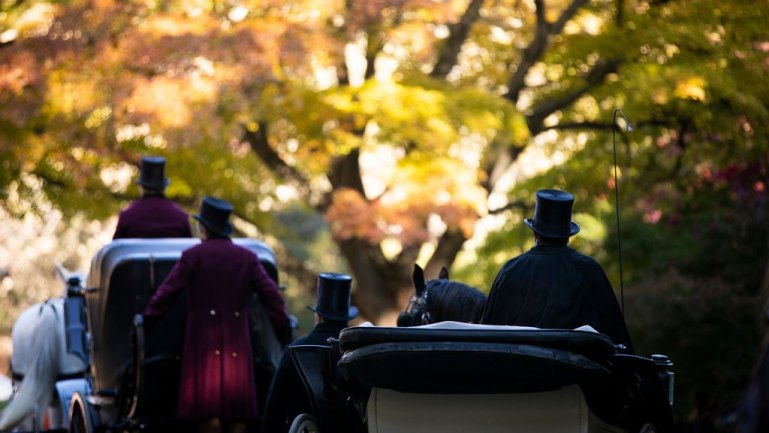 Harvard has been an on-screen regular for Hollywood movies over decades with films like 'Good Will Hunting', 'Social Network', 'Legally Blonde' among several others. But due to its rich history and old school architecture, it actually makes for an ideal space to shoot a period drama set in the 1800s.
In 'Little Women', Harvard majorly doubled as Paris, where Amy spends majority of adult life in the movie. The production design team recreated a Parisian park in the University's beautiful Arnold Arboretum. Certain scenes from the movie were also filmed in Harvard's Town and Congregational Church. A general store in Harvard was converted and recreated into Concord's local shop from the 1800s.
Boston, Massachusetts, U.S.A.
Another place in Massachusetts where 'Little Women' was filmed was of course, Boston. Louisa Alcott was one of the founders of Women's Educational and Industrial Union in Boston. She spent many of her years living in Boston, especially her final years, and it also where she passed away. But she was buried in Sleepy Hollow Cemetery in Concord, along with other writers like Emerson and Thoreau.
The film made use of different locations in Boston for recreating different spaces from the novel. Jo's New York publisher's office, as well as Jo's apartment were filmed in Gibson House, Boston. The Moffat mansion was shot in William Hickling Prescott House. The beautiful ballroom of Fairmont Copley Plaza was also used in the film. Another interesting location where the filming took place in Boston was the schoolroom that was once run by Louisa's father, Amos Bronson Alcott, despite the location not being open to public otherwise. Other places where the film was shot included the other small towns nearby like Lawrence, Stoughton, Ipswich and Lancaster.
Greta Gerwig's 'Little Women' is as authentic as it is subversive and meta in its approach. Gerwig was deeply attached to the novel while growing up and the film adaptation clearly shows it with the way Gerwig makes use of intricate details in the physicality of the story, giving it gravity, and also making it all the more real.
Read More: Is Little Women Based on a True Story?