Ever since their introduction to the West, through the book "The Magic Island" by W.B. Seabrook, zombies have been a phenomenon in Horror Fiction. More books, followed by movies and finally games and television soon grabbed the entire world's attention and zombies have now become the undead in pop culture, quite literally. The types of zombies in their countless tales have ranged from voodoo and necromancy to failed scientific experiments, biological warfare, radiation and the highly plausible theory of the real world "Cordyceps" fungus turning the living into mindless zombies, as shown in the 2013 release by developer Naughty Dog, critically acclaimed Playstation exclusive, 'The Last Of Us'.
Just as games like 'The Last of Us' or developer Telltale Games' 'The Walking Dead' (set in the same universe shown on the comic and TV show of the same name) show us the more detailed, emotionally driven side of what could happen if civilization really fell to a Zombie Apocalypse, there are other much lesser known but equally interesting, heart pounding takes on a Zombie Apocalypse by dedicated developers, who decided to keep their brainchild FREE. With that said, let's proceed to the list. You can play several of these top Zombie survival games online.
12. Zombie Smasher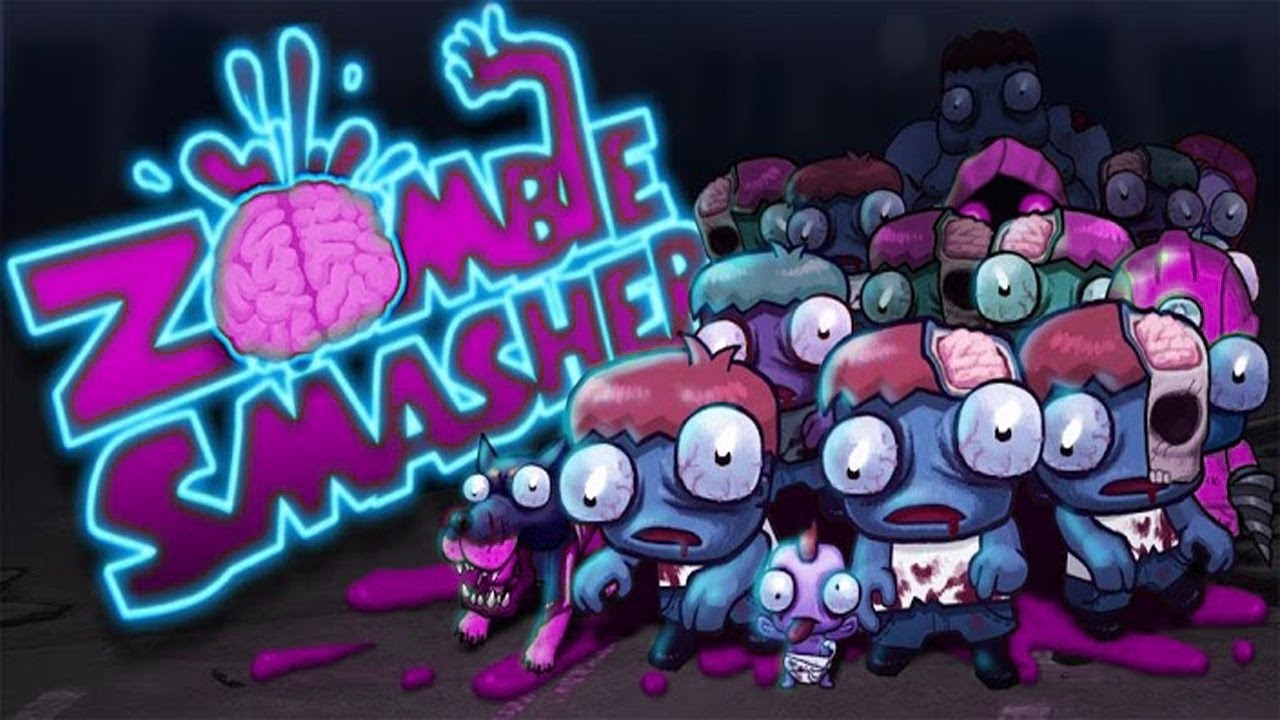 A simple yet attention grabbing game for the handheld device here, where all you need to do is help a muscular hero beat the knickers off a horde of green cartoon-ish Zombies. Flicking your finger in the direction zombies are coming from is easy, but doing it without flinching in the face of overflowing odds is the real challenge in this tried and tested score oriented never-ending game format. The game music and cartoon-ish appearance deserves special mention for it is the most important aspect that keeps the player fixated.
11. Shattered Colony: The Survivors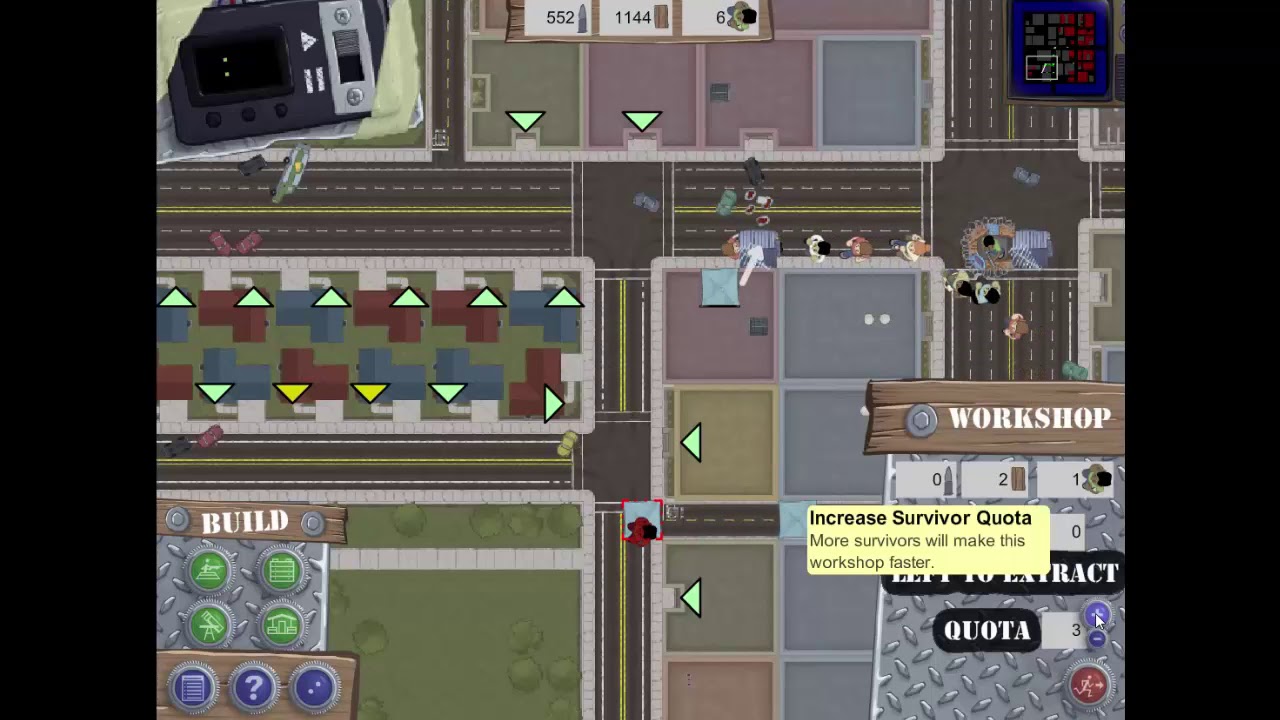 Do you remember your good old GBA days? A browser based, Flash Player enabled game, developer Duerig's 'Shattered Colony: The Survivors' provides a similar top view of in game islands that are infested with zombies. In this "tower defense" RTS, you are a survivor with the aim of freeing each island of the hordes of the undead. You can build a depot, which is your primary base of operations and through which you can build sniper nests, barricades, workshops to salvage buildings and rubbles for resources like Ammunition to kill zombies, Boards to build barricades and other structures, survivors who help build and scavenge etc. all with simple clicks of the mouse.
You can create a free account and use it to save your data in the game. The game also provides players the option to create their own maps and upload them, using the in-game map creator. Strategising and balancing your resources is the main challenge of the game and it's really fun all in all from the highly realistic modern games we play in current times. The immersive suspenseful music is a bonus that adds to the fun of the gameplay. The game has been up for about 9 years since its release in 2010 and still has players around the globe and has been played over 2 million times in the armorgames site alone, which is really impressive for such a simple game run on flash player.
10. Code Name: CURE
Stuck outside with a laptop with a lot of time to kill? Kill a horde of walkers instead. Developer Hoobalugalar_X seems to have developed the game with a single motive — HAVE FUN WITH THE BIG GUNS!! The game sacrifices on the graphics but makes up for it in gameplay. The Multiplayer has an up to 5 members team format, with five different classes with varying abilities to choose from, namely Sniper, Assault, Tech, Support and Pointman.
The game has two gameplay options — Survival and Objective. In Survival mode, you have to deal with gradually increasing waves of an infected army of monstrous beings, whereas in the objective mode, you have to complete missions which consist of "Curing" infected parts of the city by simply blowing things up. If plastic explosives and gatling guns are your choice in a Zombie Apocalypse, this is definitely for you. The sound effects are average but the game looks like it was not meant to be about the looks but the feeling associated. If you have ever been a fan of Broforce, you can imagine this to be a 3D rendition using the Source engine. The best thing about this game is, you can play it wherever and whenever, single player to five player matches, thanks to the game's dynamic difficulty system that varies with number of players in a team.
9. The Skies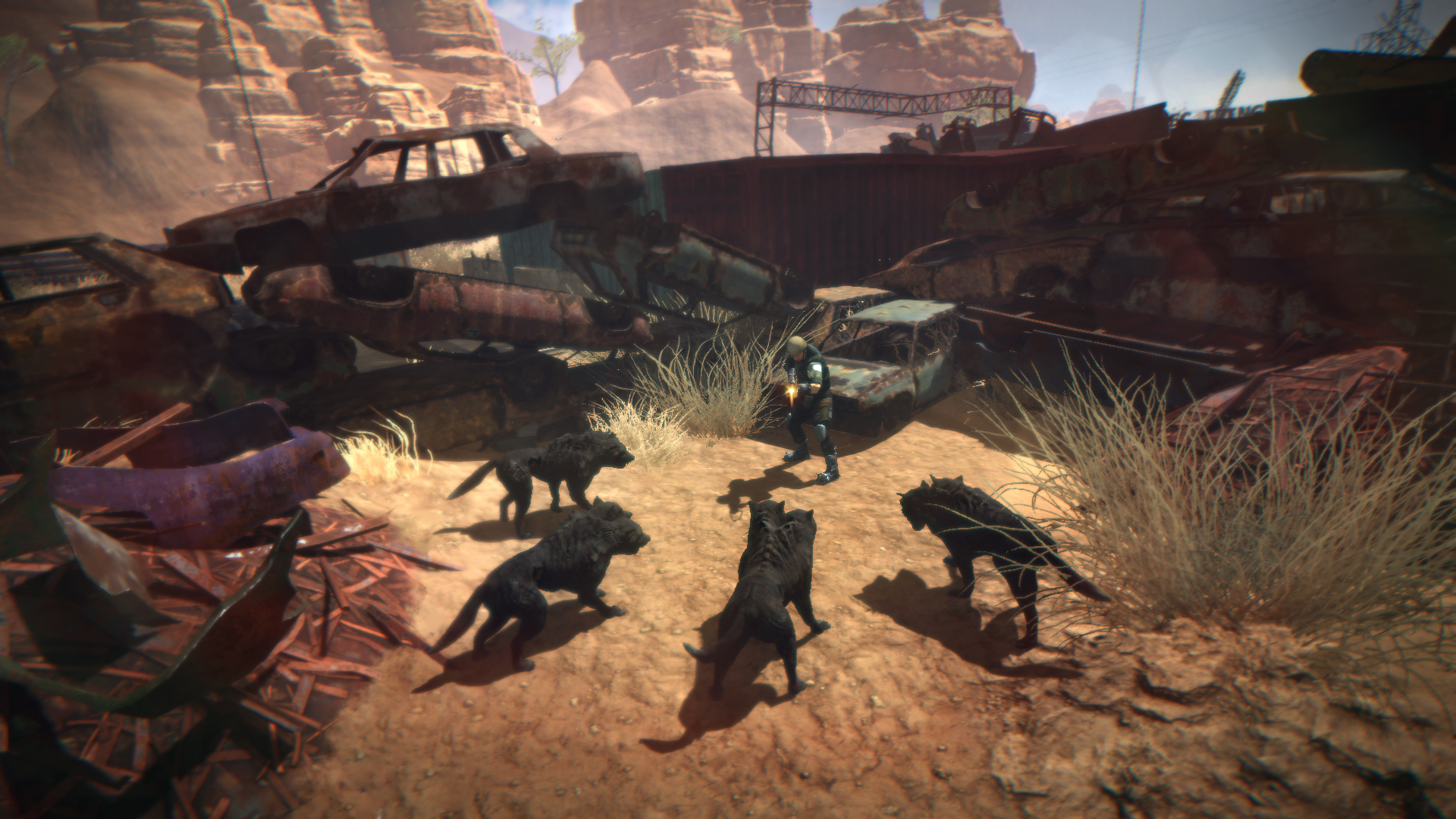 'The Skies', developed and published by Eforb, has quite a way to go, but the early access alpha available on Steam by the power of Steam Greenlight is nothing but impressive.The post apocalyptic world is essentially greater than just zombies, giving you a feel of 'Rage', the popular release by Id Software or 'Bulletstorm' by People Can Fly and Epic Games or even 'Mad Max' to some extent visually. You can choose to be a loner or team up with other factions or even create your own and become the leader, all in an FPS MMORPG setting.
The graphics are a little bit on the down side considering its a 2016 game but wee, the game has not even reached beta stages yet! The detail they are putting into world building is praiseworthy, and not many games nowadays are so dedicated towards lore building whereas these developers are giving that attention to detail for a free to play experience, that certainly deserves applause. The game is currently awaiting a more patient playerbase which it needs to progress further in development, and is available on Steam. It promises a huge game world when the final release comes and also regular updates. Also, they have already been experimenting with how much the world can be affected by individual actions, and it's no easy task to monitor the same for thousands of players. And plus, there are dialogue options that vary with the decisions you take along the ride. How's that?
8. The Last Stand: Union City
If 'Prince of Persia's' side scrolling days were your childhood, this is for you! A standard side-scrolling action RPG, 'The Last Stand: Union City' is another Flash Player enabled, browser based game that lets you create your own character, with their individual strengths and weaknesses decided by their occupation. There are a plenty to choose from, like a paramedic or a firefighter or a farmer or a hunter. A Paramedic has more survivability in case of an attack or injuries owing to his skills whereas a farmer would be more efficient regarding physical tasks or with melee weapons. You roam around the infected Union City with only your survival instincts and some luck. You will level up and gain new abilities as you go in this journey.
There is also a vast array of weapons and defensive gear to choose from, which resonate with your character's basic skills. The game artworks successfully embody the gloomy, plaguish feel a survival horror title demands. According to a character in the game, "it all started a few weeks ago when people started killing each other and then they wouldn't stay dead." For a free, independently developed online game, developer ConArtists provide a good sense of world building and story, thus allowing it about 24 million plus players around the planet on its page in the Armorgames website alone. And as a way of saying "Thank You", they have now made all previously "premium" content accessible to all players on the website. GG, right?
7. Unturned
This is one title that we are genuinely surprised that not many know about. In this very simply yet artfully animated game, you are one of the last few who are yet to be turned into a mindless flesh eating corpse, and it sure won't be easy staying unturned. The animation resembles that of 'Minecraft', and the multiplayer offers various different game modes like survival, creative roleplaying and a battle royal mode for Co-op PVP. The developer, Smartly Dressed Games, consists of just one person, Nelson Sexton from Canada.
Former Roblox employee, Nelson has put in a very heartfelt effort at creating something new. However, weapon and armour systems are similar to other popular battle royale games, weapon attachments included. There are multiple arenas, some particular maps having festive mods, where matchups could take place. Arena names are city or country names at times, such as "Washington Arena" or "France Arena" etc. What sets this game apart is the added element of keeping an eye out on your hunger, thirst and radiation meters, all while you fight zombies and human enemies alike, preferably teaming up with other players. The Co-op is immersive and According to many Steam users, it's a work ahead of its time and has been voted into Steam as a free to play game. Sure, it takes a lot from some already existing games, the thing is, we never really placed them together in our heads.
6. Zombies Took My Daughter!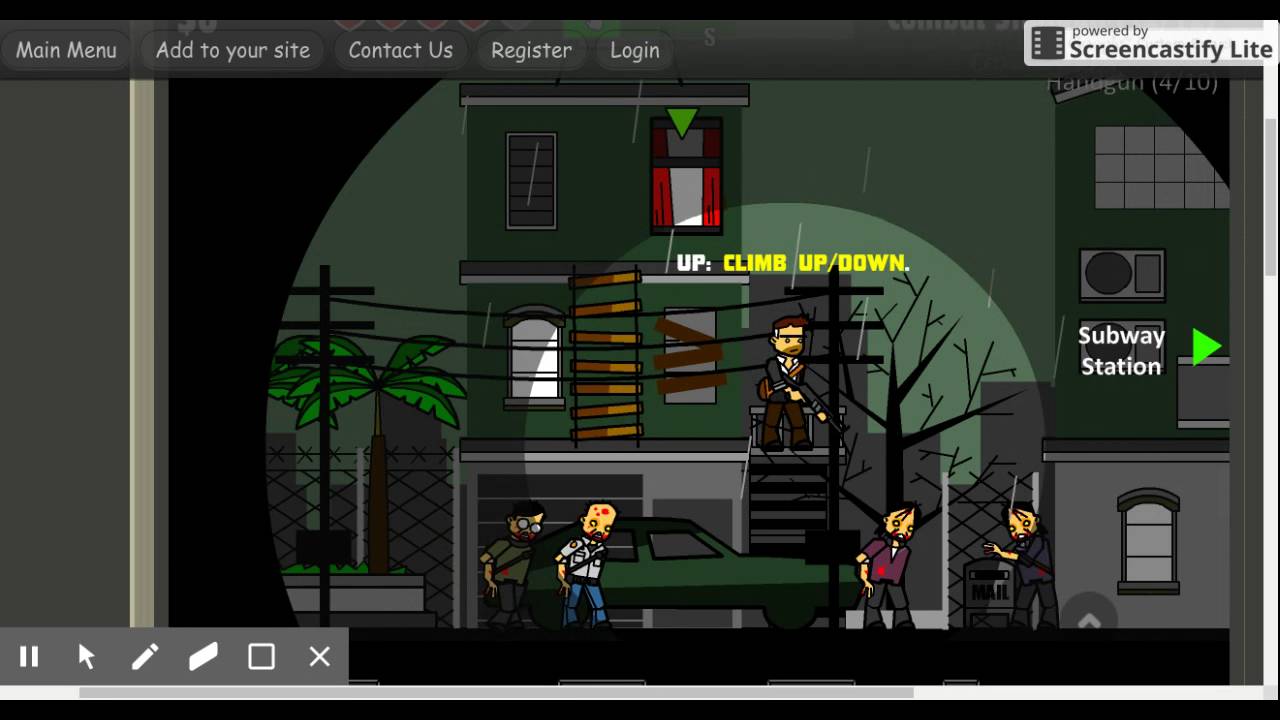 Yet another example of simplistic yet artful game development! The game's premises are based on a man arriving at a zombie infested city to look for his stranded daughter. In a side scrolling platformer setting, you arrive in the docks on a ship and then have to roam around zombie filled blocks of the city, looking for clues as to where your daughter could be. It's the most important aspect of this game since firstly, you are on a clock and if you die, it's treated as incapacitation and the game takes away 2 hours from the clock and secondly, well, the game already has established the story through its name.
Colourful 2D visuals with cartoon styled character designs, a stealth/shooter gameplay mechanism, beautiful background score and above average sound effects have rendered this game pretty popular among veterans of the genre. The controls are a little odd for their functions, but getting a hang of them quick isn't hard. Do not play this game with a realistic mindset though, there are unnatural events like being incapacitated halves your finances, everybody you encounter has had some sort of interaction with your daughter, Anna, or have some sort of inexplicable document that works as a clue to figuring out where Anna is. Not too convincing? This is meant to be a piece of weirdness. Just try to enjoy what is offered, you won't be disappointed.
Read More: Best Multiplayer/Two-Player Zombie Games
5. Infestation: The New Z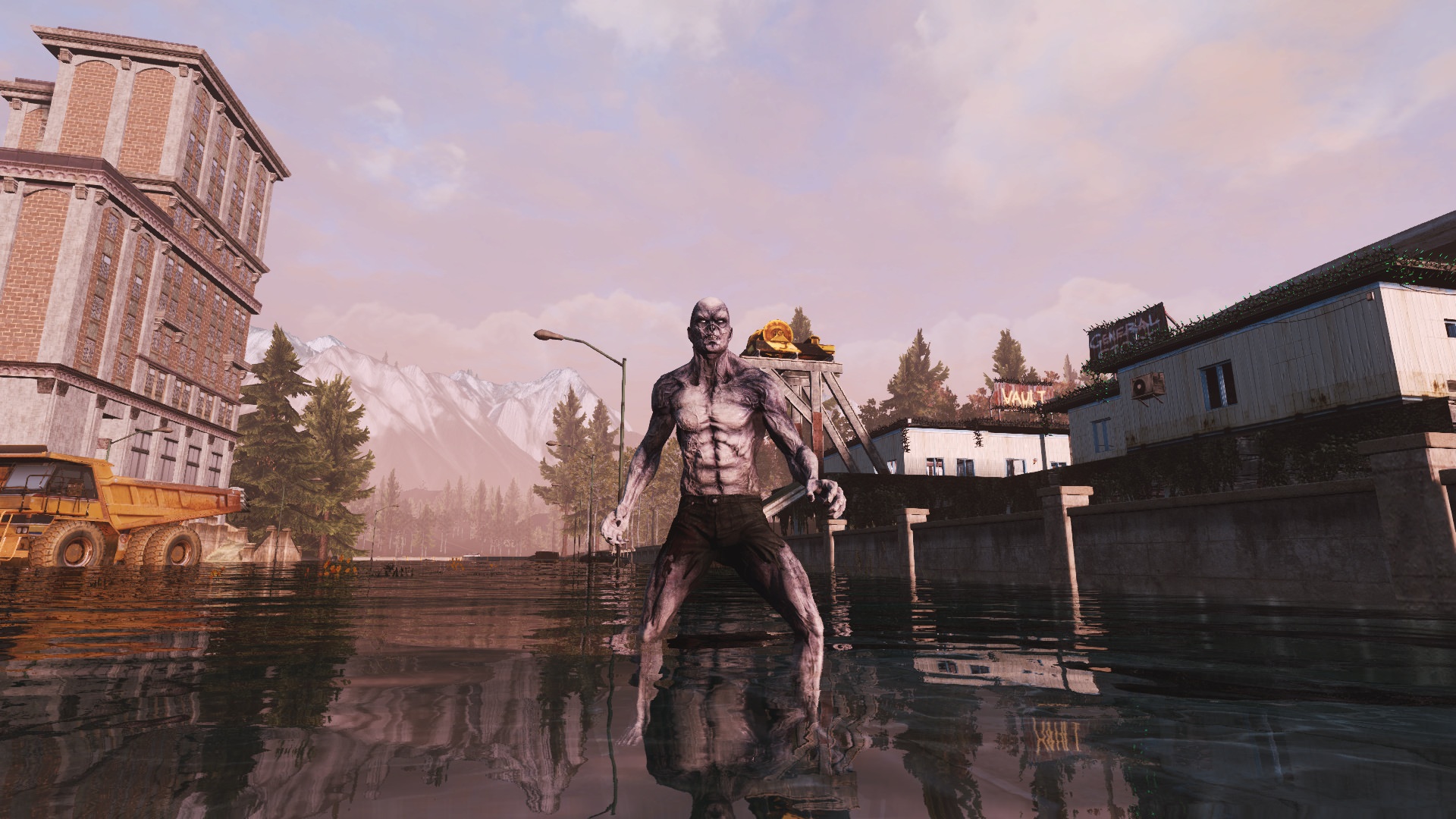 Independent developer Fredaikis AB's brainchild, this title gives you an all in one experience of PVP and PVE with Humans and Zombies both. There is a battle royale mode, a survival mode and an exploration mode in a vast open world infested with rival groups and diseased undead corpses. The developer has a keen ear to their fans who express their opinions on their Steam forum and issues regular updates to improve the gameplay experience. This has resulted in the game getting a custom made anti-cheat program by the developer.
Third person view is a refreshing way to look at dead people trying to turn you into more favourable conditions really. The sound design is pretty immaculate and keeps you on your toes. There have been regular complaints about cheating in the game causing the game to die down a few times, but the developers have stumbled back on their feet. Steam is currently having the game on their free games shelf and according to us, and a lot of other players in the forum. Try it to know for yourself.
Read More: Best Shooting Games on PS4/Xbox One
4. Dead Target Zombie
This realistic looking First Person shooter/ Zombie mayhem is what the true essence of Zombie fiction is all about. A survival mode, an artillery of futuristic weaponry, a gripping cannon story of World War III and biological warfare, and hordes of berserk undead along with vicious bosses, all of this works in a perfect harmony to make 'Dead Target Zombie' arguably the best game in the genre on handheld devices for veteran zombie hunters and newcomers alike. The in-game sounds are well designed, lighting is innovative and the game makes good use of the modern day phone resolutions. Character designs are also pretty great especially for the varying types of the infected. You earn cash based on your kills in every mission and that cash can be used to upgrade various aspects of the game like your character's skills and weapons.
Read More: Best Horror Games for PS4 and Xbox One
3. Survarium
This release from indie developers Vostok Games made its place on Steam by the sheer power of love from fans. The secret? These guys prove again that listening is key. According to player feedback, the game designing, gameplay, and above average graphics are quite astonishing for an indie. The initial reviews are mixed to be honest, but upon playing the game, it is hard to imagine that developers are slacking off at all. The game being totally free, offers packs containing cosmetics for in game use.
The best thing about this game though is that zombies have a more unique name here; they are referred to as "Anomalies". The FPS gameplay is ever-changing as you develop new skills and progress through the story and impact the world around you. The graphics are also becoming more polished with the updates and the developers intend to keep early access open for "as long as it benefits the betterment of the game". Upon asking what they have planned as per finances on release, they have stated they wish to keep it the same. Kudos to these awesome developers, right? The most we can do is support them. So don't wait and jump in.
Read More: Best Racing Games For PS4/Xbox One
2. No More Room In Hell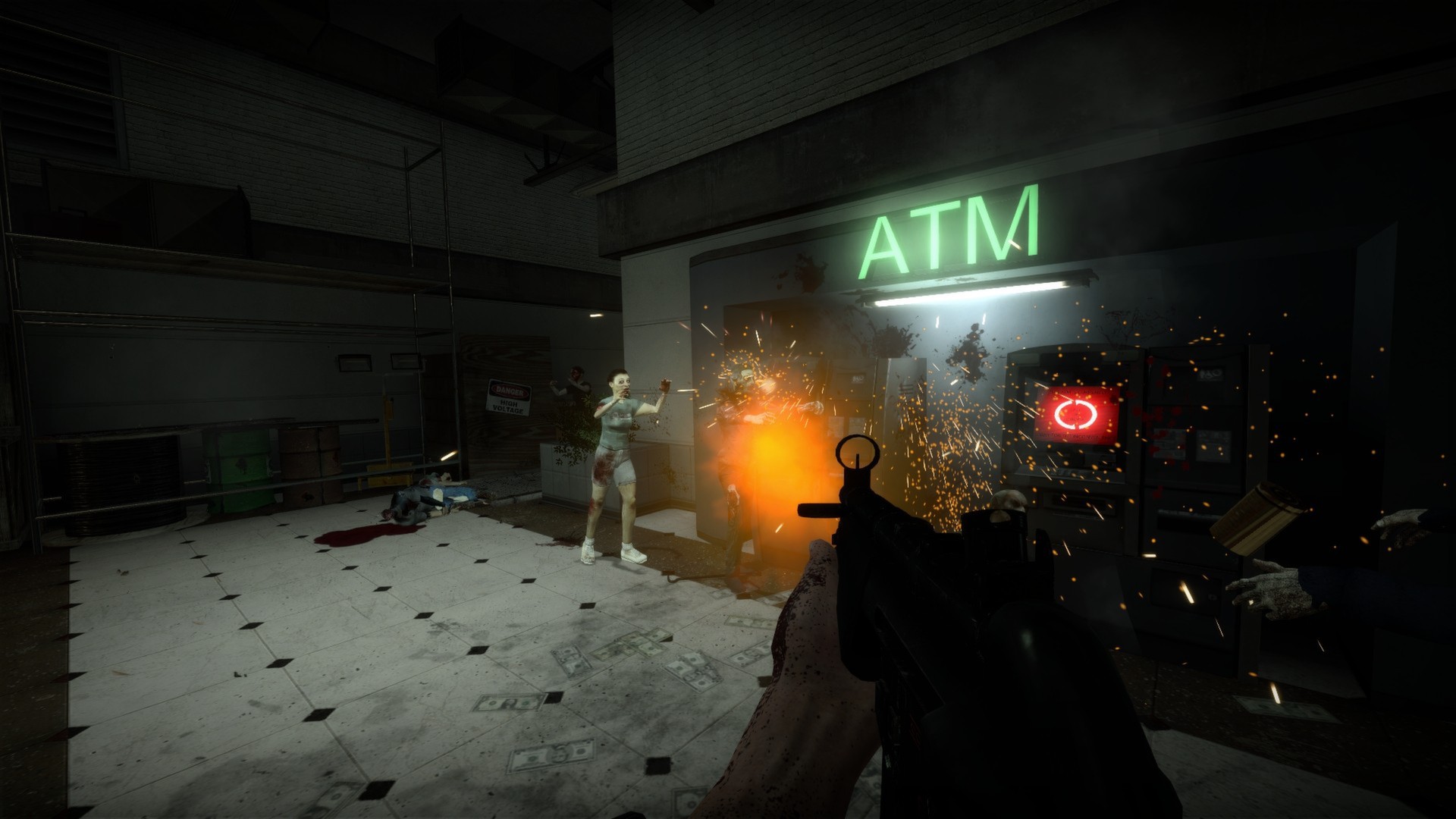 The 2011 title developed by No More Room In Hell Team and Published by Lever Games draws inspiration while being bluntly honest about it. Essentially a tribute to George Romero's movie series "Of The Dead", it is where the game takes its name from. "When there is no more room in hell, the dead shall walk the earth" is how the saying goes, and that is the exact way this game is capable of making you feel. Spine chilling sound designing and extremely realistic gameplay mechanisms in an FPS view makes this game a thrilling experience in the genre.
The zombies are the result of an unknown disease. Yes, it's the same old formula, yet it works. The chance to Co-op with seven other players, in one of the best engines of its time, small but effectively game changing mechanics like communication systems being dependent on distance, very scarce resources left in the world, vast array of ability oriented undead enemies, dynamically changing playthroughs, and a chance of getting infected resulting in deciding when you are bitten or seeing yourself become the threat to your own allies make this a truly unique experience over that proverbial Zombie experience. To top it all, the developers have decided to keep everything absolutely free, not even micro-transactions for cosmetic items except for the official soundtrack which deserves the price listed and some more. A modification of Half Life 2, 'No More Room In Hell' is available on Steam.
Read More: Best War Games on PS4/Xbox One
1. Dead Frontier 2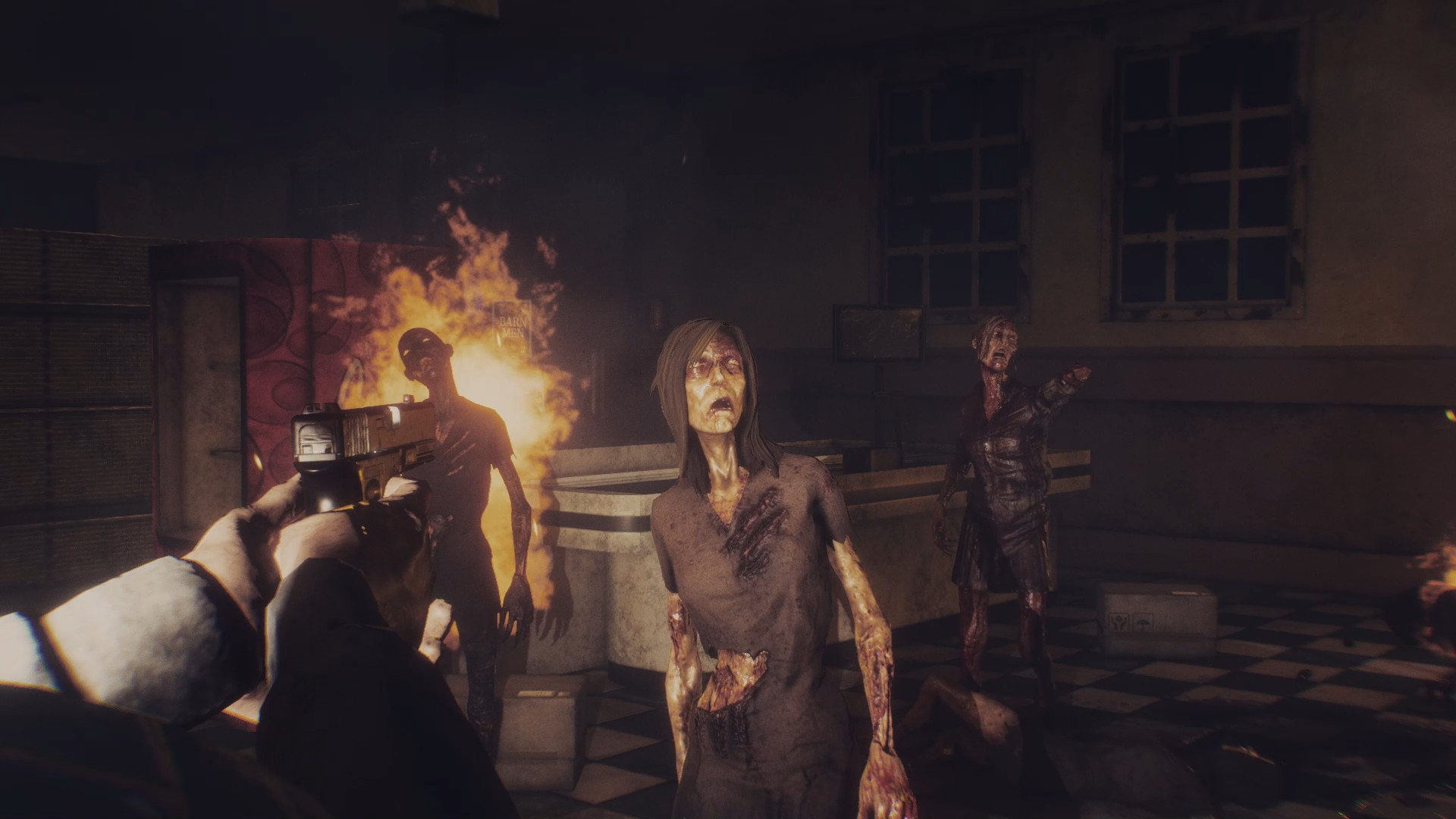 Now this is where things start getting more serious. Brutality, violence, sickly corpses oozing with puss and blood and slashed bellies embellished with hanging entrails, it's an absolutely horrific gore galore in 'Dead Frontier 2'. Moreover it all comes with recent graphics, thanks to the technologies of 2018. In some situations, the gunshots could be the only thing louder than your heartbeat. The dark, brownish colour tone used by developer Creaky Corpse ltd. makes it an even more sinister experience. An MMO of this detail which is providing a completely Free To Play experience, where no in game transactions will improve your gameplay experience, all in its early access phase, is worth checking out for feedback's sake alone.
The developers have real good intentions from what appears in the beta itself, and the development is still underway. With the Playstation releasing 'Days Gone' as an exclusive, this game could hold the potential to become PC's answer to it, albeit a free one. There is skill-building along with leveling up and a dynamic world where something is always happening. The Co-op and PVP only become more and more intense as you gain experience. Kill Zombies, befriend other survivors, make use of the in game player driven economy — do all this the way you want to do it. The game does justice to its massively praised first installment, released back in 2008. Things have only gotten better in ten years, and with more and more inputs from players, expectations are high.
Read More: Best Survival Games For PS4/Xbox One